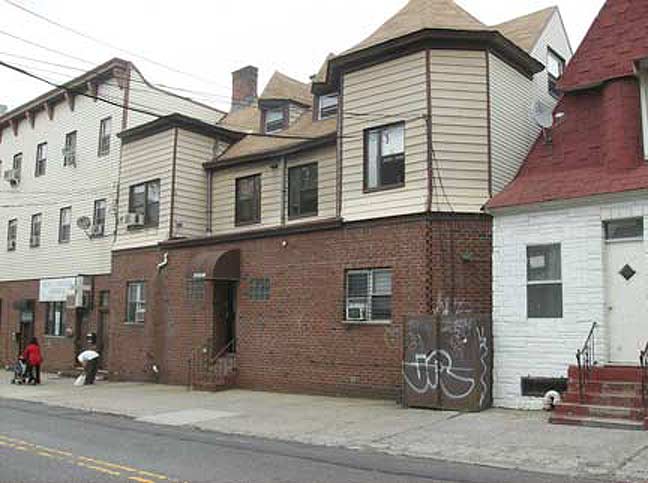 Other than the grocery on the corner of 38th Avenue and 58th Street, the stretch of 58th between 37th and 38th is unrecognizable as the commercial strip it used to be. The east side is lined with tile and marble wholesalers, electrical contractors and other service enterprises. As you get toward 38th Avenue, though, there are several low-rise buildings of considerable age that is hidden behind layers of aluminum siding. Many of the buildings go back to Woodside's first phase of development in the mid-to-late 1800s.
This building at 37-53 58th Street is one such building, and you can tell that it used to be somewhat grander in aspect. There are two turrets, one flat on top and one with a conical peak, and a couple of dormers on top. "Good bones" as housing advocates put it.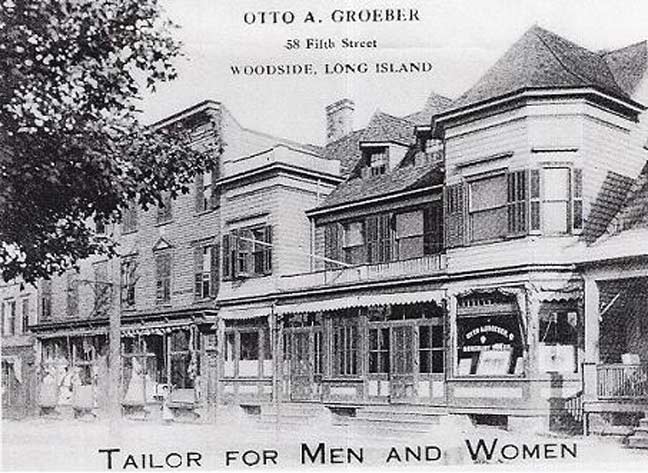 When first built, it had a tailor shop on the street and residences upstairs. The tailor shop was owned by Prussian immigrant Otto Groeber at #58 5th Street, which during the 1920s acquired its current address. Groeber also purchased property around the corner on 38th Avenue; he operated the tailor shop with his family until his retirement in 1918 at age 91.
On the left was a meat market called Stern's and a dry goods shop (today's five and ten). A pharmacy was to the right of the tailor; Groeber's name is inscribed on the picture window.
Info: the invaluable Woodside: A Historical Perspective 1652-1994 by Catherine Gregory.
2/9/15