Some of Staten Island's most picturesque architecture can be found in Hamilton Park, a small subdivision of New Brighton, about 3/4 of the way from the Staten Island Ferry to Sailors' Snug Harbor along Richmond Terrace. Two of the region's most notable buildings are located on Pendleton Place. Bear in mind that this neighborhood has not been given landmark status, though some of its properties have been landmarked individually.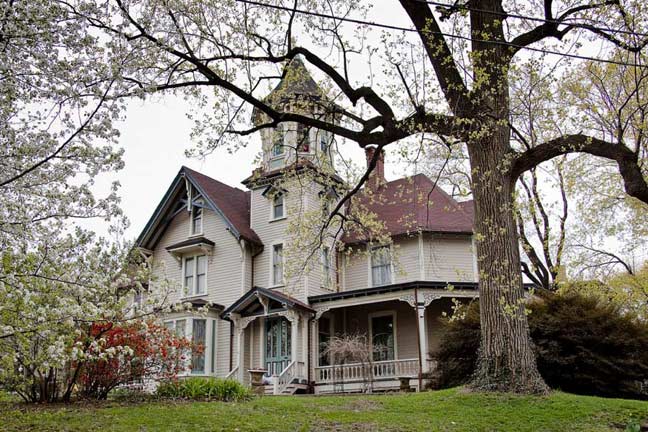 On Pendleton Place, which curves off from Franklin Avenue four blocks south of Richmond Terrace, are two residences built for William S. Pendleton, an engraver, lithographer, realtor and owner of a ferryboat company.
In 1862 the magazine The Horticulturist published a sketch of this building. The article describes it as "erected for renting," one of a group of seven homes put up by Pendleton.
When the Revs. John Walsted and Gerald Keucher, Episcopal priests, bought 1 Pendleton Place in 1983 for $91,000, they got a high-style Victorian house that was largely intact. But, Father Walsted said, "there were mushrooms growing on the walls" because of leaks. Like Mr. Richardson, they cleared away decades of growth around their house, but there was so little damage to the interior they had only to plaster and paint. NY Times
The tower at 1 Pendleton is of special note; it is square for the first three stories, then becomes an octagonal tower with a conical, bracket-supported roof.
ForgottenTour #44 visited in the spring of 2011 and we were graciously shown the interior by the owners. Google Street View from January 2013 showed a For Sale sign on the property.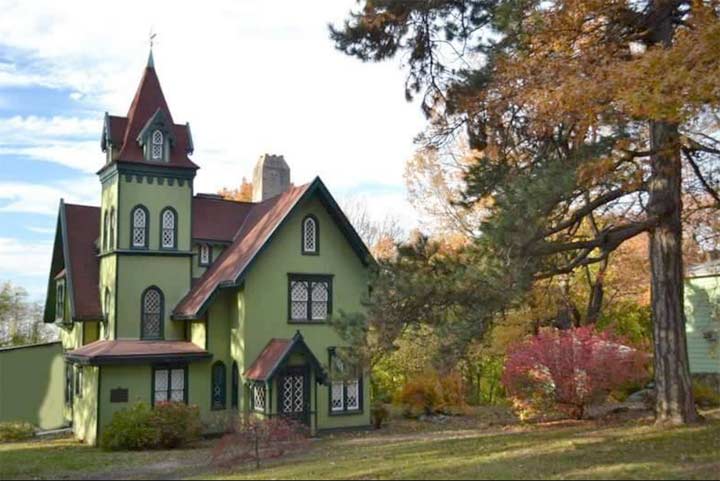 The building across the street looks as if it was transported from an Eastern European duchy. The NYC Landmarks report for #22 Pendleton Place across the street states:
This Gothic Revival House possesses a striking profile and architectural individuality. Situated on irregularly shaped high grounds overlooking Kill Van Kull, a prominent tower dominates the two-and-half story residence, a survivor of Victorian Romanticism. A gabled vestibule doorway, adorned with scalloped scroll work bargeboards, projects forward from the south elevation. Diamond shaped glass is used in all the various shaped windows. On the side of the house are two one-story extensions and a greenhouse of a later period. The steeply pitched gable roofs are covered with diamond shaped shingles as is the pyramidal shaped roof surmounting the tower. 
On the tour, owner Edwin Calderon talked about his purchase and renovation of the house, and showed photos of the house when it was new in the 1800s.
In December 2016, Edwin sent me some more information about the two dwellings:
My house [22 Pendleton] 
was built for William S. Pendleton and he lived there from 1855 to 1876. 1 Pendleton was built for Pendleton as a rental property, and the 1st resident was named Reinhardt. His son, William H. Pendleton, moved into 1 Pendleton after the Reinhardt family moved out, I believe it was in the 1870's.
I suspect that my house may have been built by the company of Alexander Jackson Davis or influenced by the work of Andrew Jackson Downing since both did a lot of Gothic architecture (although Downing was a horticulturalist for the most part) and both apprenticed with William S. Pendleton and his brother John, when the two brothers ran the lithography business in Boston in the 1820's.
Also Davis designed a Gothic villa very similar to mine around the same time. When I researched my house, this Gothic villa sketch appeared as one of Davis's works. Ironically, around 30 years prior to my research, Barnett Shepard, Staten Island Historian, did research on my house for the previous owners and came across the same sketch. The previous owners gave me the research file and that was when I was surprised that the two of us came across the same speculation.
What people don't know is that William S. Pendleton sold the house in 1876 to William P. Raynor, envelope manufacturer. He was the son of Samuel Rayner who was the most prominent envelope manufacturer during that era. William P. Raynor was responsible for inventing the numbering system of envelope sizes we still use today. So if you buy a #10 envelope, that was the work of William P. Raynor. The Samuel Raynor house still stands on East 17th Street.
Also, Nathaniel Currier of Christmas card Currier and Ives fame apprenticed with Pendleton at the same time so Currier, Davis and Downing knew each other.
2/10/15; updated 12/21/16