Late November 2014. I decided to walk most of the length of one of those Bronx roads with classic names I hadn't paid all that much attention to, yet its name harks back to a lot of history… of course, I hope its name never changes. It's an east-west route running from Mosholu Parkway east to where the Hutchinson River Parkway, Bruckner Expressway and New England Thruway all converge, and serves as something of a fast and furious feeder road for all three in its easternmost stretch.
The route, of course, is Gun Hill Road (I know it's East and West, but I'll just say Gun Hill Road for expedience's sake).
My route today was pretty much straightforward (west on Gun Hill Road and Van Cortlandt Park South to Riverdale), but here's the Google Map, regardless.
To get to this part of the Bronx without a car, you take the #5 train, which runs along a former railroad, the New York, Westchester & Boston, constructed in the 1910s and intended as competition for NY Central's main line out of Grand Central Terminal which ran through the Bronx to Westchester and points north. The line was originally going to go to Boston, but was only built as far north as mid-Westchester and was never a financial success; it closed in 1937, leaving behind varied trackways in open cuts, tunnels, and elevated stretches, as well as several station houses.
In 1940 New York City purchased the line and used it as a shuttle to the northeast Bronx called the Dyre Avenue Line, named for its terminal; at the time it was unconnected to the IRT White Plains Road line, but you could transfer at East 180th. Later, a connection was made and trains coming north from Manhattan could switch onto the tracks. Still, though, it was run as a shuttle in off hours, and in one of those quirks that existed just to make things interesting, you paid onboard as you used to do with the Staten Island Railway! The Metrocard, expanded to all subway stations in 1997, ended that state of affairs.
Back in the spring of 2012, I walked the entire route of the Dyre Avenue Line as best I could.
As you can see the stationhouse has been retained, though it's a bit less spacious inside than you'd think. At this point the line runs in an open cut. There's a "new" subway station ID stanchion on the sidewalk outside, likely installed in the 1970s; the green light indicates it's open 24/7.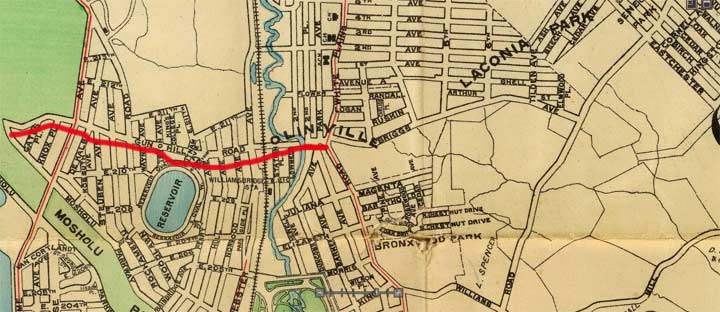 Here's a map of the region where I got off the train, which is on the border of today's Allerton and Williamsbridge neighborhoods. But, on this excerpt from a 1900 Hyde atlas, there's no NY, Westchester and Boston Railroad, and not only that, there's no Gun Hill Road, at least here, anyway. This part of the Eastern Bronx didn't become part of New York County until 1895 and did not join the city until 1898, and the RR didn't arrive until 1912.
I've placed a red  line along the existing portion of Gun Hill Road in 1900. It runs along a Native American trail and in 1900 went from Mosholu Parkway east only as far as White Plains Road. That road figured prominently in the Revolutionary War.
Gun Hill Road was a major east-west artery by then and control over it was contested feverishly. In January 1777, skirmishes occurred at Fort Washington, located then where Giles Place and Sedgwick Avenue would be, and then at John Williams' bridge at Gun Hill Road and the Bronx River. The patriots took refuge at a redoubt (a small temporary fort made of earthworks, stone or brick) on January 25th, 1777, that was located on this map just north of East 211th Street and west of Webster Avenue in what is now Woodlawn Cemetery.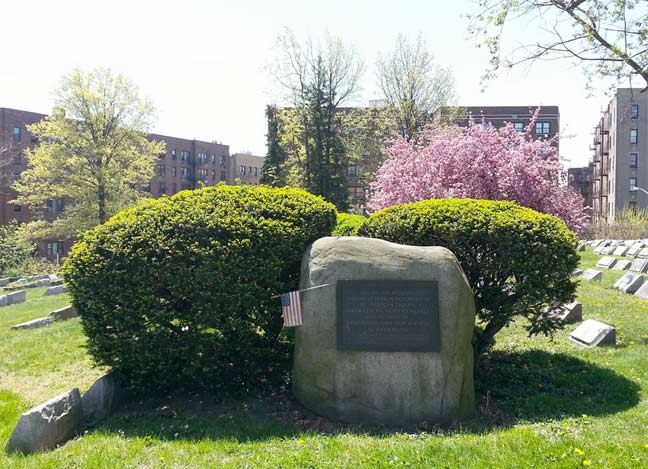 photo: I'm Just Walkin'
A monument to this redoubt can be seen inside the southern Woodlawn Cemetery fence north of the intersection of East 211th and Decatur Avenue. The patriots, commanded by Major General William Heath, fired cannon at the British here, which sent the King's forces retreating. The spot became known as "the gun hill."
By 1875, Gun Hill Road had received its name west of White Plains Road, but the Bronx east of that was mostly farmland and meadows at the time. As the Bronx became built out and newly populated, a grid system of streets was laid out and Gun Hill Road was extended east, arriving at its present length in 1938.
Take a look at the map above again. East of the Bronx River, there are a couple of roads whose traces remain. A portion of the curving Briggs Avenue is still there as Tilden Street, and Magenta and Bartholdi Streets can still be found on the present map. Most intriguing is Bronxwood Park, which was developed early on before the grid was put in place. "Magenta" was named for a town in Italy where Napoleon III scored a victory in 1859, and French designers named a shade of purple for it! The French who resided in this region in the 1890s petitioned for a name change from Juliana Street.
Some delicacies, heading west on Gun Hill Road. If you're wondering, "cow cod" is a bull penis, a Jamaican delicacy traditionally cooked in a stew with bananas and peppers in a white rum base. This use of the word "cod" is more obvious in the word "codpiece." There is a predominant West Indian population in the neighborhood.
Art Guild Sports Center just past Burke Avenue. An "E" was requested from Pat, but Vanna only sold one.
Gun Post Lanes, Gun Hill Road and Givan Avenue. You can add bowling alleys to fast-disappearing artifacts, but here's a Bronx campaigner still hanging in there. Bowling alleys have made a comeback to some degree, but in Williamsburg, Brooklyn where 2 or 4 lanes are paired with an upscale bar atmosphere, and I doubt serious bowling leagues meet there.
When I was younger I was involved in several leagues, though I couldn't crack a 150 average because I couldn't master a hook, so I just heaved it down the middle. Split city! I bowled at Leemark Lanes, 88th Street in Bay Ridge; Bay Ridge Lanes, 8th Avenue and 64th Street; Rainbow Lanes in Sheepshead Bay, co-owned for a time by Brooklyn pro Mark Roth; Melody, which is still operating on 37th Street and 5th Avenue in Sunset Park; the lanes at the Port Authority Bus Terminal, now called Frames; Bowlmor Lanes on University Place, which was converted to a party palace with lanes long after I stopped bowling there; and a lanes at Humboldt and Moultrie Streets in Greenpoint that closed so long ago I can't remember the name.
Some street art on the wall of Brothers Produce and Fish, Hering Avenue just south of Gun Hill and Boston Roads. Note the depiction of the R-33 "redbird" that plied the nearby #5 train until the early 2000s.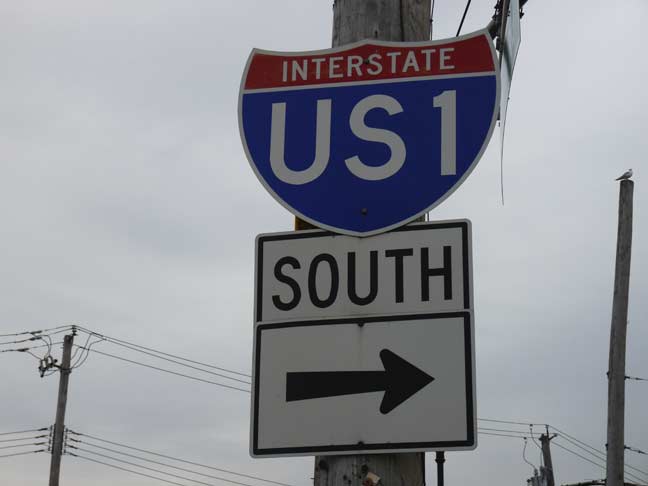 Boston Road is U.S. 1, which indeed goes northeast to Boston and further into Maine. Following it south will get you to Key West, Florida in a few days. Once north of NYC, the road is called Boston Post Road depending on where you are; each municipality calls US 1 by a different name within its jurisdiction.
This sign is actually an error. US 1 is a state highway, not an interstate expressway.
This road is not the original Post Road to Boston. Remnants of that road can be found elsewhere around the Bronx. This road is quite old, nonetheless. It was plotted after the Revolutionary War by Colonel Lewis Morris, who wanted his own version of the Post Road to Boston to run through his property. In 1794, John B. Coles connected the road to a bridge across the Harlem River and so, it's known to some historians as Coles' Boston Road.
For a good read about the original Boston Post Road, see The King's Best Highway: The Lost History of the Boston Post Road, the Route That Made America by Eric Jaffe.
One of the major north-south routes Boston Road intersects is Laconia Avenue, whose name sounds like a country Groucho Marx would rule. It was a mellifluous sounding made-up name of a development founded in the 1880s that is long gone.  An apartment building on the corner features multiple cell phone relays and a truck driving school. Is it too late for me to learn?
In Comments: In ancient Greece, "Laconia" — also known as Lacedaemonia — was the heartland of the city-state ruled by Sparta. In modern Greece, "Laconia" is n administrative region of which Sparta is the local capital.
Hand-lettered sign for a tile works west of Laconia Avenue.
I made a detour that isn't reflected on the Google map route linked above. I went north on Paulding and west on East 212th to get a look at Tilden Street, that little remnant of Briggs Avenue that defies the grid (see 1900 map above). It creates some sharp-angled intersections.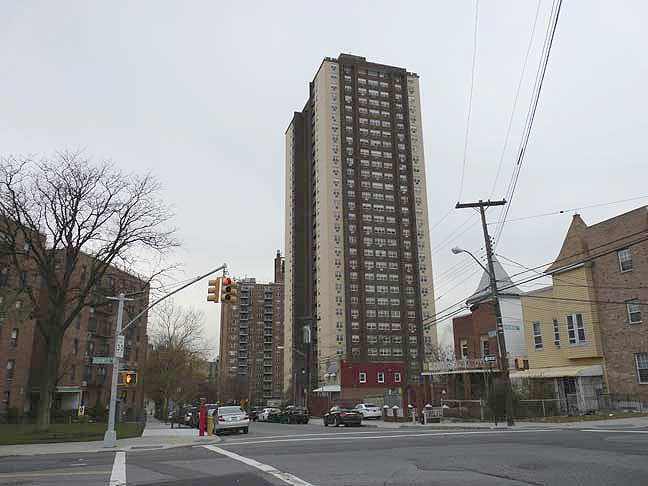 Tilden Towers, a noncontextual (meaning it's abnormally high, given the neighborhood) apartment tower on Tilden between Barnes and Bronxwood Avenues.
Evander Childs Educational Campus (formerly High School; split into 6 separate schools in 2008), Gun Hill Road between Bronxwood and Barnes Avenues.  Childs himself (1843-1912) was principal of two schools, Grammar Schools 61 and 90, that later became PS 2 and PS 10. He was a very popular educator and Evander Childs High School was founded in Norwood in 1919; it relocated to this building a couple of decades after that.
Comedian and author Carl Reiner (Your Show of Shows and The Dick Van Dyke Show) graduated from Evander Childs in 1938, and his son Rob Reiner, Mike Stivic on All in the Family, was also born in the Bronx.
Church of the Immaculate Conception, Gun Hill Road and Holland Avenue. The church was founded in 1902, with the original building on Briggs Avenue (today's Tilden Street). The present Italianate – Neo-Romanesque brick twin-towered church was completed in 1925. It's the second of two Churches of the Immaculate Conception in the Bronx: the first was founded in Melrose, at Melrose Avenue and East 150th Street, in 1853, with the present building dedicated in 1889.
The Catholic concept of the Immaculate Conception was that Mary, Jesus' mother, was conceived without original sin.
Shown is the Immaculate Conception parish rectory. Wallace Avenue between Bartholdi Street and Gun Hill Road was renamed Capuchin Way in 1977 for the Capuchin Friars, the prelates who serve the parish. (It's one of the fe streets in New York City called a way.)
The Order arose in 1520 when Matteo da Bascio, an Observant Franciscan friar native to the Italian region of the Marches, said he had been inspired by God with the idea that the manner of life led by the friars of his day was not the one which their founder, St. Francis of Assisi, had envisaged. He sought to return to the primitive way of life of solitude and penance as practiced by the founder of their Order. wikipedia
The Order is named for the cappuccio, or hooded robe worn by members .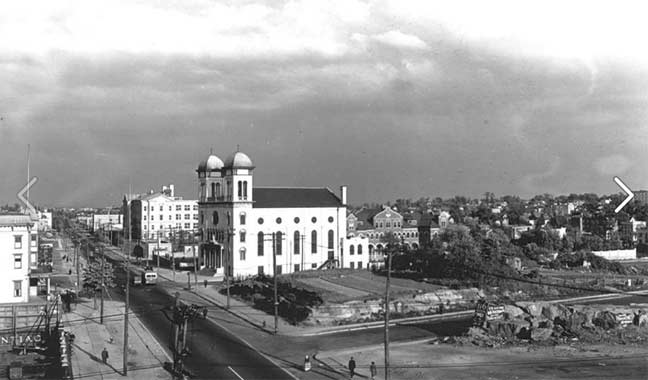 A view of the "Immacon" from further west on Gun Hill Road from a few decades ago.
Gun Hill Road crosses White Plains Road, which is accompanied for about half its length from the East River north to the NYC line at Mount Vernon by an el train upon which runs the #2 train and occasionally the #5. The White Plains Road el was built in 1917 and serves as a northern extension of the 7th Avenue IRT subway. Note that the tracks rise high above the ground — there used to be a second level of tracks used to support the Third Avenue El, whose northern terminal was here. The tracks' superstructure is still complicated but most of that second level has been removed.
While White Plains Road doesn't go directly to White Plains, you can get there by taking this road into Mount Vernon, turn right on East 242nd, which becomes 3rd Street in Mount Vernon, turn left at Columbus Avenue (NYS 22) which becomes White Plains Road again in Bronxville and then runs north through Scarsdale to White Plains. (Most people would use the Bronx River Parkway, which we will see up ahead.)
Seen on the building on the NE corner of Gun Hill and White Plains Roads is this magnificent painted ad for a funeral home, a modern-day apotheosis of the art of painted ads. It must be relatively new, as the neighborhood youth have not yet marked it up, and the sun hasn't had a chance to fade it. Really, it's a work of art.
One of NYC's once-numerous public restrooms is located across the street, and it was renovated in 2004 as part of the station's overall reclamations. Nature was not calling so I had no need to see about it.
The station, after several years of deterioration, received a complete makeover in 2005 with the addition of a glassy mezzanine and new station art. Some of it can be seen at NYC Subways.
To complete the overall renovations, the intersection (properly known as Williamsbridge Square) was given a flock of retro Triborough-type lampposts, replicas of the ones installed on the Triborough, or Robert F. Kennedy, Bridge connecting Manhattan, Bronx and Queens that opened in July 1936. Several of the originals are actually still in place, but replicas painted black or gray have previously turned up on Broadway, Ditmars Boulevard and Jamaica Avenue in Queens.
A pair of old buildings, some of which try to mask their age, are found on either side of the square. We are actually in an old region of the Bronx originally called Olinville; actually there were two such settlements established in 1852 and named for Bishop Stephen Olin of the towns' Methodist church.
Next week in Part Two: the Four Bridges of Gun Hill Road.
2/1/15