Mid-Brooklyn's north-south avenues have a naming pattern from west to east. After Bedford and then Nostrand, they are named for major cities found going north on the Hudson River and then west on the Erie Canal: New York; Brooklyn (presumably New York, as the larger city, would come first); Kingston; Albany; Troy; Schenectady; Utica; Rochester (Syracuse and Rome are skipped); and Buffalo.
Between President Street and Eastern Parkway, especially, Kingston Avenue is the main shopping drag for a heavily Orthodox Jewish population. While stumbling through  a few years ago I found this old-school storefront sign midblock, between President and Union. It's typical of signs produced in the 1950s and 1960s, with plastic letters on a linoleum background. It still retains an old telephone exchange: SL, for SLocum.
I've never understood the practices and politics behind the naming of the old telephone exchanges, but the only prominent Slocum I can think of was a Civil War general, Henry Warner Slocum, whose name was applied to an excursion steamboat that caught fire in the East River in June 1904, resulting in the deaths of over 1000 people.
Although the shop is midblock, it appears to be located on a corner. In a way, it is.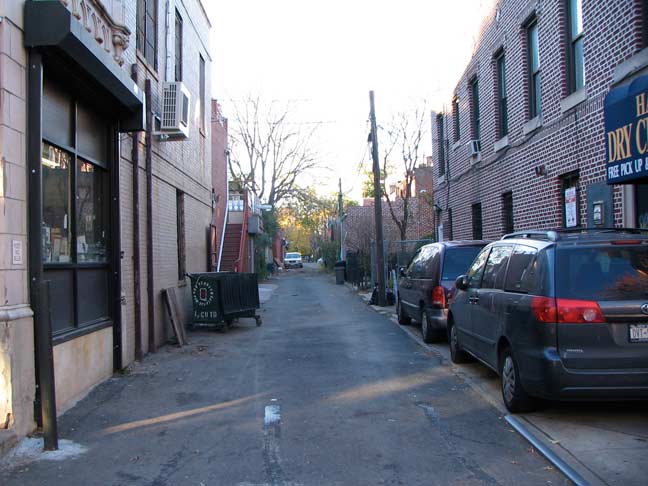 This part of Crown Heights is unusual, in that it contains service blocks that connects to the north-south avenues. This means that Dumpsters™ and trash receptacles can be placed here, and sanitation workers can collect here; the rest of NYC is quite deficient in service alleys, so trash is placed on the curbside in front of shops and residences. Most other major cities feature service alleys like this one.
2/4/15