In contrast to Brooklyn Bridge Park and the developing Williamsburg and Greenpoint waterfronts, whose new parks and waterside rich people storage units are covered in every page on the World Wide Web from Brownstoner to Gothamist to Curbed, the much older western waterfront along the Belt Parkway has had bike paths and waterside roads available to the public since 1940, and they haven't changed much since then.
Last week I covered what's called simply "the bike path" along The Narrows from 4th Avenue to Bay Parkway, and here I'll conclude with a couple of more miles along the Belt into the relatively undocumented Calvin Vaux Park. I'll leave the part between 4th Avenue and the old 69th Street Ferry Pier for another time.
At Bay Parkway, the "bike path" ends. A few miles east, it resumes again along Sheepshead Bay and the Belt Parkway, but to get there, bicyclists have to bet their luck against the eastbound Belt Parkway service road, then Cropsey, Neptune and Emmons Avenues out to Knapp Street, where the path resumes and continues east to Howard Beach. Surprisingly, I've only bicycled that path once and that was in the 1990s before the path was repaved. Before that it was an obstacle course with weeds and broken glass, which was the case with a number of bike paths, if they existed at all, in the 1970s and 1980s; in those days, before a powerful bike lobby emerged, bikes were considered toys or used only to deliver food. In any case, the bike path was duly repaved and improved after I moved to Queens in 1993.
The Shore Parkway eastbound service road is relatively uneventful, unless you like huge parking lots (for Ceasars [sic] Bay Bazaar), motor inns, health clubs, juice bars, "wellness centers" and other 21st Century detritus.
There has been an amusement park under one name or the other along this stretch of the Belt since the 1960s, at least. In my youth this was called the Nellie Bly amusement park, named for the groundbreaking 19th Century journalist. These days it is known as "Adventurers Family Entertainment Center" with a pirate in its logo. No fake danger here as in the Thunderbolt or Cyclone in Coney Island; here the rides are for kids 2 through 8 years old.
West of Shore Parkway Bay 41st Street trails off to a NYC Sanitation Department depot. While the few streets here are industrial in nature they apparently were not always though of that way.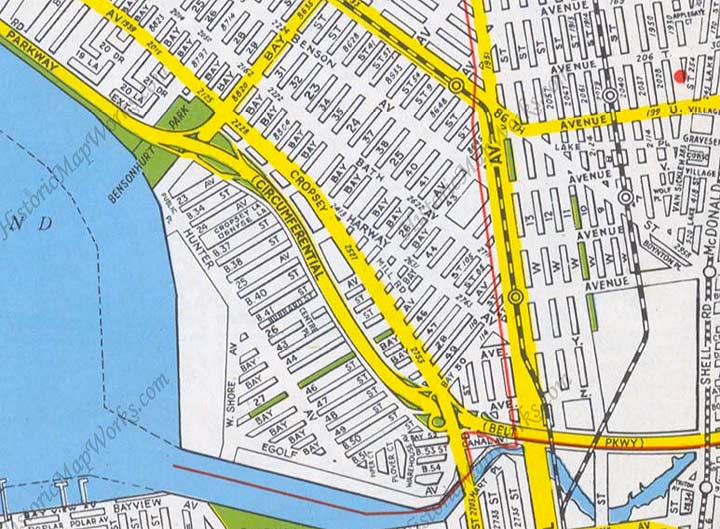 Here's a 1949 map of the area which shows a substantial street grid west of the Belt, or as it was known in the 1940s, the Circumferential Parkway (people could spell a lot better in the 1940s than they can today). I'd imagine the city planned to landfill the area and build houses in anew street grid here alonh avenues called Hunter, West Shore and an odd name, Egolf Avenue. Few of these streets exist — this neighborhood is fairly inaccessible past the Belt Parkway as only 26th Avenue connects with the other side. There streets were on the books for decades — a 1929 Belcher-Hyde atlas shows them too (as well as a group of streets, Stryker and Hubbard Streets and Centre Place, that have utterly vanished).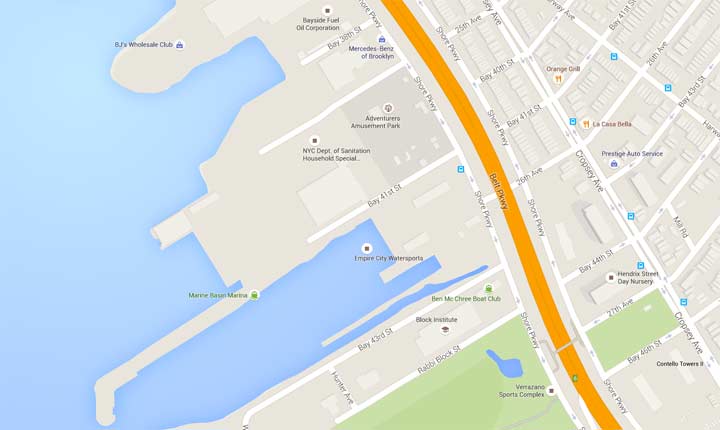 Google Maps shows the region as is in 2015. As you can see few of these streets were ever laid out and only a dead-end stretch of Hunter Avenue ever was built.
The Coney Island Parachute Jump, described in Part 1, looms ever larger along the Shore (Belt) Parkway service road as we go further south.
In Brooklyn and Queens, "Shore" and "Belt" Parkway can be mentioned interchangeably. However, to the Department of Transportation, it's another story entirely. The name of the parkway between the Gowanus Expressway (at 3rd Avenue and 64th Street, where it branches off) and the confluence of Laurelton Parkway and the Sunrise Highway in Laurelton, Queens, the parkway itself is the Belt Parkway and is displayed that way on highway signs. But, the service roads on the north and/or south sides of the Belt Parkway are signed as "Shore Parkway" by the DOT between Bay 8th Street and Emmons Avenue and Knapp Street. There is also a short section of service road between 80th Street and Cross Bay Boulevard on the north side of the Parkway alternately signed "Shore Parkway North" or just plain "Shore Parkway." And, that's not all. East of Cross Bay Boulevard, the Belt Parkway joins the route of Conduit Boulevard coming in from Brooklyn, and the service roads out to the Queens line are called North and south Conduit Avenue (in the 1930s and 40s, the whole run of Conduit Boulevard and the Belt Parkway was part of Sunrise Highway!)
Before it gets even more confusing, I'll quit right there.
At 26th Avenue we see a typical masonry bridge used for the Belt Parkway overpasses in the 1930s and 1940s.
Bay 44th Street was subnamed in 1993 for the founder of the School for Special Children (now the Block Institute). The street runs west to a dead-end section of Hunter Avenue that has exactly one private residence, making it one of the more isolated dwellings in Brooklyn.
Just beyond Bay 44th Street is the entrance to one of Brooklyn's little-known public spaces. After some decades, the streets in the area on the map shown above remained undeveloped territory, except for pieces here and there.
The story of Calvert Vaux Park begins in 1933, when the Dreier-Offerman home for unwed girls closed its doors and donated part of its holdings to the city. Over the years NYC Parks acquired more surrounding land from teh city, including 72 acres of landfill built from the excavations done for the Verrazano-Narrows Bridge project. Through the decades Dreier-Offerman Park remained mostly undeveloped except for a couple of baseball and soccer fields. By 2011, the park, renamed in 2004 for Calvert Vaux (1824-1895), one of the developers, along with Frederick Law Olmsted, of Central and Prospect Parks, received new soccer fields and much of the grounds were cleaned up, with new walkways and signage pointing out the flora and fauna found along the park's border with Coney Island Creek. Vaux (pronounced "vawks"), a Brooklyn resident, was found drowned in Gravesend Bay in 1895.
A look at one of the new soccer fields.
Vaux Park has some recently cleared paths along Coney Island Creek.
Coney Island Creek, which runs from the Narrows east to Shell Road at the Belt Parkway. Before the 20th Century, there was a connection between what became Coney Island Creek and Sheepshead Bay, and Coney Island was indeed an island. In the early 20th Century, extensive landfill confined Coney Island Creek and sheepshead Bay to their current limitations.
Like other canals and creeks in NYC, Coney Island Creek is polluted and brackish, but it does support a wide range of flora and fauna along its oily, garbage-strewn shores. Some of the salt marshes along Vaux Park are coming back: horseshoe crabs, fiddler crabs, ribbed mussels and snowy egrets are already plentiful again.
A vessel pokes its nose above the creek's surface — barely. This is the famed Yellow Submarine (known as the Quester I), launched by treasure hunter Jerry Bianco in 1970 to explore the Andrea Doria, an Italian luxury liner that sunk in 1956. Unfortunately, the Quester I itself sank shortly after its launch, and it's been bobbing in Coney Island Creek ever since.
A close-up exploration of the Yellow Submarine was accomplished several years ago by Forgotten Fans Mike Olshan and Marie Lorenz. Read about it here.
At 27th Avenue we find the second of this type arched pedestrian bridge. It's virtually identical to the found in Part 1 at Bay 17th Street. This one, though…
…has a pair of Type F lampposts, of which the originals are quite rare in NYC now, though somewhat larger retro versions have turned up on various avenues. Both are equipped with their old Westinghouse AK-10 "cuplights" which, if they indeed light up (I haven't been by at night) have a yellowish incandescent glow. Last time I saw them they were bright blue, but have had a gray paint job since, which is already peeling away. Unfortunately both lamps are missing their top finials. They likely date to 1939-40 when the parkway opened.
For teh rest of this walk I headed inland on my way to the train. Whenever I'm down here, I check on the status of Mill Road, a curio in Bath Beach left over from the days when the entire region was a peninsula. Mill Road used to be the main road down the center of the peninsula and was the only spot where there was truly dry land; everything else was swampy and marshy.
Mill Road is "open" as a paved road between Bay 44th Street and 27th Avenue, and as a dirt road between Bay 43rd and 44th; that section floods easily after rain, and was impassable when I chanced it. Since it is not an official mapped city street, the Department of Transportation doesn't deign supply street signs, but does illuminate it with streetlamps. I have never understood this logic on the part of the DOT, and would like some kind of explanation, in case anyone knows. Some time in the past, a resident clamped a yellow sign saying "MILL RD" on a telephone pole, and that's how anyone not from around the area can recognize it.
I look at Mill Road in depth including its status as the community's former main road on this FNY page.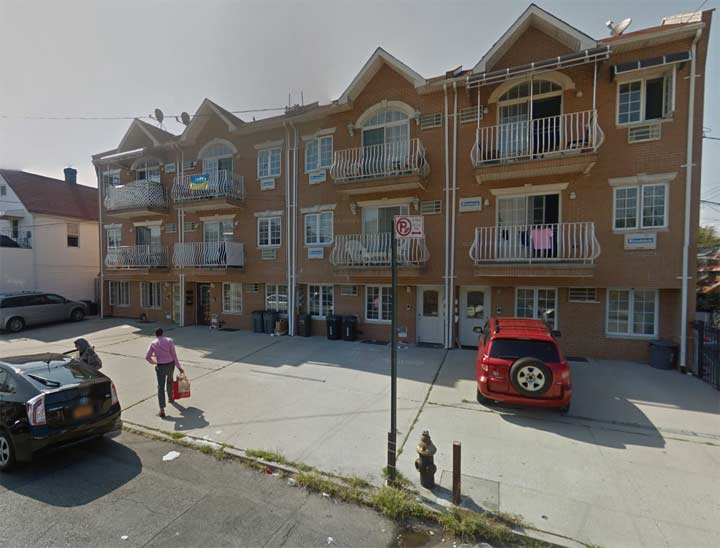 This building at Bay 43rd Street and Bath Avenue is nothing to write home to Mother about — it's standard issue fro modern multifamily buildings in 2015, with a concrete lawn, RediRust® terrace railings, and overall character-free. However, the building should have a plaque in front of it.
Why, you ask? Well, it was here that Moses and Jerome Horwitz built a house in the mid-1920s. The brothers, who had had on and off stage careers, worked as building contractors in the 20s but later joined their friend Ted Healy in a stage show at the Prospect Theater in Park Slope, and the brothers, along with pal Lawrence Fineburg, are better known to you these days as Moe and Curly Howard and Larry Fine, the Three Stooges. I have more on this fascinating, but little-known, Brooklyn story on this FNY page.
Before getting on the train, I got a closeup view of one of the new LED bright white street lights that are gradually taking over in NYC. I haven't gotten a good look at these lamps at night when they are lit up — just passing views out train windows — but I do notice that the streets are considerably darker because the lack of a diffuser bowl doesn't really throw the light around very well. Expect crime to rise as these cheaper alternatives replace bright yellow sodium bulbs around town.
The red "top hat" is a fire alarm indicator lamp. These were formerly mounted on lamppost shafts or telephone poles, but they had to be separately maintained, and a cheaper alternative is to mount them on luminaires so they each access the same source.
Most subway stations, like this one at 25th Avenue on the West End line, have received colorful art as part of station renovations. This one, by Amy Cheng, is titled "Rediscovery" and was installed in 2012.
My ride's here. The D train has used R-68 cars made in the mid-1980s exclusively for several years. I like them because the seat arrangement has some of the seats perpendicular to the windows, so you can see outside. I imagine the cars have 10 years or so left.
8/24/15