Dominie's Hoek (Hook), originally the western end of the town of Newtown, was originally settled when a tract of land was awarded to Everard Bogardus, a Dutch Reformed minister (dominie), in 1643. The land was later owned by British sea captain George Hunter and by 1825 had become known as Hunter's Point. It began the transition from rural farmland in the 1860s when the Long Island Rail Road built a terminal that would be its primary connection with Manhattan until the East River tunnels and Pennsylvania Station were built in 1910.
In 1870 Hunters Point was incorporated along with the villages of Astoria, Blissville, Ravenswood, Dutch Kills, Middletown, Sunnyside and Bowery Bay into Long Island City. Because it is strategically located at the East River and Newtown Creek, the waterfronts of Hunters Point became heavily industrialized in the 19th and 20th Centuries. De-industrialization in the 1970s and 1980s was swift and left many rusting and rotting remnants, some of which have now been incorporated into the recreational and residential sites now springing up at water's edge.
More than any other part of Queens, Hunters Point architecturally resembles an extension of the styles found in neighboring Greenpoint, although, perhaps because most of it has not been landmarked, many of the classic older buildings, especially along Jackson Avenue, have been torn down in favor of new residential buildings.
Square foot for square foot, Hunters Point is the spot in Queens that is changing more rapidly than any other, especially around the waterfront. I'm here often to take it all in.
On the east side of the Vernon Blvd. Mall at 10-10 50th Avenue we find the vestiges of the Vernon Theatre, a small (550-seat) second-run picture house that opened in 1922 and lasted until 1957, when its last feature was The Incredible Shrinking Man.
Vernon Boulevard widens considerably from 50th Avenue to Borden Avenue and gains a concrete mall. The reason is that this spot has formerly been the location for a succession of bridges that crossed Newtown Creek from Hunters Point to Greenpoint, the first built in 1840 by the Ravenswood, Hallett's Cove and Williamsburg Turnpike and Bridge Company (that also constructed Vernon Blvd. along the shoreline). In 1903 that bridge was replaced by a swing bridge across the creek, but the bridge was doomed when the Pulaski Bridge was built in 1954. Earlier  (1939) the Kosciusko Bridge had spelled the end for Penny Bridge, which connected Meeker and Review Avenues. And, the Kosciusko will by 2018 give way to a new twin cable-stayed span with the same name.
The three-story neo-classical 108th Precinct Police Station was built in 1903 by architect R. Thomas short on 50th Avenue west of Vernon Blvd. in a flamboyant neo-Baroque style. It continues to serve its original use and is one of the most architecturally significant buildings in the area. What were perhaps the stables are adjacent on 50th Avenue.
The 108th, as with most police precincts in NYC, displays two green lamps at the entrance. The tradition of green lights dates back to colonial times.

 According to the NYPD website,
"It is believed that the Rattle Watchmen, who patrolled New Amsterdam in the 1650's, carried lanterns at night with green glass sides in them as a means of identification. When the Watchmen returned to the watch house after patrol, they hung their lantern on a hook by the front door to show people seeking the watchman that he was in the watch house. Today, green lights are hung outside the entrances of Police Precincts as a symbol that the 'Watch' is present and vigilant."
Built in 1887 by pre-eminent church architect Patrick Keeley, St. Mary's, with its distinctive clock steeple at Vernon Boulevard and 49th Avenue, was the tallest structure in Hunters Point, other than the now-demolished Penn RR powerhouse smokestacks, for over a century until the Queens West development of the 1990s. The church is built from brick and brownstone in a simple Gothic design, featuring multiple pointed arches across the façade on Vernon Boulevard, and a tall steeple that rises several stories. Clad in gray slate, the steeple houses clocks on each side, and marks the skyline as it rises over Vernon Boulevard.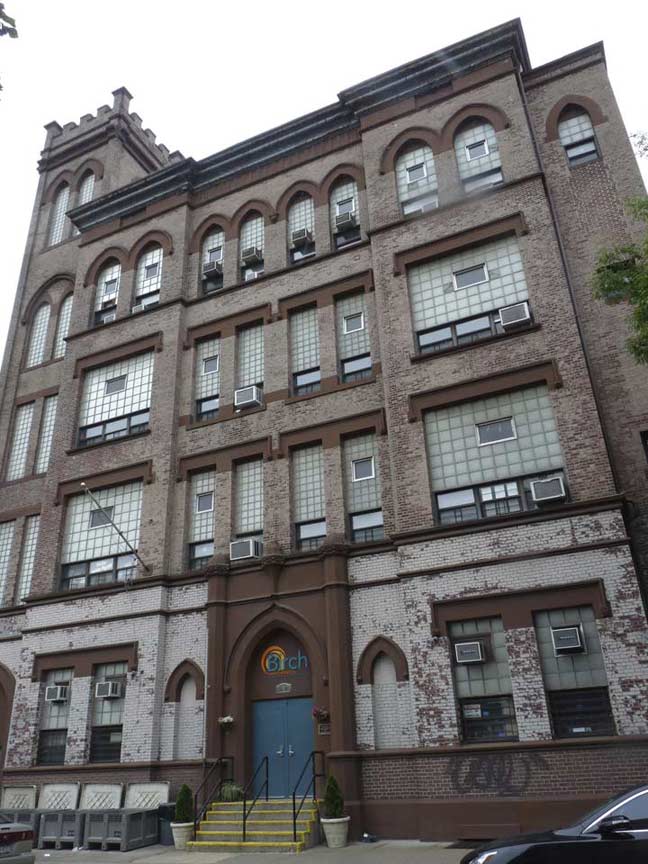 The church's former grade school and Lyceum can be found on 49th Avenue adjacent to the church.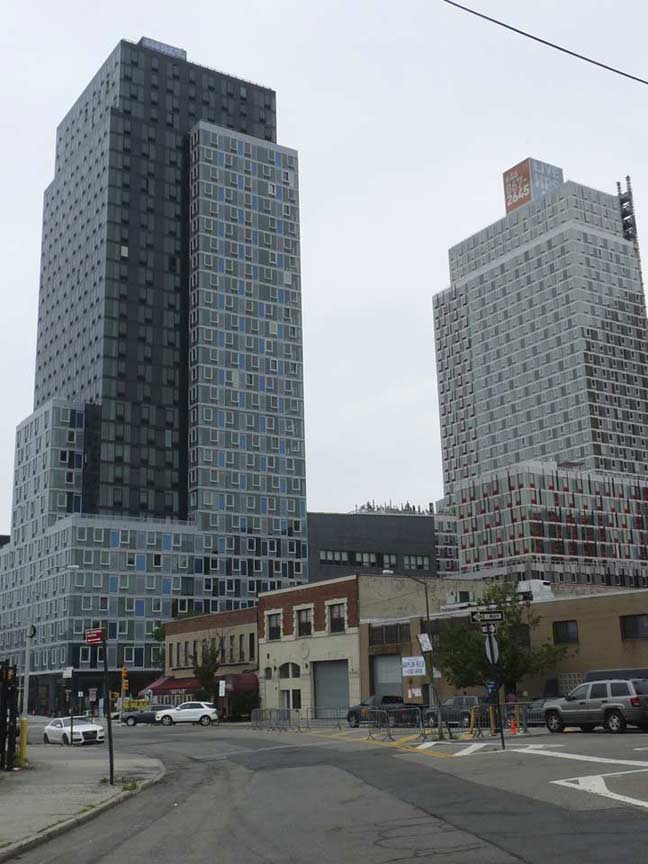 At Borden Avenue and 2nd Street,  the new Hunters Point South Common and Crossing towers dwarf the old Tony Miller's Hotel, for many year the Waterfront Crabhouse.  With the completion of these two tall residential towers, and the addition of a center median on 2nd Street in anticipation of more traffic there, this corner of Hunters Point looks nothing like it did even a few months ago [August 2015].
Word has come that the Crabhouse, which closed early in 2015, has new ownership and will rise again — but will the old ambience, which included a gallery of boxing memorabilia as well as NYC ephemera like street signs and plain trivia like old game boards and typewriters stuffing every nook and cranny, survive the change?
Hopefully this pair of lampposts at the Crabhouse door will survive too. They are an unusual hybrid seen nowhere else in NYC: Type B park lamp bases with Bishop Crook crowns welded on.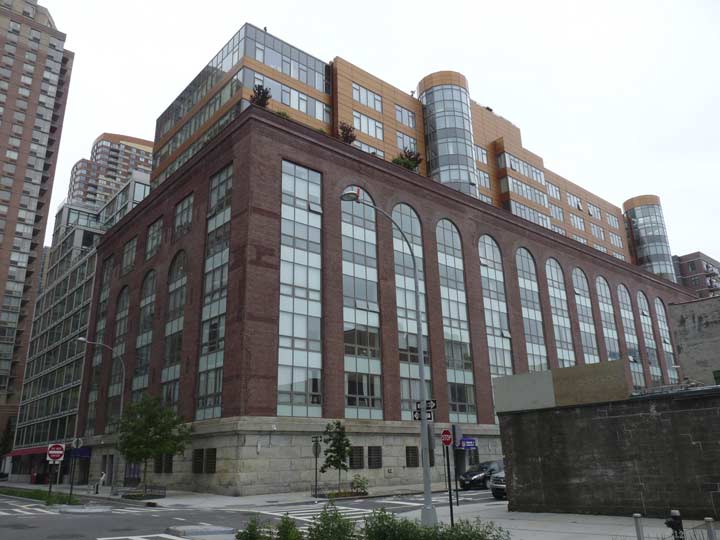 The Long Island Rail Road powerhouse in Hunters Point, 2nd Street at 51st Avenue,  looks nothing like it did before 2005, when its four distinctive smokestacks were removed and the building converted to condominiums. But, at least it's still here, in vastly altered form. While the destruction of Penn Station in the 1960s is correctly described as one of NYC's greatest architectural losses, this unheralded masterpiece still stands. Unfortunately,the four ebony smokestacks, featured in artwork by Georgia O'Keeffe in the 1930s, were torn down in 2005; they were deemed unsafe when the building was being prepared for residential use.
The Powerhouse was built by McKim, Mead and White beginning in 1903 and was completed in 1909, the year before the firm finished Manhattan's classic Pennsylvania Station. It was built when the Long Island Rail Road deemed it necessary to electrify most of the western portion of the railroad in Queens and Nassau Counties in preparation for the opening of the East River tunnels leading to the new station. Over 9500 piles were driven in the generating plant's construction; when finished the plant supplied 11,000-volt 25-cycle, three-phase alternating current to substations. 625 volts of direct current are carried on the LIRR's third rails.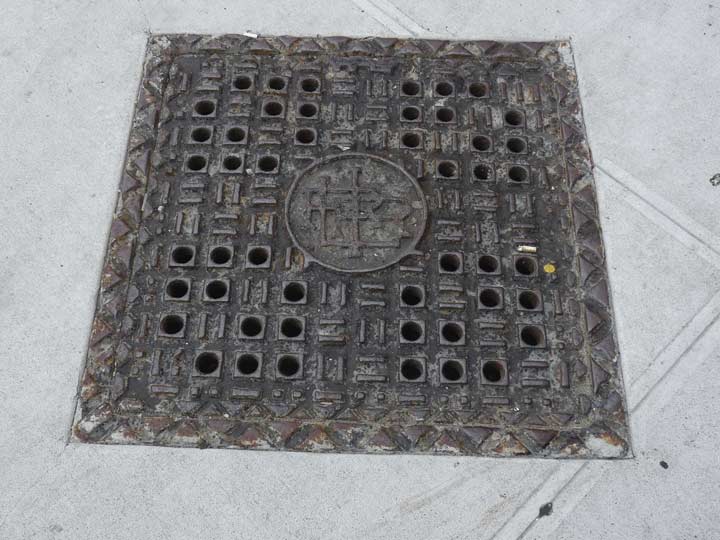 Besides the Long Island City LIRR terminal, mostly a layup yard these days, with just a few passenger runs on weekdays, one reminder of the LIRR's tenure here still remains on 2nd Street: a manhole cover with an interlocking LIRR symbol.
The new Hunters Point South Athletic Field is open to the public and also serves as the athletic field for the new  home of the Academy for Careers in Television and Film as well as the Hunters Point Community Middle School, which both face the East River and have a marvelous view of Manhattan.
In his recent State of the City address, Mayor Bill de Blasio proposed a citywide ferry service that would cost the same as a bus or train ride, including several new routes that would hopscotch along both sides of the East River and would reach as far as the Rockaways in Queens, Soundview in the Bronx, Coney Island in Brooklyn, and Stapleton in Staten Island, where new housing developments are currently under construction.
Ferry service in New York City, aside from the Staten Island Ferry which is subsidized so that there is currently no fare, have proven difficult to sustain. The Rockaway link was recently shut down for lack of ridership and high cost (as much as $30 per passenger to run, with a lesser fare per person).
I like the idea of a beefed-up ferry service, and I have occasionally used the current service run by NY Waterway's East River Ferry, which was inaugurated in 2011. The ferry is run as a shuttle, with seven stops on each side of the river: Midtown/34th Street, Hunters Point South, India Street in Greenpoint, North 6th Street and Schaefer Landing in Williamsburg, Brooklyn Bridge Park in DUMBO, and Wall Street/Pier 11. The fare is $4.00 weekdays and $6.00 on weekends.
However, I'd prefer a ferry fully integrated into the existing NYC transit system, with free transfers to bus lines that would be routed to ferry slips (as well as subways and trains where possible). The model would be the Staten Island ferry: travelers on the Staten Island Railway can transfer to subways at South Ferry, with a ferry ride in between. Some say that at this point, such an arrangement is not possible at the current expenses needed to maintain the ferry.
As is the East River Ferry landing at Hunters Point has been improved significantly from just a couple of years ago [as of 8/2015] with a new passenger shelter and coffee shop. In 2013, for example, you had to make your way through yard after yard of dirt track and construction netting to get to the ferry. The new landing occupies the old space of the NY Water Taxi Beach, a hot dog and hamburger stand where customers could eat lunch while patronizing an artificial beach on trucked-in sand, though no bathing was possible.
Gantry State Park is located in a new development at water's edge known as Queens West. It makes a handsome riverside addition to New York City, which has shamelessly left undeveloped an incredibly large volume of waterside property which really should be available to the public as parkland.
The park is named for a pair of transfer bridges, referred by some as "gantries,"as seen from the new East River pier. Goods were floated across the river on barges, and transferred to a spur of the Long Island Rail Road at water's edge in Hunters' Point.  When the park was built, the designers placed railroad tracks in the same spot where they used to run to the waters' edge. Some of the original tracks have been left in place, with gardens planted surrounding them.
The Queens West high-rise apartment complex that faces the park first appeared in 1998 and has slowly spread out along the waterfront west of 5th Street from 46th south to 50th Avenues. Gantry Plaza State Park opened in tandem with it, and has grown along with the apartment development. Though the complex has been successful, some say it has overtaxed resources in the Hunters Point region, and a shopping and restaurant center has never really sprung up along Vernon Boulevard, the main north-south route.
However, new shopping has appeared along Vernon Boulevard now that the Hunters Point South complex has been nearly finished, as well as a couple of restaurants along Center Boulevard.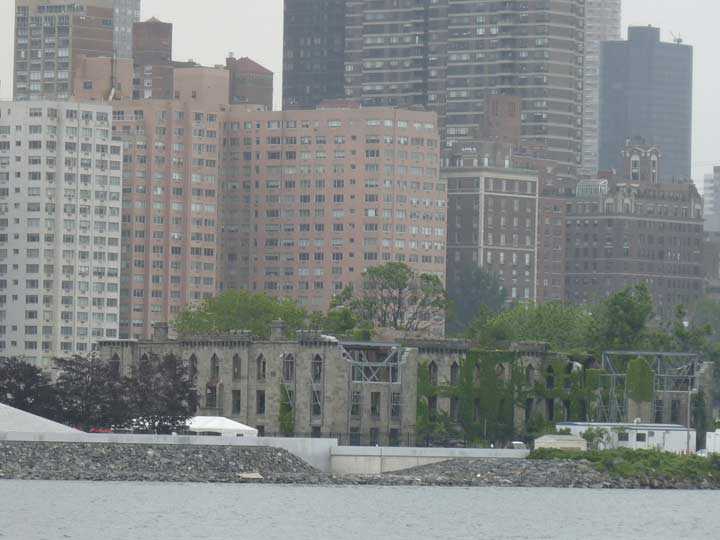 Seen from Gantry State Park is the former New York State Smallpox Hospital in the southern end of Roosevelt Island. These ruins have recently been made more accessible to public view, though the ruin remains fenced off. Visitors can view it from the outside, but the interior has yet to be made safe for the public. Unusually, it is well-lit at night and its ghostly outline can be readily seen from Manhattan Island after dark.
In the 1850s smallpox was a dangerously transmittable illness and its sufferers were quarantined here. In the late 1800s North Brother Island became NYC's quarantine center, and the hospital became a nurses' residence. It has been gradually deteriorating here since the 1950s.
Another Roosevelt Island "ruin" that is perhaps less well-known is the Strecker Laboratory, a premier facility for bacteriological research, was constructed in the 1890s as an adjunct to the long-demolished City Hospital in a Romanesque Revival style by architects Frederick Withers and Walter Dickson. Since it closed in the 1950s, it had been allowed to collapse for nearly 40 years despite its landmarking in 1975. In 2000, the Laboratory was renovated and restored, but it still stands all alone in an empty lot north of the Smallpox Hospital, awaiting visitors. As far as I can ascertain it contains electrical works and isn't likely to open soon.
Pepsi-Cola turns its back on Queens here in Gantry State Park. However, the completion of the northern edge of the park allows strollers to get "up close and personal" with the sign for perhaps the first time!
This massive neon Pepsi sign, using Pepsi's old script logo and old-style bottle, used to be best seen from Dag Hammarskjold Park on East 47th Street and 1st Avenue in Manhattan, though you can stroll up and almost touch it in its new park setting. Pepsi had been a presence in Hunters Point for decades, but its riverside bottling plant closed in 1999.
The big sign was built in 1936 by Artkraft Signs and comprised a 120-ft.-long sign grid covered with the product name. Shaped in the classic, 1930s, Art Deco, cursive script, the letters were formed with open-face channel letters outlined with exposed, ruby-red, neon lighting. Capitals "P" and "C" stood approximately 44 ft. high. Smaller letters ranged from 15 to 18 ft. high. Pepsi purists note that the "double dot" colon, which appeared with the original Pepsi name, was replaced by the dash in 1942 to "modernize" the logo.
Note the relatively modern Pepsi bottle neck logo (in use from 1970-1987). It was added when Artkraft Strauss refurbished the big sign in 1994.
Pepsi-Cola was first formulated by pharmacist Caleb Bradham in New Bern, North Carolina, in 1898 as "Brad's Drink." Within its first year of production it was renamed Pepsi-Cola from the digestive enzyme pepsin and kola nuts, which were both in the formula.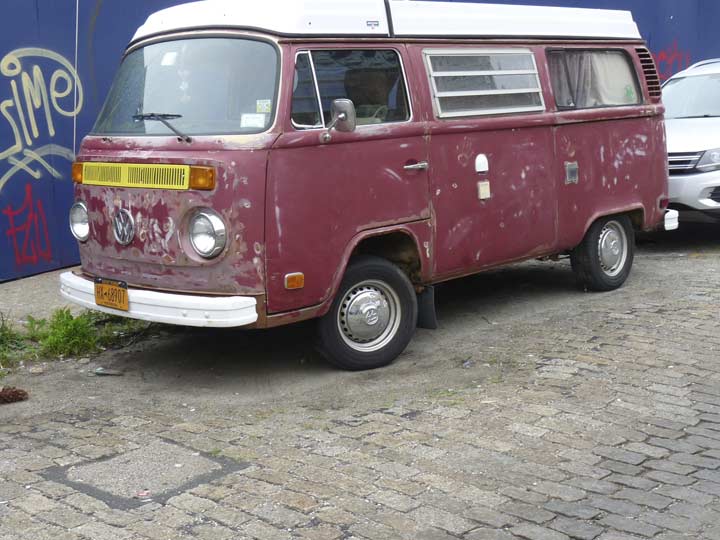 Turning inland, 46th Road east of Center Boulevard is still Belgian blocked and there was Type 2 Volkswagen Bus, first produced in 1967, parked by a construction site. The VW Bus Type 2 is recognizable from the front ventilation unit and single (not split) windshield.
A companion piece to the 108th Precinct, Engine 258/Ladder 115 at 47th Avenue near 11th Street was built the same year, 1903, in a Flemish style by architect Bradford L. Gilbert.
According to the NYS Landmarks Preservation Commission, "The four-and-a-half story building is distinguished by a prominent step gable, a feature often associated with early 17th century architecture in Holland, especially work by the Dutch sculptor and architect Hendrick de Keyser. More than fifty-feet wide, the imposing façade has Flemish bond brick with burnt headers, projecting metal cant window bays, and oversized masonry details." It was designated a NYC Landmark in 2006.
A passed by at a propitious time, as a fire engine was pulling into the building.
The Breadbox Cafe, on the corner of 11th Avenue and 47th Street, has been here for a few years now, but I never stopped to inspect its exterior — which is decorated with hundreds of rolling pins. One of Queens' hidden roadside landmarks.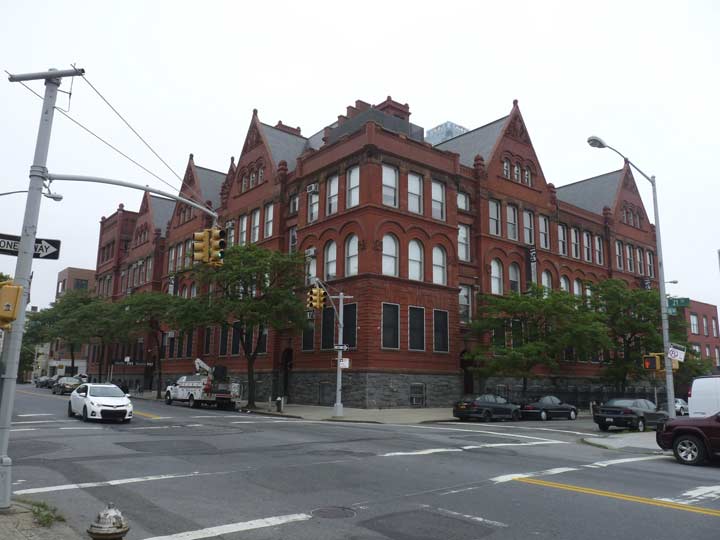 PS 1, a Romanesque Revival former public school at 22-25 Jackson Avenue at 21st Street, was built in the 1890s when Long Island City was indeed a real city. In the 1970s it was revived as a contemporary art museum and then began an association with the Metropolitan Museum of Art, housing exhibits that may have been thought too risky or outré for the more stolid MoMA. The museum has cleverly incorporated the old school's interiors as art spaces, down to the bathrooms and boiler rooms. Older photos show that it once had a corner clock tower.
The Long Island City Post Office is a historic post office building located at Long Island City in Queens County, New York, United States. It was built in 1928, and is one of a number of post offices in New York designed by the Office of the Supervising Architect under director James A. Wetmore. The building is a two story, symmetrically massed brick building with limestone trim in the Colonial Revival style. It was listed on the National Register of Historic Places in 1989. wikipedia
The LICPO is somewhat similar in design to the Flushing Post Office, which has a number of interesting murals.
Blocks like this, 45th Avenue between 21st and 23rd Streets, with attached brownstone buildings of different styles, are found frequently in Brooklyn, Manhattan and the Bronx but in Queens are almost unique (though western Queens features more yellow Kreischer brick buildings than anywhere else).
Completed between 1871 and 1890, the forty-seven houses exhibit diverse architectural styles including the Italianate, French Second Empire, and Neo-Grecian. A large number of the original stoops, lintels, pediments, and other architectural details are intact. Most of these houses were built in the early 1870s for well-to-do families by two developers, Spencer Root and John Rust.
It is ironic that the high-stooped Italianate style that is now generically referred to as 'brownstone' should have its outstanding 
surviving exemplars built of something called Westchester stone – a considerably harder material than the flaky brown sandstone that was so much more widely used. This is perhaps why ten houses in the Hunters Point Historic District – five on the north side of 45th Avenue (Nos. 21-21 through 21-29) and five across the way (Nos. 21-12 through 21-20) – remain in almost perfect condition.
Constructed in 1900 as Grace Methodist Episcopal Church, the Iglesia ni Cristo (INC) or Church of Christ, 21st Street and 45th Road,  is the only Christian religion to have started in a so-called third world country (The Philippines) and successfully expanded in the west. The INC has more than 3,500 congregations worldwide in nearly 100 countries and territories. There are more than 38 congregations in the Northeast Seaboard alone.
While its neighbor, 45th Avenue, is part of a landmarked district (see below), 45th Road has its moments too. Here the Citigroup Tower looms over two attached brick bay-windowed beauties.
If you're a classic architecture buff there's probably something for you on this stretch of 45th Avenue. I especially liked the smaller buildings like 21-53 and 21-55 45th,  that nonetheless are suffused with detail, like dormer windows and heavy door knockers. Note the Christmas lights in the window. I leave mine up all year too, but only plug them in in December.
In a borough that has its moments, but let's face it, has some problematic architecture at least east of the Flushing River, this is a crown jewel of the borough.
Some of the building fronts give evidence of a recent refresh. However, since the block is landmarked, the original designs cannot be altered.
A sign of the past along this stretch is the presence of some coal chute covers. Coal was delivered to basement coal burners, which have been phased out in most buildings over the past few decades. On this one the manufacturer and date of installation have been largely worn away, but in more cases the cover has been removed and filled with concrete.
While this row of bay-windowed red-brick apartments under the #7 line el on 23rd Street north of 54th Avenue is included in the landmarked district…
… this set of distinctive attached apartments on the east side of 23rd Street unconscionably isn't.
This ornate building on the south side of Jackson Avenue east of 23rd Street has served as both a Masonic meeting place as well as a Queens County court.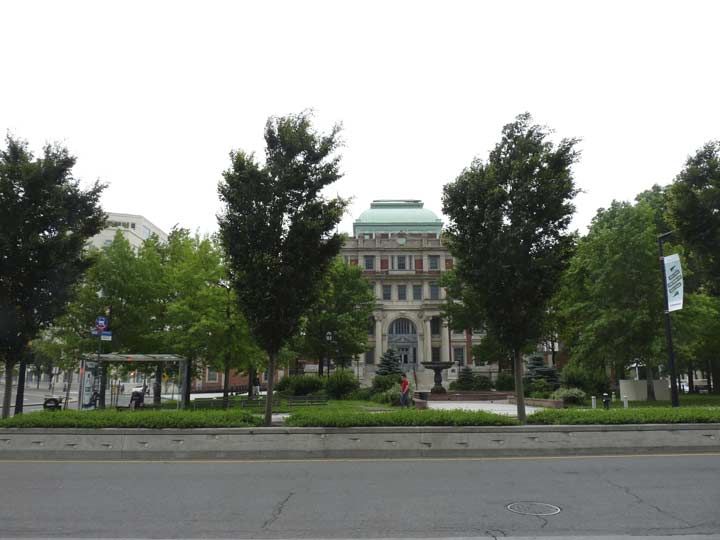 The former Queens County Court House (now home to the Queens Supreme Court) has been in this location since 1870, and sparked a political dispute that led to the creation of Nassau County.
Long Island counties, beginning in the late 1600s, were Kings, Queens, and Suffolk. Six towns in Kings consolidated in the late 1800s to create the City of Brooklyn, which was annexed (residents voted to consolidate it) to Greater NYC in 1898. Queens' history is a bit more complicated. Queens originally comprised western Queens (the towns of Newtown, Flushing, Jamaica and in 1870, Long Island City) and what is now Nassau (Hempstead and Oyster Bay; North Hempstead was created in 1784). The eastern towns began agitating for "independence" from Queens County beginning in the 1830s, when a dilapidated courthouse in the Mineola area was to be replaced. Factions from the western and eastern parts of Queens vied for the new courthouse, which was ultimately built in Long Island City at the present Court Square in 1870. Differences, political and cultural, between the east and west ends of the vast county were accentuated during the debate. In the 1890s, proposals for Greater New York did not include Queens' eastern towns.
When Greater New York was born on January 1, 1898, Queens' four western towns were politically dissolved and western Queens became a borough. Queens' 3 eastern towns remained extant. For one year, January 1, 1898 to January 1, 1899, half of Queens County was in NYC, half was not! The eastern towns finally seceded to become Nassau County on January 1, 1899.
The first courthouse in this location burned down in 1904, and was replaced with the current Beaux Arts limestone structure in 1908 by architect Peter Coco. The famed 1925 murder trial of Ruth Synder (the smuggled photo of Snyder in the electric chair was a Daily News sensation in 1925) and the robbery trial of Willie Sutton, who robbed banks because "that's where the money is" were held here.
In 1910, Coco and 13 others were tried for corruption and grand larceny in the very building Coco had designed! He wound up going to prison for 2 years.
8/30/15