I first saw Freeman Alley on a map in the 1980s, when I went to the Rand McNally Map Store on East 53rd Street just east of 5th Avenue and purchased an American Map Company atlas of New York city marketed as by the Cleartype brand. I don't know if any map buffs reading this remember the make, but it was a black and white map with major roads in pink, of all colors, and the street names were set in the Copperplate font. For me it was an intriguing map – while it repeated the same standard errors other maps like Hagstrom or Geographia made, it also showed alleys and unknown streets here and there that other maps would not go near. Freeman Alley was one of those. I still have my battered, dogeared edition because I believe finding a replacement copy would be impossible.
The dead-end alley is fairly lengthy and issues from the north side Rivington Street between the Bowery and Chrystie Street. Modern maps on which it is included, like Google Maps, don't catch that it makes a very slight jog to  the northwest as you walk down the alley and get about halfway. And you do have to walk, since the alley is closed to autos, though in the past, it's been noted, wrecked cars were left in it before the neighborhood was gentrified a few years ago.
I am unsure that Freeman Alley was even acknowledged  by the Department of Transportation before 2004, when a taxidermy-decorated restaurant called Freemans was opened at the very end of the alley by restaurateurs Taavo Somer and William Tigertt, who reported junkies and wrecked cars as alley occupants before that.
Freeman's Sporting Club, another entrepreneurship that uses the name of the alley, is on the "corner" of Rivington and Freeman, and is a combination haberdasher and barbershop. For me the interesting thing is is the intentionally weathered sign, which was made to look old, but the words have sort of worn off after a few years and could use a repainting.
Combining things like a barber and a clothing store is nothing new. I have heard of launderettes that serve liquor, and las week I was informed about Chinese food places that sell condoms.
Freeman Alley, in addition to the restaurant and the art galleries that open onto it, is also a haven for street art, such as this piece of worthy advice.
I'm not sure how Freeman Alley was illuminated in the past, but this is a nonstandard NYC light fixture and was probably placed by one of the galleries.
Salon 94 Freemans is a downtown annex of an art gallery whose flagship, as you might expect, is on East 94th Street in Carnegie Hill on the Upper East Side.
Freeman Alley presents other types of art not found in galleries.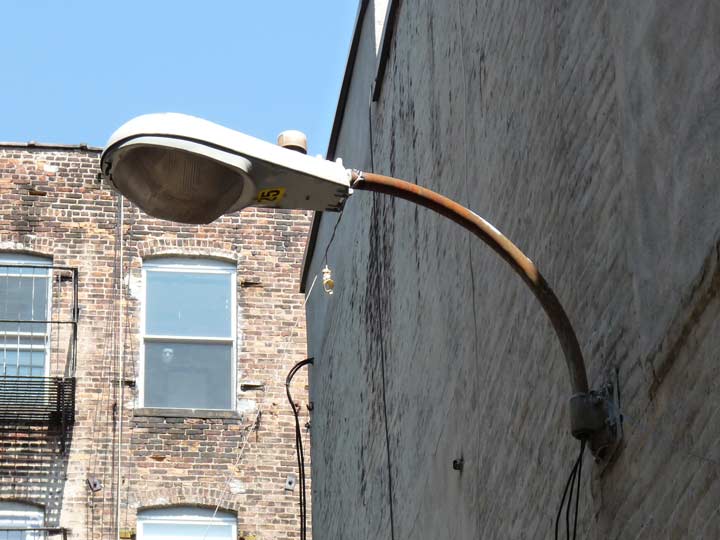 This is a more standard-issue NYC wall lamp, using a short version of the cobra neck. This is usually attached to posts found underneath elevated trains.
Freemans, which subscribes to the practice of not marking its location (if you didn't know it was here, why would you be here, is the rationale) is more dramatic at night, when it's an oasis at the end of a lengthy ally. Lightbulbs are strung over the alley to punctuate the drama.
A look back toward Rivington Street.
A relatively early Freeman Alley resident was artist Jimmy Wright, whose portraits and still-life works have been shown at the Metropolitan Museum of Art;  he purchased #1 Freeman Alley, a former stable, in 1980. He now leases space to Salon 94 Freemans.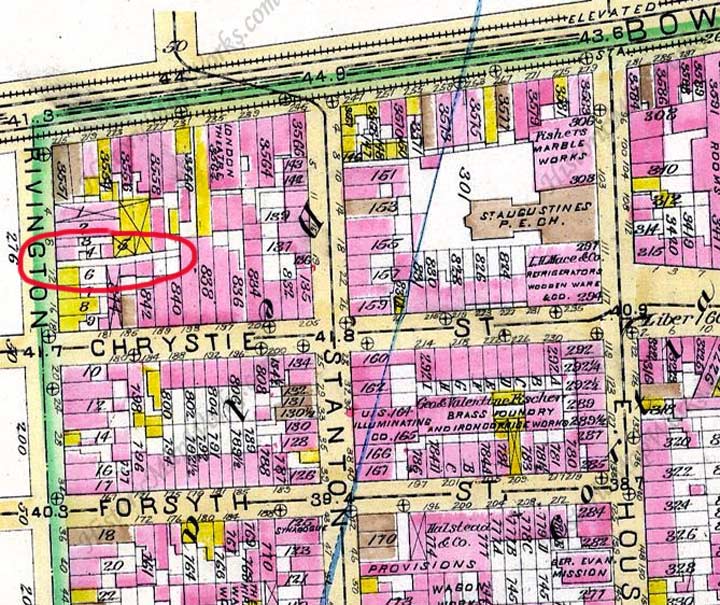 I can't ascertain when Freeman Alley was first named. It is likely leftover, "extra" space that was never built on, much like nearby Extra Place. It appears on this 1885 plate, but without a name.
1909 map plate. Note how both plates show the slight jog halfway along its length.
One theory holds that the alley was named for an 18th-Century surveyor, Uziel Freeman, but I doubt that story. The buildings here date to the late 1800s, mid-1800s at the very earliest.
Info:
The Lower East Side Remembered and Revisited: History and Guide to a Legendary New York Neighborhood, by Joyce Mendelsohn
10/19/15