PART 1 | PART 2 | PART 3 | PART 4 |
Metropolitan Avenue is one of the lengthiest routes between Brooklyn and Queens. It was first built in 1815, give or take a year, as a toll road and was known  along much of its length as the Williamsburg and Jamaica Turnpike until the mid-1800s, when it was bestowed its current name. It runs from the East River to Jamaica Avenue and along the way, marks the southern limit of Newtown Creek, and runs through Lutheran/All-Faiths and St. John's Cemeteries, as well as Forest Park. It's the spine of several communities — Williamsburg, Middle Village (so named because it was midway between Williamsburg and Jamaica), Forest Hills and Kew Gardens, and forms the boundary line between Ridgewood and Maspeth.
I have walked along the full lengths of many roads during the 16 years (as of 2015) spent doing Forgotten New York. I usually make two or three trips or so — it took about ten years before I was able to complete Bedford Avenue from Sheepshead Bay north to Greenpoint! It usually doesn't take that much time; Richmond Terrace on Staten Island took two separate trips in two or three weeks.
I choose the routes I am going to walk full-lengths carefully. The most important thing is, the road has to have a lot of changes — infrastructurally most of all, because that is what I concentrate on, but also the 'feel' or atmosphere has to change dramatically along the way. There are a number of lengthy roads in Queens like Francis Lewis Boulevard that are mostly residential; the "Frannie Lou" looks different than its other sections only when it passes through Cunningham Park. I do not want a "sameness" in the pictures.
Unlike my other full-length street pages this time, I did it all in one burst and walked the full length of Metropolitan Avenue in one day, taking about eight hours. I am not a speed walker. My legs are short and I take short strides. Little old ladies can get ahead of me. I am also stopping a lot to take pictures. Had I decided to walk more briskly, I suppose I could have shaved an hour or two off. According to the measurement tool on Google Maps, Metropolitan Avenue is about 8.3 miles from the East River to Jamaica Avenue, so I was going one mile an hour.
My total mileage on the day was 13 miles. That's because I had to walk through Williamsburg to get to Metropolitan and then down Jamaica Avenue to get to the Jamaica LIRR station, where I got a train to Woodside and then another one to Little Neck.
GOOGLE MAP: METROPOLITAN AVENUE 
I'm on the last leg of my trip (which some of you who are getting a bit tired of Metropolitan Avenue every Monday might be celebrating!) but I'm quite proud of this series because, as stated, it's the first time I ever walked the complete length of a roadway of more than a few miles. I think an earlier case might be made for Brooklyn's 3rd Avenue, which I walked from Bay Ridge to Downtown on a single afternoon in the summer of 2009 — just two months removed from heart surgery to replace a valve. I think, though, that 3rd Avenue is somewhat shorter than Metropolitan Avenue's 8.3 mile length, though I could check that on Google Maps.
After plunging east through two cemeteries in Middle Village, Metropolitan Avenue has one more all-green stretch to traverse, this time through Forest Park after its junction with the Jackie Robinson (Interborough) Parkway.
Forest Park forms a triumvirate of 3 vast Queens parks along with Flushing Meadows and Cunningham Parks. The western end of the park (west of the abandoned LIRR Rockaway Branch) is the most heavily used, with Forest Park Golf Course, the Seuffert bandshell, the Carousel, and Dry Harbor Playground. The park was actually developed by the then-City of Brooklyn in 1895, as a way to alleviate crowded tenement conditions by offering a place where fresh air could be obtained. The eastern end of the park consists of dense woodland with a bike trail and hiking trails interspersed within.
Metropolitan Avenue passes through the park in a short stretch at the northeast end separating the neighborhoods of Forest Hills and Kew Gardens.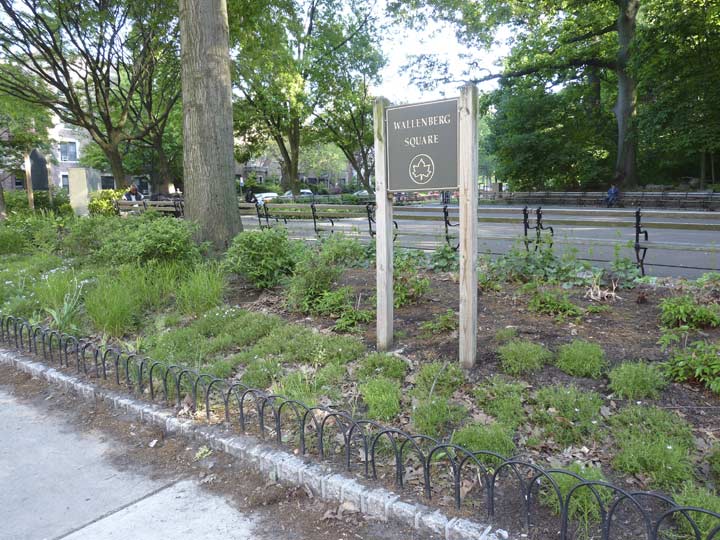 Approaching Park Lane South, there is a small sitting area on the south side of Met Ave. called Wallenberg Square.
The square is named for Raoul Walllenberg, the Swedish diplomat (1912-1947) credited with saving tens of thousands of Hungarian Jews from extermination by the Nazis in the World War II years by designing counterfeit passports and distributing them to Jews bound for the concentration camps. He also purchased as many houses, villas, and buildings as possible and adorned them with the blue and yellow of Sweden's flag, thereby making them neutral diplomatic property and safe havens for Jews.
His whereabouts became unknown in 1945. In 1957, documents were released stating he had died of a heart attack in 1947 in a Russian prison. Suspicions remain that he was  killed by the KGB.
I said earlier on that I chose Metropolitan Avenue for an end-to-end walk because of its frequent changes in character and architecture. I have now crossed into Kew Gardens, named for a London suburb and a famed botanic garden, and it's a planned community, with plenty of Tudor (and other styles) of apartment buildings, and English-sounding names, many of which were not numbered when most other Queens streets were in the 1920s.
Kew Gardens was conceived and developed in the 1890s by Manhattan lawyer Albon Platt Man and later by his son, Alrick Man, and features block upon block of Spanish Colonial, Italianate, Dutch Colonial, Tudor, and even Japanese-style homes, as well as a cluster of apartment complexes in the vicinity of the Kew Gardens LIRR station.
These two scenes are on Met Ave. at Audley Street.
Grosvenor Lane (pronounced GROVE-ner), one of Kew Gardens' narrowest, curves for two blocks between Met Ave. and Park Lane South. It's illustrative of modern Queens barging into un-Landmarked territory, as a high-rise has recently been built next to Tudor-ish cottages.
One of two large water towers in Kew Gardens pokes above the building line. This one is on Audley Street and has been here since Kew Gardens' early days. It's one of two "water tanks" shown at the bottom of this Kew Gardens map from the early 20th Century. Much of Kew Gardens was a golf course before streets were laid out and building plots developed by the Mans.
Here Metropolitan Avenue runs through a thicket of huge apartment buildings that must have been prestigious addresses in their original days. No doubt there are spacious rooms and high ceilings. The most interesting thing about them for me, just a traveler passing through, are…
… the entrance gates, some of which are guarded, but all of which have some interesting architectural element like blacklettering or a plaque with the building title on it.
Since this point is midway between LaGuardia and JFK Airports, you will often see uniformed flight attendants and pilots on their way to transport to and from the airports.
Lefferts Boulevard is Tudor Central of Kew Gardens, with many of its terrific 16th-Century styled buildings. The best one is a few blocks north on Lefferts and Cuthbert Road…
… what was originally known as the Homestead Apartments, built in 1914. There used to be double the frontage along Lefferts Boulevard, but the building was reduced in size and a Bauhaus-styled building and a Classically-styled bank building took its place. The corner bakery remembers the original name.
The Lefferts family immigrated to Brooklyn very early in the Dutch colonial era. Their most important relic is the Lefferts Homestead in Prospect Park, and important roads in Brooklyn and Queens are named for them.
Some more signs from earlier eras along Met Ave. east of Lefferts Boulevard. I liked that "Things for You" sign on the hardware store.
Another pair of handsome apartment buildings in Kew Gardens. The second one, at Brevoort Street, had some insulation installed recently but this 2007 Google Street View shows its original appearance.
Do these photos show the same road? They do — that's what I found so interesting about Metropolitan Avenue … the way it changes and takes on several different personas along its 8.3 mile length.
The "other" water tower in Kew Gardens is so tall and massive, I cannot resist getting multiple photos of it whenever I am in the area. It is the last remaining of three such towers that served the Jamaica Water Company, which supplied well water to the Jamaica/Jamaica Estates area up until 1996. The other two, demolished a few years ago, were on 164th Street and 84th Road in Briarwood and 93-02 199th St in Hollis. This one is on Austin Street between 126th and 127th Streets.
It was getting pretty late in the day by now, and in some shots you will see the shadow of your webmaster as I waved the camera toward the target. Here, the main branch of the Long Island Rail Road passes over Met Ave. on its way to Jamaica and points east. This overpass, and its partner bridging Hillside Avenue a block to the south, were both constructed in 1909. Before that, the line wasn't as busy as now, and steam trains ran at grade past stopped horses and carts, plus the occasional crank-engine flivver.
I walked a block south to Hillside Avenue since I find the LIRR overpass there to be a bit more interesting…
…because there are still a number of long-unused incandescent streetlamp fixtures still appended to the trestle, including a few "crescent moon" luminaires that probably date to the 1950s; radial-wave fixtures were used before that. In addition, blinking caution lamps are still in use on the pillars.
Some of the "crescent moons" were still intact, and still lit up, when I bicycled in this area in the 1990s.
Metropolitan and Hillside Avenues make an "X" in eastern Kew Gardens. The bottom angle of the "X" is filled by SSG Bobby Ortiz Triangle, which memorializes a local soldier killed during the Persian Gulf War in 1991; he was on a search mission for a pilot shot down behind enemy lines when his own Black Hawk helicopter was shot down.
I had always been curious about what used to be John's Coffee Shop at Hillside and Metropolitan, but I never did get in. A Forgotten Fan recounts…
 When I lived in Queens this was a regular stop for my father-in-law. He went in every day and knew both Tas (spelling?) the man who owned this shop and Marsha. It was named for Tas's father. Last I knew Marsha was running the place. Very wonderful memories! 

 It's an old diner car that's been slightly converted. If you go in expect to pay cash and expect it be crowded for breakfast and lunch rush. Their food is decent, but as the FIL says you go there for the character of the place and the people. I can't recommend it enough simply because I went there so often when I lived in Richmond Hill.
In 2013, it had had a grand reopening as Ariel's Coffee Shop, when it was painted yellow with white shutters according to Google Street View, and the latest signage on it says Hillside Coffee Shop, and the paint job was once again changed to white with red shutters.
Alas, it looks like the former RR car's days as a diner are finally done, as it has been put up for sale. A couple of vintage cars have been placed on the lawn. Name those cars….
Another relic from the early era of motoring is this Citgo gas station in the northern triangle of the Met/Hillside "X," which still has what must be the original gas station office building. North of that we see the Burger King where I had a very late lunch/early supper in lieu of being able to patronize the shuttered diner.
Hillside Avenue continues east to the middle of Nassau County, where it empties into Jericho Turnpike, while the eastern progress of Metropolitan Avenue is about to come to an end.
The sun sets on your webmaster, Metropolitan Avenue and Kew Gardens as I make my way down the two easternmost blocks.
With a couple of variations like this one, the buildings on both sides of the street appear to have been built by the same developer.
The easternmost business on Metropolitan Avenue, Green Harvest Market Fruits and Vegetables.
Just before Metropolitan Avenue meets its end, it hosts one more subway stop — the first one since I passed the Graham Avenue L train station, six miles west of here!  Whoops, I forgot about the M train terminal at 69th Street, but that itself is a good five miles west.
The Jamaica-Van Wyck station, serving the E train, was opened on December 11, 1988, along with two other stations: Sutphin Boulevard and Parsons-Archer. Along with the J line underground extension to Parsons-Archer this was a joint effort to link the Queens Boulevard line (now serving E, F, M and R trains) with the Jamaica Avenue El in Jamaica; after the el was truncated to the 121st Street station from its original length out to 168th Street, a new tunnel was built to take the J to a new terminal at Parsons Archer where it met the E train.
All this was supposed to be part of a much lengthier route which would take the E or J to southeast Queens (think Rosedale or Laurelton) via a little-used section of Long Island Rail Road track, but finds dried up in the 1970s and that stretch of track remained with the senior railroad.
This station also marks the southern end of Kew Gardens Road, which connects Metropolitan and Jamaica Avenues with the junction of Queens Boulevard and Union Turnpike. It is a very old road going back to the colonial era and was originally called Newtown Road. When Queens was consolidated with NYC in 1898, some street names were changed to avoid confusion — there was already a Newtown Road in Long Island City.
So, here's the true eastern end of Metropolitan Avenue at Jamaica Avenue. It used to simply angle into Jamaica Avenue at the Van Wyck Expressway, but when the new subway stop opened, the Department of Transportation used the occasion to re-engineer the traffic, placing a small park in the Met Ave. original path and making it one-way, going west, as far as Hillside Avenue.
Dominating the scene is the Jamaica Hospital Medical Center, which goes back to 1891. Surprisingly, the hospital's website reprints a comprehensive early history.
Well, that's it, 8.3 miles. It took about 8 hours to walk, plus a half hour for lunch.
PART 1 | PART 2 | PART 3 | PART 4
10/3/15