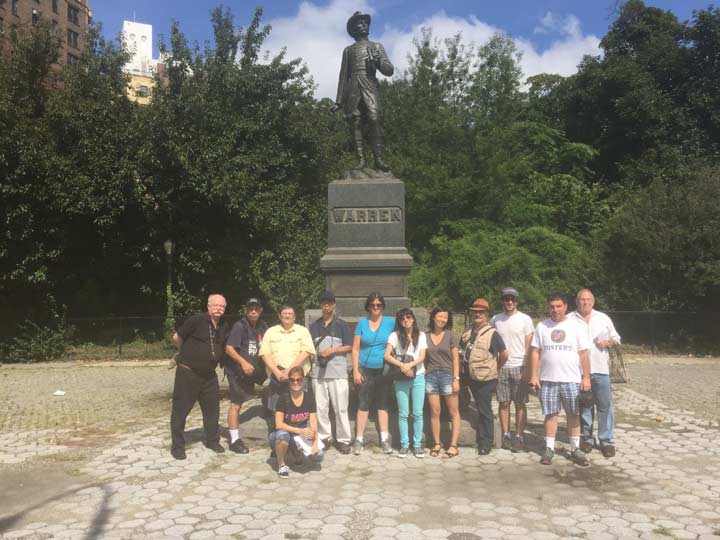 ForgottenFans gathered at the statue of Major General G. Kemble Warren (1830-1882) on August 23, 2105 for ForgottenTour #97 in Brooklyn's Grand Army Plaza to investigate some of the little-known personages honored in the traffic circle, as well as other more interesting aspects. A surveyor and engineer by trade, Kemble arranged a last minute defense at Little Round Top at the Battle of Gettysburg; while he was regarded as an architect of the Northern victory there, he was less successful at the Battle of Five Forks in Virginia and was relieved by General Philip Sheridan. Sculptor Henry Baerer's statue was dedicated June 26, 1896.
The Bailey Fountain, named for Frank and Marie Louise Bailey, who made extensive donations ($125,000, in the millions in 2010 money) for a new fountain in Grand Army Plaza that would replace two previous ones on the site, is a relatively new piece of classical sculpture — it was completed in 1932. It took $2M to restore the fountain in 2002.
Located at Plaza Street East and Flatbush Avenue is the only bust in NYC of a gynecologist, Alexander Skene (1838-1900).
Born in Aberdeen, Scotland, he worked in Toronto, ON and Michigan and served in the Civil War as a surgeon in South Carolina and New York, settling in Brooklyn after the war. He became an adjunct professor at Long Island College Hospital in 1865 and rose to president of the school, serving from 1893-1899. He was founder of the American Gynecological Society in 1866. He discovered the pair of para-urethral glands that are today called the Skene glands.
After his death Scottish sculptor John Massey Rhind created this heroic bust.
There's a statue on the Central Park side of 5th Avenue at 103rd Street of James Marion Sims, a second gynecologist.
11/9/15