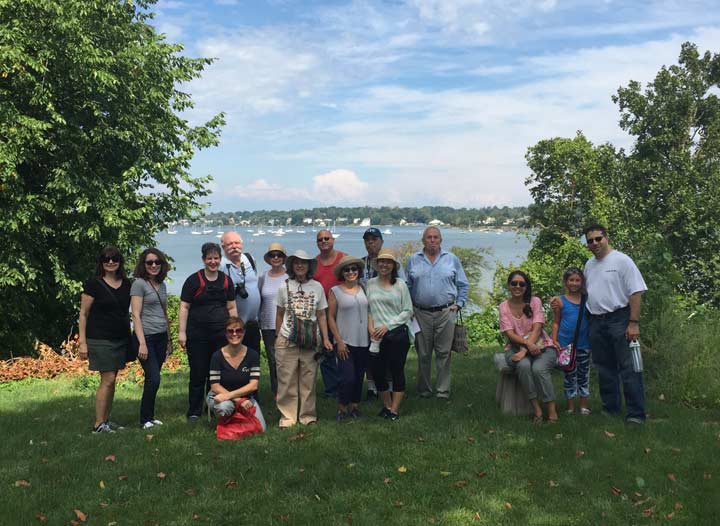 ForgottenFans gather in view of Little Neck Bay for ForgottenTour #98, September 13, 2015 to take a look at some of the northeast Queens neighborhood's relatively unknown aspects.
The present Bayside LIRR station house on 41st Avenue and 213th Street is a gambrel-roofed structure dating to 1923. In those days, station agents and their families actually lived at their stations; the family quarters were on the second floor. When it was built, the Port Washington branch still ran on the surface, but it was placed in its present open cut here in 1927.
Decorative sculptures on the Manhattan-bound side, Ed McGowin's "Bayside Story" portrays historical Bayside scenes.
The brown-shingled house overlooking Little Neck Bay at 222nd Street and Corbett Road was the summer estate of silent-era actress Norma Talmadge in the 1910s. Her husband, Joseph Scheneck headed United Artists and 20th Century Fox and co-founded the Academy of Motion Pictures Arts and Sciences (the organization that awards the Oscars). She appeared in over 50 pictures during the silent era but could not adapt to the talkies. Norma Desmond of Sunset Boulevard fame was supposedly inspired by her. Other early 20th Century actresses, Theda Bara, Marie Dressler and May Robson also lived nearby.
The  Cornell-Appleton House, 33rd Road and 214th Place,  resembles many of the homes in the area, but renovations over the years have changed the original appearance of the building, which may or may not be Bayside's oldest private dwelling, at 33rd Road and 214th Place. The Queens Historical Society marker says it dates to 1790. However, other research traces it back to 1852 when it was built as part of the Archibald Cornell family farm. It was sold to  to Edward Dale Appleton, of the Appleton Publishing Company (which launched the magazine Popular Science) in 1902.
11/9/15