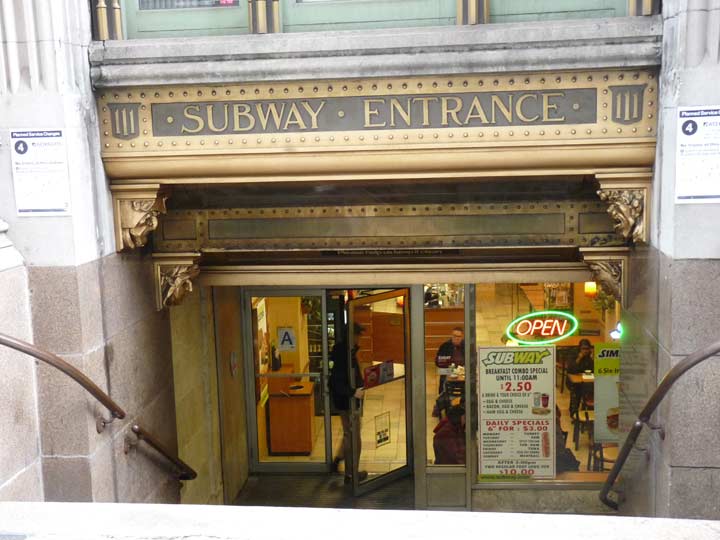 Just north of Trinity Churchyard at Broadway and Wall Street  is the Trinity Building, designed along with the U.S. Realty Building next door, by Francis Kimball and constructed from 1904-1907 to complement Trinity Church. According to the NYC Landmarks Preservation Commission, "Their construction necessitated the relocation of Thames Street and the construction of caissons 80 feet into the marshy subsoil. The limestone-faced buildings are carefully detailed with towers, gables, and fanciful carved ornament. The 281-foot, 21-floor Trinity Building was constructed on the same spot where New York's first office building once stood."
Often overlooked by architecture enthusiasts are the entrances that were built during the first decade of the Interborough Rapid Transit that were elegant and ornate. Here, a staircase leads to the subway entrance for the #4 and #5 train's Wall Street station directly beneath the building; the station opened in June 1905. Note the serifed lettering on the entrance sign, and the "111" on each side. An additional exit/entrance is in the Equitable Building, #120 Broadway, across the street.
In 2015, the Subway sandwich joint in the basement can also be accessed in addition to the real subway. When are they going to really class up the joint and bring in Blimpie?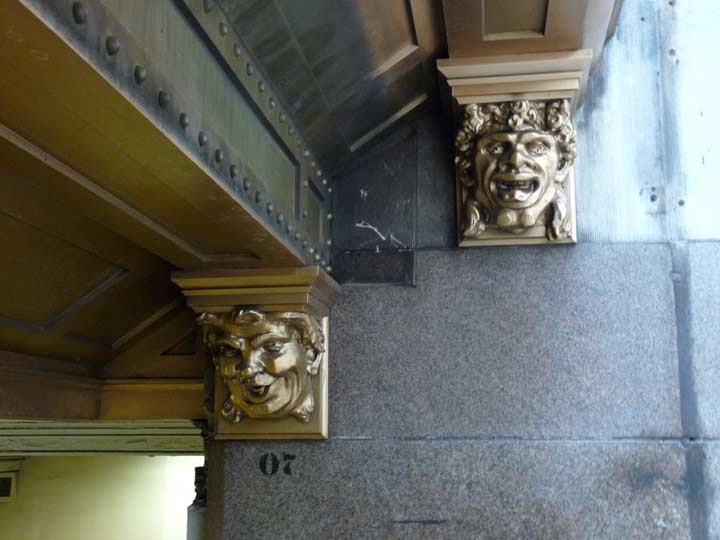 Flanking the entrance on each side ate brass representations of Greek comedy and tragedy masks.
There are plenty of other architectural gems and ornamentation on the Trinity Building but those will have to wait for another day in Forgotten New York.
11/26/15