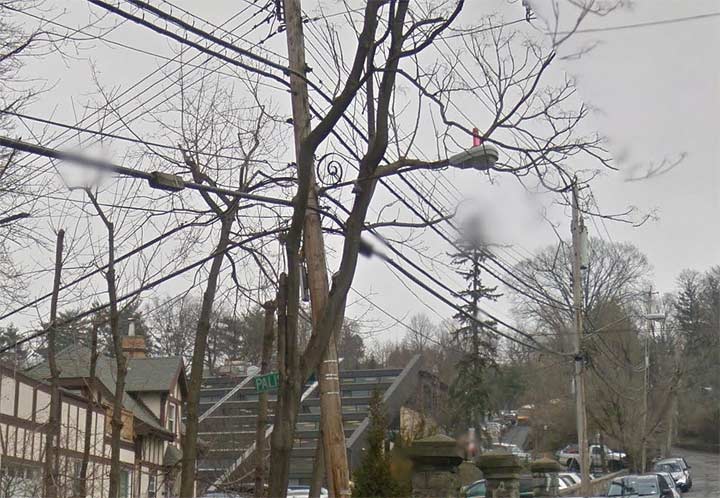 Once again, I'm risking disaster.
The last of New York City's old-style scrolled telephone pole lamppost shafts sits here at the remote (for New York City) corner of West 254th Street and Palisade Avenue in Riverdale. Beginning in the 1910s until they started to be phased out in the 1950s, these shafts, in long and short versions, supported lamps using incandescent bulbs; for most of its existence, this was in the form of a radial-wave diffuser lamp. Short versions were also used to hold fire alarm indicator lamps — many of those still survive, but now, none of them work since the fire alarm lamp is now mounted to the top of the main lamp, as here.
This is a reverse-scrolled shaft. As a rule the scroll was mounted underneath the shaft, but when there was a fire alarm lamp  it was mounted above the shaft. Look closely and you will see that is the case here. The plastic orange diffuser was still in place when I first encountered this lamp in the 1980s.
Why am I risking disaster? Showing nonstandard fixtures sometimes prompts quick action by the Department of Transportation, which removes the offending hardware and installs standard. I'm holding firm to my mission, which is to publicize anomalies like this.
Apologies for the blotches; I used Google Street View, which was here on a rainy day.
2/26/16