Where was I? On one of the strangest city borderlines you'll ever encounter…
For this January lidlifter on the 2016 exploring season I took the IRT #2 train, easily accessible from Penn Station, north to the Nereid Avenue station (mispronounced NAIR-eed by the taped station announcements; the street is named for a former volunteer fire department — they typically took mythological water names like Neptune or Oceanus; a nereid was an Aegean water nymph and is pronounced NEAR-ee-id) and headed north on White Plains Road, edged gingerly into Mount Vernon and then along the border of the Bronx and Westchester Counties and eventually, back to White Plains Road.
The Bronx-Westchester border was much different until 1895, when it was redrawn to give all of what is now in the Bronx east of the Bronx River to New York City. Today the border remains quite irregular, running along streets here and between streets there, above East 242nd Street, above Cranford Avenue, along Mundy Lane (a crazy boundary — see below) and then east, an irregular jog north, and then east just above Pelham Bay Park (but not along its northern edge; west of the New England Thruway there's an odd bit of business in which Park Drive, along the north edge of Pelham Bay Park, is in the Bronx but all the intersecting streets issuing north are in Pelham Manor) reaching the Long Island Sound between Hunter and Glen Islands. I would have loved to be in the same room when those long-ago surveyors were deciding where to put the line!
GOOGLE MAP: WAKEFIELD AND MOUNT VERNON WALK
To backtrack just a bit, in Part 1 I had lit off down Mundy Lane on the Bronx-Mount Vernon border, noting that it was a cut-off part of a very old colonial-era road that appears further north in Yonkers as Mile Square Road. Between Cranford Avenue and Nereid Avenue/West 5th Street, it's called Mundy Lane on the Bronx side and South 11th Avenue on the Mount Vernon side, with different house numbers on each side of the road.
Unlike most other municipalities, you cannot turn right on red in NYC, and so large signs indicating this are posted at the borders.
There's always a iconoclast, someone defying the rules. This house is on the Mount Vernon side, and here, this side of the road is officially South 11th Avenue. However, deliverymen and postal agents are no doubt made aware of both names.
I encountered one more ancient General Electric M400. When I visit other towns surrounding NYC, I marvel at the eclectic array of lighting fixtures to be found — this is a mercury vapor light and shines a greenish white. Older bulbs can be quite dull and don't really light the general area up very much. I'd have to assume that when Mount Vernon gets around to installing LED lamps, this is a goner, but here it has stayed for what must be close to 50 years.
The Mundy Lane Deli & Grocery is indeed on Mundy Lane across the street from South 11th Ave and Bushnell Place, which are entirely in Mount Vernon. The sign seems to be a throwback, as the deli was not here in the latest Google Street View in 2012.
This stretch of the hybrid road is not asphalted but is paved instead with large concrete blocks.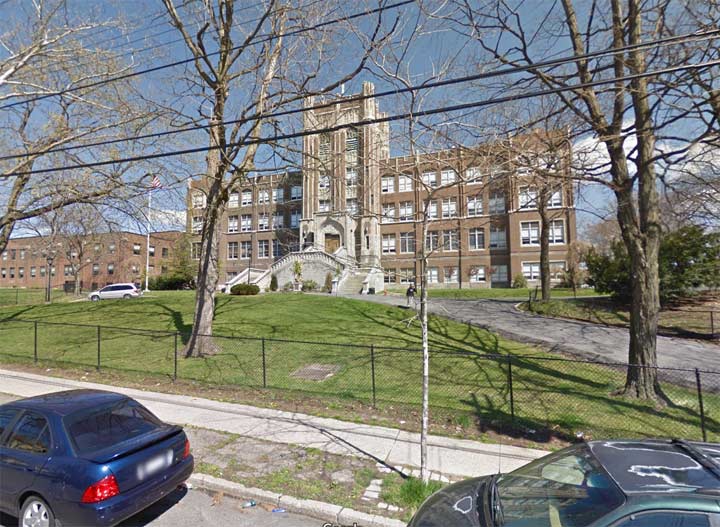 Seen here on its Murdock Avenue entrance, the Mount Saint Michael School (boys grades 6-12) occupies a large plot, much of which is given over to athletic fields, between Nereid, Murdock and Pitman Avenues and Mundy Lane. The school was founded by the Marist Brothers and opened in 1926, with the main building shown here completed in 1929. A large pond had to be filled to construct the football field. Among the school's alumni are 1950s Knicks star Richie Guerin and rap mogul Sean "Puffy" Combs.
Fire alarm indicator mastarm and lamp at Seton and Nereid Avenues. These are now decommissioned and are no longer maintained by the city. A bit later, we'll see a Mount Vernon version of a fire alarm indicator.
On the east end of the Academy grounds, Mundy Lane still delineates the city line, but is known as Mundy Lane on both sides — the only occasion in which this is the case. The road bends in the form of a crescent as it passes the school grounds.
Named for the city line, the Inn at the Border is actually well within Mount Vernon, on West Sandford Boulevard between South 10th and 11th Avenues.
Mount Vernon's fire alarm indicators had a spherical plastic orange diffuser, as NYC used to have (they gradually became conical in the 1950s). Most of Mount Vernon's actual fire alarms have been removed (blazes are reported by phone), and the indicator lamps have long since been in disrepair, but a couple of the old plastic diffusers are still clinging in place. This one, at West Sandford Blvd. and South 11th Avenue, probably goes back several decades.
I again returned to the Bronx-Mount Vernon Boulevard, which appears fairly straightforward as it runs south from Pitman Avenue, which becomes West Sandford Blvd. in Mount Vernon. But the nomenclature still presents in a wacky fashion to say the least. As I've notated, wouth of Pitman, Mundy Lane is on the Mount Vernon side while Seton Avenue is on the Bronx side. You'll remember that north of here, Mundy Lane is on the Bronx side with South 11th Avenue in the Mount Vernon side!
South of Pitman, the city line is in evidence down the center of the road, which has received a new asphalting on the Bronx side. The lamps, meanwhile are Nema mercury vapor lamps.
Two-story brick building on the Mount Vernon side.
A close look reveals the address "529 Mundy Lane" above the doorway of this Mount Vernon house. The opposite side of the road, Seton Avenue, has houses in the 4200s. Not only that: the Mundy Lane house numbers increase as you walk southeast, while on Seton Avenue (and all parallelling Bronx avenues) the house numbers decrease as you walk southeast.  I told you things get wacky around here.
At first this might look pretty straightforward, the corner of Bussing Avenue and Seton Avenue; Bussing Avenue changes its name to West Kingsbridge Road in Mount Vernon. Actually this is the corner of Seton Avenue/Mundy Lane, Bussing Avenue/Kingsbridge Road, and Seton Avenue/Seton Avenue. At this point, Mundy Lane ends, and while the city line continues along its roadbed, both sides of the road, in the Bronx and Mount Vernon, are called Seton Avenue for a block.
Oh, and Bussing Avenue and Kingsbridge Road are the original Boston Post Road (not the fast and furious Boston Road that cuts through mid- and northeast Bronx). I will explain that a little later.
These two houses are #13 and #19 Seton Avenue, Mount Vernon; meanwhile, the buildings across the street are in Seton Avenue in the Bronx and are numbered in the 4100s.
At Seton and Edenwald Avenues, the city line turns east and runs, with a couple of jogs, east to the East River/Long Island Sound. This cuts through a couple of midblocks and where it does this, streets are named differently in the Bronx and Mount Vernon. One exception is Edenwald Avenue, which continues (with Mount Vernon house numbers) for a couple of blocks, and also intersects Amundson and Duryea Avenue, other erstwhile Bronx avenues that wind up in Mount Vernon briefly. (One nearby street is called Nuvern Avenue, since it begins in New York City (the Bronx) while most of it is in Mount Vernon. New+Vern…
Setting off west on Bussing Avenue, completely in the Bronx now. The road is unusually sidewalk-free — most NYC streets have sidewalks on both sides.
Between Wilder and DeReimer Avenues, just off Bussing, there is a short one-block alley with a bend in the middle, called Bussing Place.
As it turns out, Bussing Place and Bussing Avenue in the Bronx and Kingsbridge Road in Mount Vernon are original sections of the Boston Post Road, established in the colonial era as an early route between New York and Boston.
The original Boston Post Road was started in 1672 as a mail route between Boston and NYC (a 270-mile distance), following a network of Indian trails. The original branched off north of the present Boston Road in the Bronx; its present route is marked by Kingsbridge Road in Mount Vernon and by Bussing Avenue, Barnes Avenue and Gun Hill Road in the northern Bronx. The Bowery marks part of its southern route in Manhattan. For more on this seminal pathway, take a look at Eric Jaffe's The King's Best Highway, a detailed history.
What about Boston Road itself? It becomes part of the original Boston Post Road but not until it enters Westchester County. I'll get to Boston Road on this walk a bit later.
I followed DeReimer Avenue (named for 1700-1701 NYC Mayor Isaac DeReimer; many NE Bronx avenues are named for colonial-era mayors) south to East 233rd Street, where you find the NYPL Edenwald branch, established in 1973. There was a spate of library construction in the early 1970s; two Bay Ridge/Dyker Heights libraries I patronized as a kid, at Ridge Blvd. and 73rd Street and 13th Avenue and 83rd Street, were both built then.
East 233rd, a major route in Eastchester, was formerly Fisher's Landing Road running east to the Hutchinson River.
Seton Falls Park is an irregular 35 acres between East 233rd Street and parts of Marolla Place and Crawford, Seton and Pratt Avenues. Though dwarfed by Pelham Bay Park (NYC's largest park) and Bronx and Van Cortlandt Parks, it's the largest park in the immediate area. It stands on land once inhabited by the Siwanoy Indians, Thomas Pell, and the Seton family, one of whose members was Elizabeth Bayley Seaton (1774-1821), the USA's first canonized saint (1975). It has been formally a park since 1930, with further additions in 1932, 1983 and 1985. The east end of the park bordered on parts of the Bronx' last frontier, as some of the streets were not laid out and built on unto the end of the 20th Century!
The territory was once watered by Rattlesnake Brook, which is still captured in a concrete culvert in the park's valley. After a drought of several months, the brook was nowhere in evidence when I visited in mid-January, but a blizzard and several other storms occurred in the following weeks, so the brook may be trickling again. For more on the brook, see this FNY page.
A modern classic, Cardinal Spellman High School on Needham Avenue between Grace and Baychester Avenues was dedicated in 1962 by the person for whom it was named, Francis Cardinal Spellman (1889-1967), a controversial prelate who made the cover of Time magazine and was Archbishop of New York from 1939 to his death. Spellman was a close advisor to Franklin D. Roosevelt and was an ardent anti-Communist throughout his career, breaking a gravediggers' strike at Queens' Calvary Cemetery by installing seminarians in their place; he also supported Richard Nixon over a Catholic, John F. Kennedy, in the 1960 Presidential election, citing Kennedy's opposition to federal aid for Catholic parochial schools, and was an ardent supporter of the war in Vietnam. In a book review, the NY Times called Spellman "guileless and Machiavellian."
Originally a school for boys, Cardinal Spellman HS became co-ed in the early 1970s.
Interspersed throughout the NE Bronx are historic houses; I don't have any data on this building on Grace Avenue between Needham Avenue and Boston Road, but I do have some info on a home a few blocks further south in Baychester.
Boston Road and Grace Avenue. The road begins in Morrisania, at Third Avenue and East 164th Street, and roars up to the city line at Ropes Avenue at Pelham Manor, and, as US Route #1, does indeed go all the way to Boston. However, within NUC confines, this was never part of the older Boston Post Road.
According to Bronx historian John McNamara, Boston Road was constructed by surveyor John B. Coles in 1794. It is a reroute of sorts of the original Boston Post Road. Lewis Morris, an early Bronx landholder, wanted the Post Road to run through his property for the sake of his legacy and hired Coles to build a southwest extension of the Post Road. Early on, the new road was known as Coles' Boston Road. North of what would become the Bronx-Westchester line, the two roads converged and continued north. Further north, the Post Road would separate into more tributaries, each reaching Beantown via a separate route. In that era, what takes a few hours by car  took a few days by horse or coach.
Modern Boston Road is mostly home to car dealerships and repair shops as well as fast food joints, but I did find these colorful hand painted signs at East 223rd advertising Sundial health tonics. (I'm just admiring the signs, not promoting the product.)
Skipping ahead a little on my route, as I desired to get back to the #2 train on White Plains Road. I went north on Eastchester Road from where East 221st branches to the northeast. In there parts are number of repurposed church buildings, from one denomination to another. The St. Thomas Syro Malabar Catholic Church, between Bronxwood and Barnes Avenues, is part of a congregation that was by tradition founded by St. Thomas the Apostle in India in the first century AD. While Malabar is on the coast of India, the church rites follow a Syrian tradition. The Thomas Indian Christians remained isolated from Europe for centuries before the Portuguese explorer Vasco da Gama arrived in 1498, and strains arose when missionaries began to install the Latin Rite practices instead of the East Syrian rites, which had been introduced by missionaries from the middle east. Today, the Syro-Malabar Church remains in communication with Rome despite liturgical differences.
Some attached dwellings on East 220th between Barnes Ave. and White Plains Road that have stubbornly managed to retain their conical hats.
Attesting to the area's formerly heavy German population is St. Peter's Evangelical Lutheran Church on East 219th between Barnes and WPR, which contains German inscriptions on the cornerstone (laid in 1898) and above the door ("God is love").
On the northeast corner of White Plains Rd. and East 219th, at the elevated station, is a substantial building painted beige with maroon trim that I have to believe was more than a simple apartment house at one time. Anyone have any ideas?
East 219th at White Plains Road has been subnamed Laverne Turner Lane, for a local educator, since 1993, the year of her death.
I've always said that some strange stuff can be found under elevated trains. Here's a 1970s M250R sodium vapor lamp with a "top hat" fire alarm photocell extension, with a leftover 1910s short fire alarm lamp mast. It formerly held a spherical orange plastic diffuser similar to the one I found in Mount Vernon (see above).
Kicking it in the head for the afternoon, I went upstairs to the East 219th platform where the artwork is "Homage" by Joseph D'Alesandro.
2/28/16