For this January lidlifter on the 2016 exploring season I took the IRT #2 train, easily accessible from Penn Station, north to the Nereid Avenue station (mispronounced NAIR-eed by the taped station announcements; the street is named for a former volunteer fire department — they typically took mythological water names like Neptune or Oceanus; a nereid was an Aegean water nymph and is pronounced NEAR-ee-id) and headed north on White Plains Road, edged gingerly into Mount Vernon and then along the border of the Bronx and Westchester Counties and eventually, back to White Plains Road.
The Bronx-Westchester border was much different until 1895, when it was redrawn to give all of what is now in the Bronx east of the Bronx River to New York City. Today the border remains quite irregular, running along streets here and between streets there, above East 242nd Street, above Cranford Avenue, along Mundy Lane (a crazy boundary — see below) and then east, an irregular jog north, and then east just above Pelham Bay Park (but not along its northern edge; west of the New England Thruway there's an odd bit of business in which Park Drive, along the north edge of Pelham Bay Park, is in the Bronx but all the intersecting streets issuing north are in Pelham Manor) reaching the Long Island Sound between Hunter and Glen Islands. I would have loved to be in the same room when those long-ago surveyors were deciding where to put the line!
GOOGLE MAP: WAKEFIELD AND MOUNT VERNON WALK

I kid you not. One of the reasons I went up to Wakefield on a chilly January afternoon was that I wanted to get new photos of an unmarked street that I know from maps as Garden Place, which is unmarked by the city (so I've helpfully created a street sign of my own).
The street, which is in the midst of a city block and can be accessed only by a driveway on White Plains Road between East 239th and East 240th Streets, has never really been represented properly on printed or online maps, which seem to insist on connecting it to East 240th Street. It may have indeed intersected E 240th at one time in the past but that connection has long since been severed.
Garden Place is the last remnant of a turn of the 20th Century real estate development called South Vernon Park. I won't repeat the whole story here — consult the link for that — but here I can offer the first new photos of Garden Place I've obtained since 1999. It's in a somewhat tough part of town and I made sure to get here midweek during the day.
One of the houses on Garden Place.
The other five houses on Garden Place are arranged side by side on its east side.
The owner of the fifth house has erected a barrier of containers with just a thin space on the right to allow entry. It's clear the owner didn't want visitors scuttling about — perhaps he has been robbed a few times — and I did not attempt to get past them.
There's a single streetlamp on Garden Place, with an additional one behind the barriers that may or may not work anymore. Garden Place boasts a gravel, not an asphalt, pavement job.
Looking up the driveway, which on very old maps is called Walkley Place, toward White Plains Road.
I'd imagine the gate does close now and then.  However a campaign poster for Rob Astorino, a Westchester County executive and former radio executive who ran an unsuccessful campaign for governor in 2014 against Andrew Cuomo was still in evidence. His 2014 campaign website was still extant at this writing.
Taxi stand on the triangle created by Cranford Avenue, East 241st Street and Barnes Avenue. Gary Fonville has previously featured this on a page about defunct phone exchanges; FA stands for FAirbanks.
The East 241st Street is the last stop on the #2 White Plains Line. The #5, which runs with the #2 in rush hours, terminates at Nereid Avenue. This is not the highest numbered stop in the NYC subway system — the last stop in the Broadway el (#1 train) does it one street better.
North stub end of the White Plains Road line above East 241st Street.
Both these buildings on the east side of White Plains Road at Penfield Street are associated with the Wakefield Grace United Methodist Church. The old church may not be in place for too much longer, as the congregation is soliciting funds to build a new church.
Deco-style apartment building on White Plains Road and Penfield Street. As is well known, White Plains Road does not go to the city of White Plains (the best route between Wakefield and White Plains is the Bronx River Parkway, and NYS Route 22 also runs between Mount Vernon and White Plains). Instead it runs from the water's edge in Soundview north to the NYC-Mount Vernon line, where it changes its name to West 1st Street. Though a stretch of Route 22 further north is also called White Plains Road I doubt there was ever a connection between the two. The city of White Plains was named in the colonial era for the fields of white balsam flowers found there, or alternatively, from frequent heavy mists.
White Plains Road was first laid out in 1863 as far south as where Pelham Parkway is now and was extended south in the early 20th Century. It bewcame part of NYC, along with everything else east of the Bronx River, in 1895 when that portion of Westchester County was ceded to NYC.
Here's the borderline of the Bronx and Mount Vernon, just above East 242nd Street, with an abandoned trolley pole thrown in for fun. I'm afraid I'm not very knowledgeable about the Bronx trolley lines, which all bore letter designations. I can't find a match for a White Plains Road line on the linked page, and thus I imagine this trolley pole handled a Mount Vernon trolley that ended at the city line.
A telltale sign is the two-masted stoplight up ahead — these are used only on rare occasions in NYC.
South Street runs west from West 1st Street in Mount Vernon until it reaches… the Bronx once again! A quirk of geography has left a few Bronx streets completely inaccessible from the rest of The Bronx, and they have to be accessed from South Street, across a bridge over the Metro-North railroad to MacQuesten Parkway. I visited this curious area in a previous visit to Wakefield in 2003.
Southern Mount Vernon looks much like the Bronx, while northern Mount Vernon looks quite a bit more suburban.
If you were asked which name between Wakefield and Mount Vernon has a George Washington association, most people would probably say Mount Vernon, which was the name of the Father of His Country's estate in Fairfax County, VA, which was in turn named by Washington's half-brother Lawrence Washington for a former commanding officer of his in the Royal British Navy, Vice Admiral Edward Vernon.
You would be wrong to make such an assumption. Mount Vernon, NY was named by Anne Hutchinson in the 1600s for the elevated grounds in the area rich with vegetation, hence "green mountains." Vermont also is derived from French for green mountains, les verts monts. Wakefield, meanwhile, was named for the plantation house in Virginia where George Washington was born in 1732; that house burned down in 1779.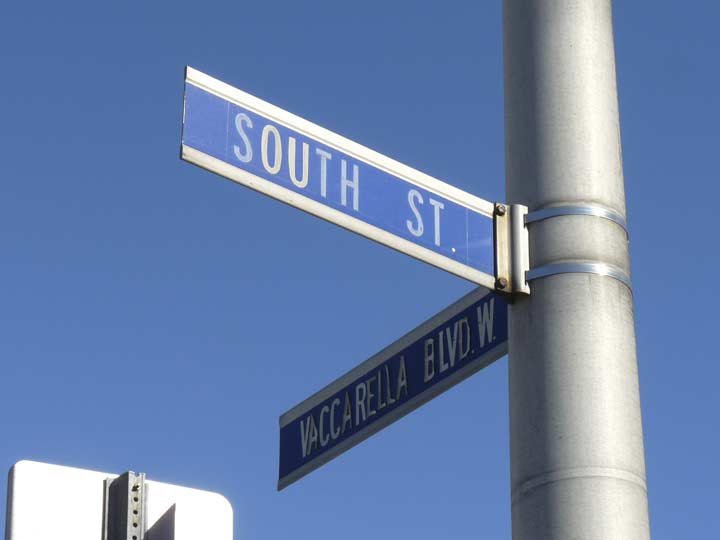 Street signs in Mount Vernon are for the most part small blue and white signs, which are occasionally sun faded and misspelled. West 1st Street is subnamed for John Vaccarella Jr., a three-time Mount Vernon mayor (1902-1982).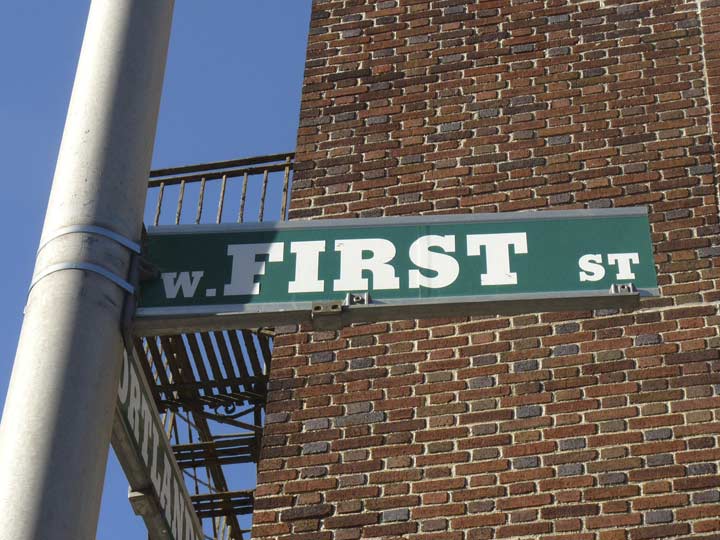 However, I did find a couple of newer signs rendered in an Egyptian-type extra bold font.
Classic Firestone logo outside a Mavis Discount Tire on West 1st Street.
With its signature flaming 'F', the Firestone logo is almost certainly based on the extended style of Bradley [typefont]. Firestone was founded in 1900, a few years after the ATF typeface was released. Surviving with very few modifications for over 100 years, the logotype is one of the most durable identities in America, a nation that impatiently scraps even the most iconic brands. [fontsinuse.com]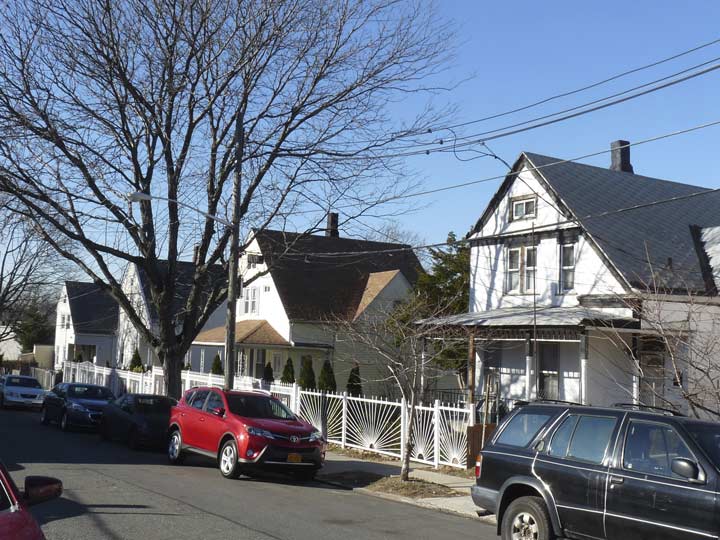 Cottage-like houses along Pearl Street near West 1st.
I was attracted to this "stick style" Victorian-era building, so called because of the thinness of the timbers used on the porch. It's a motif most often used between 1860 and 1880.
The imposing Roman Catholic Our Lady of Mount Carmel Church, at West 1st Street and South 10th Avenue, built in 1900, no longer holds services. The parish was merged with St. Mary's Church in mid-2015. St. Mary's is a beautiful building on nearby South High Street. Like most churches, its website has not a great deal of information about the archirecture or date of construction.
At this point West 1st Street borders the open cut servicing Metro-North trains, formerly the New York Central Railroad. The railroad has its beginnings in the dawn of rail transit in 1826.
A small park at West 1st and South 11th Avenue is marked with an original 1938 NYS Education Department plaque (when these can be found in NYC they are often badly maintained and in need of a paint job).
Abraham "Brom" Dyckman, a member of the prominent Dyckman family that still has an extant farmhouse in Inwood, was a member of the Westchester Guides, a paramilitary unit assisting General William Heath in attacking Tory (American loyalists to the Crown) strongholds in Westchester County. At this spot, Dyckman was mortally wounded on March 4th, 1782 while attempting to capture Loyalist Colonel James DeLancey, who was commanding several Tory units and made his headquarters here.
All The Brothers Were Valiant: One Man's Family in the American Revolution
Setting off down South 11th Avenue, in what I'd imagine is one of the tougher parts of Mount Vernon, as interspersed between mostly well-kept homes, you see a few abandoned ones. However, some original detail survives on some of them.
Outside of New York City, you realize that not all municipalities are that "anal" or obsessed about replacing street lighting as New York City is. Scattered around Mount Vernon you still see a few mercury lights such as this General Electric M400. There ruled the streets in NYC from about 1960 to 1972, when sodium lights began to replace them, but there still a good number of them to be found up to about 2009.
Here's what bus stop signs in Mount Vernon look like.
I liked this fortress-like apartment building at West 3rd Street (Martin Luther King Boulevard). There is a storefront church on the corner ground floor.
A set of retro-lamps have been mounted on West 3rd Street telephone poles. There are likely LED lamps with clear glass diffuser bowls. That's likely what will hapen with NYC's decorative lamps when LEDs are installed in them.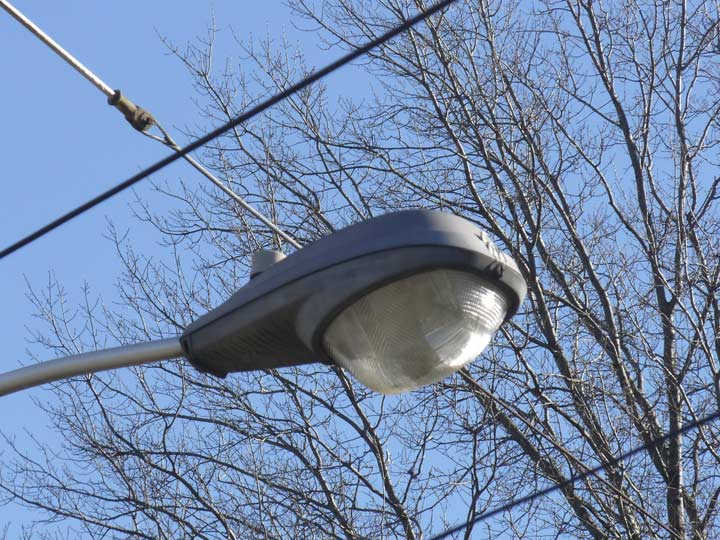 Another of Mount Vernon's elderly mercury vapor bulb lamps. This one is a Unistyle 400 by Line Material Industries/McGraw-Edison. This make was not used on NYC streets, but turns up in many other municipalities.

So here's where the Bronx-Mount Vernon border really gets nutty. The city line reaches South 11th Avenue midway between West 3rd Street and Cranford Avenue, and then makes a right turn and goes down the center of the road, which in New York City becomes Mundy Lane (named, according to the late Bronx historian John McNamara, for funeral director Bernard F. Mundy; McNamara also explains that Mundy Lane is a cutoff section of Mile Square Road, an ancient road in Yonkers).
But is it really that clear cut? Does South 11th Avenue "become" Mundy Lane? Not exactly. It takes three maps — modified by your webmaster — to demonstrate that it's complicated.
Between Cranford Avenue and Nereid Avenue (Bronx)/West 5th Street (Mount Vernon), the Bronx side is Mundy Lane and the Mount Vernon side is South 11th Avenue.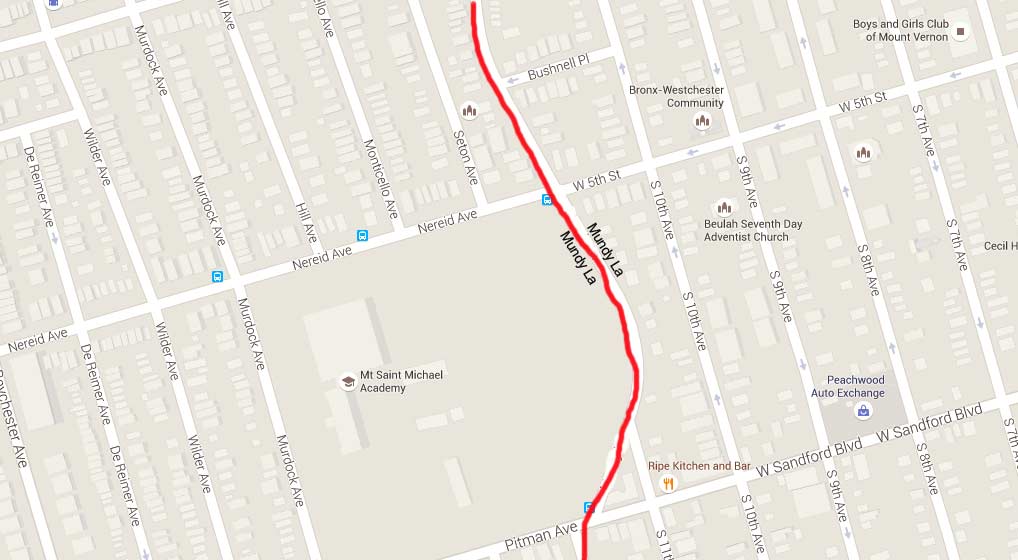 Bordering Mount St. Michael Academy between Nereid/West 5th and Pitman Avenue, both sides of the street are called Mundy Lane.
Between Pitman Avenue / W. Sandford Boulevard, it's Mundy Lane in Mount Vernon and Seton Avenue in the Bronx. Finally, before the city line cuts east, the road is called Seton Avenue on both sides between Bussing Avenue/West Kingsbridge Road and Edenwald Avenue.
There you have it. These distinctions are made on no print maps I'm aware of, and even the normally detailed Google Maps ignores them. No question, this is the strangest New York City borderline of them all.
The distinction between The Bronx and Mount Vernon is displayed in house numbering as well. These two houses face each other across the borderline down the center of Mundy Lane/South 11th Avenue and while the first is #263, the other one is #4515.
Eastchester Lane, a short road completely in Mount Vernon, issues east from South 11th/Mundy Lane for a few blocks. Another well kept historic sign proclaims this as a colonial-era road between Philipse Manor and the town of Eastchester.
Frederick Philipse III's grand manor is in downtown Yonkers. Philipse, a wealthy Loyalist, fled to England with his family after the USA won its independence from Britain and his house and property were confiscated and sold. The building later became the Yonkers village hall and later, city hall.  Since 1908 it has operated as a museum.
Looking at the Westchester County map, it seems to me that a natural candidate for the remainder of Eastchester Lane running west to the manor is Yonkers Avenue, which makes a great many twists and turns (giving away its age). In any case this section has been cut off for many years.
Here's a list of historic markers in Westchester County. Nine of them are in Mount Vernon!
In Part 2: along Mundy Lane and back to the Bronx