In the summer of 2013 I walked Greenpoint's West Street from end to end, and never got around to working on a page about what I had found. Then, a hard drive crashed, and I discovered to my dismay that the Apple "Time Machine" (a file backup device Apple has on its machines) wasn't the right setting, and so almost everything I had shot from December 2012 to December 2013 was lost, unless I wanted to cough up $1400 to extract them from the faulty drive. I kept the drive in case I ever want to do that, but wound up buying a new machine and this time, I think I'm backing up sufficiently, though you never know about these things. All my Macs have lasted about six years before they need servicing or have to be replaced, so I'm about halfway through my current machine's life expectancy. (I give all my machines heavy duty, as this website demands a lot of RAM and computing power.)
In any case I repeated my West Street walk in September 2015 and it may have been a propitious time to do so because the west end of Greenpoint is, by many accounts, about to see a lot of changes as money move$ in and the waterfront, previously given over to unloading and importing goods (like Java, or coffee, and goods arriving from India, both of which have Greenpoint streets named for them). Since manufacturing (based on shipbuilding and glass, pottery, printing and iron production and pencil manufacturing) moved out long ago, the Greenpoint waterfront has been mostly moribund except for a ferry here and there. The waterfront, though, has now been targeted in all NYC neighborhoods in which it is featured for the high rollers to come in, building tall towers, walling it off from the hoi polloi. Will this happen in Greenpoint? There are several indicators that it will. Thus, I walked along West Street (though I could not resist ducking into Franklin for a block or two) to record what may be a vestige of Old Greenpoint before irrevocable change comes. It might have been walking through Williamsburg from 1990-1995, before it was Manhattanized.
Me being me, the first thing I noticed upon arriving in the light from the mugger-mover at India Street and Manhattan Avenue was that the many of the Bishop Crook lamps installed along Manhattan Avenue about 15 years ago have been blown cockeyed by the wind. One thing I have noticed about the "retro-Crooks" and longarmed retro-Corvs that began making their way onto NYC streets in the 1990s are much more lightweight than the older posts they are copying and thence, they tend to swivel on their bases as the years go by. Some have been blown a full 180 degrees opposite the direction they originally faced, over the roadway and now, they illuminate sidewalks.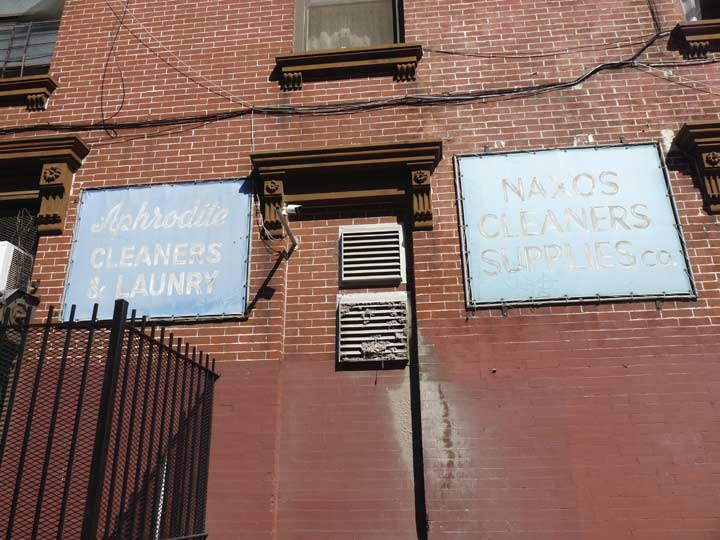 On Green Street (a street where I briefly rented an apartment in 1982) a couple of faded signs from previous businesses are on the NW corner building. There is still a cleaners on the corner, but with a much jazzier green electric sign. Note that misspellings on signage and publications are nothing new.
The cleaners is "Apollo Express" and likely has the same Greek ownership indicated by the above two signs.
In just 2+ years, complete change has happened with the NW corner of Manhattan Avenue and Freeman Street. Above, from Google Street View in 2013…
… and September 2015 when the B32 bus has been rerouted along Freeman and a new branch of Sweetleaf Coffee, still in Long Island City across the Pulaski Bridge at Jackson Avenue and 11th Street has opened. Not a commercial, since they're not paying me, but I always found the hot chocolate and pastries satisfactory at Sweetleaf and it has fueled more than one Forgotten NY tour.
Not sure if J. Joseph and Sons is still open, or if they have been open at any time recently, since their mini-empire of three storefronts (one for electric appliances and two for furniture) along the east side of Manhattan Avenue between Eagle and Freeman is shuttered whenever I'm around, but that neon sign must have been formidable at one time. (See comments for more on J. Joseph)
Fun fact: DuPont was founded in 1802 in Delaware as a gunpowder manufacturer by Éleuthère Irénée du Pont, a French immigrant fleeing the Reign of Terror in the 1790s, and it's likely in that role that Greenpoint's Dupont Street was named.
The story goes that by the early 1850s Greenpoint residents were dissatisfied with the bland lettered street names from A to Q, and thenceforth they acquired names. Interestingly there's a pattern to those: the ones in the north, Ash, Box, Clay, Dupont — seem to honor the industry and manufacturing along Newtown Creek, though some historians believe Clay Street was named for Henry Clay, the "Great Compromiser" of the US Senate in the early to mid 1800s.
Further south, Huron, India and Java Streets hark to the shipyards found on the East River side, where vessels from the world over unloaded their cargoes. L became Lincoln in honor of the 16th President, while Milton and Noble honor Williamsburg political luminaries. There may have been many Oak trees in the area, while Quay (properly pronounced "key") is a fancy word for "dock." There had never been a "P" name, since P Street was Calyer for an early Greenpoint patriarch from very early on.
Before heading west to West along Clay and Commercial Streets, here's one more classic storefront sign just north of Dupont Street. (See Comments for more on the Riveras.)
Where Clay, Commercial and Franklin Streets meet there's the massive Harte & Company manufacturing building. I've always been fascinated by the glass block windows along its curved facade, just part of a massive building that takes up almost half the block bounded by Franklin, Manhattan, Clay and DuPont. The Historic Districts Council was so impressed with it that they made it one of their "Six to Celebrate" (this site lists it, along with several other Greenpoint sites). Harte & Co. went out of business so long ago that I can't find out much from a cursory internet search. For many years, Nuhart & Co (likely founded by descendants of the original owners) made shower curtains and in the process, deposited toxic chemicals in the basement that will complicate any further development of the property, if it indeed cheats the wrecking ball. (See more in Comments.)
There are not one but two substantial parks at the west end of Commercial Street. "Parks" is a relative term because other than some scattered trees, green grass or any vegetation at all seems to be a luxury in the northern reaches of "The Garden Spot of Brooklyn." I was flabbergasted by the sheer amount of concrete in Newtown Barge Playground, shown here. On a Saturday noon, the place was deserted, except for me and one of the local mendicants. There are basketball courts and an enviable view of the "Shining City" across the East River. The park was named for a former barge terminal on Commercial Street that formerly occupied the site.
Meanwhile, the Greenpoint Playground occupies the triangle formed by Franklin, Dupont and Commercial Streets. There are benches, some London plane trees, kiddie jungle gyms and a new restroom that your itinerant Webmaster was thankful for. And, of course, a Citibike rental station.
West end of Commercial Street, facing the East River and #1 World Trade Center, at present occupied by Conde Nast magazine offices. The smokestacks belong to a large Con Ed facility on East 14th and the FDR Drive.
In 2014 Greenpoint lost one of its beloved landmarks to make way for the Greenpoint Landing project: a 52-ft. high concrete sludge tank that used to handle tons of raw sewage and appears to have been the prototype for Madison Square Gardens' Felt Forum (or in Newspeak, the Theater at Madison Square Garden). The sewage has been relocated east to the Newtown Creek Waste Treatment Facility, home of the Digester Eggs or, as my pal Miss Heather calls them, the "Shit Tits."
In 2015 the north side of Commercial Street was still mostly empty but construction was underway for part of the new Greenpoint Landing project along the noxious and noisome Newtown Creek. Curbed reports that some of the apartments will be 'affordable' and this time, they mean it, as studios can go for as little as $494 a month, based on income. But, there's always the contaminated ground and the Creek.
Around the corner at 33 Eagle Street, another of the new Greenpoint Landing buildings was under construction in late 2015. This will be 7 stories in height with 98 apartments and even some commercial space.
Meanwhile the beat goes on at the west end of Eagle, which is afar north as West Street gets these days. The street was named for its obvious position in Greenpoint, and is also among the handful of streets that have twins somewhere else in the borough. The other West Street is in Gravesend and separates the East numbered streets from the West numbered streets between Village Road East and Avenue Z. To add to the confusion, there's a West Avenue in nearby Brighton Beach. There are also duplicates of Atlantic Avenue (from the East River to Jamaica, and also in Sea Gate in Coney Island) and, surprisingly, West 9th Street, in Gravesend and in Red Hook.
Beyond the fence, which looks out on yet another Con Ed building, this time the Classical-styled headquarters built between 1913 and 1927, is a storage area for construction equipment.
The corner building at Eagle and West is home to Expendables Plus, which since 1994 has distributed filmmaking supplies. The name is a mystery, since "expendable" means not worth saving or no longer useful. One definition that may fit is "normally used up or consumed in service": expendable supplies like pencils and paper. All I know is, Sylvester Stallone and Dolph Lundgren have nothing to do with the place.
At West and Freeman, a stray cat catering service and Tom Kats Catering, serving movie shoots from this locale.
Between Freeman and Green West Street is the garden spot of Greenpoint, at least, with trees on both sides.
There's some painted lettering above the second floor here at 184 West just south of Green, but it's too faded to make out by now. On the roofline there's still a hay hoist, so this building may have harbored stables at one time.
171 West Street is a handsome old-style brick building, complete with iron tie-rods that hold up the walls. It is currently the home of Target Scaffolding and, though the gate was open, I did not enter; I hope the bicyclist found a merciful fate. at the west end of Green Street is Greenpoint's sole remaining pier from its shipping and manufacturing past, although it's rotting and collapsing; new piers have been built for a ferry landing and recreational use on India and Kent streets, respectively. Both the Green and Freeman Street piers supported a local railroad serving area businesses.
It's rare to find an apartment building this far west but there is a very old one at West and Green, complete with chiseled street signs. Long ago a restaurant and bar occupied the ground floor; it was reopened in 2012 as seafood restaurant/tavern Achilles Heel. (in the Greek myths, Achilles' mother, the nymph Thetis, dipped him into the River Styx to make him invulnerable when he was an infant, holding him by the heel. Naturally, Paris killed him during the Trojan War by shooting him in the heel.
The NE corner of West and Huron may have been an empty lot in late 2015 but 170-174 West Street, a rather bland-looking condo development, will be opening on the site presently.
Meanwhile on the southwest corner, 'dozers were already clearing the way for #10 Huron, which will be a humungous 40-story tower.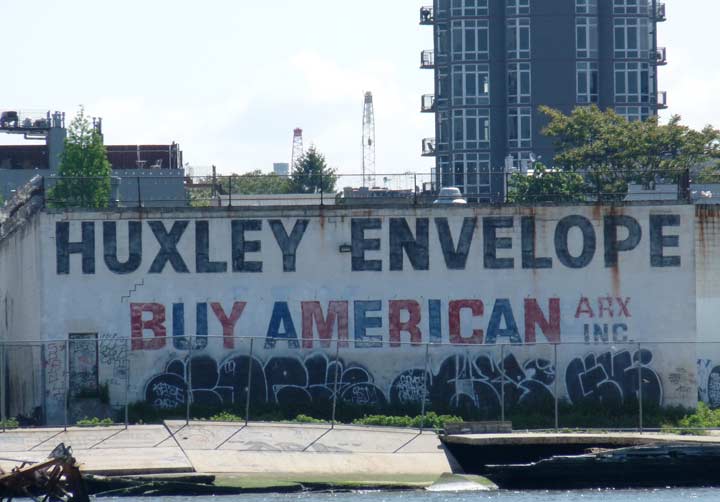 Adjoining the tower, in the way of the smaller condos that will accompany it, was the Huxley Envelope manufacturing building, which had this patriotic sign on its west end, visible mainly by boats in the East River;  Miss Heather was able to get some additional photos.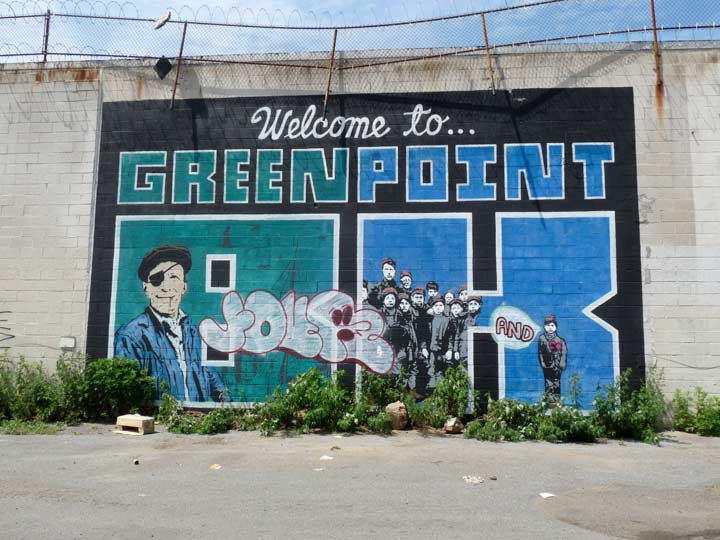 Also lost was this painted billboard on the India Street side of the building.
Out of the line of fire for now at least is this handsome brick apartment building, ca. 1900-1910, at Huron and West, as well as two three-story dwellings on West between Huron and India.
For most of my recollection, the Loew's Kings Theatre on Flatbush Avenue was a decrepit hulk, slowly decaying until, I though the final denouement would be a teardown. Instead, it found an angel and was restored to former grandeur and more, not as a movie theater this time but as a performance venue, reopening in 2015. As you can see some of the more well-known names in showbiz now play there; and while Yo La Tengo has never dented the top 40, they have been a well-known Hoboken-based band for over 20 years.
At the west end of India Street is a stop on the East River Ferry, which makes several stops in Manhattan and Brooklyn. Just after a crowd departed in February 2014, the pier collapsed during a snowstorm due to shoddy workmanship.
A handsome blond-bricked apartment building at West and Java Streets hosts Naked Dog, an Italian restaurant that also has a West Street front where coffee and sandwiches are dispensed during weekdays. Meanwhile across the street there's an accommodation for what naked dogs do.
Bad sun angle and all, I wanted to get this photo of one of the many Eberhard Faber pencil factory buildings in the western Greenpoint era. It's been saved and rehabilitated as condos, but with ugly additions at the roofline.
Eberhard Faber, the scion of a Bavarian pencil producing family, arrived in the USA from Germany in 1848, and after his first USA pencil factory burned down in 1861, relocated to Greenpoint in 1872. His son Eberhard II (he had changed his name from John) took over the company, which remained in Greenpoint until 1956, when it decamped to Wilkes-Barre, PA. Faber is recalled by a large sign facing the East River painted on its original 1872 building at 37 Greenpoint Avenue…and by the huge yellow terra cotta pencils and stars on the Art Deco building next door. Other Faber buildings in the area also sport the star and diamond motif, but not this one.
Faber claims to be the first pencil company to manufacture pencils with erasers; in Europe pencils still don't feature erasers, since the theory is that children will be more careful if they can't erase!
Attracted by the Belgian-block pavement on Java west of West — the only Greenpoint street that has kept them –I decided to walk down to the waterfront to see what I could see.
A helping of classic Brooklyn graffiti and garbage, but also…
A view of the Kent Street pier and the Williamsburg Bridge…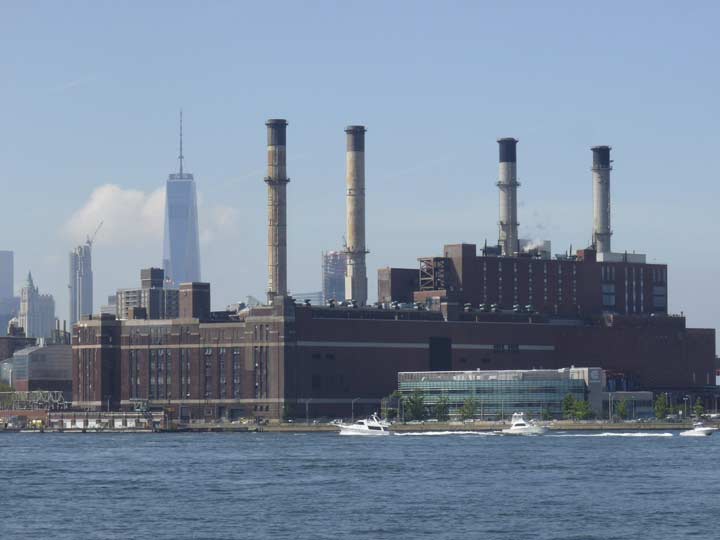 The Con Ed facility, its smokestacks and #1 WTC…
… and the India Street ferry pier and the Waterside Plaza apartments at the FDR Drive and East 34th Street, as well as the King of All Buildings.
In Part 2, a detour to Franklin and back to West.
3/5/16