I keep hearing that the definition of madness is doing the same thing over and over and expecting a different result. I think the current Forgotten Feature will disprove the notion, though. I walked Wyckoff Avenue, which is on the Brooklyn-Queens line for most of its route, back in 2008 (we now speak of Forgotten New York as spanning decades) and I hate to generalize but back then, it was just beginning to feel the effects of "gentrification" however you wish to define the term; it had more expensive restaurants, is all I know. In recent years, the "creative class," the vanguard of gentrification, has cause a lot of public art to be installed on fences and painted on empty surfaces, as well as more coffeehouses springing up. I show off public art if it's interesting, but as always, ferret out traces of what this was long-ago: a working class neighborhood full of Germans and Irish. One occasional intruder would prefer it remain a working class neighborhood, now of a different demographic profile, if only because I could still afford lunch whenever I return.
On the old hand-lettered Hagstrom maps in use until the end of the 20th Century, Wyckoff Avenue was rendered in huge letters compared to its brother avenues such as Cypress and Irving. The drafters didn't consider Wyckoff, named for one of the 17th-Century Dutch immigrating families named Wyckoff (there were dozens, apparently) any more important than Cypress or Irving. It's just that the BMT Canarsie Line runs under Wyckoff Avenue for its entire length (is any other subway line arranged like this?) and Hagstrom lettered the name extra-large, so it would be evident over the dotted lines it used to indicate subways. In another Hagstrom quirk, 5th Avenue in Park Slope and Lexington Avenue in Bedford-Stuyvesant were drawn extra-wide to accommodate renderings of elevated lines. After theose els were eliminated in 1940 and 1950, the two streets still appeared extra-wide on maps with no seeming reason why. The new (inferior) computer-aided design maps appearing in 2000 ended this quirk.
Running from Flushing Avenue to Cooper Street, Wyckoff Avenue is completely in Brooklyn up to Gates Avenue, and then the Broooklyn-Queens line runs down the middle to George Street (Queens) and then completely in Queens till it ends. Here, I should remind you that there is a George Street in Bushwick (Brooklyn) and a George Street in Ridgewood (Queens) that can't be mistaken since they're about a mile and a half apart, and that there is both a Jefferson Street and a Jefferson Avenue in Bushwick. The two are 22 blocks apart, and neither can be mistaken for the other, but both encounter Wyckoff Avenue and its brother Bushwick and Ridgewood avenues.
Any old-time readers from the area remember when NYC was using color coded signs, and on the borough border on Wyckoff, where there black/white Brooklyn signs on one side and white/blue Queens signs on the other? If you have photos of this, let me know. Today, this undefended border is absolutely seamless, and Ridgewood to some degree even retains Bushwick's house numbering until numbered streets take over further east as you get close to Glendale.
To begin this year's Wyckoff walk I took the Canarsie Line L train to Jefferson Street. Word comes that L train service will be severed between Manhattan and Brooklyn in 2019 for who knows how long so that massive damage done to the tunnel by Hurricane Sandy in October 2012 can be addressed — some seven years after the storm hit.
The Canarsie Line, opened from Manhattan to Montrose Avenue in September 1924 and from Morgan Avenue to East New York in December 1928, was the last great flowering of Arts & Crafts-style mosaic station tiling, and BMT art director Squire Vickers made these stations a cacophony of multicolored tiling — other stations stuck primarily to earth tones with blue mixed in. There was a station renovation a few years ago and, other than a bit more shininess, you really can't tell the difference between that and the 1928 tilework.
Unlike most other stations on the Canarsie Line the Jefferson Street station has actual station entrances as opposed to simple staircase street entrances. These are pretty plain — the BMT used its budget on the mosaics and tilework. Compare to the Sea Beach line (N) and parts of the Brighton (Q, B) which have fairly handsome station houses with terra cotta work, lamp stanchions, etc. The Sea Beach line is undergoing a complete restoration in 2016-2017 and I'm quite interested to see how the headhouses are handled.
The stretch of Wyckoff was bleak indeed until about a decade ago, but corporate as well as amateur street art has livened things up. This Guinness distributor has just added a second floor, with the Queen of Falafel occupying the bottom floor.
Some, but not all, of the "street art" in the area, here at Wyckoff and Troutman Street, is under the aegis of the Bushwick Collective, organized by Bushwick resident Joseph Ficalora. The headquarters is nearby at Troutman Street and St. Nicholas Avenue.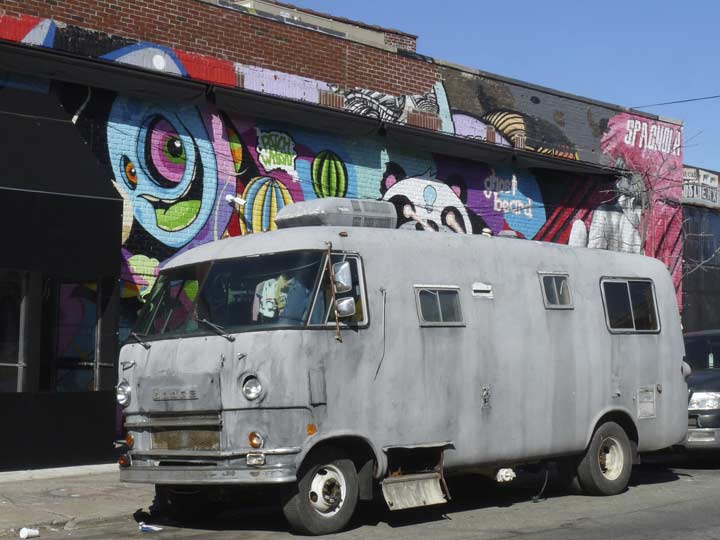 I found this Dodge van parked on Troutman just north of Wyckoff. What year?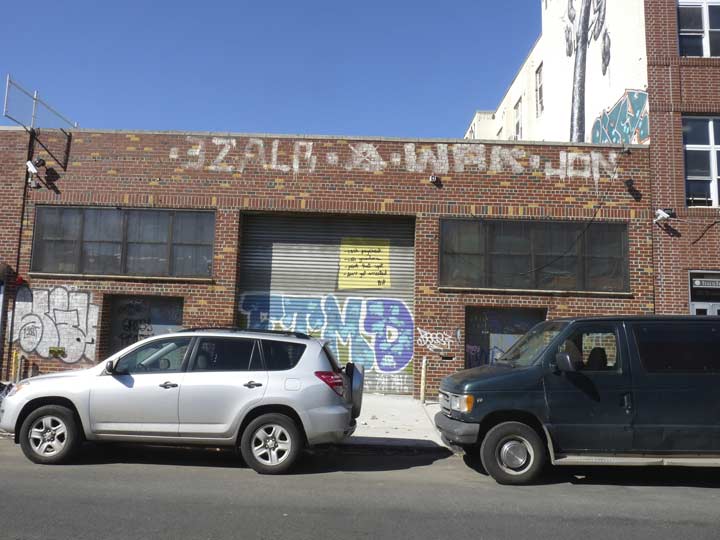 Appearances can be deceiving. This looks like a run of the mill brick warehouse at 383 Troutman near Wyckoff, but it has become chic to avoid outward signage at all — so insiders know where the hotspots are and unsuspecting punters like your webmaster are shut out. But, I read the Times, so I know that by night this is home to an interactive theater production called The Grand Paradise, in which the audience is invited to participate, to one degree or another.
For "The Grand Paradise" — overseen by the company's artistic directors, Zach Morris, Tom Pearson and Jennine Willett — the troupe drew from a kitschier and closer frame of reference. The Bushwick neighborhood warehouse it has taken over has been remodeled as a sybarite's temple to the swinging '70s.
O.K., those of you who were there in the era of Jimmy Carter's presidency may recall that time as the less glamorous stepchild of the really swinging '60s. But think about it. By the late 1970s, the sexual revolution was in its fullest flower, when a night at the disco could end in a public orgy and sexually transmitted diseases could be chased away with a hypodermic needle… [NY Times, linked above]
The restaurant Northeast Kingdom at Wyckoff and Troutman (Ridgewood is considered the Great Northeast to some) is still going strong as it was in 2008, with its Vermont hunting lodge vibe.
…husband and wife proprietors Paris Smeraldo and Meg Lipke have blithely imported touches of their native Vermont to the nether regions of the L train. Potted evergreens, seemingly the only vegetation for miles, mark the entrance, beneath a copper stag nailed to a slab of wood. Although a paint-by-numbers deer in a winter scene hangs over the bar, the interior avoids campiness; slate-gray planks in the ceiling impart a minimalist vibe. The food relies on fresh ingredients, with a menu that shifts accordingly. Gruyère cheese appears frequently, in a grilled mushroom sandwich, with cheddar in mac & cheese, and matched with coarse-cut country bacon in the N.K. version of a croque monsieur. Chicken pot pie is a signature dish, made with organic meat stewed with peas, carrots, and thyme, and crowned by a thick, flaky crust. [NY Magazine]
Update: Northeast Kingdom closed in May 2016.
The anatomy of Mr. Met, Wyckoff and Troutman.
Sometime long ago this was a factory and the 2-story brick building was undoubtedly the company offices. The company is likely listed somewhere in online annals that would have a thick layer of dust if it existed outside cyberspace.
The Bushwick-East Williamsburg area contains two streets bearing the names of Beatles: Starr Street and Harrison Place. On the corner of Starr and Wyckoff, the diner Hi Hello, which opened in early 2015, occupies the old Palma's Restaurant space. Gothamist calls it a "darling new sandwich eatery".
This mighty former candy factory building of hundreds of windows has been converted into temporary office space called BrooklynDesks.
Wall mural, Wyckoff and Starr. Dylan reminded us that those not being born are busy dying, but like David Byrne, I'm "the same as [I] ever was."
Starr Street exit of the BMT Jefferson Street station. Some NYC scenes have not yet been homogenized, and the scribbled graffiti, peeling pasted ads and old-school BMT 1928 vintage entrance stamps this as a no-doubter NYC landscape.
Household goddesses look over those getting off the subway.
"The Shop" sounds like it should be selling tables and chairs recently made from fresh cut wood by bearded guys wearing lumberjack shirts, and while you can probably find something like that in the area, The Shop is actually a barbecue joint announced by its overhanging sidewalk sign with a pig on it. Like Hi Hello it opened in mid-2015 and has been decently reviewed.
Meanwhile at #271 Starr, east of Wyckoff there's Tres Hermanos Tortilleria Mexicana which has been here much longer than any of the new usurpers. Pop gourmet Anthony Bourdain has featured the place on his TV show and NY Magazine raved:
Through Plexiglas partitions, diners view workers baking and bagging their brand of delicious wraps. The heavenly maize flats come off the line warm and chewy and go straight into the kitchen to be partnered with one of seven fillings. The most popular is the chorizo—sausage is ground, grilled and laced with small chunks of potato to cut the spicy flavor. Avoid the mediocre chicken; a carnitas taco and the spicy enchilada also made with pork pack more punch. The delicately cooked fillings hardly need additional dressing but house-made salsas are a delight on their own—smoky chipotle adds sultry heat while the tangy tomatillo discharges major firepower on the spicy end.
The sign can be seen from several blocks away.
You have to be an area resident or a regular patron to know what the name of this place at #50 Wyckoff at Willoughby Avenue is: Heavy Woods. A trend in restaurant marketing in recent years has been to add no sign at all on your venue, or keep an old sign from a previous business. It seems to run counter to Marketing 101, but you do ensure a clientele you're happy with, or so the theory goes.
The menu is whiskey-, tequila-, and mescal-heavy, though house-infused spirits like Earl Grey tea–infused gin also factor in. Simon Glenn's pop-up Tchoup Shop, open Wednesday through Sunday, dishes out New Orleans comfort food, including duck gumbo and catfish po'boys. Beer-and-shot specials ($5 for PBR and Old Crow) keep revelers liquored up well into the wee morning, and then it's only a few hours before they can do it all over again. [NY Magazine]
Different worlds. I splurge with a trip to Blimpie's.
These attached walkups on Wyckoff between Willoughby Avenue and Suydam Street are the dominant housing stock as you proceed further down the avenue. They are ungentrified with nearly a century of weathering. Don't like what they did with the door on the right, though.
They knew how to design residential buildings in the 1910s. This one is at the corner of DeKalb Avenue and Wyckoff which is the very same DeKalb Avenue that extends southwest and west to the Fulton Mall at the classic domed Dime Savings Bank. In downtown Brooklyn, its DeKalb Avenue subway station is a massive subway interchange funneling trains into the Montague Street Tunnel and Manhattan Bridge and to the Brighton and 4th avenue BMT lines, but here, it's a modest local stop on the Canarsie BMT.
The bones of an ancient classic diner can be detected under Sazón Nuñez on the corner of DeKalb and Wyckoff. It used to be the Bon Ton Diner, I am told.
Great old streetscape on Wyckoff east of DeKalb. Plenty going on — those classic 1910s attached apartment buildings and the panoply of businesses and signs on the ground floors.
Wyckoff Heights Medical Center, Wyckoff Avenue at Stockholm. The name of the place punts the ball and makes up a neighborhood name, Wyckoff Heights. My rule is simple, We're still completely in Brooklyn and hence, we're still completely in Bushwick.
According to its wikipedia listing:
In 1887 the German Hospital Society of Brooklyn was organized by the Plattdeutscher Volksfest-Verein for the purpose of raising funds, purchasing land, and constructing a hospital to serve the large German immigrant community in Brooklyn.
The hospital opened its doors in 1899 as the German Hospital of Brooklyn, but was renamed Wyckoff Heights Hospital after World War I because of anti-German sentiments and eventually renamed Wyckoff Heights Medical Center.
I haven't been able to web the date the current building opened. Anyone know? Answer in Comments.
Looking down Stanhope Street, I found a Thomas & Betts #25 the city didn't replace in 2009, when most NYC streetlamps were equipped with GE M400s (the new edition). Currently the Department of Transportation is replacing the lights yet again with a variety of Light Emitting Diode makes, which shine bright white. I imagine this old campaigner will be replaced when the DOT gets around to Himrod Street.
Thomas & Betts lamps like this can be found in other cities that aren't as zealous as NYC about purging streetlamp installations every few years.
Taking a detour west on Himrod Street, there's a new residential development springing up at #330 surrounding the ancient Dannenhoffer's Opalescent glassworks, whose painted signs have stood up to over a century of weathering. The ancient factory was built next to the now-vanished Long Island Rail Road Evergreen Branch, which still made a few freight runs up until a few decades ago.
The glassworks has a very lengthy pedigree as the indefatigable Montrose Morris of Brownstoner discovered:
The founder of the glassworks was John Dannenhoffer, who came to New York as an adult from what was at the time the German province of Lorraine. He and his brother Nicholas came here during the Civil War and after landing in New York were not able to find work. They sailed upstate to Albany and worked on a farm until the war's end. Returning to NYC, Dannenhoffer took employment in a glass factory, a trade he had learned in Germany. He and his brother and a third man soon opened their own glass company. By 1871 Dannenhoffer and partners had established the Williamsburg Flint Glass Company in Brooklyn…
Much more at the link!
The developers promise that the painted letters Dannanhoffer's Opalescent (people could spell in the 1880s) will be repainted.
Dannenhoffer produced a great deal of stained glass. At #355 Himrod, across the street, we see a stained glass address in the transom, which may very well have come from Dannenhoffer's Opalescent.
A couple of years ago, Variety Coffee Roasters took over the space formerly owned by Wyckoff Paint Fair, which as you can see on FNY's 2008 Wyckoff Avenue page, had some amazing wood cut letters on its sidewalk sign, as well as a C-shaped neon sign on the corner. Miracle of miracles, Variety Coffee has kept the neon sign structure and changed it to a sign of its own.
The 1200-square-foot space sits on a sunny corner of Wyckoff just south of the L train, on a strip largely populated by Latin American groceries and old-school businesses–nothing too fancy. The renovation of the airy space includes a new storefront, hand-built bar, and a custom chandelier (Variety is and has always been all about the chandeliers) from Conant Metal & Light in Compton's home state of Vermont. (Those handsome industrial sconces above the roasting area in back are, on the other hand, utility lights from Home Depot.) Only the refinished brick interior remains of the original space. [Sprudge]
Since I have retained the tastes and preferences I had as a 12-year-old, I have never become a coffee drinker, which means I am missing out on "sample roasting" and "Piero cap upgrades" mentioned elsewhere in the article. I'll stick to Snapple.
In Part 2: along the Brooklyn-Queens border
4/17/16