It's been over seventeen years since the very first Forgotten NY post (which concerned a repurposed trolley depot on Northern Boulevard and Woodside Avenue) and while I've covered a lot of aspects of the NYC subways, including signage, standard and nonstandard; old methods of station design and new methods; abandoned subway stations; and retired subway identification letters… heretofore I've resisted talking about the many and varied types of elevated and open-air subway lighting on freestanding lampposts. When I first began FNY, there were still some very old examples to be found, and during those years, the Metropolitan Transit Authority has begun installing new station lights, some designed to resemble lamps fro  previous eras, some all-new. I don't have a lot of samples yet (as I usually see them riding past on my way somewhere else) but, I think I've made a good start here– see if you agree.
A number of the images on this page are old enough that I scanned them quite small, as people were still using dial-up modems, and I was keeping the images to a total of 30K or less. With dial-ups pretty much extinct, I've been freer to use larger images now, but still "save for web" — and they still get to over 100K. This one was taken on the 125th Street platform of the #1 train, the only elevated station in the area.
In this case the MTA chose to retain original, or at least quite old, lighting stanchions; this was the very first elevated station built as part of a subway line in 1904 (els as a whole had been around since the first 9th Avenue El structure was opened for passenger service in 1868).
Older photos show a simple cover with incandescent bulbs, some protected with mesh wire. The current yellow sodium box lamps were probably placed here in the late 1970s or early 1980s.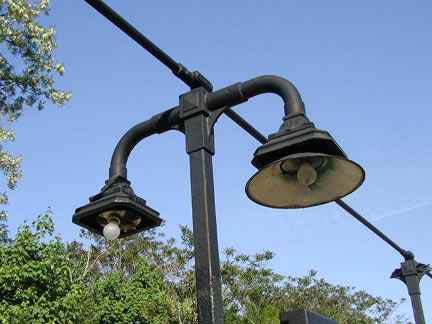 When I first encountered the 9th Avenue BMT station platform on the West End Line in 1999 or 2000, currently serving the D train, it still had its original set of platform lamps with bunches of small incandescent bulbs that no doubt went all the way back to the station's opening day, September 15, 1916. However, a station renovation about a decade ago (as of 2016) left it with a set of replica stanchions…
… that closely resemble the originals in design, but shine with bright-yellow sodium bulbs.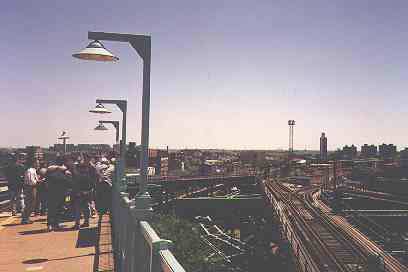 This is a photo I took very early on in FNY in about 1999 or 2000. At the time the MTA was planning to close, and then demolish, this particular platform for the Atlantic Avenue station. The Canarsie el split into a north and southbound branch. The section going over Snediker Avenue was torn down and this platform went with it. The el was originally constructed in 1906, replacing a steam link to Canarsie that ran at grade. These are very simple luminaires with clusters of incandescent bulbs.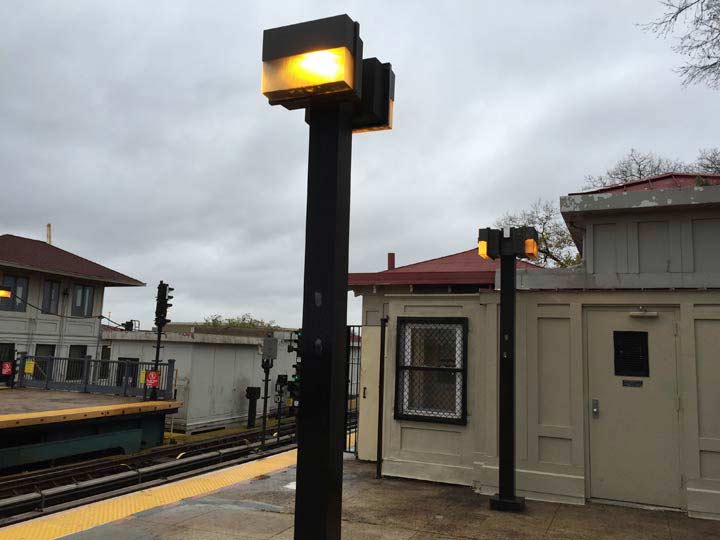 The Flushing El is pretty much divided into two sections, as far as station lighting goes. As it runs over Roosevelt Avenue between Sunnyside and Flushing, station lighting is quite basic and prosaic, with sodium vapor bulbs on squarish stanchions.
However, the 33rd (Rawson), 40th (Lowery) 46th (Bliss) and Woodside stations, the latter shown here, had a considerable renovation in the 1990s that installed the "Q is For Queens" stained glass series showing a Queens scene for each letter of the alphabet and also saw the installation of these huge looped lamps with massive luminaires. They have sodium vapor bulbs, shining bright yellow.
Not strictly a subway, but mass transit just the same, is the Port Washington branch of the Long Island Rail Road, the line I ride most frequently. Likely installed in the 1970s or 80s are these just-the-basics poles with sodium vapor lamps…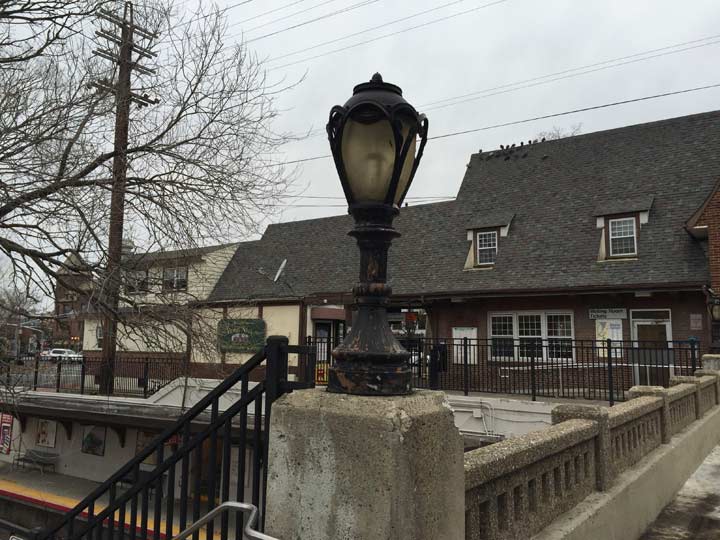 …while on the passenger overpass crossing the tracks are sets of what appears to be severely truncated park lamps, with just the base and the lamp set in concrete. The Great Neck stationhouse from the 1920s is in the background; this was the original terminal of the line when it was constructed in 1866. In 1892 it was extended further to Port Washington.
Wild talk of including the line in the NYC subway system surfaces now and then (it's a de facto extension of the #7 subway line in all but an actual physical connection) but the suburbanites of Bayside and beyond shoot down the notion each time.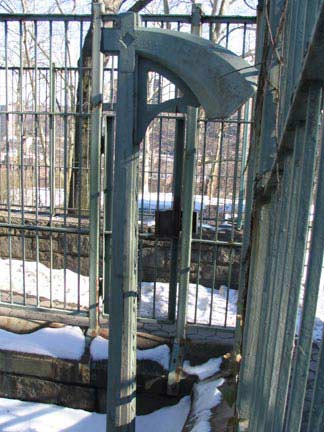 There are only two IND stations above ground; 4th Avenue, which has no platform lighting stanchions, and Smith-9th Street, which replaced what remained of its original stanchions in a complete gut reno a few years ago.
However, the 190th Street station entrance from Fort Washington Avenue in uptown Manhattan is set back from the street, and there are a few of these 1930s original lamps illuminating the walkway. This gives you an idea what elevated station lamps might have looked like on IND lines had any elevated lines been included. Actually, the IND Second System, which was eliminated by the Depression and WWII, was slated to indeed include some els in western Queens in neighborhoods like Maspeth — which today remains subway-free (blissfully, to some residents).
Several elevated stations have cylindrical aluminum posts bearing "bunches" of incandescent bulbs on their mastarms. This was taken at the Dyre Avenue station, the last stop on the #5 train  a few blocks away from Westchester County. I do not know if the incandescents light up, or are replaced when the burn out.
*I'm informed that a recent station renovation claimed these posts.
These lamps also crop up on some BMT elevated platforms as well.
An interesting style decision was to include the station name on raised letters on the cylindrical stanchion.
Illuminated examples at the elevated Parkchester station on the #6 train.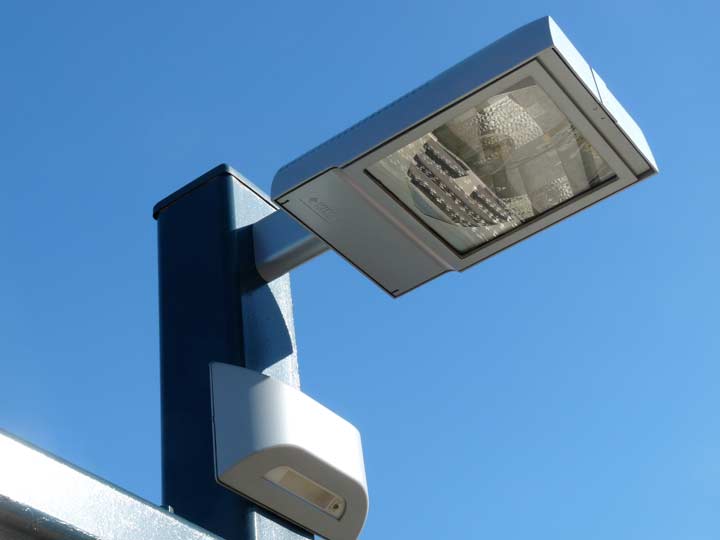 A couple of years ago, stations on the Brighton Line (serving the B and Q trains in Midwood and Sheepshead Bay, Brooklyn) underwent a complete renovation of their own, and new LED (light emitting diode) station platform lighting was introduced, which predated the street lighting switcheroo that is currently ongoing in 2016. These lamps shine bright white.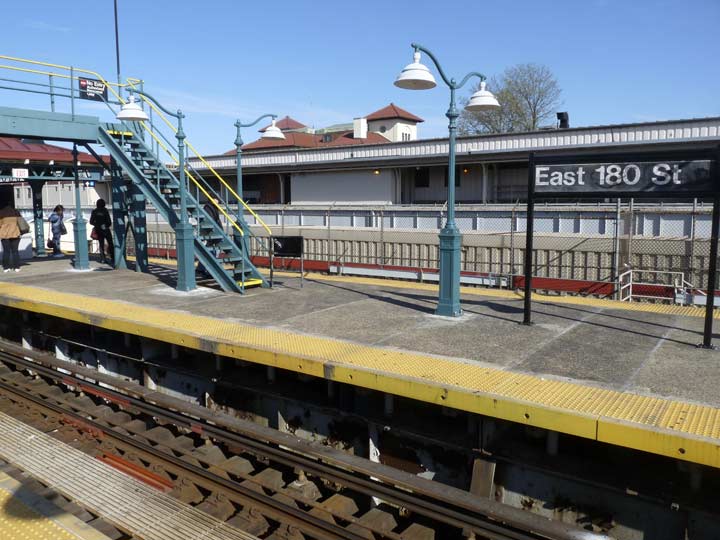 In the early 2010s, elevated stations on the #2 line between Jackson Avenue and East 180th Street, serving Melrose, Longwood, Crotona Park and East Tremont, were give these retro, crook-necked platform lampposts that originally included yellow sodium vapor lamps. The shafts resemble the ones from the elevated stations on the #1 line, and these elevated stations may have had those as well, but at the top, practicality leaves off and Fantasy takes over.
Throughout most of its existence, platform lighting on the Staten Island railway (né Staten Island Rapid transit) consisted of thin, crook-necked stanchions bearing a single incandescent bulb on most stations. In the early 1980s, the stations were given renovations that simply added overhangs and glass-blocked partitions onto the older station infrastructure from 1930s-1960s stations.
Station lighting was replaced by these ultra-streamlined, L-shaped stanchions with sodium vapor showing through glass cyclops rectangular eyelets.
Have I made a mistake? While Comments are disabled, tell me about it at kevinjudewalsh@gmail.com.
6/19/16