For this trip, I transferred from the J train to the 7 train. The two lines do not have a transfer point at any station — so I had to walk seven or eight miles to make the transfer. After a few weeks trampling about southern and western Staten Island, visiting Prince's Bay, Travis and Charleston, I was in the mood to travel through more urban scenes and starting in Williamsburg, which has been built up for over a century and a half, fit the bill pretty well. I decided to travel through the Willie, into Greenpoint's eastern reaches, and then cross the noxious and noisome Newtown Creek into Sunnyside.
GOOGLE MAP: WILLIAMSBURG TO SUNNYSIDE
At the end of Part 3, I had attained Kingsland Avenue after a walk east on Withers. The former Greenpoint Hospital is a block away, signalling that I had traversed Williamsburg and have entered the Garden Spot of the Universe, as Greenpoint was nicknamed by early-20th Century Tammany-era alderman (the position is analagous to a city councilman today) Peter McGuinness, for whom Oakland Street was renamed in 1964; the position McGuinness held in Greenpoint is proof that the Irish were once as prominent in Greenpoint as the Poles later became.
While Greenpoint may have been a garden spot when Pieter Praa and Dirk The Norman were wresting it from the local Lenape in the 17th Century, today foliage is a precious commodity, found chiefly in McGolrick and McCarren Parks, and as we will see, there are still occasionally some street trees to be found.
Making my way Newtown Creekward, I walked straightway up Kingsland Avenue, which, as noted in Part 3, was named for industrialist and whale oil manufacturer Ambrose Cornelius Kingsland, Whig mayor of the New York for one term (1851-53).
The supermarket on the west side of Kingsland north of Withers has some intriguing scenes from old Brooklyn in the windows, but they don't photograph well because of the reflection.
Kingsland Avenue, looking north from Withers Street. The sea-green Citigroup Tower may be dethroned as the tallest building in Queens soon. It was built in 1989 and for over two decades was the tallest building on Long Island. An 800-foot tall luxury condo is scheduled to go up in Queens Plaza next to the Bank of Manhattan clock tower, which was the tallest in Queens for decades after it was built in 1927.
Next to the Ho May Kitchen on Kingsland and Woodpoint Road, this is what modern residential architecture looks like in 2016, for better or worse.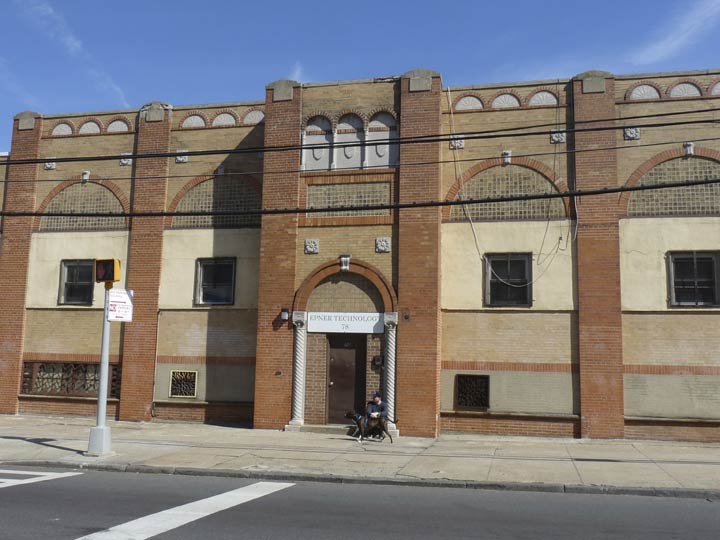 This intriguing structure at #78 Kingsland at Richardson, presently home to Epner Technology, looks like it could have been a Masonic temple, a church, a catering hall or even  a theater. Or perhaps it's been with Epner from the beginning.
Epner has been around for a long time:
Since 1910 we've mastered the techniques and controlled the environment that creates the ideal conditions for reject-free plating. And today, in the words of Aviation Week and Space Technology , "A small company in Brooklyn, NY, has emerged as the leading supplier of precision electroplating…". Our customers are the foremost fabricators in aerospace, defense, microwave and electronics, medical, optics and semiconductors. [Photonics Online]
I headed west on Richardson one block to Monitor Street to get a glimpse of a Flemish masterpiece, what used to be the school associated with St. Cecilia parish. Note the monogrammed SC's which appear in the dozens on exterior friezes. The parish was founded in 1871, and the present church featuring a green dome lit form within opened 20 years later; the school opened in 1906 and closed in 2009, with the school building converted to condos.
At #2 Monitor across from the school is one of Greenpoint's more unusual domiciles: a single-family house made from shipping containers. Architects LOT-EK:
21 steel containers are collected and stacked. The stack is then cut diagonally along both the top and bottom, creating a striking profile that invokes Williamsburg's industrial past, while providing a sculptural nod to the rapidly changing neighborhood. The house is located in a typical corner lot in Brooklyn, measuring 25×100-feet. Transforming the containers' assembly into a single-family residence, the diagonal cut generates a very enclosed and private monolith from the surrounding streets. The diagonal also modifies the conventional ground-floor rear yard type and use, allocating private outdoor space at each level of the house. Large glass doors allow access to each deck, offering light and cross ventilation at all levels. A steel stair along the north wall connects all outdoor spaces.
Meanwhile, this pair of old campaigners on Richardson between Monitor and Kingsland are still hanging in there. The siding is a few decades old, but those railings look like originals.
Some of the neighborhood kids have embellished the wall of My Favorite Cleaners, Division Place and Kingsland Avenue.
The name of Division Place is a puzzler to me. It belongs to a number of east-west streets that formerly ran from Kingsland Avenue east to Newtown Creek that included Bullion, Benton, Parker, Bennett, Amos, Beadel, Lombardy, Anthony, Cherry, Thomas and Townsend and Banzett Street, since renamed Debevoise Avenue. Of these only Division Place, Beadel, Lombardy, Anthony have survived and the latter three may disappear under construction for the New Kosciuszko Bridge.
The name "Division Place" is unclear since I don't know, looking at the map, what exactly  is being divided. Further west, Division Avenue separates north and south Williamsburg (originally the cities of Brooklyn and Williamsburg(h), and in lower Manhattan, Division Street separates (0r at least did, before it was truncated by housing projects) the street grids of the Lower East Side and the Bowery area.
Forgotten Fan Brian —- has the answer. Check this 1850 map clipping of northern Kings County. I have outlined in red the present position of Division Place, which sits near the division line of Williamsburg and Greenpoint, which were separate entities at the time. The divider was Bushwick Creek, which extended far inland at that time; it has since been cut back to a short inlet at Franklin Street and Kent Avenue.
Look at where Richardson and Front end at the border of Wiliamsburg(h) and Bushwick.  Then trace along Newtown Turnpike [today's Meeker Avenue] until you reach Kingsland Ave.  It seems to me that Division Place would separate the area of Greenpoint from the rest of the Town of Bushwick. It appears that Greenpoint was something of an independent area (due to the efforts of Neziah Bliss maybe?) until 1855, when all were absorbed into Brooklyn.
Division Place: In  Northern Brooklyn, and other areas in the Bronx, you'll find this unusual two-angled lamppost mast that can be mounted both on telephone poles and NYC's octagonal-shafted aluminum posts. In all likelihood they are used in areas frequented by tall trucks and allow them down the street without striking the lamp masts.
On the NW corner of Kingsland and Beadel Street is a classic yellow-brick apartment building with red trim, the most lovingly crafted on the grouping on the east side of the street. The sign drew me in for a look, though a careful read will reveal that "free" and "beer" are in two different sentences.
A walk a few blocks east on Beadel will reveal a Brigadoon-like block of classic brick dwellings surrounded by industrial wastelands, seen on this FNY page.
There are still a couple of Fallout Shelter signs on this row. During the 1950s and 60s, basements in some buildings were designated shelters against atomic bomb attacks. From what we know of the power of these bombs, hiding in a basement wouldn't do a lick of good. There are still a few hundred similar signs to be found on various buildings in the five boroughs.
Once you get north of the Brooklyn-Queens Expressway on Kingsland, you see some of those street trees I was mentioning, as well as some more handsome attached apartment walkups. Some of the stoop railings are originals and the arched windows have an unusual look with a central pilaster and a plant motif. Similar buildings dominate this stretch between the BQE and Nassau Avenue.
Kingsland also narrows into a one-way road above the BQE with traffic running north.
I can never resist getting a photo of Buckley's Self Service Market when I'm in the vicinity.
Until the early 20th century, grocery stores weren't self-service; customers would provide their shopping lists to a clerk, who would gather the goods. When Buckley's first opened its doors, the business model must still have been novel enough to receive second billing. [Eating in Translation]
Meanwhile, looking east on Nassau Avenue we see the massive stanchions of the New Kosciuszko Bridge. Slated to open in 2020, the twin cable-stayed spans will replace the current bridge constructed in 1939.
Two varieties of tribute art. Vinnie's Pizzeria has sanctioned local street artists to embellish their brick walls and aluminum protector gates. Meanwhile, over the entrance of the building Vinnie's is located in, #253 Kingsland, two profiles were added to the terra cotta scrollwork above the front entrance. One wonders who they were. The first builders, or the original owners?
The block between Nassau and Norman Avenues is the northernmost block on Kingsland featuring residential buildings. I call these 3-story brick walkups "vernacular housing" as for many years it was the default method of multifamily residential construction. In places like Gowanus and Greenpoint they are especially prevalent. In Greenpoint these stand out because they aren't sheathed in aluminum siding!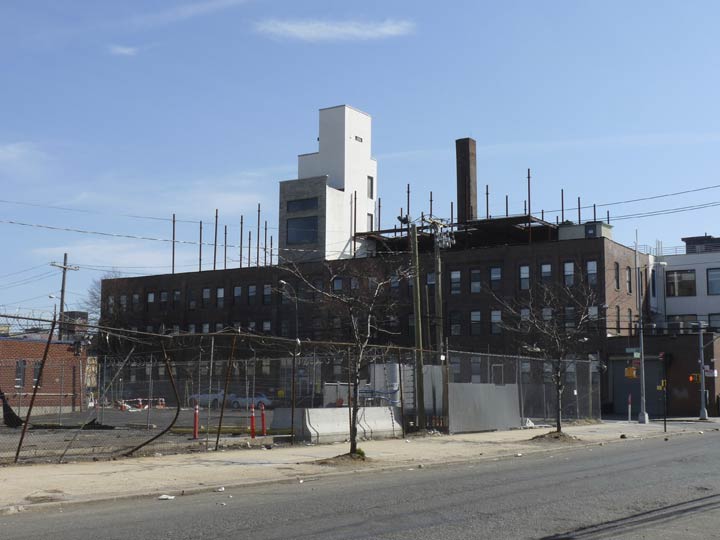 268 Norman Avenue, home of Broadway Stages, a film, TV and video production facility,  sticks out like a sore thumb above the industries of old Greenpoint.
Broadway Stages also has a warehouse on Kingsland Avenue that includes a set dressing shop for Madam Secretary, the CBS-TV show featuring Tea Leoni as the US Secretary of State and David Carradine as the President.
Set dressers arrange objects on a film set before shooting. They work under the direction of a leadman, a set decorator and a production designer. Set dressers place furniture, hang pictures, and put out decorative items. They are also responsible for some light construction and assembly of small items, such as air-conditioning ducts. They also move items as necessary to make room for the filming equipment. During the shoot, the prop department works with an on-set dresser to ensure that the props and furnishing are in the proper location for the script and to maintain continuity, as scenes are often shot out of order.  [wikipedia]
Furthering on, Greenpoint's newest tourist attraction, the Sanitation department's eight "digester eggs" or, as some say, the "Shit Tits" are soon in view at Kingsland and Greenpoint Avenues. The Newtown Creek Wastewater Treatment Plant was first built in 1967 but upgraded beginning in 2003 with first four, then eight, of these unusually shaped filters.
Through a process called anaerobic digestion they reduce the volume of sludge (what's left of sewage after debris and liquid are removed) by nearly half. The egg shape is a space- efficient and minimal maintenance European design. The green thing in between the eggs is an elevator, in case you want to see what's going on up there.

In the 1960s the oil refineries moved out of Greenpoint and the sewage treatment facility moved in. When the current upgrade is completed it will feature twelve of these eggs, to give an idea of its size. To this day it is a source of various pungent odors which, to your relief, current Internet technology prevents me from presenting here. The fact, however, is that the facility has cut down on the amount of raw sewage flowing into the East River and has brought some amount of government attention to the environmental situation in Greenpoint. So it is a lesser evil than the refineries. Alex Reisner
Russia's answer to the blonde, beer-proffering St. Pauli Girl.
Before the digester eggs, the most massive edifice in the area was the Miller Building, directly across Kingsland Avenue. A former box factory and varnish works operated by Charles A. Miller in the first decades of the 20th Century, it became a rendering plant and glue factory, Manhattan Adhesives, which was in business until the 1970s. For awhile the Newtown Creek Wastewater Treatment Plant stench competed with the Manhattan adhesives stench for supremacy in area nostrils. After the deceased dobbins left the area, the Miller Building assumed its current role as a storage facility.
Rendering plants are a tradition on Newtown Creek. Industrialist Peter Cooper operated one here in the mid-19th Century that produced edible gelatin.
More on the Miller Building from Newtown Pentacle.
Should you care to do so, a venture further north on the dead-end section of Kingsland Avenue will vouchsafe even more detailed views of the digester eggs, but I instead headed east, over the noxious and noisome Newtown Creek.
Views of Newtown Creel looking south from the J.J. Byrne (Greenpoint Avenue) Bridge. The smokestack belongs to the Van Iderstine rendering plant, which formerly greatly added to the stench associated with the Creek.
In the early days any animal which died on the streets of New York, such as horses that pulled wagons, circus animals, some as huge as elephants, that died when the circus came to town, were taken to the Van Iderstine Factory. There, they were put into a giant funnel set-up that had huge meat grinders at the bottom which ground up their bodies. These smaller more manageable pieces were brought to other buildings on the large factory premises where the fat was rendered to make soap and glue.

Van Iderstine trucks would also go to butchers all over the city to buy their waste fat and bones. [Fire-Police-EMS]

Van Iderstine moved to Newark, NJ in 1964; much more info by Mitch Waxman at Brownstoner.
The James J. Byrne Memorial Bridge takes Greenpoint Avenue over Newtown Creek. Also known as the Greenpoint Avenue Bridge, the Byrne was opened in 1929 and was completely overhauled in 1987. It is the fifth bridge that has carried Greenpoint Avenue over Newtown Creek. It is a bascule drawbridge as is the Pulaski Bridge (connecting McGuinness Boulevard in Brooklyn with 11th Street in Queens).
According to the Department of Transportation, a drawbridge first operated here in 1855; one of its successor bridges also carried a defunct section of the Long Island Rail Road from the Greenpoint waterfront to a connection with the similarly-vanished Evergreen Branch.
Here, casting an eye north at the unavoidable Citigroup building and the new towers rising in HUnters Point adjacent to it.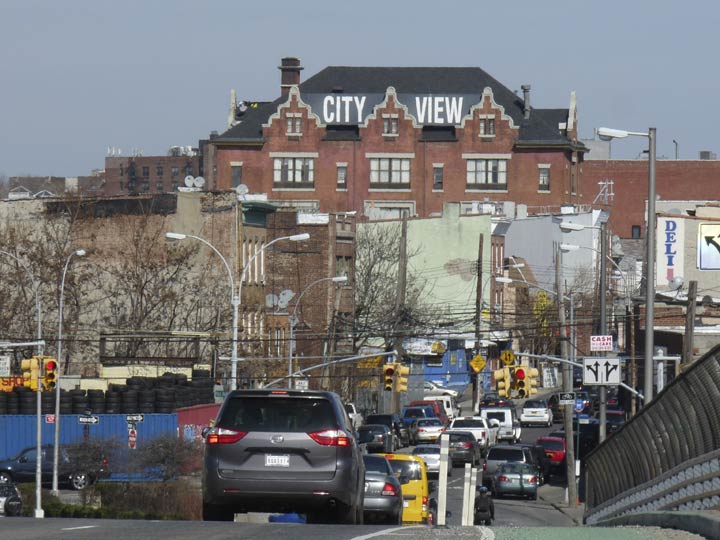 Greenpoint Avenue has about as much mileage in Queens as it does in Brooklyn. We're on the border of Blissville, small wedge of Queens positioned between Newtown Creek, Calvary Cemetery and the Queens-Midtown Expressway; it takes its name from Neziah Bliss, inventor, shipbuilder and industrialist, who owned most of the land here in the 1830s and 1840s.
Bliss, a protegé of Robert Fulton, was an early steamboat pioneer and owned companies in Philadelphia and Cincinnati. Settling in Manhattan in 1827, his Novelty Iron Works supplied steamboat engines for area vessels. By 1832 he had acquired acreage on both sides of Newtown Creek, in Greenpoint and what would become the southern edge of Long Island City. Bliss laid out streets in Greenpoint to facilitate his riverside shipbuilding concern and built a turnpike connecting it with Astoria (now Franklin Street in Greenpoint, Vernon Blvd. in Queens); he also instituted ferry service with Manhattan. Though most of Bliss' activities were in Greenpoint, he is remembered chiefly by Blissville in Queens and by a stop on the Flushing Line subway (#7) that bears his family name: 46th Street was originally known as Bliss Street.
Positioned on a hill as we enter Queens is the City View Inn, piquantly located in a former grade school, PS 80. For many years it was part of the Best Western chain, but that sign has since been covered up. A decade-long fascination with the place prompted me, in 2005, to call the front desk and ask for one of the rooms with a city view, which earned me an annoyed rebuke. Well, if you're calling it the City View…
Finally, I'll kick this series in the head and plow through Blissville and into Sunnyside in Part Five.
6/5/16