In late December 2001 I had a toothache and so found myself in the dentist chair in Bay Ridge on Christmas Eve for some emergency treatment. With mouth still numb, I decided to take the B4 bus down Bay Ridge Parkway, get off at Kings Highway and Stillwell Avenue and make my way east down what I termed "Brooklyn's mother road" as far at the easternmost available subway line, the Brighton (now served by the B and Q). East of Ocean Avenue it gains Avenue P's traffic and turns into an eight-lane behemoth rolling mightily to… Brownsville; its traffic is then dispersed to Howard Avenue and Tapscott Street. There may have once been a Moses-ian plan to turn it into a formal sunken or elevated expressway, but its original meandering course probably mitigated against any of those plans.
The road is one of the oldest in Brooklyn and in NYC and NY State. Its origins are in a road called "The King's Highway" formalized by the British out of a number of Native American trails; the original outlines of the road were from Fulton Ferry southeast along what became Flatbush Avenue to Flatlands, where it turned west and meandered to what is now Bay Ridge. By 1900, the road had been boiled down to its present beginning and end; Kings Highway east of about Flatbush Avenue wasn't originally part of Kings Highway at all, but was termed Flatlands Neck Road on old maps.
By the 1920s, the biggest change of all came when, citing the popularity of the automobile, NYC decided to greatly expand Kings Highway and Linden Boulevard (which, east of East 98th Street was originally called Vienna Avenue). Both routes gained numerous lanes and became at-grade superhighways of their time (in Philly, Roosevelt Boulevard dates from the same era of highway building). The results continue to provide motorists relatively quick access from southern Brooklyn east to the Belt Parkway, which was built out to where Linden Boulevard meets it in the late 1930s; Linden Boulevard originally led to Conduit Boulevard and the Sunrise Highway, which stretched west to eastern Brooklyn in the 1920s.
But that's all highway history, and I don't even drive.
A sad occasion found me on Kings Highway in the summer of 2016. Word came that one of the classic diners I'm so fond of, the Del Rio, was closing, joining innumerable classic diners (the Cheyenne, the Market) packing up and giving up in this modern era. Costs are getting too steep to run them, and children of original diner owners want to move on to something else, it's said. I had one last meal at the Del Rio with a friend for many years and his brother and niece, and then set off in hellish 95 degree weather for another walk down Brooklyn's Mother Road; my original 2002 piece can be found here. Forgive me if I repeat some material — it has been 15 years.
I got off the N train at the Kings Highway station. I had never used it before, and I would not use it to return home, because from 2016-2018 either the southbound or northbound stations will be closed for reconstruction; in 2016 it was the northbound stations' turn. The Sea Beach, formerly a steam railroad running at grade, in 1915 was placed in an open cut by the Brooklyn Rapid Transit Corporation (the BRT) — forerunner of Brooklyn-Manhattan Transit, which operated defunct trolleys, buses, els and subways until unification with the IRT (Interborough) and IND (Independent –which wasn't, it was city-run) divisions under a city agency in 1940. Nevertheless the old monikers remained and oldtimers (like your webmaster) still speak of the "BMT, "IRT," "IND," and lines such as the Sea Beach and West End, which took their names from long-gone seaside hotels, or the Culver, named for Andrew Culver, the developer of the steam railroad today occupied mostly by the F train in Brooklyn.
I do not know what the rationale of the original BRT engineers was for the Sea Beach, but in 1915 the original line was constructed as local all the way with no express stations at all; no doubt, had the Sea Beach been el-ified, as was the West End and Culver, express stations would have been built. The builders did not foresee that their successors would completely fail to maintain the intermediate stations between Bay Ridge and Coney Island in ensuing decades; and thus, a massive rebuilding program would have to be undertaken to just make them safe for passenger use.
You can see by this small sample of photos that action had to be taken. The concrete walls are in danger of completely crumbling. The MTA has promised much, but I hope that by 2018 the N line will be state of the art. It's a shame express stations can't be built on the configuration.
In 1904 during the first great subway building boom, the IRT built station houses at some stations that looked like small Dutch chalets; two at Bowling Green and 72nd are still in use. Often forgotten, though, is that the BRT also built over a dozen stationhouses serving stations that were in open cuts. Therefore, most stations along the Sea Beach are blessed with these small headhouses. Of course they were completely compromised over the years, with original tilework, lamp fixtures, etc. either covered over or removed. As part of the capital project the MTA is promising to upgrade and update these stations. As it happens, one of these renovated stations has already been finished, at the 9th Avenue station on the West End line (D train) shown here on this FNY page on New Utrecht Avenue, and it looks terrific.
The day of the painted ad on the sides of buildings is not done. These ads are all relatively new, and perhaps decades from now they will puzzle successor urban explorers trying to decipher them after years of sun fade.
Heading west toward the diner…
This apartment building on Kings Highway's south side between West 8th and 9th Streets is an FNY favorite. Its domes on either end have been preserved…
… as they were built shortly after 1900, when real estate speculation was just beginning in these parts. Kids were able to play in the unpaved streets, pausing only to let the occasional horsecart go by. The clump of trees marks the spot where the Sea Beach railroad crossed, with traffic stopped by crossing gates and a diamond-shaped STOP LOOK and LISTEN sign. The apartment house,and possibly one or two of the freestanding homes in the left distance, are left from this era. Photo courtesy Brian Merlis.
Archie Ketchum Square is a small green triangle at the westernmost of Kings Highway's two intersections with Quentin Road (I'll get to why there are two intersections in a minute).
This square honors Archie C. Ketchum (1893-1920), a local Brooklyn native who worked in real estate with his father, volunteered for World War I, and served on the Board of Aldermen. Ketchum was raised on Kings Highway and West Eighth Street. He entered the real estate business with his father, Melvin Ketchum, but volunteered for service when the United States joined in World War I. A member of the 104th Field Artillery, Ketchum fell victim to gas warfare. Unable to return to duty, Ketchum was discharged and returned to his father's Brooklyn real estate brokerage. In 1919, Ketchum was elected to the Board of Alderman (predecessor of the City Council), representing the Sixteenth Assembly District of Brooklyn, but only attended a few meetings before suffering a severe case of influenza, which led to emphysema. After suffering for three months, he died on April 18, 1920. NYC Parks
For many years, the Department of Transportation has misspelled Ketchum's name on the street sign, leaving out the C; the correct spelling is on the NYC Parks sign. The DOT's rationale for street sign replacement is puzzling, as it is fine with leaving misspelled or sun-faded signs in place for years, while currently undergoing a program replacing signs IN CAPS with signs in lowercase — even if that means wasting money by removing perfectly legible signs. Of course the DOT's policy of removing nonstandard or old signs as soon as they're found is pretty infamous by now.
As for Quentin Road, ostensibly renamed in about 1920 from Avenue Q for Teddy Roosevelt's aviator son killed during WWI, Kings Highway does indeed intersect it twice — as Kings Highway runs southeast then northeast, Quentin Road keeps an east-west straight line.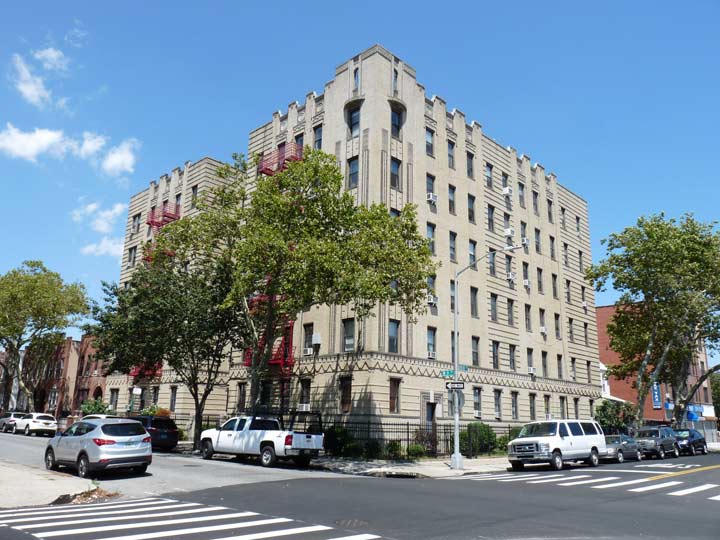 An apartment house built at the height of the Art Deco era, between 1925 and 1930, at the NE corner of Quentin Road and West 9th.
For whatever reason there are a number of hand-designed and lettered store signs at this intersection. Probably the most noticeable belongs to the Homestretch Inn, likely a nod to the old Gravesend Race Track, gone since the 1910s. A "hat tip" for ForgottenFan Paul Lukas of Uniwatch fame for finding it; from the meticulously painted script to the harness racer reliefs under the awning, it's a formidable bit of design in an age when cheap vinyl signs are taking over.
Another example of the genre.
It was time to enter the Del Rio, occupying a wedge of territory on Kings Highway, West 12th Street and Quentin Road. It boasted a Spanish Colonial style, which the old Americana in Bay Ridge (7th Avenue and 65th Street) also used. In 2016 the diner closed after exactly 40 years, though its owner, Larry Georgeton, still operates the Vegas Diner on 86th Street in Bensonhurst with his son.
Business at Del Rio has slowed considerably over the years as demographics shifted and the cost of labor and food skyrocketed.

"The economy is not for this kind of business model anymore," said Larry. "I love my customers, and I don't want to hurt them with the menu. They are hardworking, middle class people here — bus drivers, postmen, teachers — they don't want to pay $9-$10 for a hamburger, so I said, let's go out on top."
Scenes from the 2007 comedy film I Now Pronounce You Chuck and Larry and an episode of the television show Blacklist were both filmed at the diner. Del Rio tables have seen Major League baseball player Joe Pepitone as well as comedian Jacky Mason, who brought with him an entourage of six. "He stopped at every single table," Larry said of the humorist.

Larry fondly recalls Del Rio during Bensonhurst's disco era, when John Travolta-wannabes packed the diner after hours each weekend.

 

"You had to be here Friday and Saturday night, it was killer. We use to get all the clubs," said Larry. "It was like a fashion show; with the girls, and the guys were all three-piece suits." Bensonhurst Bean
I judge a diner by its burgers and the Del Rio's was excellent, medium cooked was melt in your mouth. The fries were a mix of meaty and crispy, with skins left on. Terrific stuff. Why don't people like diner food anymore? Tell me why diner culture is disappearing. kevinjudewalsh@gmail.com.
The city likely stopped producing production on double-masted lamps that were mostly used on wider routes, but still dutifully installs new generations of lamps on the remaining ones. I found the one on Quentin Road and West 11th Street interesting because it's mounted on a shorter post that usually finds work under elevated lines.
I do think the city should return to double-masted telephone pole lamp masts, mainly because these older ones have been in place for 50 years or more and never rust, unlike their shorter finned counterparts.
I now reversed course and headed east on Kings Highway…
I've had an eye for signage of late. I found this pair on Kings Highway east of McDonald Avenue.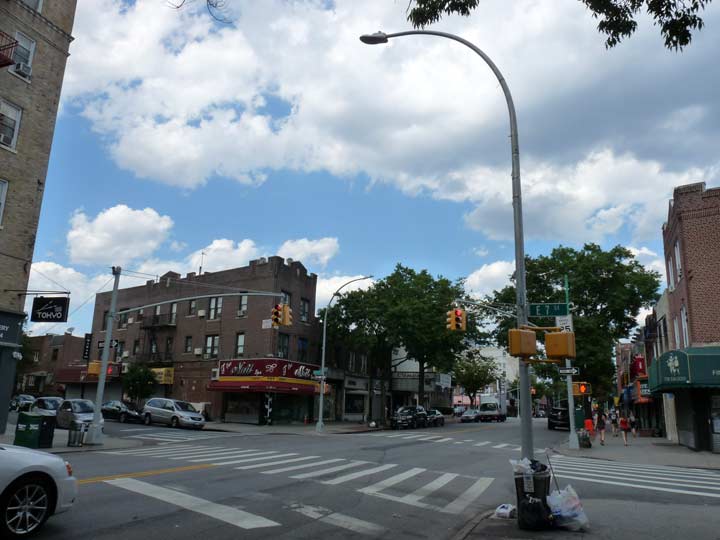 Until about a decade ago the davit-style post, which has a curved shaft with no mast attachment, has been installed with greater frequency in NYC. Kings Highway east of Ocean Parkway has received a set of davits.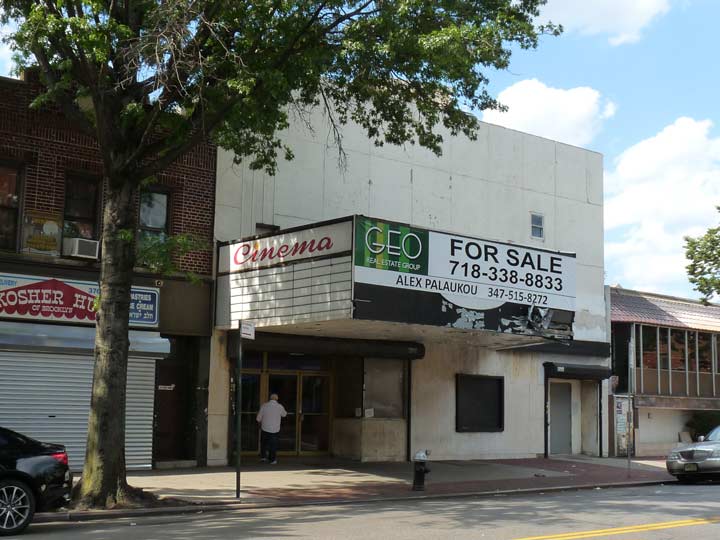 Cinema Kings Highway, just west of East 8th, was built as the Jewel Theatre in 1936. For the past three decades it has been running XXX films but has recently been put up for sale.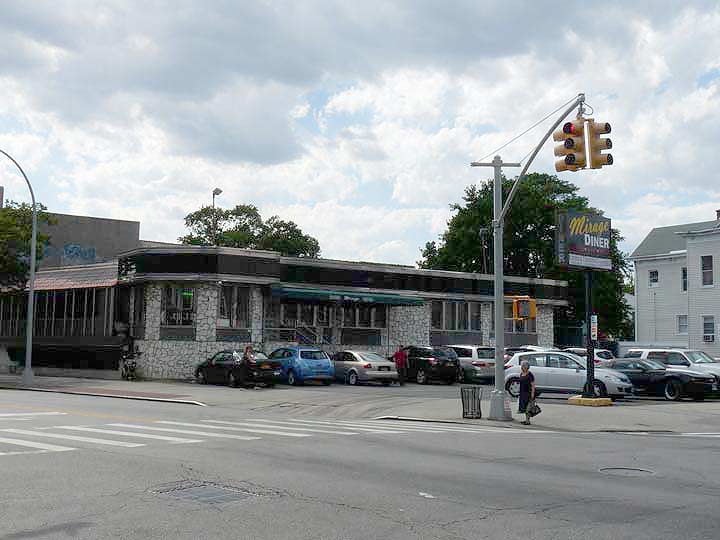 The Mirage Diner at the corner of East 8th and Kings Highway is currently in no danger of closing and may take up the slack from the Del Rio's demise from local diner fans. As in most diners,
yelp.com reviews are all over the place
.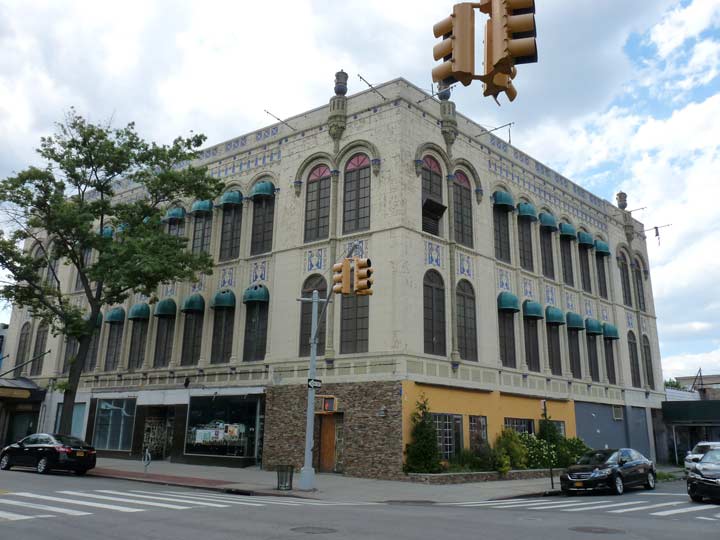 The recently closed (if you believe yelp.com) King's Terrace caterers at East 9th Street.
The neoclassical building at 815 Kings Highway is perhaps the grandest terra cotta structure built on Kings Highway in the 1920s. A 1928 article in the New York Times announced the arrival of a "New Brooklyn Amusement Building" with a banquet hall, catering, and a dance hall, boasting over 100 feet of frontage on Kings Highway. Designed by architect A.J. Limberg, the majestic structure has retained many of its original details including arched windows, colorful spandrels, and an ornate cornice. Today the King Terrace Banquet Hall is operated by Meisner's Catering and remains a popular setting for weddings, bar mitzvahs and other lavish events. 

Kings Highway BID
A selection of old signs, hand-lettered and neon, on Kings Highway between East 9th and 10th Streets. Everything but Kingsway Carpet is long gone.
Art Deco frontage at Kings Highway and East 10th Street
The former Kingsway Cinema, Kings Highway at Coney Island Avenue. It was opened in 1921 and boasted 2200 seats. The Kingsway was a voluminous movie palace in the days when there was one movie per theatre. As with many theatres of its era, it had a pipe organ to accompany the silents. It finally closed in 2001 after 90 years in business. Directly across the street on Coney Island Avenue was a large Crazy Eddie electronics store during its 1970s and 1980s heyday.
Some odd window placement here at the corner of Kings Highway and East 12th. An older Google Street View reveals some Sprint signage on the blank spaces; perhaps existing windows were removed for them.
Quentin Road and Kings Highway come around to each other again at East 12th, and another war hero is honored, perhaps one known to grde school English classes: Sgt. Joyce Kilmer.
Poet, editor, and soldier Joyce Kilmer was born in New Brunswick, NJ. He wrote voluminously in the early 20th century and joined the staff of the New York Times in 1913. When the USA entered World War I in 1917, Kilmer eagerly enlisted, and was subsequently transferred to Francis P. Duffy's 165th Regiment…the famed Fighting 69th. He died in combat in France in 1918 and is buried at Fere-en-Tardenois in that country. Though his given name was Alfred, he preferred his middle name, Joyce, from his mother's family.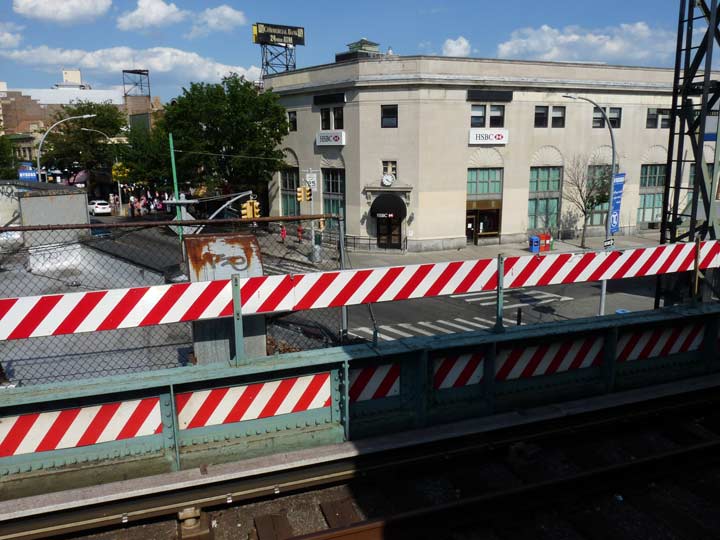 Instead of continuing further to Ocean Avenue, I decided to grab the Q at East 16th Street in the ungodly heat. Unfortunately I noticed that the corner building at East 17th, formerly meticulously ornamented, has had most of its Beaux Arts elements stripped off, as well as the eagle on its parapet.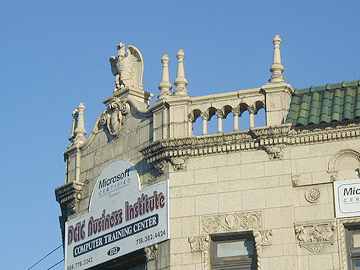 The flamboyant terra cotta building on the southeast corner of 17th Street is one of the most unusual structures on Kings Highway. Built in a Mediterranean revival style, the two-story building fronts the corner dramatically with two balustrades converging into an ornate parapet topped by an eagle. The façade blends Spanish and Middle-Eastern influences with a copper cornice of green tiles and slender columns around the central arched window and entrance on 17th Street. Built in the 1920s, the building originally contained a dance space on the top floor. The storefront housed the Perelson's department store in the 1960s. 

Kings Highway BID
7/31/16