A little something special in Forgotten New York this week. I obtained permission from my friend Susan Fensten to publish her set of images taken of the NYC City Walls Project, a not-for-profit organization established in 1967 by muralist Jason Crum and other artists to brighten up otherwise drab NYC locations with bright, lively artworks.
The late 1960s and early 1970s were, without a doubt, an era when Fun City was descending into madness and it was thought that NYC was an ungovernable city (in fact that's the name of a biography of Mayor John V. Lindsay that came out a few years ago). Crime was rising and subways, policing (much of the NYPD was corrupt during this period), sanitation and other basic services were slowly slipping into indifference at best and ineffectiveness at worst, and a real turnaround would not come until the early 1990s. During the World Series in 1977, ABC TV cameras panned toward buildings aflame in the South Bronx near Yankee Stadium, and controversial sports personality Howard Cosell intoned: "The Bronx is burning."
As you check out the artworks, also take a look at how rundown and drab the surrounding areas seem to be. New money had not yet come into these realms. Brickwork was crumbling and unpointed. Grime covered many surfaces. NYC even gave up repainting lampposts for several years and they all looked rusty and rundown. It can be debated, certainly, what the influx of new money did to these neighborhoods. The "quality of life" has been improved, but at great cost to middle class and poor residents.
The works created by Crum (who later moved to Colorado to pursue his art) and his cohorts are no longer possible as so many empty surfaces are sold to advertisers who blare their wares in empty spaces that are becoming scarcer and scarcer. City Walls addressed, in a small way, the feeling that NYC was circling down the drain. If it was, it may as well look a little brighter while it was…
For this page only I'm showing photos just a little larger and I've also kept out of Photoshop, presenting these pictures exactly as they appeared from original negatives.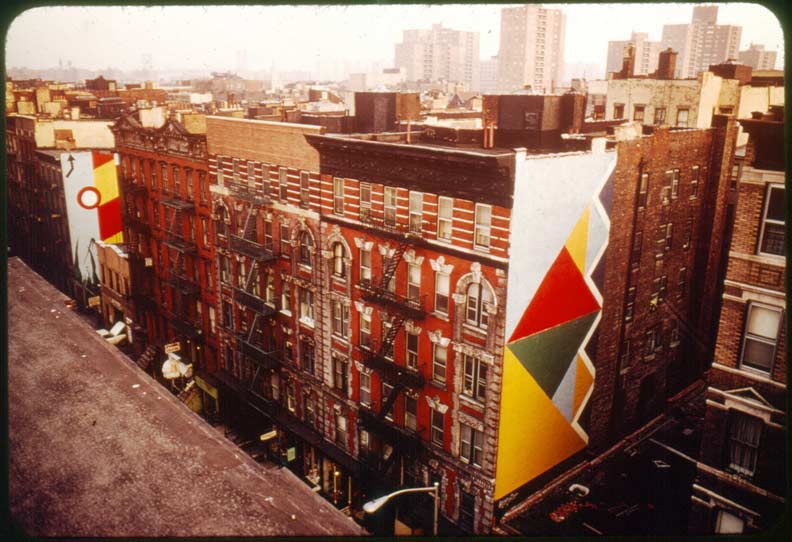 The block of East 9th Street between 2nd and 1st Avenues received two City Walls works at #324 (right) and #340 (left) by Jason Crum and Allan D'Arcangelo, respectively, in 1967. A new-ish brick building now covers the space where the Crum mural would be, while there's still a vacant lot next to #340; the D'Arcangelo mural was buffed off long ago.
Another Jason Crum original, this time at Church and Warren Streets. Sorry for the blurry photo — blurry enough so that I can't make out the printing on the artwork. If you remember what it said, email me at kevinjudewalsh@gmail.com.
2014 Street View. Things have been thoroughly drabbified. Job Lot Trading (where I obtained a few backpacks in my day) went out of business in 1993. The basic bones of the mid-1800s building have been retained, but the surface has been blandified into anonymity. Sick transit, Gloria!
This 1970 mural by Tania on West 3rd Street near Mercer is the only remaining City Walls mural, as far as I know, that is still visible in its totality.
From wikipedia:
Tania (1920, Warsaw, Poland, Tatiana Lewin – 1982, Brooklyn, New York) was a Polish-born, New York based, Jewish American abstract painter, sculptor, collage artist, and painter of city walls. She was known by several different married names over the course of her career (including Tania Pollak, Tania Milicevic, Tania Schreiber, Tania Schreiber-Milicevic, Tania Milicevic-Mills, and Tania Mills), but decided as of 1958 to use simply her first name, Tania. She was active in the New York art world from 1949 to 1982, but is perhaps best known for her 13-story geometric wall painting of 1970, which still stands at the corner of Mercer St. & 3rd St. in Greenwich Village, New York. In 1966, she became a founding member of City Walls, Inc., a non-profit organization that commissioned abstract artists to paint walls around New York City, and which (when consolidated with the Public Arts Council in 1977) would later become the Public Art Fund.
Though Todd Williams' colorful mural on the south side of Livingston Street at Bond in downtown Brooklyn is no longer evident…
There's still ample space for another mural on the same building, which remains exposed to the southeast. Ripe conditions for a giant ad in 2016, though.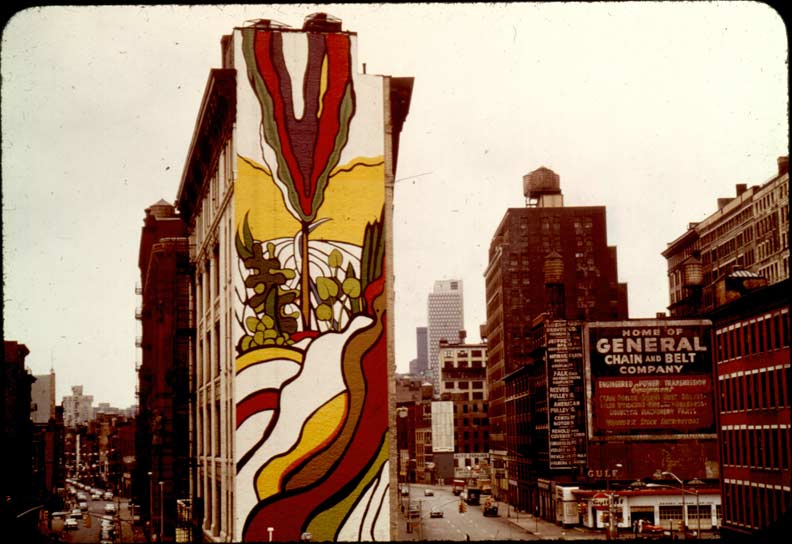 The street layout is a bit unusual in the Bowery area and NoHo, where there are some odd street angles forced by an extension of Lafayette Street south from Astor Place in the early 1900s. One such angle occurs at Lafayette, Bleecker and Mulberry Street, and a very narrow apartment house was built here several decades ago. Looking south, we can see a City Walls mural by Mel Pekarsky painted in 1970.
wikipedia:
Mel (Melvin H.) Pekarsky (born Chicago, IL, September 18, 1934) is an American artist and art educator. He is best known for his paintings and drawings of the desert, and is recognized by art critic Donald Kuspit as "one of the most significant contemporary landscape artists."A professor of art at the State University of New York at Stony Brook for forty years, Pekarsky's work has been shown by the Whitney Museum of American Art, The Fogg Museum of Art at Harvard University, the Cleveland Museum of Art, and the Butler Institute of American Art, among many other venues.
For me the real star of the show, with all respect to the muralist, is the glorious General Chain and Belt Company painted ad on a building that still stands, though with no trace of the General ad, on Lafayette south of Houston. Speaking of art, for several years, Keith Haring's Pop Shop operated adjacent to the building with the ad. And, until very recently, there was still a gas station there; this was Squeegie Man Central for a number of years.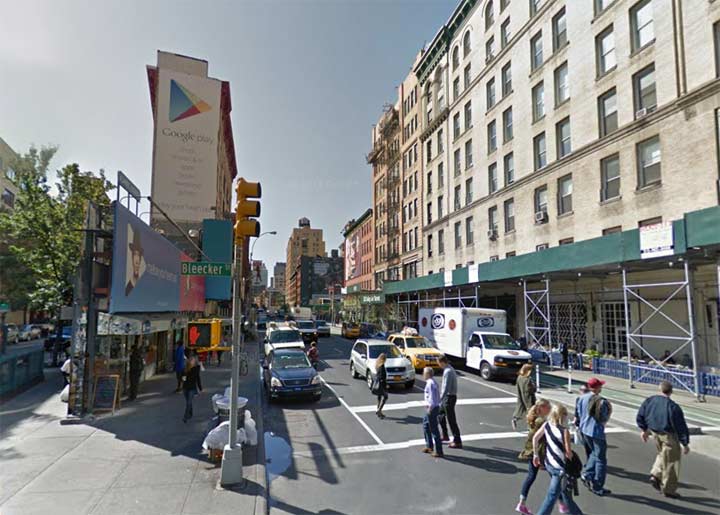 The same location in 2014. Note the glass cowcatcher on the left, occupied by the quite narrow Bite sandwich shop. Ad billboards seem to cover every extra space.
Here's another Mel Pekarsky mural. Unfortunately, I can't decipher where it is. For this piece, I depended on my own seat of the pants sense of Manhattan, Google Street View, and a helpful piece in New York Magazine, October 23, 1972. If you can identify it let me know at kevinjudewalsh@gmail.com.
My suspicion is somewhere on Houston because that street has a center median and a number of empty spaces on its south side dating back to the street's widening to bruit through the underground IND Subway several decades ago.
ForgottenFan Amy Kantrowitz:
This is the north side of Houston, Mulberry to the left, Bleecker is the back cross street (Culture Project/Lynn Redgrave theater building is visible in this photo). The building with the mural is going to be torn down this year. Fun fact: the parking lot was the location of Nikolas Tesla's lab. I live around the corner and need to find some old timers to tell me about the swimming pool. 
Here's one more by Mel Pekarsky painted in 1972. The location for this one was simple to decipher. It was on the south side of Houston between Crosby and Broadway.
I can't help but note something. In the early 1970s, to save space, the Department of Transportation was beginning to mount streetlamps on top of stoplights. Previously, two posts had occupied the same immediate space. Here we see a transitional condition as the DOT has already placed two "cobra neck" posts on a stoplight but has yet to remove the original twinmast pole. The older post has Westinghouse OV-25 "Silverliners" which burned a dull whitish-green. The new lamps are sodium vapor, burning bright yellow. In the 2010s the sodiums are being phased out.
The same spot is considerably duller these days.
I'm afraid I'm also drawing a blank on this colorful mural by Walter Darby Bannard, which provides technique on how to give the appearance of 3D. The only clue is the painted ad "Square Cleaners" which may have been "Times Square Cleaners." Once again if anyone knows the location, send it to kevinjudewalsh@gmail.com.
Two geometrically-designed City Walls murals by Op Art pioneer Richard Anuszkiewicz, one with the Twin Towers in view and another on a YWCA building, and a slide showing a mural under construction.
Detroit-based muralist Alvin "Al" Loving's geometric design appeared on a building on West 42nd Street just west of 6th Avenue. This block was a completely different beast than it is now, with movie theaters that degenerated into porn and one of those used-to-be-ubiquitous cafeterias where orange juice was served in cone-shaped cups. The building at left is the Hotel Knickerbocker, which used to have an entrance from the NYC subway.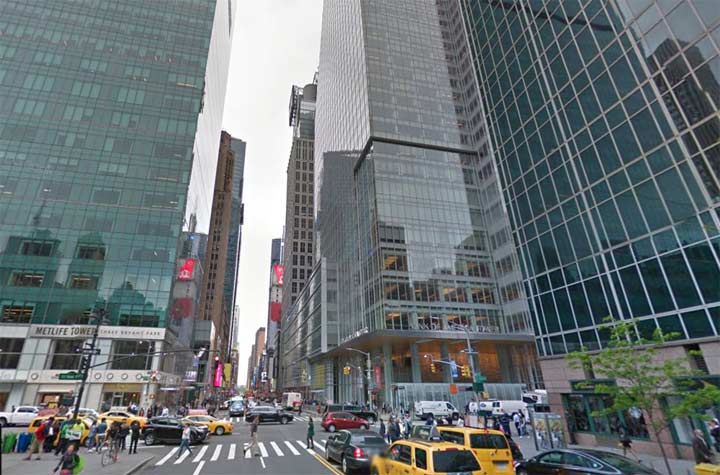 Most of West 42nd, except for the 1918 Bush Terminal Tower, has been completely replaced by glass office boxes, including the Bank of America tower, which replaced the building where Loving's mural was located.
Colombian muralist Knox Martin's "Venus" was painted in 1970 on a women's penitentiary, the Bayview Correctional Facility, on 11th Avenue and West 19th Street.
Traditionally the goddess of love and fertility, Venus represents woman, erotic and supple, but it also conveys Knox Martin's love affair with New York. Venus is his love poem to the city where he has always lived, a place that is part of his being. The feminine, curvilinear shapes of the image are in direct contrast with the straight forms that intersect the composition. The overwhelming size of this enormous mural only intensifies the experience of female shapes, the linear aspects of the painted composition, and of the surrounding architecture. In an era when art was reaching out to the masses with pop culture, this huge mural was Knox Martin's way of touching a public that would never venture into an art gallery. Marilyn Kushner, Brooklyn Museum
Visible across from the mural are the former West Side elevated Highway as well as Pier 60, where passenger ocean liners berthed. The elevated highway closed in 1973 after years of deterioration and was demolished in 1985. Luxury liners now berth uptown in the West 40s. The Chelsea Piers athletic complex now occupies the site and traffic now runs along a surface arterial. The penitentiary closed in 2012 after Hurricane Sandy, its inmates relocated to other prisons.
The "Venus" mural was renovated and repainted in 1998. Unfortunately the glass-fronted luxury tower 100 11th Avenue was constructed directly in front of the mural in 2010, all but obscuring it. The artist's first name can still be seen there.
8/28/16