Every couple of weeks I grab the camera and walk for a few miles; I wish it was more than that, but I'd have to be underemployed again. In late May, I decided to go from Maspeth to Woodhaven, which is a distance between 7 and 8 miles. Maspeth by now is well-trodden territory for me but the added twist was that I had never walked through Forest Park, the divider between northwest and southwest Queens, between Glendale and Woodhaven (I have biked Forest Park plenty of times). The two areas have seemingly little to do with each other, divided by the huge park, but as you know I'm all about bringing people together (oof) and besides, with a temp desk job in Hoboken during the week that has me sitting much of the time, I needed to move a bit.
GOOGLE MAP: MASPETH TO WOODHAVEN
Emerging from Forest Park I headed south on its namesake street… Forest Parkway.
Forest Parkway, one of Queens' best-kept architectural secrets, was developed as a showpiece of sorts as Woodhaven was being developed in the early 20th Century:
This, the only 80-foot wide residential street in Woodhaven, marked the center of the Forest Parkway development of 1900. Though only six blocks long, Forest Parkway was macadamized from the start, and big homes on 40-foot minimum lots were built to line its length. Many of these survive today as doctors' and dentists' offices. A few are still private residences. –Queens historian Vincent Seyfried in Old Queens in Early Photographs 
Above is the Betty Smith House on Forest Parkway off 85th Drive.
While her tree grew in Brooklyn, Betty Smith, neé Elisabeth Wehner (1896-1972), largely wrote the novel, which takes place in nearby Cypress Hills, Brooklyn, in this beautiful house which has been maintained in the way it must have looked in her era; she was born in Williamsburg and attended Girls' High School, where her childhood experiences influenced her book.
Opposite the Betty Smith house is Woodhaven's Carnegie library.
In 1901, the Scottish philanthopist/industrialist Andrew Carnegie Foundation gave $5.2 million to New York City for its libraries across the five boroughs. This started a remarkable project that would go on to build 1,680 Carnegie libraries across the United States and another 800 plus in Canada, the United Kingdom, and elsewhere in the world.
Carnegie paid for the buildings, but the city would have to buy or acquire the land, buy the books, and provide for maintenance and upkeep, in perpetuity. Carnegie helped set up the library commissions and boards.
Opening its doors to the public on January 5, 1924, the Woodhaven Branch was the last Carnegie Library completed in Queens, and was partially funded with the remainder of the Carnegie gift to the city.  The architect, Robert F. Schirmer, along with J.W. Schmidt, also completed the Queens Borough Public Library's central building in 1927, which is now the Queens Family Courthouse.
Forest Parkway features some massive apartment complexes such as Forest Chateau that were completed in the early 20th Century, but somewhat later than the street's original construction in 1900.
These freestanding homes, however, date back to Forest Parkway's original development. The latter, 86-20 Forest Parkway, was  a recipient of a Queensmark award given by the Queens Historical Society. The award, though, grants no protection from demolition; only a citation by the Landmarks Preservation Commission can do that.
Woodhaven's Post Office, built in 1940, is an Art Moderne classic featuring an indoor mural by Ben Shahn. It does have LPC protection.
Woodhaven's World War II memorial at Forest Parkway and Jamaica Avenue was dedicated in 1955.
Jamaica Avenue and Forest Parkway is the heart of Woodhaven. The J train, which connects Jamaica and lower Manhattan, rushes overhead. As you can see it still has a complement of R-32 subway cars that made their debut in 1964. There are also a few sets of R-42 cars from 1969 on the line, which features the most varied subway car varieties in the system. Both the R-32 and R-42 are due to be replaced within a few years, but reports of the R-32's demise have previously been exaggerated.
Woodhaven and Ozone Park were settled in the 1600s by Dutch and English settlers, who gradually eased out Native Americans; Woodhaven became a racing hotbed in the 1820s when Union Course, at what is now Jamaica Avenue and Woodhaven Blvd. was built in 1820s. Centerville and Aqueduct Race Tracks would follow.
From the 1830s to the 1850s, what is now East New York and Cypress Hills, Brooklyn, and Woodville, Queens, were developed by Connecticut businessman John Pitkin. To avoid confusion by the Post Office with an upstate New York State town in the days before zip codes, Woodville residents voted to change Woodville's name to Woodhaven in 1853.
Famous former residents of Woodhaven include: actor Adrien Brody, composer George Gershwin, 1960s pop star Brian Hyland, showman Danny Kaye, and actor Barry Sullivan.
Two French immigrants, Charles Lalance and Florian Grosjean, launched the village as a manufacturing community in 1863, by opening a tin factory and improving the process of tin stamping. A factory clock tower still stands on Atlantic Avenue. As late as 1900, the surrounding area, however, was still primarily farmland, and from Atlantic Avenue one could see as far south as Jamaica Bay, site of present-day John F. Kennedy International Airport. Since 1894, Woodhaven's local newspaper has been the Leader-Observer.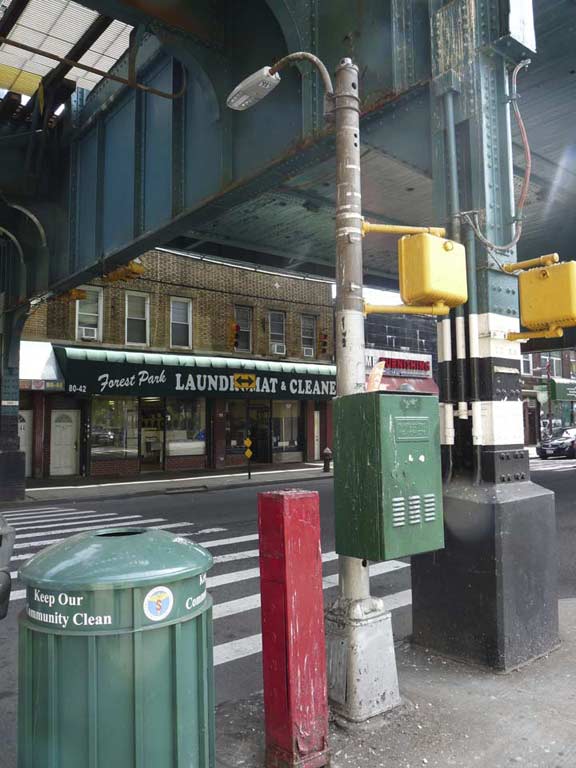 Jamaica Avenue in Woodhaven still has some interesting lamppost stylings under the el, but I'll detail those a little later on.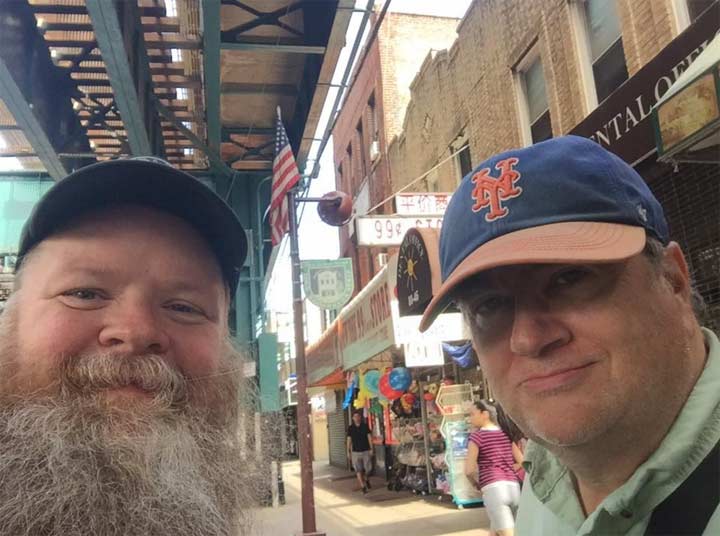 Anything Can Happen on an FNY Walk® and a honking horn at Forest Parkway and Jamaica Avenue caused me to turn around to see who was honking at me, and it happened to be Ed Wendell of the Woodhaven Historical Society. His slide shows of old Woodhaven, given occasionally at nearby Neir's Tavern and other venues, are not to be missed.
It was big news when one hour photos studios had a massive technology shift and were able to offer photos in 45 minutes. Modern phone cameras have made instantaneous photos the norm in the modern era.
A blue enamel sign at 86th Street and Jamaica was installed when 86th was called "South Ferry Street."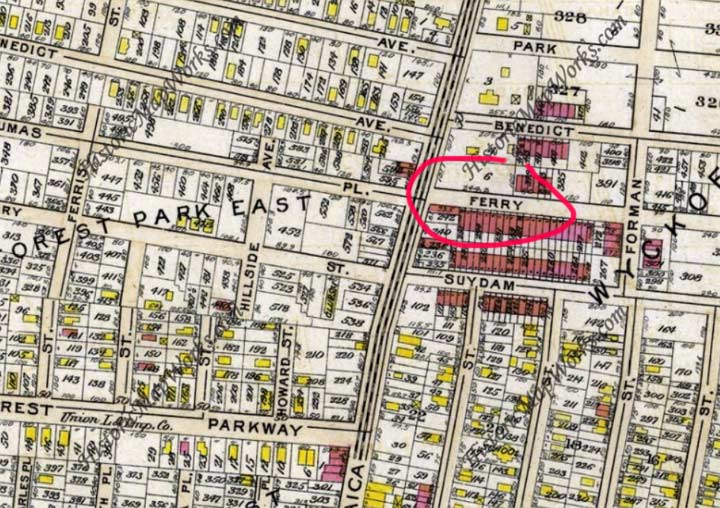 This 1909 map calls it simply "Ferry Street." Not only does there seem to be no Ferry Street north of Jamaica Avenue for this to be south of, there are no convenient bodies of water around for there to be a ferry in the first place.
In the 1920s the city made the point moot by giving most Queens streets numbers.
Note the dark red marks on both sides of Ferry Street on the map. Those indicated already built brick buildings, and you can still see them while walking down 86th Street in 2016.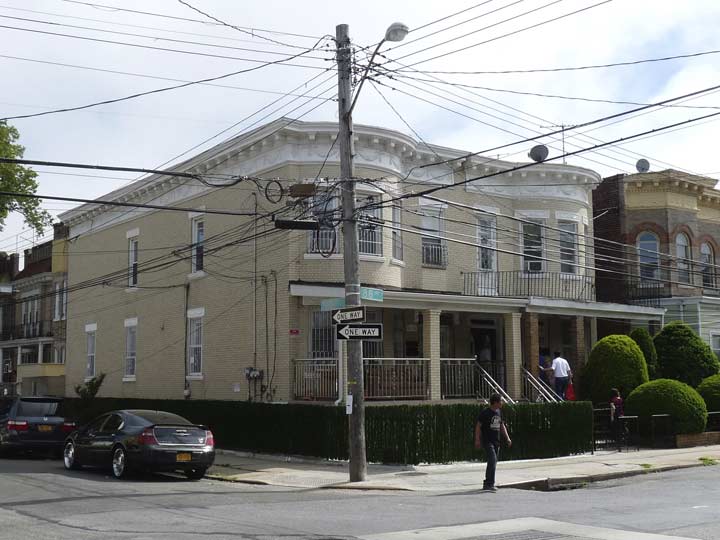 This bay windowed beauty on 88th Avenue (then Forman Street) and 86th Street isn't on the 1909 map and hence wasn't yet built, but was likely on a planning board somewhere.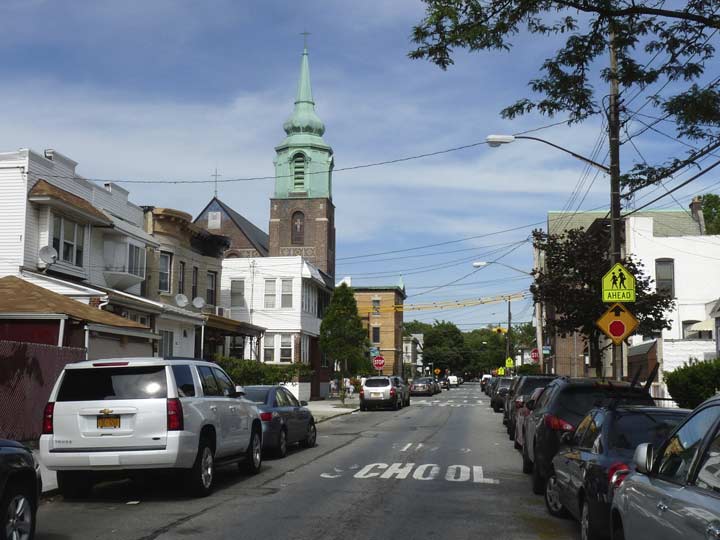 Looking east on 88th toward 88th Street (there are some parts of Queens in which all the numbers are the same) is St. Thomas the Apostle Church, erected in 1921 with features gorgeous colorful terra cotta banding and medallions. It was built to resemble a Bavarian country church, as in the early 20th Century most of its parishioners were German. Its onion spire can be recognized from several blocks away. The parish was founded in 1909 by Father Andrew Klarmann, whose name was appended to the adjoining parish center.
One of its former pastors, Fr. Joseph Martusciello, is remembered on a street sign at 88th Avenue and 88th Street. He was also a principal of my old high school, Cathedral Prep.
I turned left (headed east) on 91st Avenue, known as Pitkin Place in 1909 after one of Woodhaven's early developers John Pitkin (the name survives today in a main drag in Brownsville and East New York, extending into Ozone Park). Here I found some gorgeous examples of brick architecture from the early part of the 20th Century, but from no earlier than 1910.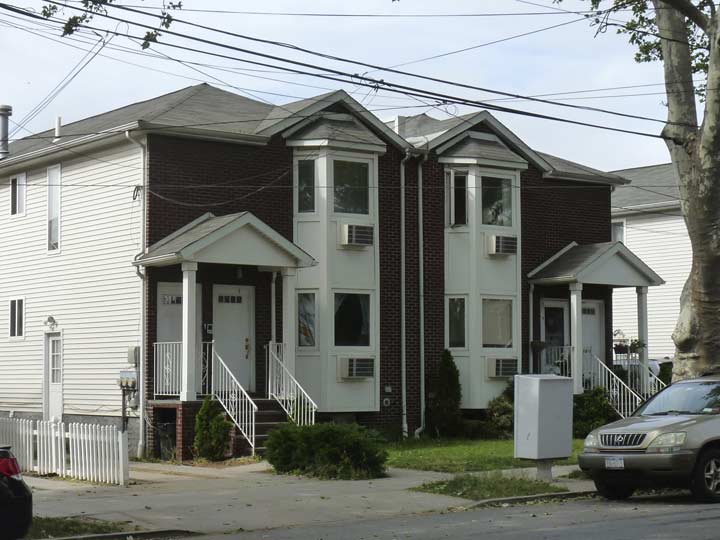 I have no quarrel with these new-ish attached houses on 91st Avenue east of Woodhaven Boulevard. I especially like the oriel arrangement which allows people in those rooms to see in three different directions. The pediments over the door allow for key-fumbling even when it's raining.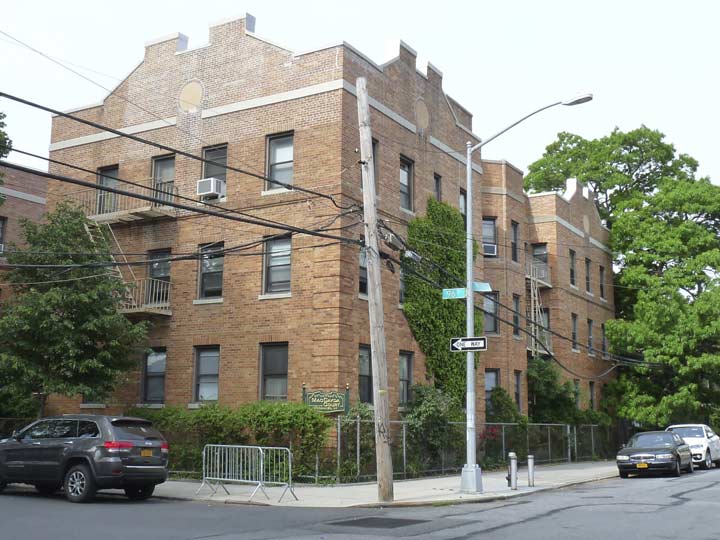 MacCayda Court is an apartment complex at 91st Avenue and 96th Street, rendered with light brown bricks. Note the oriel window arrangement facing 91st Avenue.
The real stars hereabouts are the rambling freestanding homes that line both east-west and north-south streets, though some need some touch up work.
I chose 91st Avenue for pressing east because it is a through street, passing beneath the Long Island Rail Road Far Rockaway branch with friends including the late Bernie Ente, a recognizable name in Queens photography especially of Newtown Creek. I've always been (somewhat) fascinated with it, having walked much of its length in March 2000. It was a seminal walk to some degree as I've never attempted it since. It once connected the main branch of the LIRR in Rego Park with the Rockaway peninsula. The portion of the line from Rego Park to Liberty Avenue has been inactive since 1962, while service between Liberty Avenue and the peninsula has been part of the A subway line since 1956.
There are various plans to reactivate the right of way, with a linear park like Manhattan's High Line (unlikely) or an out and out rebuild of the railroad, likely as a subway extension (unlikelier). The likeliest outcome is the status quo, a miles-long dump.
Just past the railroad trestle I found this valve cap bearing the inscription "Marcy Foundry", "74 Beekman Street." These are true relics; both the foundry, and the address, have disappeared unutterably, as I will do in a number of years.
According to the Indispensable Walter Grutchfield, Marcy Foundry was founded as Marcy Stove Repair as early as 1887 by Jacob Caesar, Otto Denis, and Arnold E. Hauser, who ran the foundry at 74 Beekman from 1893-1937. The foundry moved to Jersey City the next year and was listed in directories until 1951.
The address, 74 Beekman, hung in there until about 1970 when Beekman between Gold and Pearl Streets was demapped so that the Southbridge Towers housing project could be built there.
Here's a pair of building groupings facing each other across 102nd Street at 91st Avenue. One looks the same as it did decades ago, while the other looks a lot different.
I found an antique fire hydrant on a 91st Avenue lawn embossed with the logo of the Kennedy Valve Mfg. Co. in Elmira, NY. I assumed the company must be defunct, but I was surprised to see it's still going strong. It was founded by Daniel Strong in 1877 on Gold Street in lower Manhattan and moved to Elmira in 1907.
Woodhaven is marked by concentrations of these smallish gambrel-roofed (the roof angle bends; without the bend it's an A-frame) houses built close together. These can be found on 91st Avenue west of 107th Street.
Double-porched house at 91st Avenue and 107th Street. I like the oval window on the 2nd floor, a mark of Victorian-era eclecticism. Note the repeated use of oriel arrangement on the window bays.
I am a fan of this multifamily light brown brick building at 91st Avenue and 108th Street. Note the darker quoins on the corner, the arched doorways, and decorative brick treatments above the 1st and 2nd floor windows.
91st Avenue comes to an end at 109th Street, so I turned north there. Before reaching Jamaica Avenue I found a massive red brick structure marked "Telephone Building." There are similar buildings around town with different designs; they hold telephone switches and relays. It has a Verizon logo slapped on so it's still active.
Facing it, one residence has what appear to be a red barn at the end of the driveway, with a hay bale window. It may have well been a barn at one point.
As FNY fans know, I am fascinated by old signage and by lamppost variations, and the stretch of Jamaica Avenue running west from 109th Street has some examples of both. Monty's Florist has a hand painted overhanging sign, and a plastic-lettered facade sign in white, red and light green. Note how a red F was substituted; apparently a green one was unavailable.
Here Jamaica Avenue uses a variety of luminaire, or lamp style, that I see nowhere else in use on NYC public streets, a boxy sodium vapor lamp apparently meant to illuminate the sidewalk. In some cases the older posts appear side by side with newer brown mini-poles. Both have been equipped with new Light Emitting Diode lights that shine bright white.
This building at Jamaica Avenue and 106th Street has its very own wall lamppost mounted on the second floor.
I am unsure if this hobby shop is open or closed (I passed by on a Sunday). The sign gets to the point.
Across the street at 104-29 is Bernard Titowsky's Austin Book Shop. This store has previously been profiled in FNY so I'll refer you there.
I doubt this place has turned out a lot of bouffants lately.
Oof, the dogs were barking and it was time to kick it in the head for the day. I'm not sure what I did to get home but I think it involved taking the J to Parsons/Archer; the Q65 bus; walking a block to the Q12; and taking that back to Little Neck.
I do this for Forgotten NY.
8/21/16