Every couple of weeks I grab the camera and walk for a few miles; I wish it was more than that, but I'd have to be underemployed again. In late May, I decided to go from Maspeth to Woodhaven, which is a distance between 7 and 8 miles. Maspeth by now is well-trodden territory for me but the added twist was that I had never walked through Forest Park, the divider between northwest and southwest Queens, between Glendale and Woodhaven (I have biked Forest Park plenty of times). The two areas have seemingly little to do with each other, divided by the huge park, but as you know I'm all about bringing people together (oof) and besides, with a temp desk job in Hoboken during the week that has me sitting much of the time, I needed to move a bit.
GOOGLE MAP: MASPETH TO WOODHAVEN
At 69th Avenue Fresh Pond Road comes to a crossroads of sorts, as Cypress Hills Street trails off to the left. It's actually one of the more important routes emanating out of Ridgewood, since it's one of only a couple of streets that traverse the Cemetery Belt and connect Queens and Brooklyn. If you look at a map, it also seems to be an obvious borderline between Ridgewood and Glendale, though area residents probably feel it's more complicated than that.
If you look at area maps from the late 18th or early 19th Centuries, you will find that Cypress Hills street is actually the original southern extension of Fresh Pond Road and was built as a route through the cemeteries, and to Brooklyn south of there, in the early to mid-1800s. For a few blocks it resembles the narrow cart path it originated as, before it becomes a two-lane road with a median south of Cooper Avenue; it fairly roars to its southern terminus at Jamaica and Euclid Avenues. It is a one-way street going south between Fresh Pond Road and Cooper Avenue.
From FNY's Ridgewood to Sunnyside page:
In the early 20th Century, farmer Walter F. Ring, sensing change in the air as urbanization was taking hold, went out independently and found a partner, William R. Gibson. They formed the Ring-Gibson Company, whose forte was building multi-unit rowhouses with businesses at ground level.
They were very interested in developing the part of the Ring land that fronted Fresh Pond Road, but as it was still owned by the Ring heirs (of which Walter was one), they could not buy it directly. In a strange and legally questionable arrangement, they asked Paul Stier to buy the land, which Ring-Gibson then purchased from him for $1. Much of today's Fresh Pond Road commercial district came about because of this deal.
The early members of the Ring family were farmers and lived in this house, which was built in 1860. In 1910, they sold the house and moved it to its present location on Cypress Hills and 62nd streets.
Cypress Hills street plunges south past Shaler Avenue, where an impromptu garden has taken shape. The road passes under an elevated portion of what was originally the Bay Ridge branch of the Long Island Rail Road (it once actually served passengers) but is now a freight line served by the NY & Atlantic Railroad.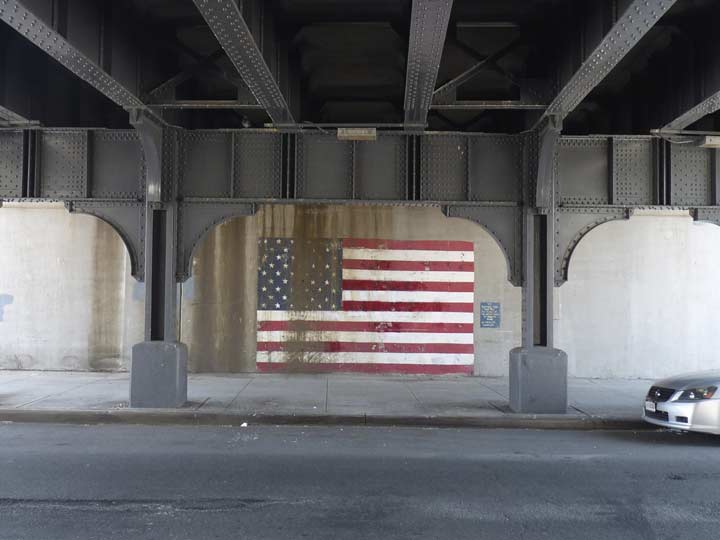 Some artwork under the overpass.
Signs advertising the presence of a local Kiwanis Club can be seen in dozens of areas throughout NYC and the country as a whole.
The Kiwanis Club was organized in Detroit in 1914 by Allen S. Browne and Joseph G. Prance, who began an organization for professionals and businessmen to pool their assets to form a fund for health benefits. Kiwanis soon became an organization for members to promote businesses — the LinkedIn of its day — and also to organize and promote charitable giving. Kiwanis gained enough members for not-for-profit tax status and within a decade boasted 100,000 members. After decades as an auxiliary, women were allowed to join as full members in 1987.
The name "Kiwanis" was adapted from the expression "Nunc Kee-wanis" in the Otchipew (Native American) language, meaning "We have a good time," "We make a noise," or, under another construction, "We trade or advertise." Some persons prefer to pronounce the word "k-eye"; others, "kee." The organization adopted the name Kiwanis in its second year of existence.
I set off east on Myrtle Avenue, which again has seen the Forgotten NY camera on several occasions, notably when I walked its entire length in early 2010. But there are always things unnoticed the first time, like these magnificent yellow-brick buildings on 65th Place, which were likely built by Gustave X. Mathews and whose bricks were likely forged in the Balthazar Kreischer kilns of Staten Island. Such blocks are among the most pleasant ones that I walk in the city.
As an aside, consider how much of the built neighborhoods we live in we really know. I live in Westmoreland Gardens on Little Neck Parkway which, I am aware from some documents I perused while in the midst of purchasing the apartment, was built in 1941 (and still has an original leaky bathroom to prove it). PS 94, up the block, was built in 1914 and replaced a one-room schoolhouse on Little Neck and Lakeville Roads (now Little Neck Parkway and Bates Road). But, I know little about the other buildings where I live. The houses across the street appear to be post-WWII, while the ugly structures up the street with staircases to second-floor living spaces above ground-floor garages are typical of 1980s or 1990s construction. Other houses around my corner of Little Neck look to be from the early 20th Century. I'm aware that the Reckert-Finley Company built the neighborhood and called it Westmoreland in the 1900s-1910s.
Other than that I know little and the same is true for many other neighborhoods. Ridgewood is fairly well-documented, and many of its rows of attached houses were built by developers named Stier, Mayer, and Ring, using various architects, most prominently Mathews, who also built extensively in Astoria.
If anyone wants to pick up the baton and discuss, I am at kevinjudewalsh@gmail.com (my Comments feature is still not working).
While I trace Myrtle Avenue in Ridgewood and Glendale on this page, there may be a number of classic business signs that I might have overlooked on those pages…
Such as Koenig Upholstering and Decorating between 65th Street and Place, which still has a vinyl and plastic sign from the 1960s or 1970s. It still gets the job done.
As does the pair of signs for Myrtle Avenue Wines and Liquors just west of 66th Street. The ywllow and red sidewalk sign is rendered in the Goudy font with its distinctive Q, while the vertical sign goes back to an earlier time when the store was known as SOS Liquors.
Liquor store signs around town are known to change little over the decades.
Glendale
On the previous page I mentioned that Fresh Pond Road was named for a preponderance of fresh, or nonsalty, ponds in this part of Queens.
The eastern end of Fresh Ponds, where Forest Park is today, was called "Dry Harbor" because it was said that houses there appeared to be sitting atop the crests of trees and hills, resembling a harbor without water. Today's 80th Street was originally an extension of Dry Harbor Road, named after this part of the community.
In the early 1860's, developer George S. Schott acquired a considerable amount of land in Fresh Ponds as repayment of a debt owed him. As the Civil War drew to a close, he founded what is today known as Glendale, which he named after his hometown of Glendale, Ohio. At this time, the area's main occupation was farming. In the late 1800's, picnic grounds and beer gardens flourished due to an influx of German immigrants into the area. Most of Glendale's German-fare restaurants and caterers, including Durow's, Von Westernhagen's, and Gebhardt's, have vanished over the years; even cold cuts king Karl Ehmer in Ridgewood closed a few years ago. Left standing is Zum Stammtisch on Myrtle and Cooper Avenues.
Tonick Jewelry at Myrtle and 66th Place, which I think is closed now, but its classic 1970s sign remains.
Engine 286/H&L 135, in a handsome brick building that slots in well with its yellow-bricked neighbors.
The brick building hosting a market at 67-16 Myrtle, at 67th Place, bears the signs of being a former movie theater (I've become accustomed to recognizing this kind of thing) and indeed, it is the former Acme Theater (it's not where Wile E. Coyote went to the movies). I am unsure what years the theater was in operation, but the building served as a catering hall in between its days as a theatre and a supermarket.
St. Pancras School, corner of Myrtle Avenue and 68th Streets. There were two Saints Pancras, both martyred, died in Rome and Sicily in 40 AD and 340 AD respectively. St. Pancras is also a major London, UK church, library, neighborhood, Underground station and rail link. I'm sure the local urchins have called it St. Pancreas. The saint's name, as well as the bodily organ, come from Greek terms for "one that holds everything."
The crossroads of Myrtle and Cooper Avenues form an "X" in the heart of Glendale. The two roads have been in existence since the 1850s, at least, and both were used as farm to market cart paths back then. Cooper Avenue starts as a trickle in Bushwick as Cooper Street, and then gains lanes and becomes an Avenue when it reaches Queens, much like Grand Street/Grand Avenue. It ends at Woodhaven Boulevard.
At Cooper Avenue, we see Myrtle Avenue's 4th war memorial at Glendale Veterans Triangle. Pietro Montana sculpted war memorials at Bushwick and Knickerbocker Avenues in Bushwick, and Anton Schaaf created this handsome view of Lady Liberty facing east, toward the battlefields of Europe, in the triangle formed by Cooper and Myrtle Avenues and 70th Street across the street from Zum Stammtisch. Schaaf also shaped Ridgewood's memorial at St. Nicholas Avenue, called by Cal Snyder in Out of Fire and Valor the finest war memorial in Queens. 21 Glendale residents, named on the bronze, are remembered here.
A viewing stand, likely for a parade, had been temporarily installed, and it made a handy handy locale for a local to catch some rays.
The Glendale Diner at Myrtle and 71st Street  is of a minimalist architectural design; perhaps a Paul Rudolph would have admired it. As with most diners, reviews are wildly divergent.
For sure, there aren't a lot of Republicans in Queens or the rest of NYC, but Maspeth, Ridgewood and Glendale can be considered strongholds. In 2016, one of NYC's few Republican city councilmen, Eric Ulrich, represented nearby Woodhaven, as well as other southern Queens neighborhoods.
Another 1960s-1970s sign with raised plastic or vinyl letters at 71-29 Myrtle.
At 73rd Street we meet the northern edge of the Cemetery Belt, which includes 17 cemeteries divided between Brooklyn and Queens located on the terminal moraine, or hills that mark the southern progress of a glacier across Long Island during the last Ice Age. The cemeteries are Christian, Jewish and nondenominational and also include one of the country's National Cemeteries, in which are interred soldiers from the Civil, Spanish-American, WWI and II, Korean, Vietnam and Gulf Wars, as well as other conflicts. This is the entrance to Mount Lebanon Cemetery, a Jewish cemetery founded in 1914, but other cemeteries in the Belt are older.
Florists congregate around cemeteries. Glendale Florist, at 79th Street, is hand drawn — a rarity these days, when vinyl signs are so popular.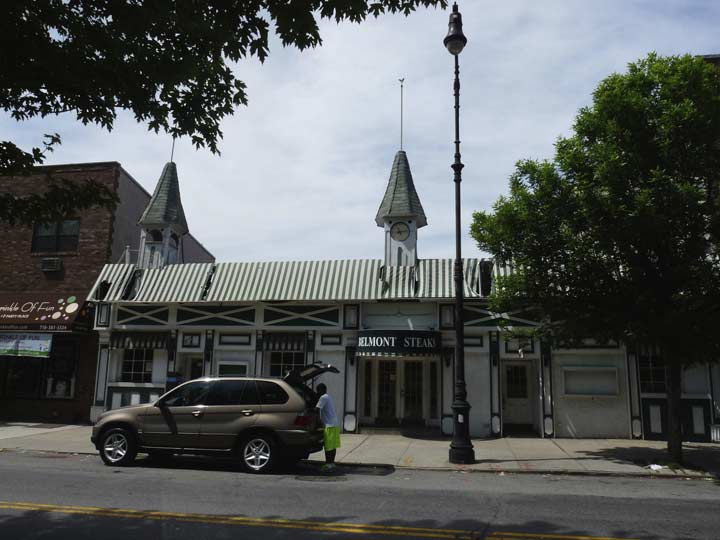 One of the more cleverly-named businesses on Myrtle, Belmont Steaks, whose storefront looks like Churchill Downs in Louisville, KY where the Kentucky Derby, first leg of the Triple Crown of thoroughbred racing is held on the first Saturday every May. Unfortunately the steakhouse is now closed.
It was time now to divert from my usual course and plunge through Forest Park, which I thought would be an easy walk using Forest Park Drive from Myrtle Avenue. The decision, though, proved to be just a little dicey.
Just as Trix are for kids, not rabbits, Forest Park Drive is for cars, not walkers, and the sidewalk is narrow or ill-maintained or not present whatsoever. The drive has an interchange with the Jackie Robinson Parkway (do local motorists call it the Jackie or still call it the Interborough?) immediately south of Myrtle. In NYC, expressways and parkways were the first to receive bright white Light Emitting Diode lamps.
The Interborough (June 1935) was one of the first express motor parkways to open in NYC under the guidance of Robert Moses; an earlier parkway, the "Vanderbilt" Motor Parkway, was extended west into Queens from Nassau County in 1926. The road had been considered as an extension of Eastern Parkway as early as 1896 and construction began in 1928, but the route had to be changed repeatedly as negotiations for reinterments in the cemeteries the parkway runs through were, er, ah, undertaken.
Here is one of the arches taking the Jackie over Forest Park Drive.
South of the J-Rob, I should have made a dash to the east side of Forest Park Drive, where a park path veers off the rod and enters the park. Instead I stuck with the drive and south of the parkway, you have to hike alongside rushing traffic on a twisting route. I was rewarded, though, by passing a handsome building I never knew was there, as I had never walked or biked this stretch before, or did it decades ago.
As you're passing the large mansion called Oak Ridge on Forest Park Drive about 3/4 mile north of Park Lane South in Forest Park, it looks as if a private domicile that had existed since the 19th Century had been swept up and included in the park as it was built around it. This wouldn't be unprecedented: The Litchfield Mansion and Lefferts House in Prospect Park had indeed had private ownership before becoming part of Prospect Park. That park even contains a cemetery owned by the Quakers that was in place before the park was built surrounding it in the 1870s.
Oak Ridge, however, has always been one of the clubhouses of the Forest Park Golf Course since it was constructed in 1905, ten years after the owner of the local property, David Leggett, sold it to the City of Brooklyn in 1895 for its Department of Parks (though it must be emphasized that Forest Park is contained completely within Queens). The golf course opened in 1901 and expanded to 18 holes in 1905. The building now serves as home of the Forest Park administration headquarters and the offices of the Queens Council for the Arts.
It is, apparently, a venue for weddings as well.
View of Forest Park Drive from Oak Ridge
Leading up to Memorial Day, the Woodhaven Historical Society places US Flag ribbons on trees lining Forest Park Drive and replaces them as soon as the local youth removes them.
As we wind into Woodhaven I was just getting started on this walk. However, as my rig is in a non-air conditioned room, I'll table things here  and resume next time in Part 3.
8/14/16