Located in a dead-end park path just south of the 96th Street Transverse Road just off 5th Avenue, this replica of a lifesize portrait of Danish sculptor Albert Bertel Thorvaldsen (1770-1844) is the only portrait statue in New York City that is a self-portrait and the second statue of a Dane (Hans Christian Andersen, elsewhere in Central Park, is the other one).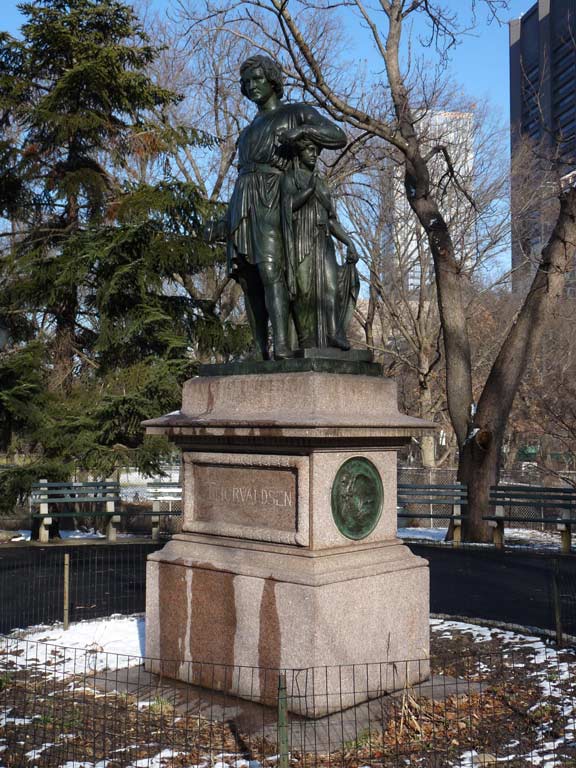 Thorvaldsen was born to an Icelandic family who had emigrated to Copenhagen. He is considered the leading Neo-Classical sculptor of the 19th Century. An 1892 bronze recasting of his self-portrait, originally sculpted in 1839, was presented to the US as a gift from Denmark on the occasion of the 50th anniversary of Thorvaldsen's death.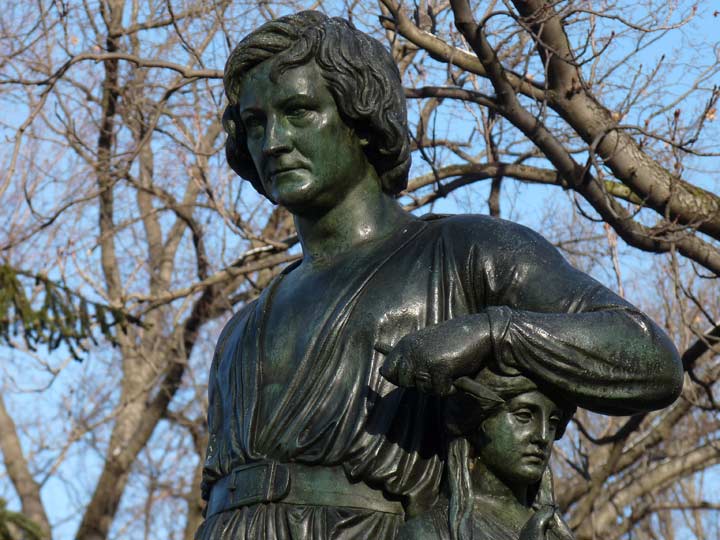 A.B. Thorvaldsen was born in Copenhagen, though of Icelandic descent. He displayed an early talent for drawing and sculpture and was accepted to the Royal Danish Academy of Art when he was just eleven years old. At age 23 he moved to Italy, residing first in Palermo and Naples before settling in Rome in 1797.
He studied sculpture with other expatriate Danes in Rome before landing a commission to execute a classical sculpture of Jason, the hero of the Argonauts myths, in 1801. He quickly gained work to create sculptures of other characters in classical myths, ordered by wealthy patrons who placed such works in their homes; he also sculpted Biblical scenes. He returned to Copenhagen in 1838 as an artist famed throughout Europe.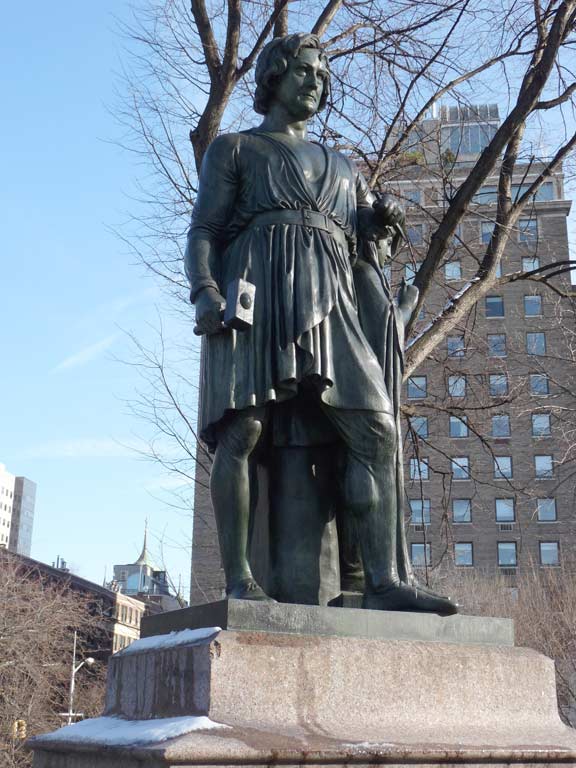 The original version of Thorvaldsen's self-portrait can be seen in the Thorvaldsen Museum in Copenhagen. In the sculpture, executed when he was in his 60s, he presents himself as a younger man clad in an artists' robe, carrying a hammer in his right hand and a chisel in his left.
To today's sensibilities, the image of Thorvaldsen leaning on a shapely, scantily-clad woman might seem alarming, but that wasn't Thorvaldsen's intention. The woman is meant to be an allegorical statue representing Hope, that the artist depicted himself as leaning on after a hard day's work.
Thorvaldsen has chosen to portray himself in a work situation. We see him engaged on completing The Goddess of Hope, on which he is leaning. But just at this moment he is taking a rest and has lowered his tools. And then he has turned away from the statue. We cannot know what he is looking at, but we can of course make a guess. Perhaps he has had a momentary doubt as to how some detail should be carved. It may be that he is doing something as basic as studying the plaster model of the goddess in order to find the answer to some question or some doubt. It might also be that he is making a more general attempt in his mind's eye to conjure up the idea of the Goddess of Hope. At all events, his expression is one of such concentration that he appears fraught, almost grim. But this is rather an expression of the serious way with which he himself regards his artistic activities and the serious way with which he hoped posterity would view his work and reputation. [Thorvaldsen Museum]
On the pedestal you can see bronze reproductions of two other Thorvaldsen works, the reliefs Night and Day.
"Comment as you see fit." kevinjudewalsh@gmail.com
Who Are Those Guys in Central Park? [FNY]
1/16/17