About once or twice a year, I'm in south-southwest Staten Island, the southernmost point in New York State. Though "suburbanity" long ago made its way into places like Tottenville, Richmond Valley, and Charleston there are still pockets of wilderness and still touches of small town life left over. Soon enough, these small patches will be filled in.
Southern Staten Island and I go back a long way. When I was in grade school my parents took me on a bus ride out to Tottenville, back when the 69th Street Ferry still connected to the St. George Terminal before the Verrazano-Narrows Bridge was finished in 1964. We boarded an "old-look" General Motors or Mack bus at St. George and traveled on Arthur Kill Road, which was still pretty much a farm-to-market road through wilderness, with the occasional small town or main road here and there. I had noticed that the road was illuminated by incandescent "crescent moon" lamps (which were replaced with mercury vapor "scoops" sometime during the decade). When we got to Tottenville, I marveled at the still-existing cast iron scroll masts on the telephone poles that carried Westinghouse cuplights, and I also remember seeing a four-lane road with a center median that had octagonal posts also supplied with the Westys. I realized much later that this must have been Drumgoole Boulevard before it was expanded into the present day Korean War Veterans Parkway. I was lamppost-conscious since the womb, apparently.
I didn't take a bus out to Tottenville again until about 1972 or so. I had been closely studying my Hagstrom map of the area, which recorded it as fully populated with streets. I still found pretty much of a wilderness, because like many mapmakers Hagstrom did not record conditions as they actually were, but followed official city maps indicating various developments that had yet to be built. I never understood this practice, and Geographia Maps did it a lot better, showing the same streets, but graying out the unbuilt ones. I wish I was carrying a camera everywhere I went back then, as the southwest Staten Island streetscape was quite different from what it is now. I distinctly remember a bus driver asking me if I was going all the way to Tottenville. He might have turned the bus around where I got off if I wasn't!
GOOGLE MAP: SOUTHERN STATEN ISLAND
The thoroughfares of southern Staten Island, at least the main ones, Arthur Kill Road, Amboy Road and Hylan Boulevard, are the land of billboards, as various local businesses hope to catch the attention of motorists. The billboard on the left is meant for Outerbridge Crossing-bound traffic, while the ones on the right vie for eastbound Arthur Kill Road drivers.
The name Northfield Bank is notable in Staten Island history. Before it was captured by NYC in 1898 (OK, residents voted to amalgamate Staten Island with Greater NYC) Staten Island had towns of its own, much like Kings County's Brooklyn, New Utrecht, Gravesend, Flatbush, Bushwick, Flatlands and later, New Lots.
In 1687 and 1688, the English divided the island into four administrative divisions based on natural features: the 5,100-acre manorial estate of colonial governor Thomas Dongan in the northeastern hills known as the "Lordship or Manner of Cassiltown", along with the North, South, and West divisions. These divisions later evolved into the four towns of Castleton, Northfield, Southfield, and Westfield. –wikipedia
A close look at this 1874 map of Staten Island, after other subdivisions had been made, shows that Northfield consisted roughly of today's Port Richmond, Mariners Harbor, Bulls Head and Travis; Castleton consisted of New Bridghton, Livingston and St. George; Edgewater consisted of Clifton, Rosebank and Arrochar; Middleton was in the Todt Hill and Grymes Hill area; Southfield was the territory along Raritan Bay: South Beach and New Dorp Beach; and Westfield, the largest town, was roughly everything south and west of today's Richmond Avenue.
Along Arthur Kill Road north of the Outerbridge Crossing approach, we have entered a realm that has been alternatively known as Androvetteville, for the prominent Androvette family; headstones bearing the name are frequent in Bethel Cemetery, and one of the few streets in the area is Androvette Street. The area is also known as Kreischerville, after the local family scioned by Balthazar Kreischer, a brickmaker (see below), and latterly, as Charlestown. There was anti-German sentiment during WWI and continuing on to WWII, and the Kreischerville name was dropped and the new name, Charleston, was apparently so adopted from… Charles Kreischer, one of Balthazar's sons.
Unlike the other four boroughs, Staten Island has trailer parks (near the Goethals Bridge) and rifle ranges…just like America! I didn't enter the Richmond Boro Gun Club, wanting to avoid getting popped.
Founded in 1936 as the Kreischerville Gun Club, Richmond Boro Gun Club has evolved into the premier shooting venue in the New York City area. Activities include various small arms shooting such as small bore rifle, pistol, high-power rifle and various precision shooting events. The Club also boasts a running target range (similar to what is shot at the Olympics), an archery range, and separate… silive.com
The section of Arthur Kill Road I'm on goes through thick woods and is a sight to see when the leaves change in the fall.
For several decades, a short road leading from Arthur Kill Road west down to the body of water called the Arthur Kill has been called Allentown Lane. The name is a bit of a puzzlement, since the nearest Allentown is a couple of hundred miles west, in Pennsylvania 30 miles away in Monmouth County, NJ.
Beginning in 2009, a new development sprung up north of Allentown Lane and west of Arthur Kill Road called the Tides at Charleston, a grouping of 190 single family homes selling for $500K and up, geared toward the over-55 crowd (hey, that's me.) I was impressed by the new street signs for the development's private streets, that feature the now-current Highway Gothic condensed in lowercase.
Directly opposite Allentown Lane is Veterans Road, which used to be the west end of Drumgoole Boulevard, a road built in 1941 to speed traffic through southwest Staten Island between Richmond Avenue and Arthur Kill Road. In the early 1970s, Richmond Parkway, now called Korean War Veterans Parkway, was built along its path. The name "Drumgoole," which honors Father John C. Drumgoole, the founder of Mount Loretto, was reassigned to the KWVP service roads.
The west end of Drumgoole Boulevard was renamed Veterans Road and now connects to service roads of the West Shore Expressway (NY 440), extended as far south as the Outerbridge Crossing approaches in 1976. Since then, big box shops and supermarkets have opened along its route.
Did you know that Gov. George Pataki renamed the West Shore Expressway as Pearl Harbor Memorial Expressway in 1999? Apparently, only he does.
A relatively new addition to MTA operations in southern Staten Island is the Charleston Bus depot at 4700 Arthur Kill Road, built in 2010 (after 30 years in the planning stages) to relieve overcrowding at the Castleton and Yukon bus depots. The depot services up to 220 buses and serves all MTA local and express bus lines that run through the area.
North of the bus depot I came upon a large plot of land with a closed gate. Undaunted, I walked around the gate…
… and strode right up next to the Charles Kreischer mansion, which seems to be perpetually on the market, currently for $2M.
Brick king Balthazar Kreischer's son Charles constructed this grand Victorian Eclectic mansion on 4500 Arthur Kill Road just south of Englewood Avenue in 1885; his brother Edward's identical building was on the adjoining plot. In the 1990s, it was rumored that George Harrison had expressed an interest in purchasing the mansion, but changed his mind when security concerns became a problem for the Quiet Beatle. In the early 2000s the house was completely renovated, but wind and weathering have rendered the place again in need of TLC. The chimneys are made of yellow Kreischer brick (see below).
The mansion has a recent infamous reputation. It was a used as a mob-owned restaurant until 1996; in 2008 caretaker Joseph "Joe Black" Young, a hitman employed by the Bonanno crime family, was charged and convicted for the brutal murder of a mob associate in 2005.
Over a century earlier, Edward Kreischer committed suicide at the brick factory, and those who believe in ghosts say Edward can be seen roaming the halls of his brother's mansion.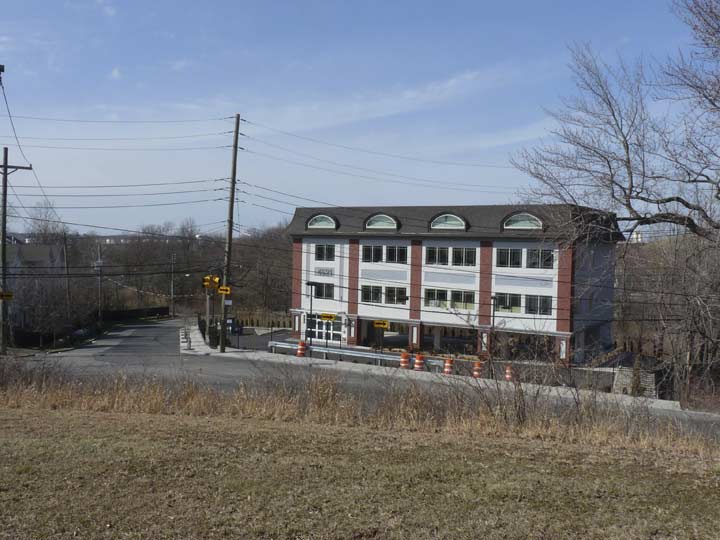 This multifamily dwelling constructed in 2013 stands across Kreischer Street from where the Kreischer brick works were located, in what are now woods on the left side of the photo.
In 1854, Bavarian immigrant Balthazar Kreischer was building a brick factory in Charleston, Staten Island (Richmond County was then independent entity). Because of the clayey ground in the area (Clay Pond Park State Preserve is nearby), Kreischer's was one of several brickmaking firms active in the period. Like Steinway, Kreischer constructed a small company town in this remote corner of Staten Island centered around Arthur Kill Road and Kreischer and Androvette Streets. The brick works employed almost 150 and produced 20,000 bricks per day. Kreischerville, as the town was known, was entirely self-contained, with a hotel (still standing at Androvette and Kreischer Streets, now a Knights of Columbus), church, grocery store and inn. The factory closed in 1927. In the aftermath of World War I, many German-sounding names were purged from New York City directories, and so Kreischerville became known as "Charleston."
There's an Astoria Kreischer connection. Many of the yellow brick buildings constructed by developer Gustave X. Mathews on the streets of Astoria, Maspeth and Ridgewood used brick from Kreischer kilns, and in addition, one of Kreischer's daughters married one of Henry Steinway's sons. Mathews, however, wasn't Kreischer's only client: builders and architects such as McKim, Mead & White and Ernest Flagg (whose own estate is in Todt Hill), Carrere and Hastings and other still well-known names appear in a 1902 Kreischer catalog.
The street layout of Kreischerville is about the same as it was in the late 1800s or early 1900s when this map was produced. Note the brick works at the lower left with water frontage on the Arthur Kill. The brick works went out of business in 1927.
Before the brickworks arrived this was called Androvetteville after a landowning family. In 1850, there were only about thirty scattered dwellings. Balthazar Kreischer had arrived in the USA 1836 from Bavaria and was immediately tasked with rebuilding lower Manhattan, much of which had been destroyed in a December 1835 fire. Later, Kreischer was tipped off about the clay deposits in the region by fellow German immigrant Nicholas Killmeyer in 1850. Kreischer returned the favor and set up Killmeyer in the grocery business: his store si still in place at Winant Place and Arthur Kill Road (see below).
South side of the Kreischer Mansion.
The Mansion looks somewhat forlorn when viewed from Arthur Kill Road.
Kreischer Street's traffic only requires a blinking caution light. It winds off through the woods and over an unnamed brook into Kreischerville; and into what looks like another place — certainly not New York City.
On Kreischer Street is a series of modest, two-story dwellings, lining the east side of the street up to Androvette Street, with green sidings and white window sashes, and picket fences, some in disrepair. The houses were built around 1890 and leased to workers in the brick factory. The above map indicates there were also similar homes on the west side of the street. I'm not sure when they acquired the green siding; underneath there may be Kreischer yellow brick.
Note the distinctive sidewalks: Kreischer brick, of course, bearing the company stamp and in a variety of colors and textures. 90 years after the Kreischer kilns were quieted, this street serves as both a living museum and a product catalog.
A collector at Androvette Street has a couple of vintage Bugs in the yard.
The Knights of Columbus hall on the corner of Kreischer and Androvette Streets is also a relic of old Kreischerville. It has gotten a makeover since the old days, but its twin gables are still in place from when this was the Christian Neilsen Hotel, one of two roadhouses in the area catering to travelers passing through. The building dates to the 1890s and also served as the Kreischerville post office for a time.
Walking west on Androvette Street, #122 is a venerable structure that originally belonged to Peter Androvette, who became president of the Kreischer brick works and later resided in the now-demolished Edward Kreischer mansion.
The west end of Androvette Street at the Arthur Kill.
A quintet of homes on Kreischer Street between Androvette Street and Winant Place in small-town Staten Island.
It's no surprise to see a tractor on the front lawn of a house on Winant Place west of Kreischer Street. What make? kevinjudewalsh@gmail.com
On the north side of Winant Place at #25 between Kreischer Street and Arthur Kill Road is another landmarked structure, the Free Hungarian Reformed Church. This church was originally constructed by the Kreischers in 1883 for a Lutheran congregation, St. Peter's German Evangelical Lutheran Church. It partially burned down in 1890 but was reconstructed to look like the original structure. Since 1916, it has been the Free Magyar (Hungarian) Reformed Church. A piece of paper with an apparent handwritten signature of Balthazar Kreischer himself was recently uncovered in the church. It's one of the few spots outside the United Nations, and Little Hungary on East 82nd Street, where you'll see the Hungarian flag flying in NYC.
As you might expect, the fenceposts in front of the church, and the brick inlays between them, are made of Kreischer brick.
A lot next to the church is interesting — it's protected by what looks like a century-old metal fence.
Here are three separate angles showing the surviving Nicholas Killmeyer grocery at Winant Place and Arthur Kill Road. The structure was built in the 1870s and still bears hallmarks of architectural trends of the decade including a slanted 'mansard' roof, fish scale slate shingles with decorative rosettes and brackets, and, of course, Kreischer brick chimneys. Until recently there was still a grocer operating on the ground floor. Killmeyer supplied much of the village with comestibles and also ran a roadhouse/hotel up the road a bit at Sharrotts and Arthur Kill Roads.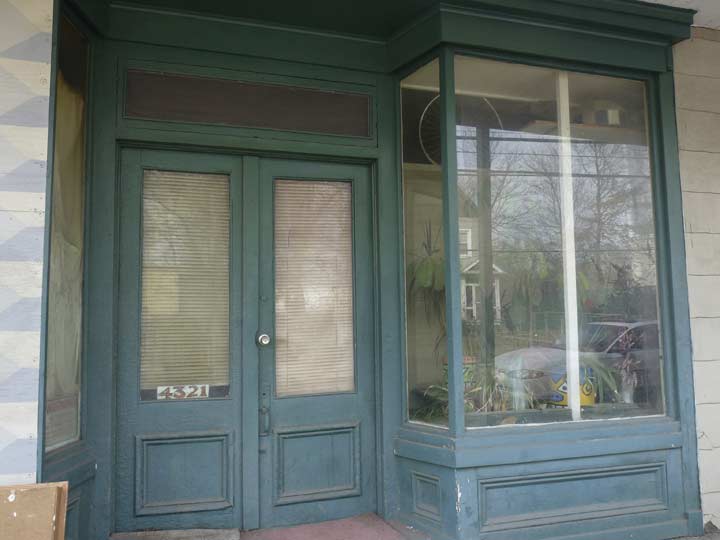 Venerable doorway and picture windows…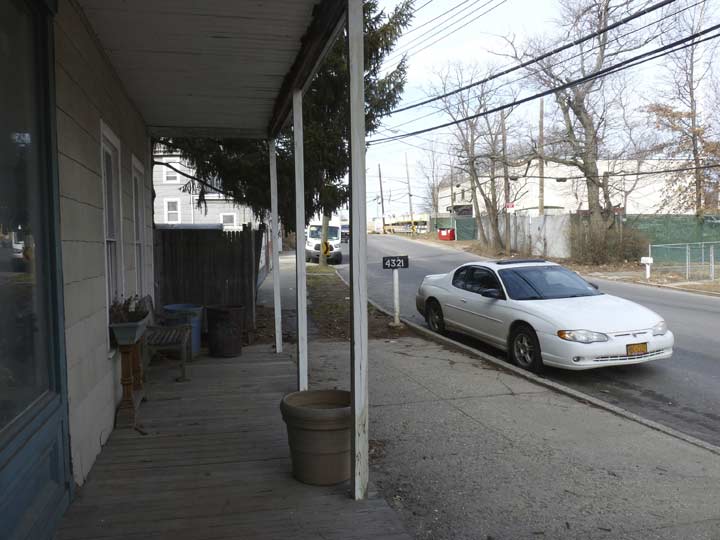 …and wood planked porch facing Arthur Kill Road.
The Killmeyer store makes a dramatic appearance at a bend in Arthur kill Road.
Manley Street makes a "V" intersection with Arthur Kill Road west of the Killmeyer store. It's a mostly sidewalk-free lane with several very old dwellings on either side.
Daddy-O's BBQ and Sports Bar, Manley and Androvette, is one of two restaurants in Kreischerville, occupying the ground floor of what had been a private home. Reviews are decent for the most part.
Name that pickup at A to Z Autobody at Androvette and Arthur Kill Road. kevinjudewalsh@gmail.com
ForgottenFan Steve Webber:
My semi-educated guess is that the tractor is an International. Tractor manufacturers tended to make all their tractors the same color. Both International and Massey-Ferguson were red, but the shape looks like an International/Farmall.
This vintage German-style beer garden at 4254 Arthur Kill Road at Sharrotts Road was built by Nicholas Killmeyer and used initially as a grocery and residence by John Batchelor in 1845. By the 1880s, an addition was built and it became a roadhouse and tavern called Killmeyer's Union Hotel. Now known as Killmeyer's Old Bavaria Inn, it boasts its original bar and pressed tin ceiling, a menu full of sauerbraten, braunschweiger and other sausage treats, and dozens of brands of German beer. Oompah and pop bands play on Sunday afternoons and rock bands play the beer garden in the back on summer evenings.
The gorgeous, intricate woodworked bar, built in 1890, is reason enough to visit although there's a wide beer selection and highly-rated German cuisine.
Killmeyer's in 1890. The outlines of the building including the two gables are still in place, though the corner tower has been gone for a few decades.
East of Killmeyer's there are a couple of more relics of old Kreischerville. West Baptist Cemetery, associated with the long-gone West Baptist Church, was instituted in 1847. Some of the stones have inscriptions in German. The Storer and Nielsen families, interred in the cemetery, have local streets named for them. You will also find the Killmeyers here.
Here's another of Kreischerville's treasures that, amazingly, I was able to walk right up next to through an open gate and snap away without being bothered: Public School 4, built in 1896 on Arthur Kill Road across from the cemetery, is probably the edifice with the highest concentration of Kreischer brick in the area. It hasn't been a public school since 1984, but it is still used by special education students.
These reserved parking signs have probably been here a long time!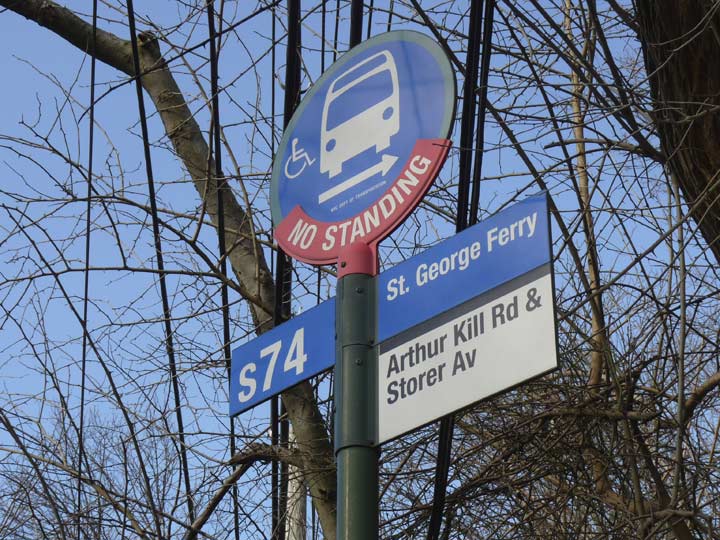 It's a long way back to Forgotten NY HQ in Little Neck. A journey of about 25 miles begins with the S 74 bus back to the ferry; the #1 train from South Ferry in Manhattan; and the LIRR back to Queens. All in a day's work…
"Comment as you see fit." kevinjudewalsh@gmail.com
1/15/17