It occurred to me that I had never been to Dead Horse Bay, located on the southern end of Flatbush Avenue just north of the Marine Parkway (Gil Hodges) Bridge, itself an inlet of Rockaway Inlet, and arm of the Atlantic Ocean impinging into Brooklyn. People who had been there came away raving that you could pretty much find everything up to and including dinosaur bones down there, so its reputation preceded itself, big time. Did I come away satisfied? Read on.
My route was simple. I would take the bike path east from Knapp Street and Emmons Avenue.
When I lived in Brooklyn (until 1993) I would rove all over the borough with my bicycle—years before miles of bike lanes were built and bicycling became a political statement. I just bicycled with caution, stopping at red lights, yielding to pedestrians, and only occasionally arguing with drivers who opened doors in front of me. (Today's bicyclists would say I'm a chump for doing all that.) The only real bike paths in Brooklyn were along the Narrows and the Belt Parkway in Bay Ridge and along Ocean Parkway. Another one I heard about followed the Belt Parkway from Sheepshead Bay all the way out to Howard Beach in Queens. Well, from what I saw, bicyclists really took their chances with that path. It had last been paved during the Truman administration, it was choked with weeds and roots, and was lined with shards of broken glass. Still, sometime in the mid-1980s, I was up to the challenge and indeed made it to Queens along the path, but took a different route back home to Bay Ridge. Of course, almost immediately after I moved to Flushing in 1993, the city decided to repave the path and make general improvements.
I exited the Q at Sheepshead Bay and there were several interesting scenes to note before I ever got to the bike path…
GOOGLE MAP: SHEEPSHEAD BAY TO DEAD HORSE BAY
This is the intersection of Sheepshead Bay Road and Jerome Avenue, in the heart of Sheepshead Bay's shopping district just south of the train station. If you glance at a Brooklyn map today there are two separate Sheepshead Bay Roads, a short one running between Neptune Avenue and West 6th and another one, several blocks east running from East 12th and Gravesend Neck Road southeast to Emmons Avenue. In the dim past the two roads were continuous, with the missing section running along the northern end of the vanished Brighton Beach Race Course, one of three lost racetracks in Sheepshead Bay and Brighton Beach. After the Brighton Beach Race Course vanished, streets were laid out and dwellings built in the Roaring Twenties in what is now the heart of Brighton Beach east of Ocean Parkway.
The first high rise luxury condo building in Sheepshead Bay is rising in the background.
The confluence of Sheepshead Bay Road, Jerome Avenue and East 16th Street is called Bill Brown Square, though as of November 2016 the Department of Transportation wasn't marking it as such. The only sign was a rusted one on the fence of a nearby American Legion post. The WWI veteran lived only a few blocks from here at 1818 Voorhies Avenue. He served with Wagon Company G of the 108th Ammunition Train, 28th Army Division. On October 8, 1918, this young man made the ultimate sacrifice for his country when he died of wounds sustained on the battlefield in France. Brown is also the namesake of the Bill Brown Senior Citizens Club and the Bill Brown American Legion Post. NYC Parks
A playground at Bedford Avenue between Avenues X and Y is also named for the local veteran.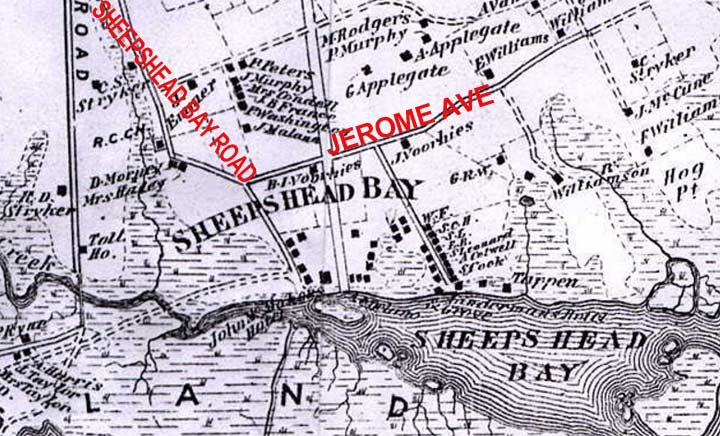 Bill Brown Square is one of the oldest intersections in Sheepshead Bay. I've taken a section of an 1873 Beers atlas plate and labeled it with the modern names of the two intersecting roads shown here. Jerome Avenue was originally an unnamed track, later called Voorhies Lane, but after the Sheepshead Bay Racetrack, a.k.a. the Coney Island Jockey Club and Race Course was constructed in 1880, the road took the name of one of its most prominent backers, Leonard Jerome, a financier who also owned a racetrack in the Bronx, now the site of a reservoir, where the first Belmont Stakes race was held in the 1880s. Jerome Avenue formed the southern end of the racetrack. In 1910 betting on the ponies was outlawed in NY State (it was legalized again later, of course) and all three area racetracks closed; housing and streets were laid out and no trace of them remains today…except for Jerome Avenue. Leonard Jerome became the grandfather of one of Britain's pre-eminent statesmen, Winston Churchill.
The entire 1873 Gravesend map is here.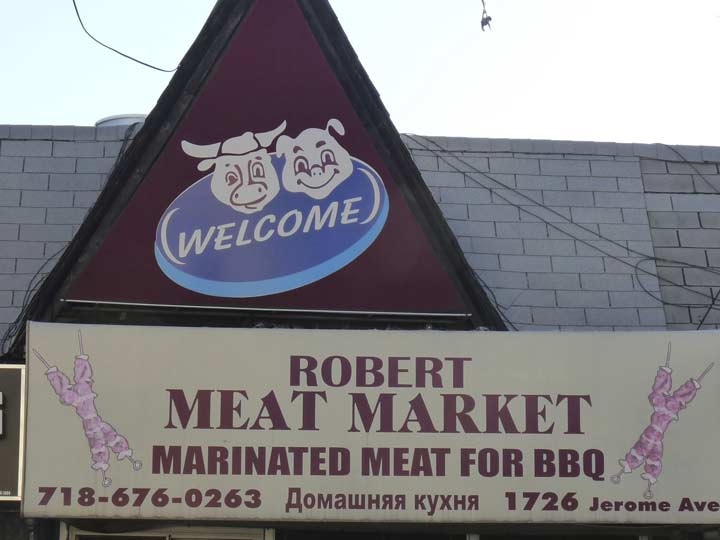 I couldn't resist showing an "animal cannibal" sign on a Jerome Avenue meat market awning.
A pair of Spanish-style homes at Jerome Avenue and East 19th Street.
St. Mark's Church's campanile, between East 19th and Avenue Z and Ocean and Jerome Avenues, dominates the blocks surrounding the Sheepshead Bay train station and was once easily the tallest building in the area before the luxury condo started rising. The present church dates to 1931 and features stained-glass windows in honor of prominent congregant Edward McKeever, a former co-owner of the Brooklyn Dodgers who still has a street named for him where Ebbets Field used to be a few miles north. Super Bowl winning coach Vince Lombardi was also a parishioner and even attended Cathedral Prep as he originally had ambitions to the Catholic priesthood before he settled on a career in athletics; he moved on to St. Francis Prep, Fordham University, and eventually the NFL.
St. Mark's was established in 1868 as the first roman Catholic parish in Sheepshead Bay; this is its third church building.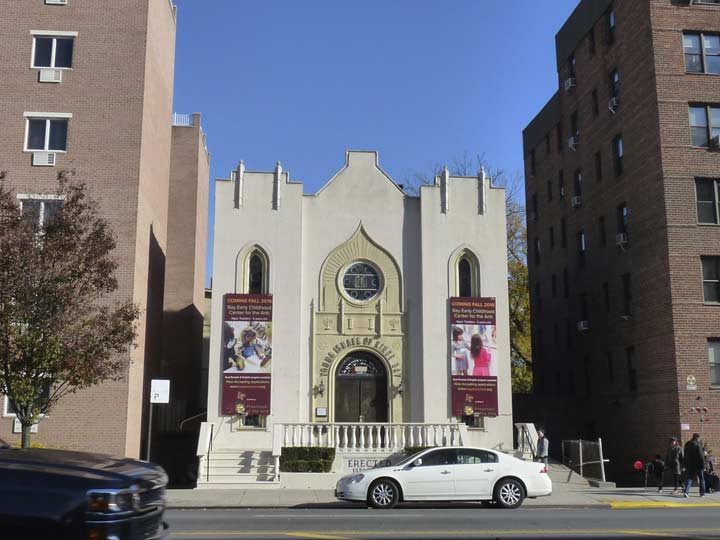 Directly across Ocean Avenue from St. Mark's is Young Israel of Kings Bay, which was established as the first Orthodox Jewish congregation in Sheepshead Bay in 1930. The current building was dedicated in 1937.
A pair of vintage handpainted sidewalk store signs, Avenue Z and Ocean Avenue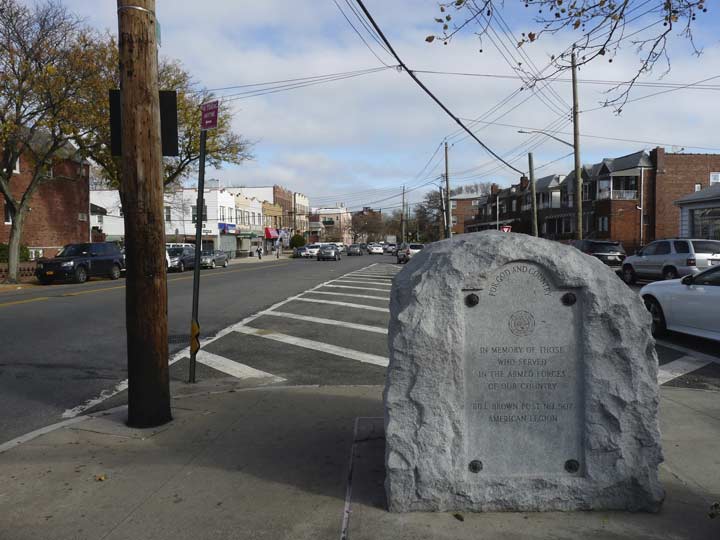 Where Avenue Z meets Jerome Avenue at East 22nd Street, there are a pair of unusual V-shaped intersections. I'll get to why in a second, but at the first, Z and Jerome, we have another mention of Bill Brown at the American Legion war memorial.
Jerome Avenue ends here, but it once plunged further northeast toward Marine Park, following the old path of Voorhies Lane. After the 1920s the eastern end was demapped and mostly built on with private homes, but in spots, the old route makes itself known with a slanted driveway or side of a house built along the old property line.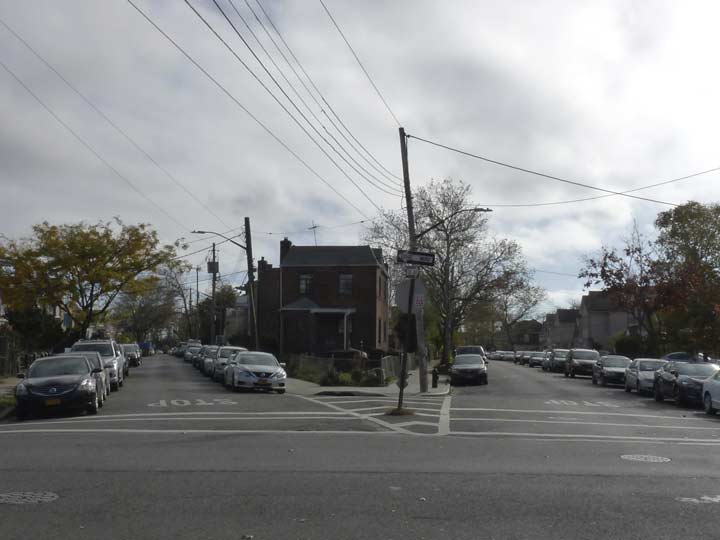 This is the other strange V-shaped intersection where East 22nd and East 23rd Streets meet at Jerome Avenue. Here's what the modern map looks like: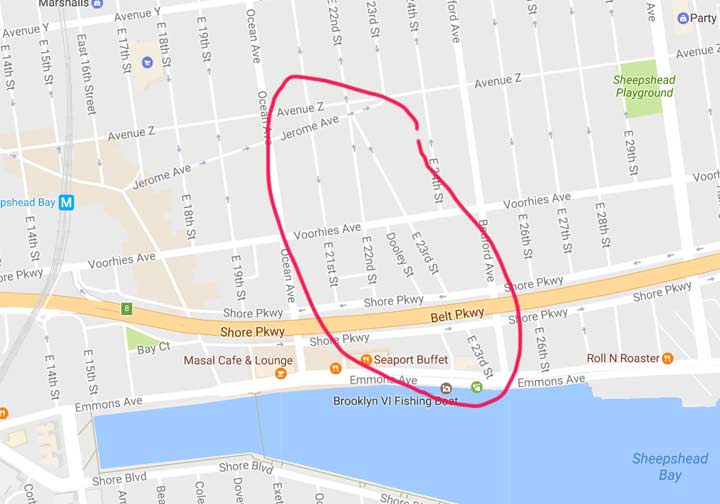 As you can see East 23rd seemingly has a mind of its own and breaks away from the roughly north-south axis of the street grid of Sheepshead Bay. It's also joined by a compadre in diagonal tendencies, Dooley Street. Why were East 23rd and Dooley street laid out like this with the prevailing grid in the late 19th and early 20th Centuries?
The reason is fairly simple: the streets predate the grid. Note the two diagonal streets shown at the center of this Kings County map produced in 1890. One is Dooley Street (the Dooley family was one of the early Irish families that settled in Sheepshead Bay and early St. Mark's parishioners) and Anthony Street. We see that numbered north-south streets are already on the map but have yet to be built. When they were built, Dooley and Anthony were retained because there were longstanding dwellings already there; Anthony was renamed East 23rdas the planned north-south East 23rd was not built.
In the 1930s, the Belt Parkway was bruited through on an east-west course between Voorhies and Emmons Avenues.
Since I had never done so before I walked south on the slanting East 23rd. I found a little country church, Emmanuel Episcopal. It was established as St. Matthias Episcopal in the first decade of the 20th Century.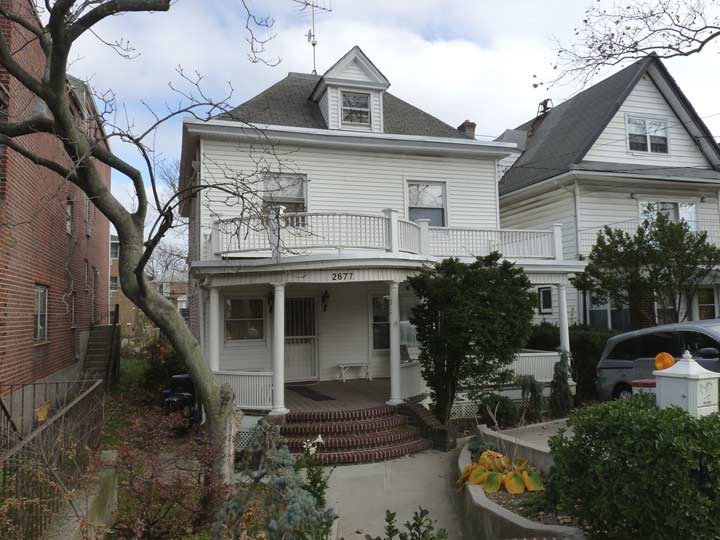 As it turns out the street is lined with charming small homes on trim plots.
At East 23rd and Voorhies Avenue, a one-way sign is mounted in an unusual place. The pipe at the top of the fire alarm used to hold a red indicator lamp. Later, fire alarm indicator lamps were mounted on lampposts and telephone poles.
When Flatbush and Gravesend were laid out from 1880-1900, the streets were named straightforwardly if a bit boringly: north-south streets got numbers and east-west streets got letters. In Sheepshead Bay, we ran out of letters south of Avenue Z and there was room for one more east-west street north of Emmons Avenue, which runs along the bay. It was named for the Voorhees or Voorhies, a prominent Dutch landholding family.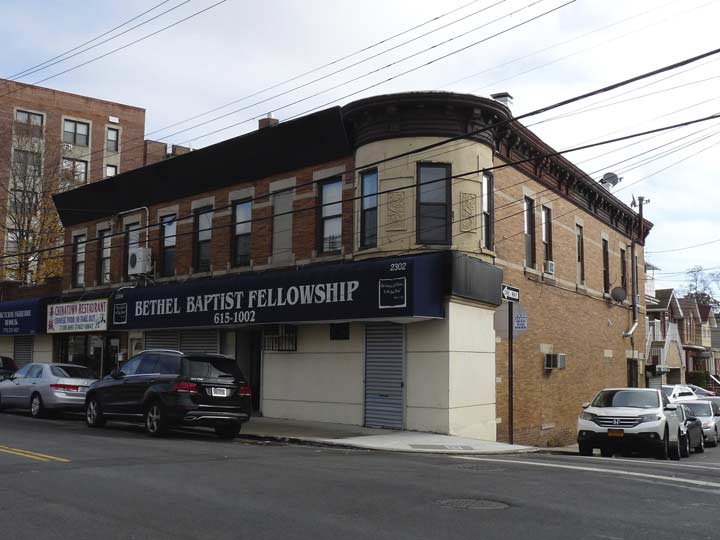 There's something of a very old business district along Voorhies in the East 20s that no longer functions as one, but there are several old hybrid business/residential brick rows here that go back to between 1905 and 1910.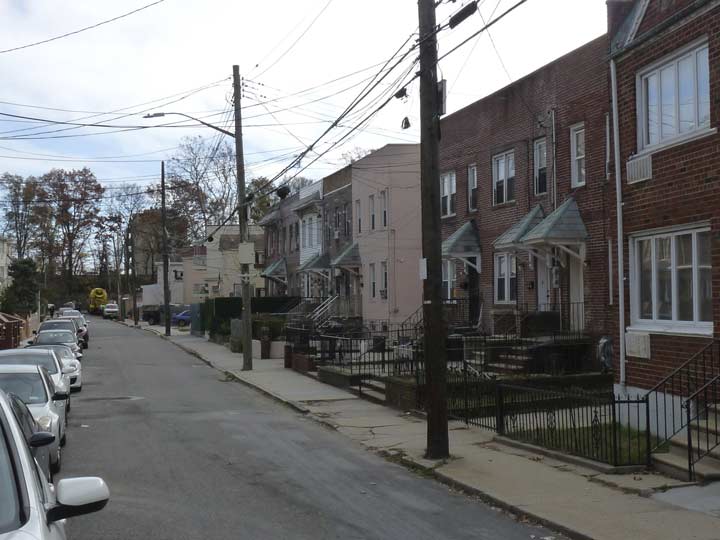 Between Voorhies and the Belt Parkway the slanted section of East 23rd, once called Anthony Street, is narrower than its fellow East numbered streets.
Dooley Street's age doesn't immunize it from modern trends. There are still a number of cottage-like dwellings on the street as well as nearby Voorhies avenue and East 23rd, but this ugly modern monstrosity replaced a couple of the cottages just recently.
Meanwhile here's another private street between East 21st and 22nd south of Voorhies that doesn't show up on the paper maps, Kenmore Court.
On older maps (though Hagstrom persisted in showing them as such well into the 1990s) East 21st, 22nd, 23rd and 24th Streets were called Kenmore, Elmore, Delamere and Mansfield Places, respectively. I'm not sure these names ever wound up on street signs, but here, Kenmore Place exists and a few miles north, there's another private lane, Kenmore Terrace, on East 21st Street south of Church Avenue near Erasmus Hall High School.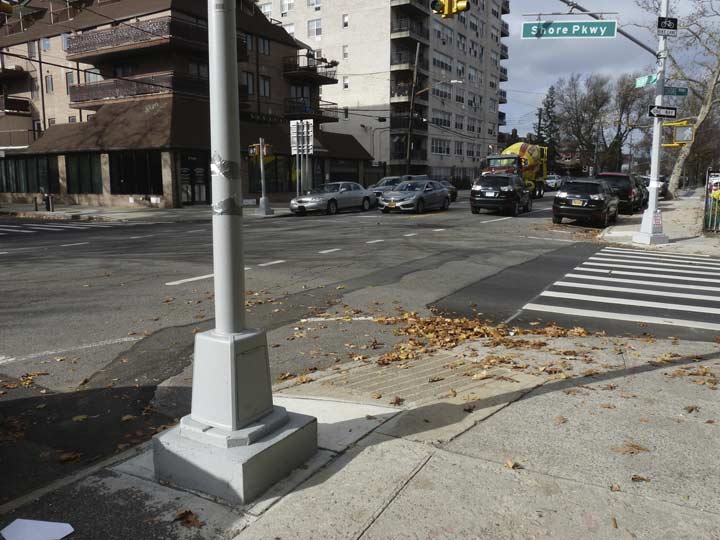 In Sheepshead Bay and Rockaway Park I've noticed stoplight stanchions and other poles mounted on very tall bases. I imagine this is done to protect against flooding in the case of superstorms like Sandy (October 2012) or blizzards which have been happening more frequently. They can also be seen in Coney Island.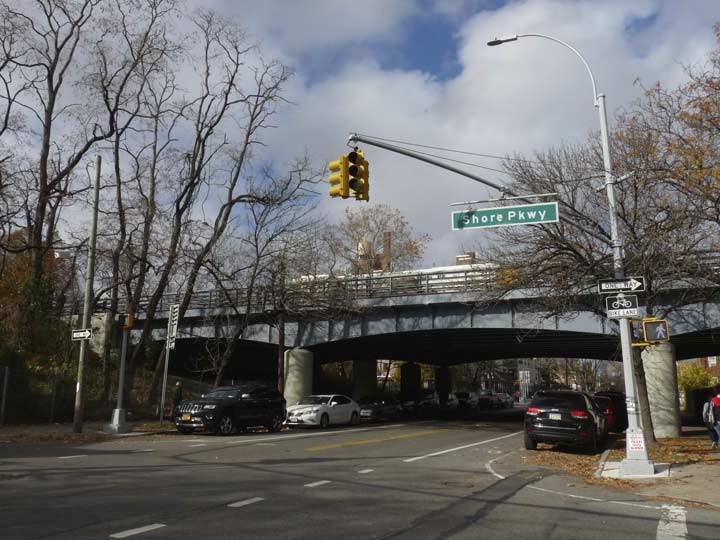 Here's the Belt Parkway overpass over Bedford Avenue. It was constructed as the Circumferential Parkway in 1940 but the official name was changed, soon enough, to Shore Parkway to the delight of sign and map makers everywhere. Along with the Laurelton and Cross Island Parkways, it makes up the Belt system of parkways partially ringing Brooklyn and Queens.
The Stella Maris bait and tackle shop at Emmons Avenue and East 29th Street sees to the needs of the many fishing and excursion boats that are berthed on the south side of Emmons facing Sheepshead Bay.
ForgottenFan Don Brunjes: The yellow tin letters on green background were offered to shopkeepers by local Coca-Cola bottling companies. The letters were attached the green portion of the sign to spell out whatever the vendor wanted and are referred to as the "privilege panel". You are correct when you say circa 1940s to 70s because Coke offered these signs as early as the 40s with the round "button" coke signs attached.
In this case, the 1970s "Dynamic Ribbon Device" Coca-Cola logo is in use.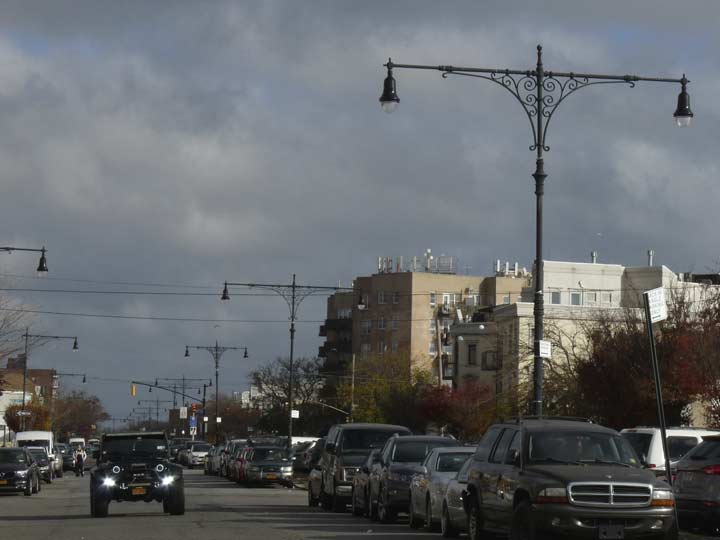 The center median of Emmons Avenue is lined with Twin Corvingtons, a style that did not exist during the Corvs' initial period of dominance from 1910 to 1950. When the style was reintroduced in the 1980s, a Twin variety was also designed.
There's no good way to get a photo of Roll & Roaster at Emmons and East 29th from the north side of the avenue — the telephone pole is in the way, and I didn't feel like crossing and recrossing Emmons to get a better picture. I did notice the slanted davit-style lampposts in the parking lot for the first time.
Of course I stopped in for lunch and actually sampled the roast beef sandwich for the first time. I don't know…it wasn't transcendent; I've always found roast beef less flavorful than a good burger, unless there's plenty of gravy, cheese, or whatever.
R&R's classic commercial with the dancing waitresses is still on youtube.
I won $25 worth of free meals here on a birthday wheel spin in 2015, and haven't used all the coins yet.
One of Sheepshead Bay's more interesting aspects is a network of lanes and paths on either side of Nostrand Avenue between Emmons avenue and the Belt Parkway bearing names like Canda Avenue…
…Hitchings Avenue…
and Lincoln Terrace, Lake Avenue, Dunne Place, Gunnison Court, Mesereau Court, Losee Terrace, and Stanton Road (which is really a sidewalk, not a road). They are too small to make the paper maps and are mere walkways crammed chockablock with one-story bungalow-type dwellings.
As it turns out they were all built from 1920 to 1922 by developer Robert Densely (the name was fitting since the housing is densely packed). He dredged Sheepshead Bay for sand, filled in the marshy land, and built the homes and laid out connecting paths, naming them for the title companies he dealt with.
There used to be more, but there is one Densely plot remaining south of Emmons Avenue and north of the bay, Webers Court.
Incidentally Nostrand Avenue did not go straight through to meet Emmons Avenue until 1930! Its continuous route south from Flushing Avenue in Williamsburg makes it one of Brooklyn's lengthiest continuous streets, surpassed only by Bedford Avenue, Flatbush Avenue and possibly Fulton Street and Atlantic Avenue.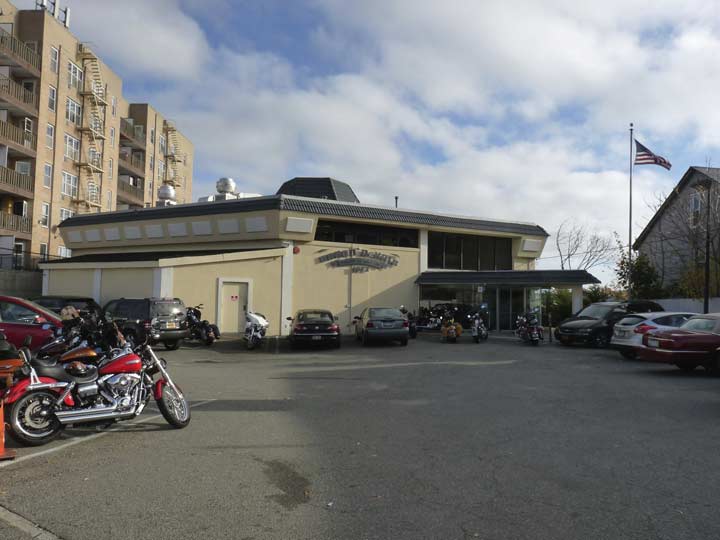 The Baron DeKalb Knights of Columbus Hall, Emmons Avenue east of Nostrand. I deejayed a wedding here on November 1, 1986. But I forget whose! I have an inkling, but I don't want to guess wrong and be embarrassed.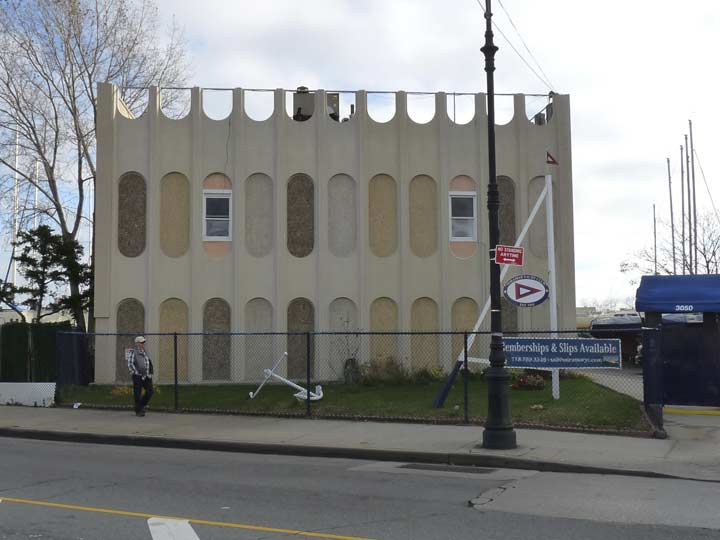 One of the stranger buildings on the south side of Emmons Avenue, the Miramar Yacht Club. It's one of three yacht clubs on this stretch along with the Sheepshead Bay Yacht Club and the Varuna Yacht Club.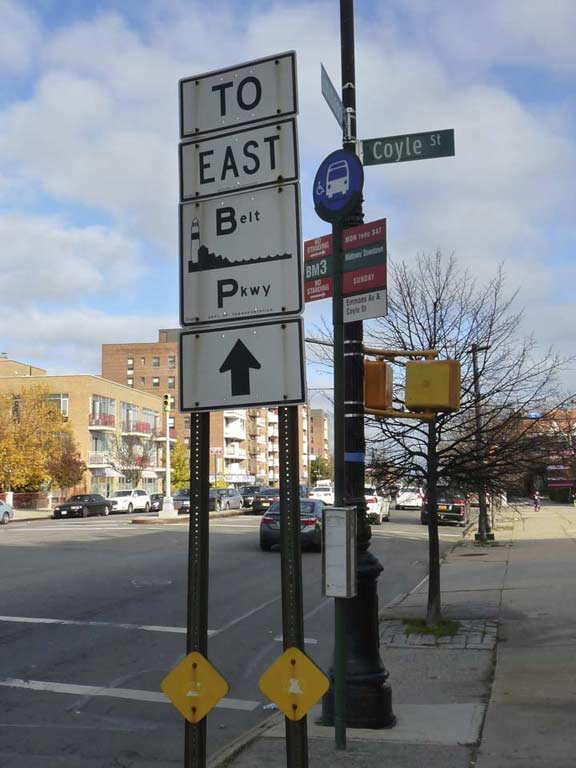 I have to say, from a graphic and understandability quotient the strangest highway lettering choice I've ever seen is on these signs that point the way to parkways which have a huge initial letter and minuscule lettering for the rest of the word. The big caps catch your attention but motorists can barely read the rest!
Strangely, north-south Sheepshead Bay streets east of Nostrand have names instead of numbers: Haring, Brown, Batchelder, Ford, Coyle, Bragg, Brigham, Knapp. These streets take the place of East 31st through East 38th. Those streets are on the Brooklyn map, but they turn southeast at Avenue N and Flatlands Avenue and run into Marine Park. Thus the Sheepshead Bay streets were named for, what else, local real estate speculators.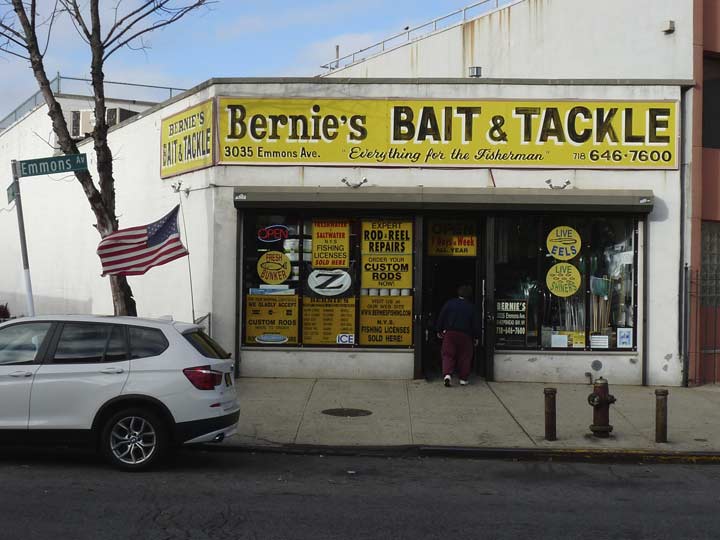 Great old sign advertising another longstanding bait and tackle shop at Emmons and Lake Avenue, one of the Densely lanes.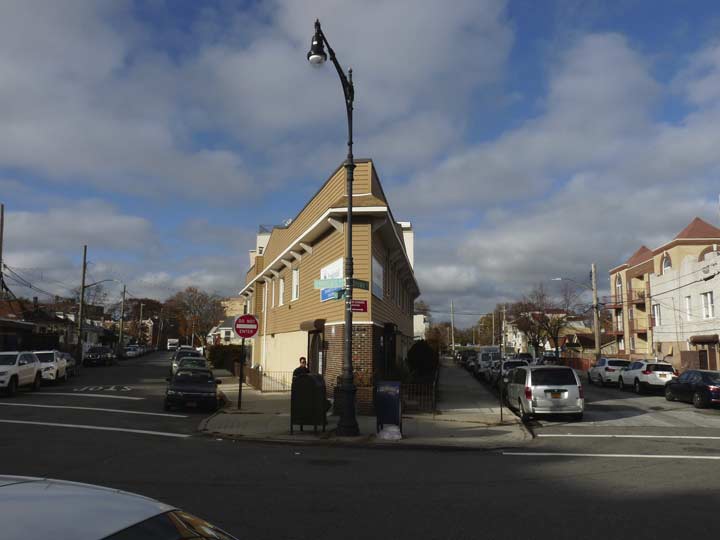 Gravesend's answer to the Flatiron Building is here at Emmons at Haring and Brown Streets. Haring takes a midblock jog to the southeast, almost meeting Brown, but not quite.
Palm Beach Home for Adults, Emmons and Bragg Street, facing the bay. I may have to make reservations soon.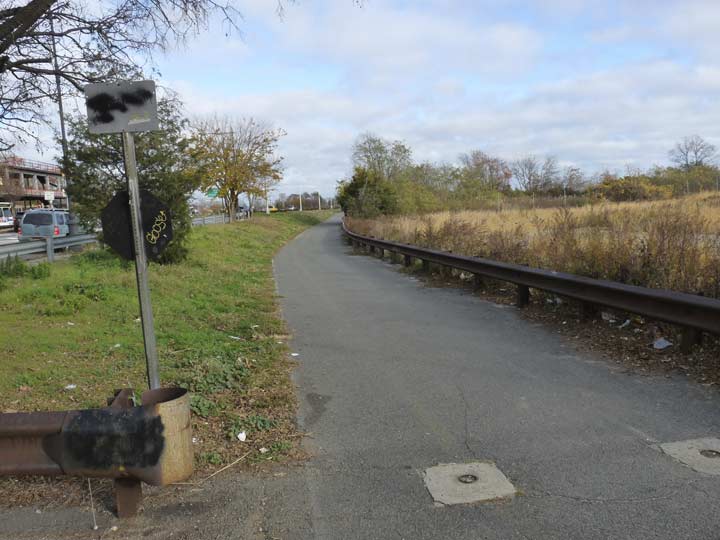 The road to Dead Horse Bay begins in earnest at Emmons Avenue and Knapp Street where the bike path parallelling the Belt Parkway begins again. The western leg of the bike path begins at the 69th Street Pier in Bay Ridge and runs to Bay Parkway, and then is interrupted for a few miles. It begins again here and runs continuously to Howard Beach in Queens. As stated above, it was in very bad shape until it was rehabilitated in the mid-1990s.
The first stop east of Knapp Street is Plumb Beach. Let's take another look at the 1873 map, and we see that Plum Beach was once a separate island and named without the "b"; there used to be plum trees in the area, but I'm not sure if any of them survive. There are also a number of channels and waterways on the map, only few of which survive today, one of them being Shell Bank Creek, which has been shoved into a channel that now separates Sheepshead Bay from the community of Gerritsen Beach; if you go over there now, it's pretty much used to park yachts and pleasure boats. Hog Creek, Broad Creek and Cedar Creek have been diverted into the sewer system, though the preponderance of cedar trees in the area gave its name to a small community at Knapp street and Avenue Z (now home to a malodorous sewage treatment plant) called The Cedars.
Gravesend Neck Road got its name because there was once an actual Gravesend Neck, a marshy spit of land defined by Shell Bank and Gerritsen Creeks.
This is the actual Plumb Beach. I hadn't seen it on my initial ride, as you have to hike through the brush off the path to reach it. Unlike the beaches to its west, Brighton, Manhattan, and Coney, swimming or going into the water is prohibited and no lifeguards are stationed here. According to reports from ten years ago, Plumb Beach used to be rather unkempt and garbage-strewn, but I found it pretty orderly. In June, horseshoe crabs come out of the bay en masse to mate or lay eggs, which also attracts several species of shore birds that feed on them. Observers are encouraged to assist any crabs that are on their backs, as the Xiphosura find it hard to flip over once upended. Despite the fearsome-looking tail spine, the crabs are nonpoisonous.
In the distance is the Marine Parkway Bridge, constructed in 1936 to connect Flatbush Avenue with the Fort Tilden area of the Rockaway peninsula. I have biked it on several occasions, but found the low railing a little discomfiting, especially in windy weather.
Plum Island remained an island until 1940, when the Belt — né Circumferential Parkway was built just north of it and landfill was used to connect it to the rest of Kings County.
As you might guess, the redoubtable King of NYC's Hidden Waters, Sergey Kadinsky, has much more research on Plumb Beach to share in his Hidden Waters Blog.
There's a rather forlorn National Park Service station, marked by its arrowhead symbol. From the presence of the port-o-potties, the bathrooms are nonfunctional.
The Belt Parkway, and the accompanying bike path, are bridged over Gerritsen Inlet east of Plumb Beach. I noticed a couple fishing at the bridge abutment and the fire they had built, even though the day was only marginally chilly at about fifty degrees. There were also fishers on the opposite end of the unnamed bridge.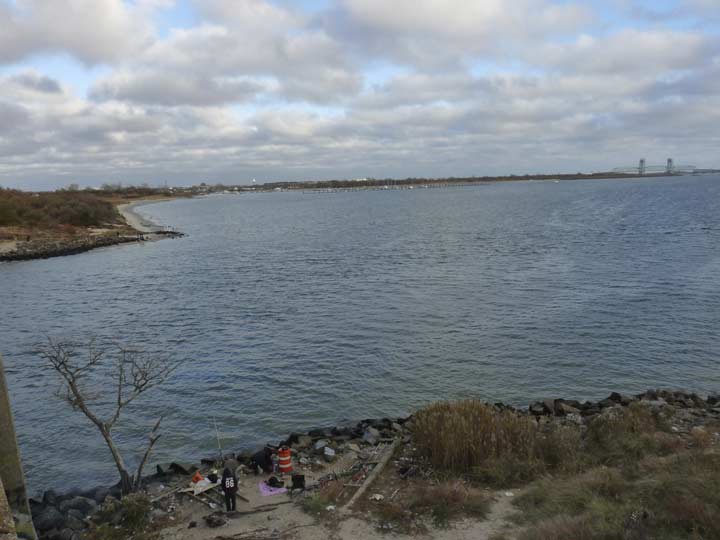 Gerritsen Inlet, the creek it empties into, the neighborhood of Gerritsen Beach, and Gerritsen Avenue are all named for early Dutch settler Wolfert Gerritsen, who arrived here in 1636. The Gerritsen family operated a mill within today's Marine Park for generations before selling the property to financier William C. Whitney (1841-1904), who built a mansion near Marine Park and used his property to train and breed thoroughbred race horses. The New York Mets' first owner, Joan Whitney Payson (1903-1975), was his granddaughter.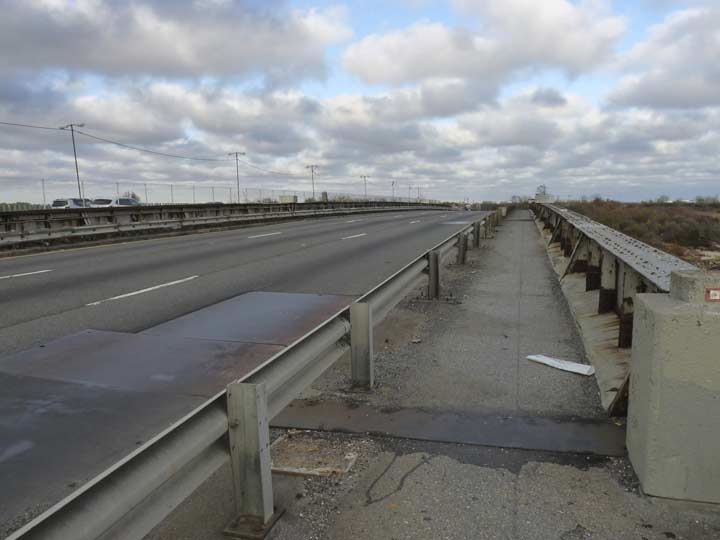 The Department of Transportation is replacing five Belt Parkway Bridges in 2017, including the Fresh Creek, Rockaway Parkway, Nostrand Avenue, Bay Ridge Avenue and Gerritsen Inlet Bridge, shown here. Traffic will continue to use parts of the bridges while others are replaced.
Looking south from the bridge toward Dead Horse Inlet at the south end of Marine Park. I'll explain the name a bit later.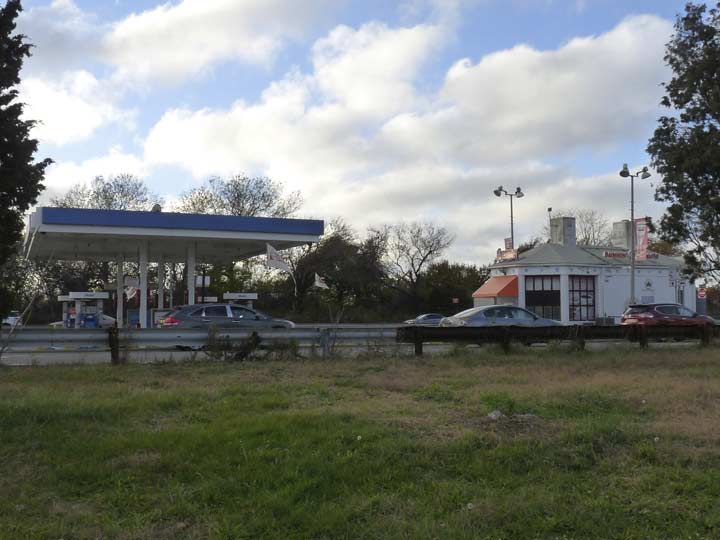 One of a number of gas stations along the Belt that also offers sundries and rest rooms.
To get to my destination, Dead Horse Bay, I left the Belt Parkway bike path and walked south on Flatbush Avenue, named for the Dutch town of Vlacke Bos, "wooded plain" in Dutch, a nod to mid-Brooklyn's lack of hills. Flatbush Avenue was extended to meet Floyd Bennett Field and the Marine Parkway (Gil Hodges) Bridge in the 1930s. Brown Parks Department signs point the way to the former airfield, now a national recreation era.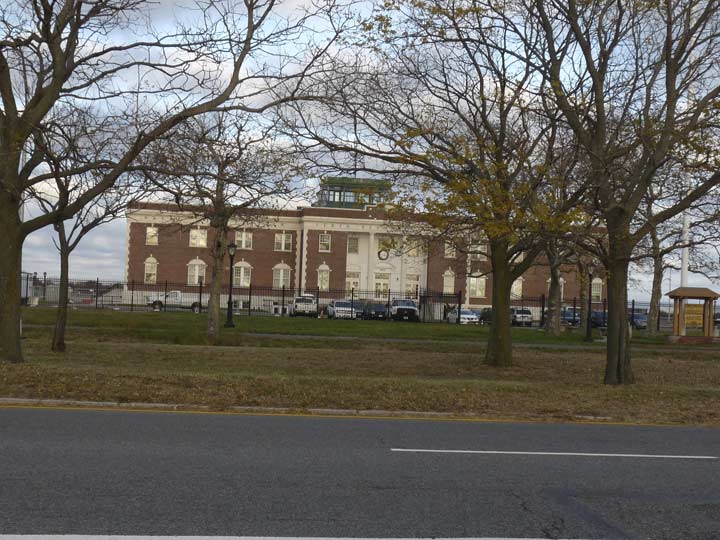 With the sun rapidly sinking in late November, I decided against visiting FBF's newly restored Administration Building and tower. A few years ago a friendly park ranger let me go right into the tower, whose various controls had long been deactivated.
In 2003 FNY did a FBF page before the restoration.
The road to Dead Horse Bay. As you are walking south on Flatbush Avenue pause at the last stoplight before the Marine Parkway Bridge. Look to the right for a park path marked "Park Entrance." Follow the path down to the water. You will be walking about 10 minutes, 15 if you're slow like me — longer than you'd think. Don't give up, there's a payoff…
At length, you're at a fairly desolate beach, jammed full of bottles and other trash, as well as some washed up boat wrecks.
This is Dead Horse Bay, which used to mark the southern edge of Barren Island. There was once a small community here of well-kept small homes with porches, and the people who lived here ignored the unholy stench of the animal rendering plants (the first one built in 1859) that once dotted the island, as thousands of deceased Dobbins were turned into a number of products including glue, fertilizer, and commercial gelatin in a process founded by Peter Cooper, for whom Manhattan's Cooper Union school is named.
In the 1920s, Barren Island was attached by landfill to Long Island in anticipation of Floyd Bennett Field's construction. The horse rendering plants were closed and the homes razed, but the smell remained for several years.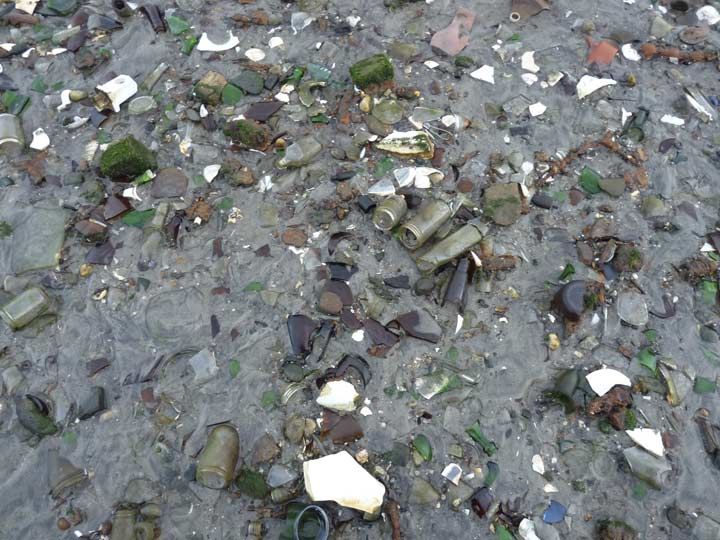 The bottles and trash here are from the past several decades.
After the rendering plants were closed the Dead Horse Bay shoreline became a landfill in the 1930s. Thousands of tons of trash were buried under a narrow cap. In the 1950s, this cap came apart and detritus of the decades, including thousands of bottles and plastic products that don't biodegrade have filled the beach ever since. There are those who say that equine bones can be found amid the garbage.
In the above photo, a scavenger has carefully arranged and sorted some plastic toys.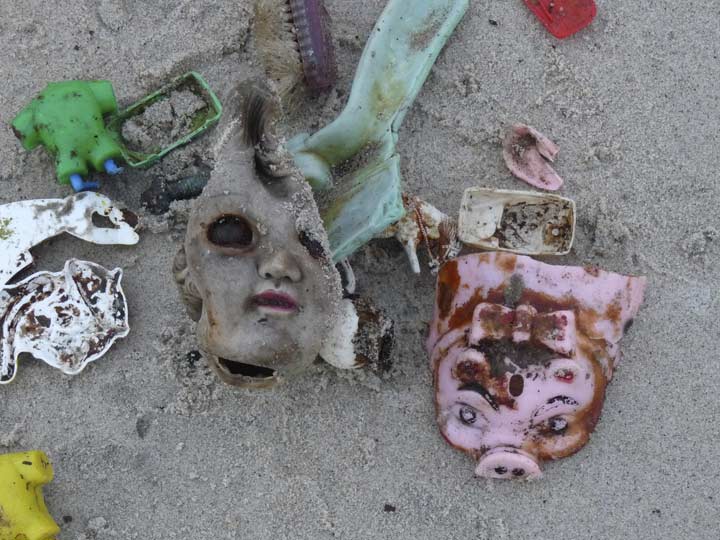 The playthings of a previous age have taken on an ominous look as they wash up on an isolated beach decades after children enjoyed them. The pig toy is appropriately seen here, since back in the very early 20th century, wild hogs overran Barren Island, consuming whatever garbage was laying around—and there was plenty, considering the rendering plants and the people who worked and lived nearby. Finally in 1909, the NYPD arrived, shotguns in hand, and embarked upon a hog massacre that eliminated hundreds of the swine.
Kingsborough Community College and Coney Island beyond can be seen through the gloaming.
An extraordinary "double sunset" could be seen as the red hull of the setting sun emerged from one cloud bank, then settled beneath another one.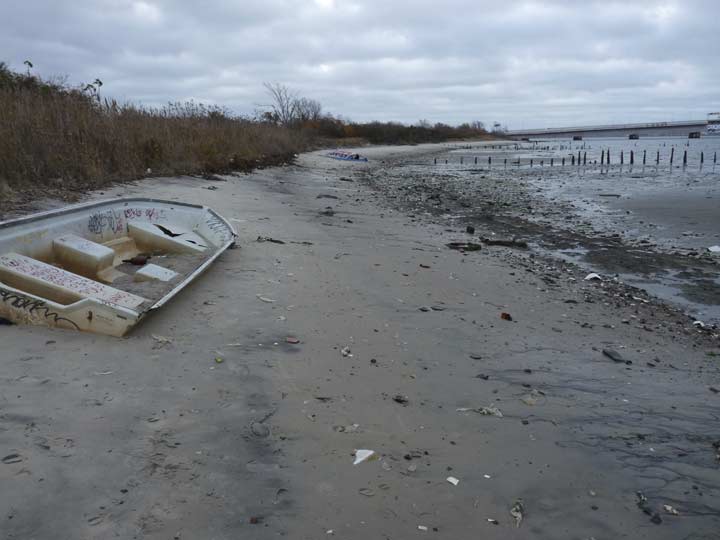 A chill wind did indeed settle in, and since this area has no direct illumination except from the bridge and from distant regions of Brooklyn, I deemed it desirable to hike back through the woods, then to the bus shelter on Flatbush Avenue, and get a bus back to Nostrand Avenue where the #2 train awaited for my trip back to Penn Station and then Little Neck, Queens.
I did not want to be subjected to the brayings and squealings of the ghost equines and suines of Dead Horse Bay.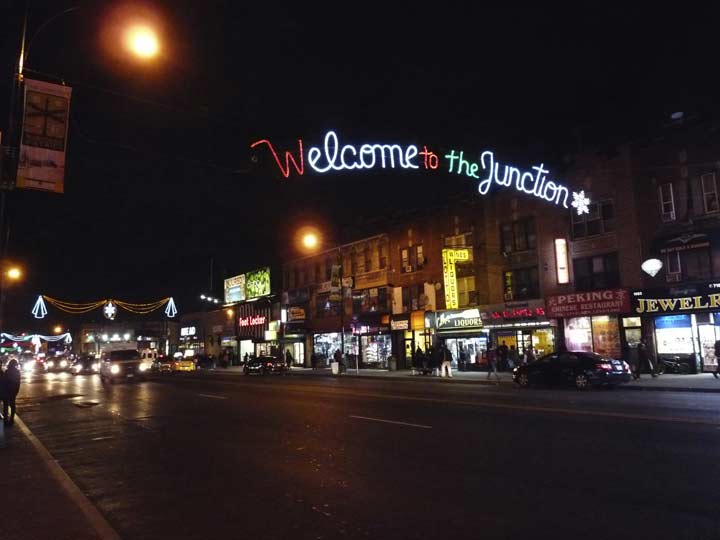 A short time later you could join Axl Rose in proclaiming Welcome to the Junction…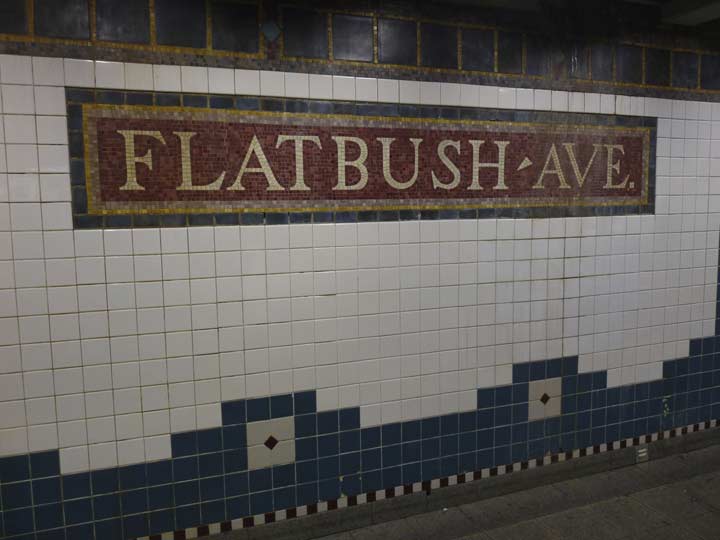 … and I had put miles between me and the deceased equines.
"Comment…as you see fit." Comments are once again open in FNY!
3/12/17