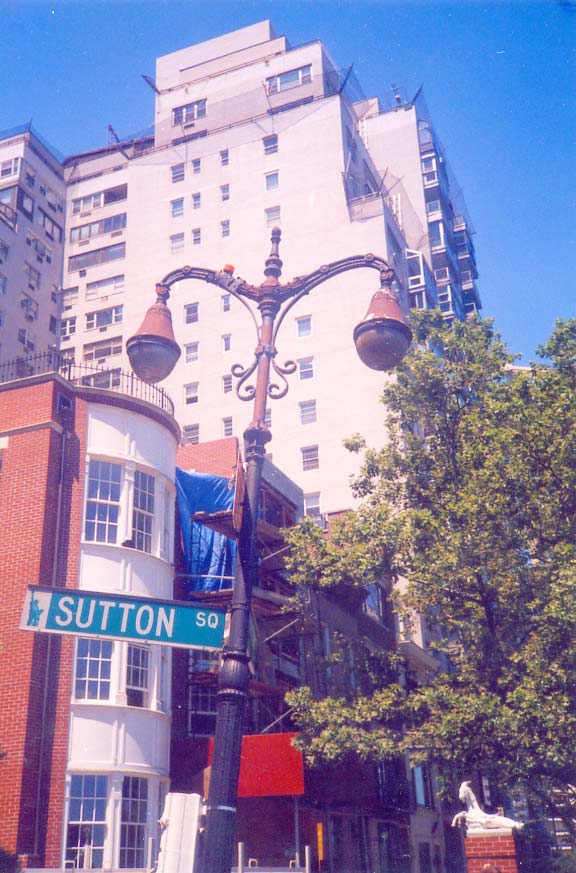 I've been rummaging through my 35MM photo collection from the Early Days of Forgotten New York, 1999-2001 and have plucked out a few dozen depicting objects or scenes that have disappeared since I first snapped them. Tonight's image is a Twin Type F that lasted until about 2000 on the east end of East 58th Street east of Sutton Place, known to the Department of Transportation as Sutton Square.
Type F's were relatively diminutive lamps mostly used on side streets, where, along with Type G Corvingtons, they served by the thousands. By the time I began photography for Forgotten New York only a handful remained and only two pairs of Type F Twins were still standing, here and on the grounds of SUNY Maritime College in Throg(g)s Neck, Bronx. Both have bitten the dust.
Twin Type F's often found service on the medians of busy roads such as Linden Boulevard, Rockaway Boulevard and Flatbush Avenue; in the case of the latter two, they were short enough to be used in the vicinity of JFK Airport and Floyd Bennett Field respectively. Lamp lights that appeared in columns may have been mistaken for runway lights in foggy weather, was the thinking. The Rockaway and Flatbush Type Fs disappeared by the mid-1970s.
This Type F twin gained a measure of fame when its shaft, but not top, appeared in posters for Woody Allen's 1979 film Manhattan. The bench at the end of the block, in view of the Queensborough Bridge, was featured in a scene.
This was also one of the final examples of the use of conical-shaped bell luminaires that were often used on side streets.
After 2000, this post was removed and a retro-Bishop Crook went up in its place.
"Comment…as you see fit." Comments have been restored on FNY!
3/13/17