I am feeling a little wearied from composing multipart Sunday pages, so I think I'll reach back into my mixed bag of tricks. I haven't done one of these tutti frutti pages since all the way back in 2009!
It's a little easier now to find images to employ for one of these pages. When I am roving I generally use my Panasonic Lumix DMC FZ28 camera. It's been my weapon of choice for the last decade because it has a generous 18x zoom. (I've been offered a camera with an 83x zoom, but have been unable to connect with the offerer as yet.) Sometimes I will pull out my IPhone camera when I want to post something that is hopefully amusing on facebook or instagram when I am "in the field" so to speak. I'll use some of these today.
I import all the pictures I take into my computer's IPhoto software. I group photos according to neighborhood, and I also group the IPhone photos into folders simply named, "Import" and the date. Today, I'm using "Imports 1-23" so these are photos taken in January 2017.
Whenever I take the A (actually the shuttle) train down to Rockaway Park station, the last stop, I always hit the restaurant adjacent to the stationhouse (a door leads right into it) called the Last Stop Gourmet Shop. It's been there on Beach 116th as long as I have been going there, and usually I seem to be the only nonregular in the place. I always go for the fish and chips, whose quality is superior. I am a simple man with simple tastes.
I hit the beach at Beach 116th past the newly-constructed concrete boardwalk. Words cannot express how windy it was on this particular day. I wandered down to the water's edge, remarking to myself how unusual it is to do that in January. I aimed the camera seaward and came up with a few images, but none as pleasing as this one, with whitecaps in the water and corresponding puffy clouds. There were a few other people around, but not very many. This scene could have been captured at any time within the past few hundreds of thousands of years.
A pair of shots from my 2nd Avenue walk on January 1st on which I visited the new 2nd Avenue Subway stops from 63rd to 96th Street. A portrait of Lou Reed done by painter Chuck Close, working with myriads of smaller photographs, can be found as well as portraits of other musicians and artists at the 86th Street station.
It was the beginnings of a January snowstorm (we had one substantial snowfall each in December, January, February, and March in the winter of 2016-2017, which was nonetheless mild overall). Since 2007 I have lived a block away from the busiest remaining grade crossing of the Long Island Rail Road in Little Neck, Queens.
Every so often I check on what I call the "Sheriff Bishop Crook." It's by a park just south of Delancey Street on the former corner of Broome and Sheriff Streets, and is a fragment of what was once a Type 6 BC, which used to number in the thousands in lower Manhattan, but now only fragments exist here and there.
In January I attended a lecture by Long Island Rail Road historian Dave Morrison (I've been on his LIRR-sponsored tours as well), at the Greater Astoria Historical Society, where he spoke about his book Sunnyside Yard and Hell Gate Bridge (Arcadia, 2016).
Later the same day, I caught the train home at 61st Street/Woodside, a station on the #7 Flushing IRT line, which celebrates its centennial this year for the majority of its stations, including Woodside. The decorative "bigloop" platform lamps were installed in the 1990s.
While wandering around the Upper East Side after finishing my 2nd Avenue Subway survey on 1/1/17, I found a group of extraordinarily detailed attached townhouses on the south side of East 95th Street between Lexington and Park Avenues. Turns out they are part of the large Carnegie Hill Historic District. From the Landmarks Preservation Commission report, page 261:
For a time, the new western concourse above the Penn Station Long Island Rail Road tracks opened and I wandered in to take a look. Things all look fairly generic. Then the concourse closed again until last week (June 2017) when it reopened for good. The concourse connects to the old James Farley post office on the west side of 8th Avenue, which will be transformed by 2021 (them) eventually (me) into the Moynihan Train Hall, a combo train station/retail mall that, is said, will evoke the old Penn Station, because the post office comes from the same era, architecturally.
None of it addresses what's really required: new signals, tracks, and tunnels.
The Queensboro Plaza platform in western Queens, the only platform in the entire NYC subways were two subway divisions are accessible across the same platform: the old BMT, represented by the N/W Astoria Line, and the IRT, represented by the #7 Flushing Line. Because of a complicated arrangement too lengthy to get into here, the BMT and IRT jointly operated the Astoria and Flushing Lines until 1949, when the division was made.
I remember the old enamel Queensboro Plaza signs with the V of Importance: QVEENSBOROUGH PLAZA, where, undoubtedly, passengers did a lot of kvetching and not a lot of kvelling.
The W train made its first appearance since 2010, re-emerging when it was run from Whitehall Street to Ditmars Boulevard to replace the Q, which was routed up the new 2nd Avenue line. I snapped this photo because I had just ridden a rare R-68 car (dating from the early 1980s) instead of the usual R-143/R-160s without front and rear roll signs. I will sorely miss those.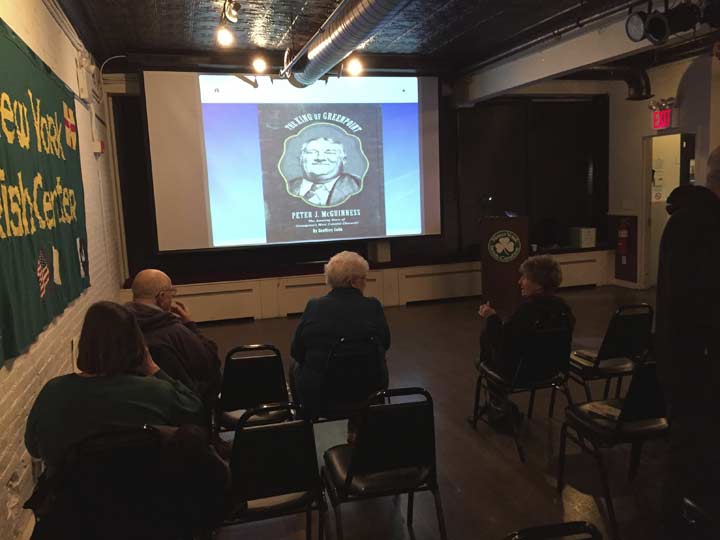 I attended a presentation at Long Island City's Irish Center by Geoffrey Cobb, talking about his new book on Peter J. McGuinness, the colorful longtime alderman of neighboring Greenpoint, Brooklyn, for whom the neighborhood's McGuinness Boulevard is named.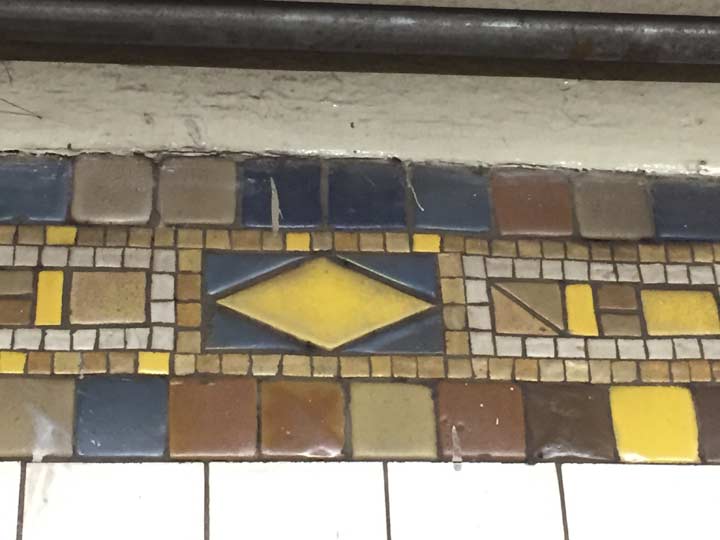 As it turns out, I've already used this grouping of photos before, from a page earlier in 2017:
The IRT Flushing Line is the Interborough Rapid Transit's only Queens foray. Though the line opened in 1917 it was planned three decades before as a railroad tunnel connecting the Long Island Rail Road and New York Central (and thus it was the first East Side access line, which is currently being constructed at last and is expected to open in the mid-2020s). That plan failed and piano scion William Steinway got involved in the 1890s, planning to run electrified rack in an East River tunnel to extend his NY & Queens streetcar system into Manhattan. That plan, as well, ran into technical problems and lawsuits.
I have been fascinated with Vernon-Jackson for awhile, from its colorful tiles installed in 1915, to the unusual moldings, to the "VERNON AVENUE" archaism; many Queens Avenues became Boulevards around 1920.
I found this on the corner of Harrison Place and Morgan Avenue on the morning of Inaguration Day, January 20th, 2017. I was beginning a walk on the Bushwick-Ridgewood border, hewing closely to the Brooklyn-Queens boro line. Plopped as it is in the absolute middle of nowhere, I have always considered the Morgan Avenue station one of the system's most interesting. It will be closed from 2019-2021.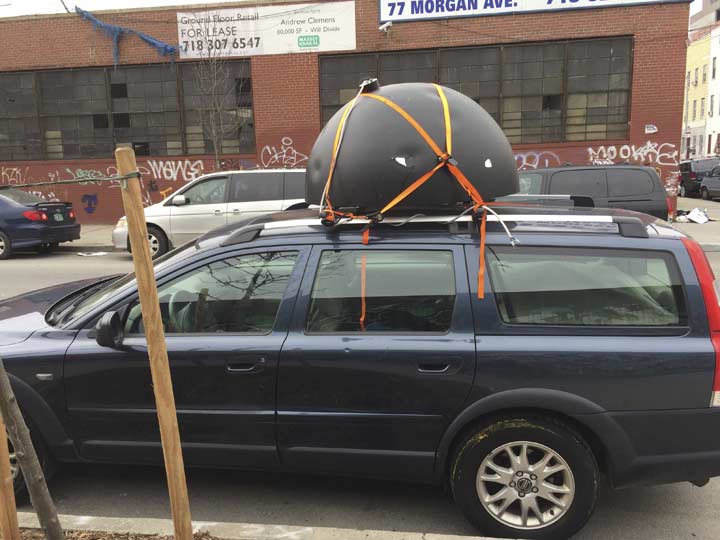 This item was found strapped to a station wagon on Morgan Avenue. Feel free to identify it in Comments…
My friend Heather Quinlan (the filmmaker behind If These Knishes Could Talk, an entertaining examination of the NYC accent) accompanied me on the Bushwick-Ridgewood walk. We went into the Cypress Inn Cafe, on Cypress Avenue and Stanhope Street, a cozy joint where we got panini sandwiches, and I admired the vintage cash register. The Brooklyn-Queens line runs through the center of Cypress Avenue, while the Inn is on the Queens side.
At the Inn, if you want pickles, specify "on the side." Otherwise, they get pressed into the sandwich!
There is one, and only one, remaining Blarney Stone in Manhattan. I examined their disappearance on this FNY page.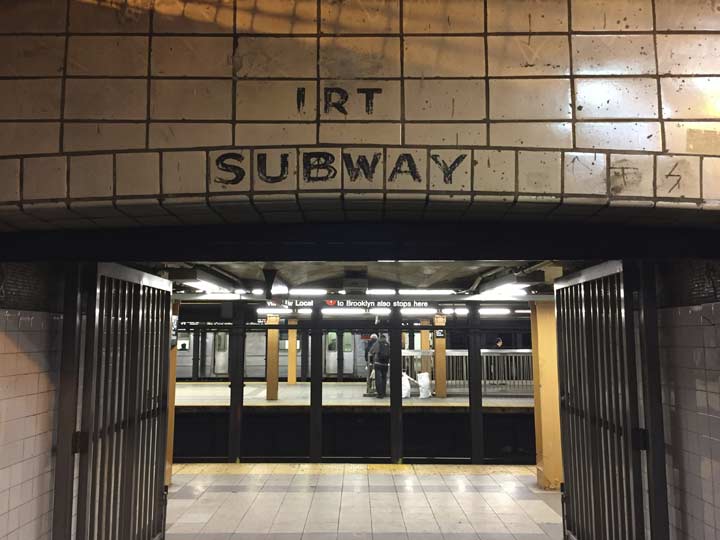 Bits and pieces of the old Penn Station (1910-1963) are still around, such as brass handrails on tracks-descending staircases, and stenciled signage like this one at the portal connecting a Penn Station underground corridor to the west end of the downtown local #1 IRT platform.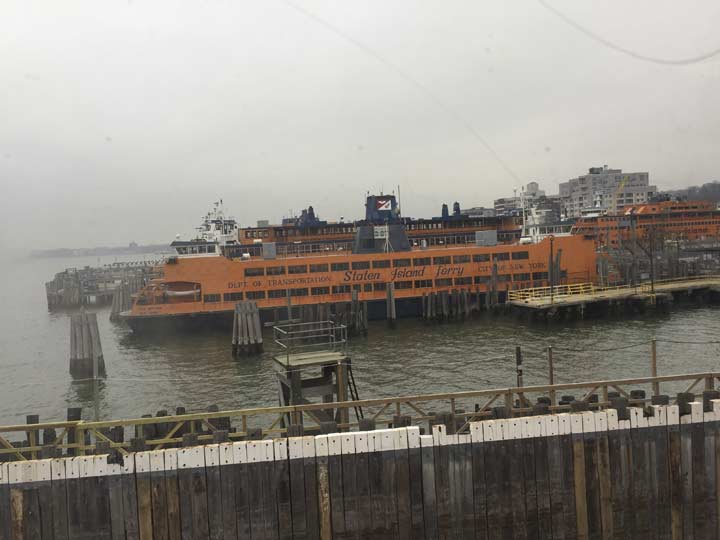 In mid-January I took a ferry trip to Staten Island (for what, stay tuned) on a drizzling afternoon. Unfortunately for my last few trips I have not drawn the classic John F. Kennedy ferry, the oldest in the fleet (1965).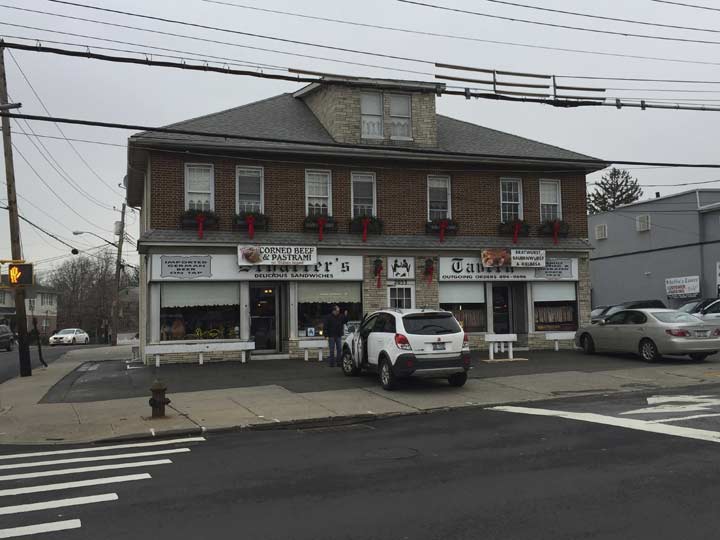 I was on my way to join friends at the Schaffer Tavern on Victory Boulevard and Bradley Avenue in Westerleigh, one of the last classic outposts in Staten Island for authentic German cuisine. I had heard that closure was imminent, but as of June 2017, it's still there, though closure still looms as the property has been sold.
I got a number of photos of the Westerleigh architecture. The area was developed by "drys" or Prohibitionists in the late 19th Century, and the streets are named for prominent "dry"politicians and even "dry" states that banned liquor even before the Constitution did in 1919.
Unfortunately the area is not landmarked and therefore, I do not know much about these houses. If someone can point me online, or to an obtainable publication, that lists details on the houses of Westerleigh, let me know in Comments.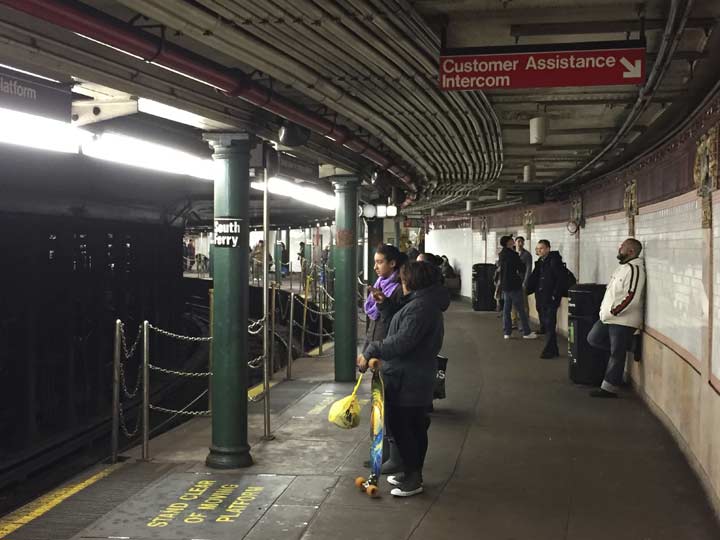 Fresh off the boat I went for the #1 train at South Ferry. Since 2013 it has had a new lease on life after it was originally closed in 2009, giving way to a new South Ferry station (seen on this FNY page) that was vanquished by Hurricane Sandy in 2012.
Phew! That was easy. Maybe I'll do this again next week.
Check out the ForgottenBook, take a look at the gift shop, and as always, "comment…as you see fit."
6/18/17