I found myself once again in Port Richmond midweek in December 2016, the subject of a number of FNY forays over the years. The story has been told here many times, but I was well familiar with the area from my youth, when my parents and I would occasionally tale the S53 bus (then known as the R7) over the new Verrazano Bridge. Occasionally, we'd wind up in Clove Lakes Park, where in 1965 I got a rare whupping from the old man when I decided to wander around the park by myself at age 8 and got lost (an incident that sort of set the tone for all my subsequent ambulations: walking around by oneself, with or without a camera, is a form of subtle subversion).
Armed with my handy dandy guide, Staten Island Walking Tours by the Preservation League of Staten Island, I set out to record that part of Port Richmond that I'd ignored on previous FNY forays here, and also lit off down Castleton Avenue, the main drag of New Brighton and West New Brighton (Staten Island has no Brighton, as its Brighton neighborhoods are named for the original in England).
I've already covered some of this material before in my 2014 Port Richmond page, but I'll try to provide some additional info a bit more succinctly here.
GOOGLE MAP: PORT RICHMOND and CASTLETON AVENUE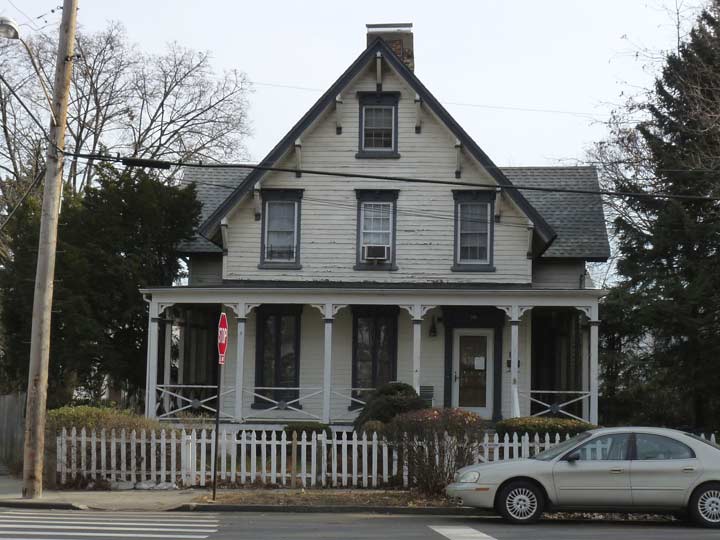 I left off in Part 1 with a walk around Veterans Park, Port Richmond's town square (not every NYC neighborhood has one!) I then struck off down Heberton Avenue, named for a prominent Port Richmond family. For awhile in the mid-50s, Geographia Maps, of Little Red Book fame, was calling this Herberton Avenue, but older maps do confirm the Heberton spelling. 121 Heberton, at Bennett, seems little changed from when it was first built in 1860 for oysterman John J. Houseman, a prominent abolitionist who had arranged for ships that carried Union soldiers south during the Civil War. Houseman's wife was Ann Vreeland, whose family has a street in Port Richmond, and there's a Houseman Avenue in Mariners Harbor west of the Bayonne Bridge.
Take a detour off Heberton down Bennett, and then down Cottage Place, and at #25 you will find this beautifully preserved cottage (on Cottage Place!) that was once a stagecoach station. According to Phillip Papas & Lori R. Weintrob's Images of America: Port Richmond (Arcadia, 2009) the owners have lovingly restored the interior with tin ceilings and a vintage 1936 refrigerator. The Dorothy Day on the sign was a prominent Catholic social activist and co-founder of the Catholic Worker newspaper. Between 1972 and 1980, Day lived in the Spanish Camp, a now-demolished colony in southern Staten Island.
Back on Heberton, here's #183 at the corner of New Street, a Gothic Revival cottage constructed in the 1860s. It once had a near copy across the street, but it was demolished and a local church owns the property; a brick building was partially constructed and then abandoned on an empty lot.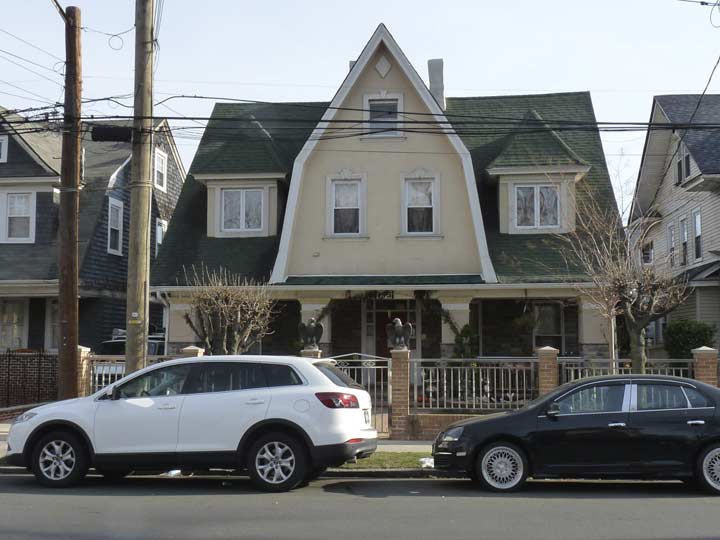 193 Heberton, between New and Bond, has great deal of Colonial Revival elements, a central gambrel sections flanked by two gables. It may have been a Gothic Revival cottage that received an upgrade in the early 20th Century.
Meanwhile, across the street 198 Heberton has been the victim of some 21st Century modernization. When the district isn't landmarked, this sort of thing can happen! It still retains key "French Second Empire" elements like the fish-scaled slanted roof and arched glass-paned transom over the front door. It was originally built in 1876 by merchant Freeman Decker, a member of a prominent Staten Island family (there is a Decker Avenue in Port Richmond, hundreds of Deckers in Staten Island's local cemeteries, and a farm formerly operated by a Decker family is in the orbit of the Richmondtown Restoration).
The original Grace Methodist Episcopal Church was constructed at Heberton and Castleton Avenues in 1867, but burned down approximately 20 years later. This Gothic revival building was erected in 1895, the date of construction inscribed prominently below the steeple. Like many other Port Richmond buildings it was designed by local architect James Whitford.
Holding down the corner at 233 Heberton across from the church on Castleton is this 1860s villa in an Italianate style. It was constructed in the 1860s, with a prominent Port Richmond doctor, T.D. Lyon, in residence in the 1870s. Owner Steve Ruggirello, a former firefighter, has decorated the front lawn with maritime artifacts and a 9/11/01 tribute.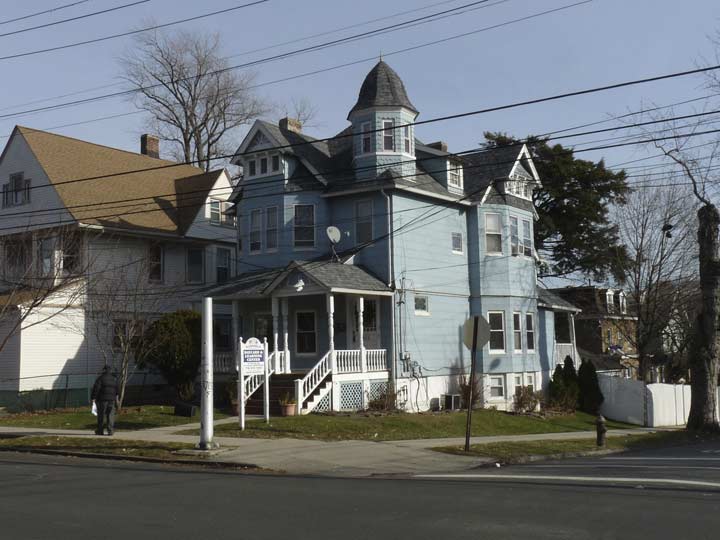 At 253 Heberton on the NE corner of Anderson Avenue is an eclectic Queen Anne with gables, corner tower, porch, pediment, "sunburst" ornaments, stained glass elements and gorgeous woodwork.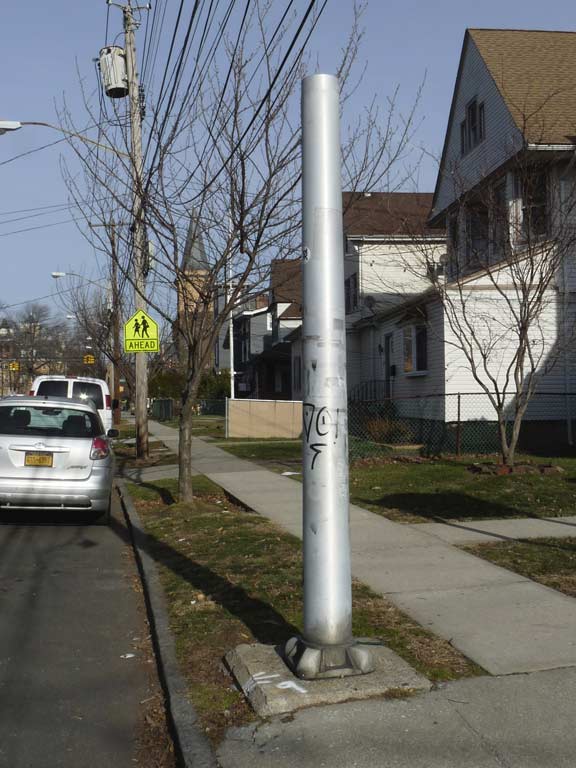 A mystery at the corner of Heberton and Anderson is this metal pole on the corner. It is not in the usual style employed for NYC stoplights or streetlamps. There's another one further south on Heberton. If anyone has any ideas about the purpose, drop me a line in Comments.
Across the street on the NW side of Anderson and Heberton is a second French Second Empire building at #252. It was constructed in the 1870s for prominent Port Richmond resident James Pollock, who held many village governmental positions, including treasurer. Though it has had a recent re-siding most of its classic architectural elements are preserved, like the porch woodwork, prominent bay window and fish scaled roof treatment.
One more building at #272 Heberton and Anderson, on the southwest corner, on a large plot, combines corner tower and gables into almost a single element. It was constructed in the 1880s for a shipbuilder and lumberman, William Van Clief.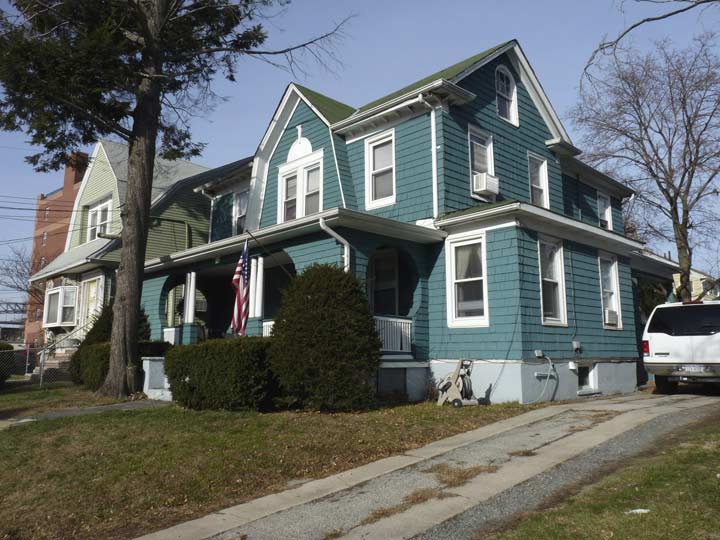 Heading west on Anderson between Heberton and Park is another gambreled Colonial Revival with attractive aqua-colored shingles.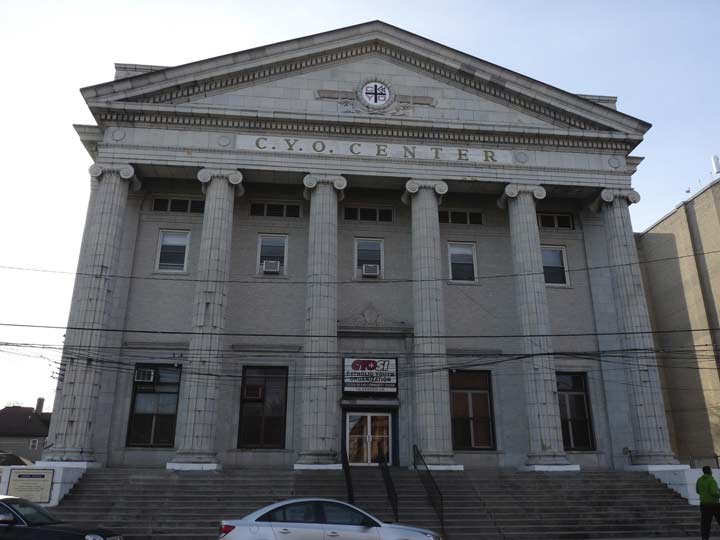 Park Avenue ends at #120 Anderson. Here you will find a massive Greek Revival-styled building with six massive Ionic columns. It's yet another Whitford design–he was seemingly comfortable in any architectural style of his time–and was dedicated as a Masonic temple in 1926. The temple was turned over to the Catholic Youth Organization in 1944, who still occupy it along with a Catholic Charities senior center.
Anderson Avenue still has a collection of bluestone sidewalks, always an indicator of a venerable neighborhood; NYC began using concrete for sidewalks in the 1910s.
Completing the Heberton-Anderson quartet at the SW corner is 273 Heberton, constructed in the 1880s for W. Anderson, whose family lent its name to the street.
Presently 273 Heberton is home to Camelot of Staten Island, a drug or alcohol rehabilitation center with a primary focus on mental health and substance abuse treatment founded by counselor Alayne Kuffner in 1974.
Another building with a wide front lawn is #290 Heberton at Albion Place. It was constructed in 1910 in a Colonial Revival style, and like other Port Richmond houses, has an ample wraparound porch.
"Albion" is a poetic name for England; "alb-" in Latin is a root meaning "white" and the association may come from England's White Cliffs of Dover.
320 Heberton, between Albion and Post Avenue, has attractive pale yellow fish-scale shingles. The house was built around 1885.
The SW corner of Heberton and Post Avenues features this three-story brick mixed-use edifice, with colorfully painted roof corbelling and chamfered windows, i.e. slanted on an angle at the corners.
The domed Temple Emanu-El, 984 Post Avenue east of Heberton, was completed in 1907 [Henry Pelcher, arch.] with its design partially based on the Great Synagogue of Warsaw, Poland.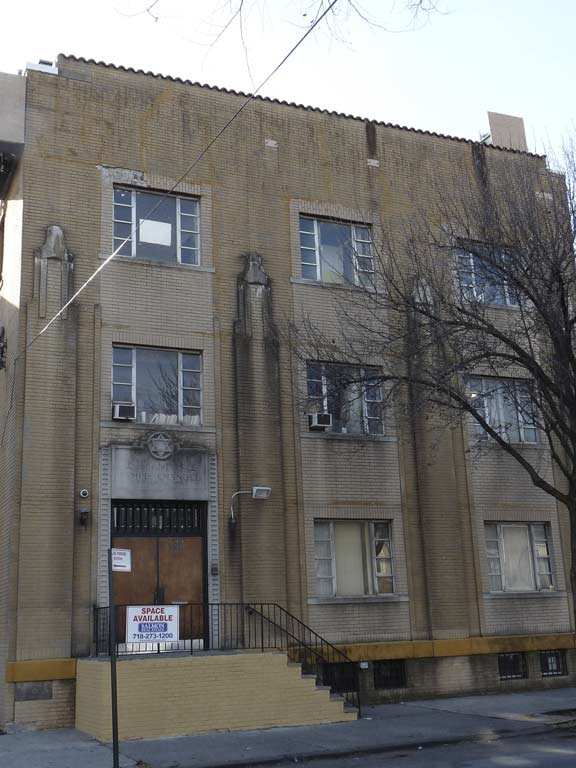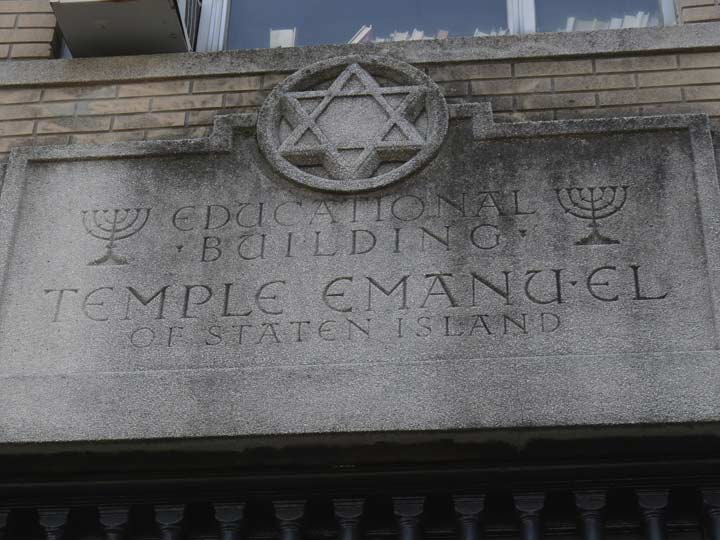 The temple's now-disused school, an Art Deco building completed in 1928, stands next door with a "space available" sign.
Here's one unit that functions as a double house at 983-985 Post Avenue, across the street from the synagogue.
A trio of well-maintained "jewel box" homes on Post Avenue between Heberton and Port Richmond Avenues. That double porched house is likely quite cool and comfortable in summer.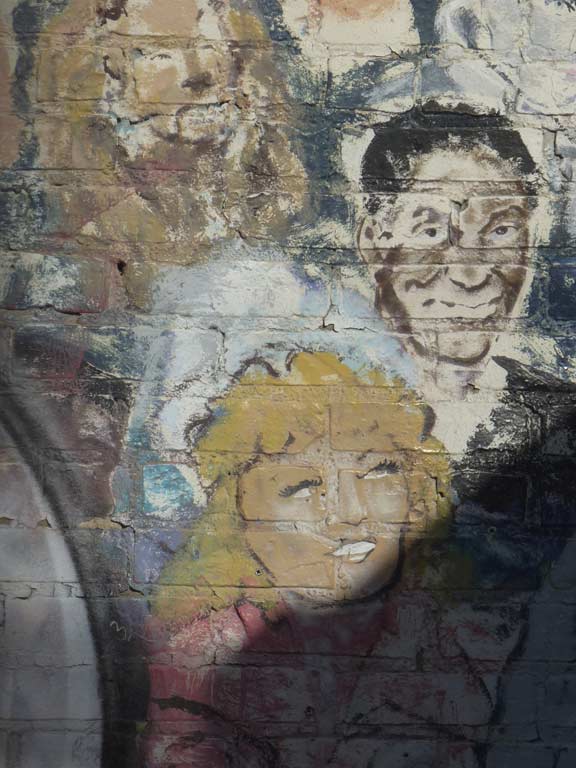 This photo represents the only visible remnant of what I considered to be one of the city's most incredible "street art" murals on the NW corner of Post and Port Richmond Avenues, as dozens of showbiz figures from all eras were shown seated in a theater audience setting. Back in 2007 I wrote about it in a Forgotten Slice, and the whole thing was still mostly visible in 2013. Unfortunately it's mostly destroyed now and what remains is hidden behind fencing.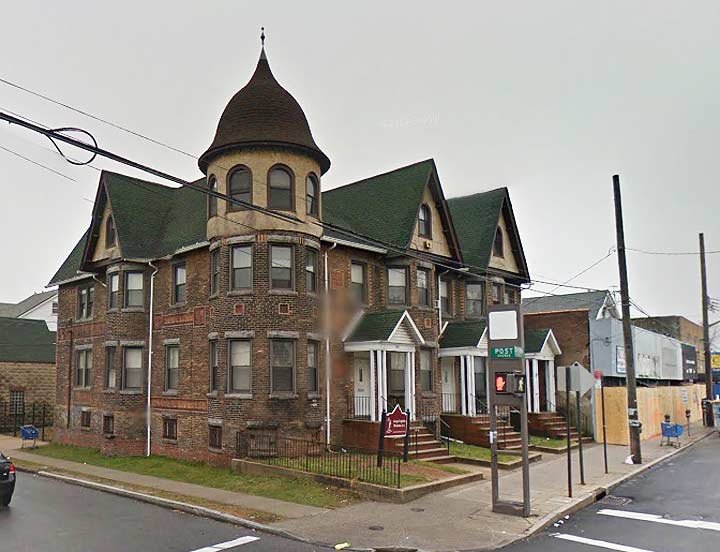 It's hard to get a good photo in the PM hours due to the sun angle of this gabled, cupola'ed mansion on the SW corner of Post and Port Richmond, but the Google truck went by on a cloudy day. It was the home of the Braisted family law offices for many years but when first built, it was the home of Charles Griffith: in Part 1, we saw that this 19th Century shoe manufacturer owned the large Griffith Block at Richmond Terrace and Port Richmond Avenue as well as the property where Faber Park and Faber Pool are now located.
I can't describe the former Ritz Theatre, Port Richmond and Anderson Avenues, any better than I did on my 2014 Port Richmond page so I'll just repeat it here…
The former Ritz Theater, Port Richmond Avenue and Anderson Street. It was opened in 1924 and employed as a movie theatre, concert venue, and roller skating rink till 1985, when it was converted to a bathroom tile showroom. The Ritz, according to legend, launched the career of Jerry Lewis, who did a comedy act here in 1942 and was signed to a contract soon after.
In what's something of a lost chapter in rock history, from 1970 to 1972 the Ritz (which held 2,126 seats) — and other 'outer-borough' venues such as the Loew's 46th Street Theatre (renamed the 46th Street Rock Palace) in Borough Park, Brooklyn, where the Grateful Dead once played a 2:30PM Wednesday afternoon show! — featured some of the world's biggest rock bands at the height of their popularity.
Alice Cooper, Badfinger, Captain Beefheart, Black Sabbath, Iggy and the Stooges and Deep Purple all played the Ritz in the early 1970s, when they were touring behind such albums as School's Out, Straight Up, Paranoid and Machine Head. Other bands that stopped by the Ritz were the MC5, Mountain, the Allman Brothers, Edgar Winter, the Kinks, Yes (the last two a double bill), Humble Pie, King Crimson, Uriah Heep, Canned Heat, the Chambers Brothers, Three Dog Night, the Hollies, and a post-Jim Morrison Doors. The shows were booked by brothers Arnie and Nicky Ungano, who also had their own concert venue, Unganos, for awhile on West 70th Street on the Upper West Side.
A commenter on Cinematreasures: The Ritz concerts did not last to due 'contract riders' put into place in the early seventies by NYC concert promoters. They insisted that the musicians performing at their place could not book additional shows within a 50 mile radius of the venue nor within a month surrrounding the show. This essentially killed the bookings for national recording acts at the Ritz Theater.
The Ritz, the 46th Street (Brooklyn) Rock Palace, and latterday venues such as L'Amour in Bensonhurst, Brooklyn, should all be given a place in the Rock and Roll Hall of Fame — as a missing chapter in rock history.
Venerable mixed-use building at Port Richmond and Castleton Avenues, with a wealth of Ionic pilasters and cell phone transmitters.
Castleton Avenue
There was a time when Staten Island had separate towns, as Bronx, Brooklyn and Queens had before consolidation into Greater New York in 1898. The island was divided into four separate towns beginning in the 1680s: Westfield, Northfield, Southfield, and Castleton, and in 1860, Middletown was created from portions of Castleton and Southfield, and the village of Edgewater was created within Middletown in 1866. The towns' locations can be seen on this 1874 atlas. Only a few street names are reminders of the existence of these former towns, including the most prominent, Castleton Avenue.
Castleton, on the NE part of the island including New Brighton and St. George, was named in the 1680s for the manor of Governor Thomas Dongan who named it for his home Castletown, in the town Kildrought (now Celbridge) in County Kildare, Ireland. Staten Island's Dongan Hills are also named for the governor, a Roman Catholic, rare for a person in a power position in colonial-era New York.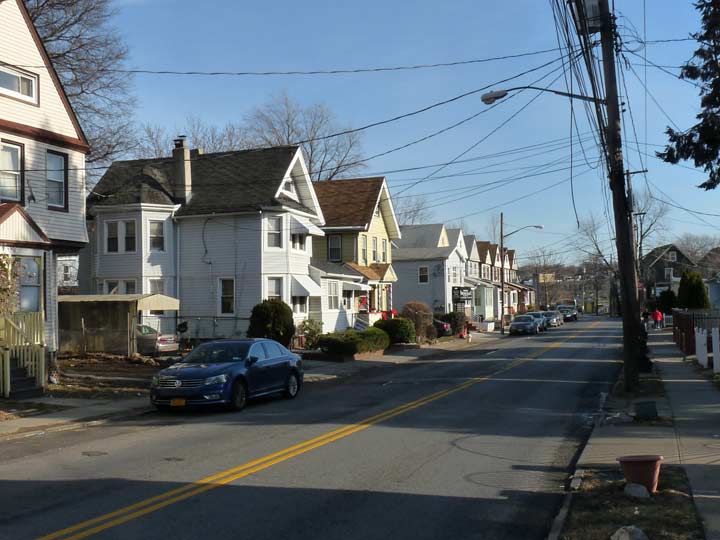 Castleton Avenue, seen here east of Heberton, is a main shopping route in Livingston, West New Brighton and Port Richmond. It begins in New Brighton at Brook and Jersey Streets, running generally west, twisting and turning to get around some hills, before straightening out and continuing on to Nicholas Avenue in Port Richmond. The S53 bus from Brooklyn runs along Castleton Avenue between Broadway and Port Richmond Avenue.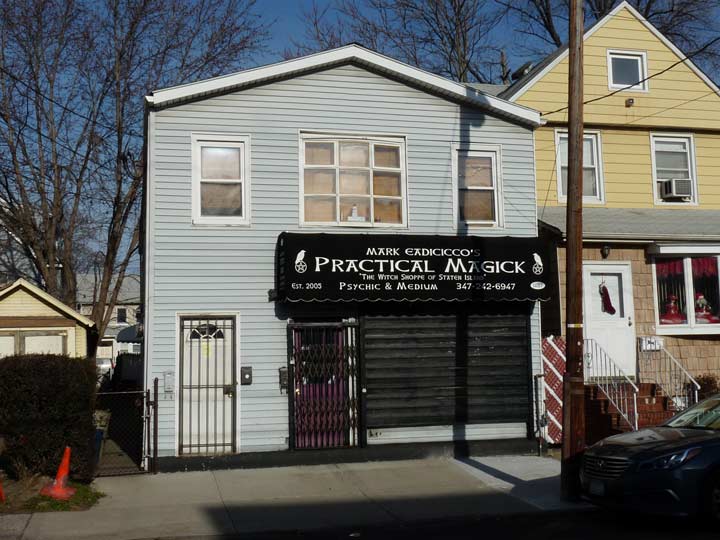 Mark Eadicicco's Practical Magick, 1456 Castleton east of Heberton, is northern Staten Island's premier "witch shoppe" and leading center for psychic readings. I know nothing of this realm, so I'll direct you to the store's website. Enjoy!
MTA Castleton Bus Depot, Castleton and Jewett Avenues. The depot serves most North Shore bus routes, including the S40, 42, 46, 48, 51, 52, 53, 54, 66, 76, and 78 and the X(press) 3, 7, 10, 11, 14. It has served since 1947 and was formerly known as the Staten Island Depot.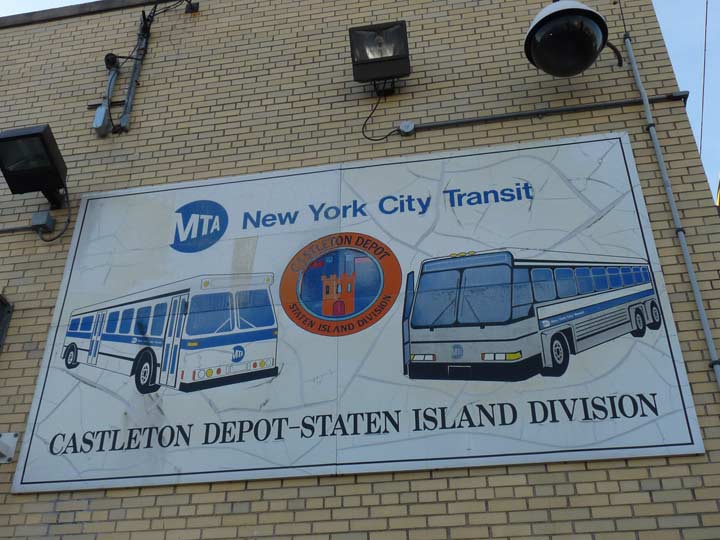 The poster has the current MTA logo, but shows the Flxibles (?) of the 1980s, many of which are still on the road.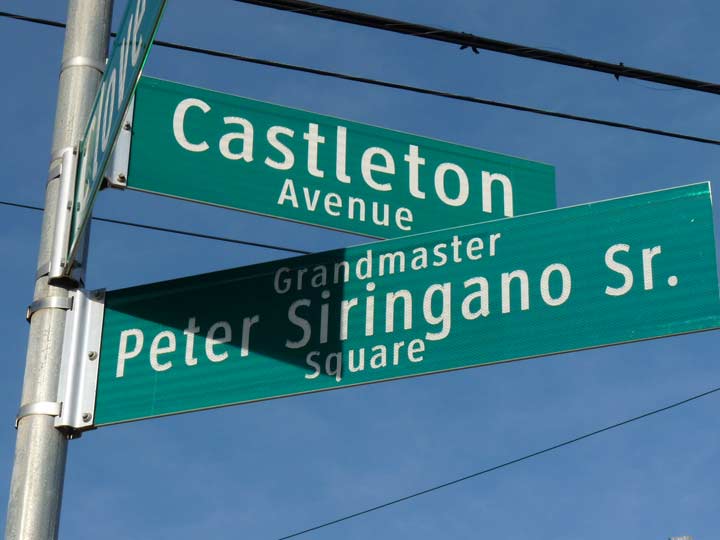 Peter Siringano Sr. was a local martial arts "grandmaster." He is honored at Castleton Avenue and Clove Road, which is not named for the Indonesian plant, but because it "cleaves" a valley between Grymes and Emerson Hills in eastern Staten Island.
Coming in Part 3: Castleton Avenue
Check out the ForgottenBook, take a look at the gift shop, and as always, "comment…as you see fit."
6/4/17