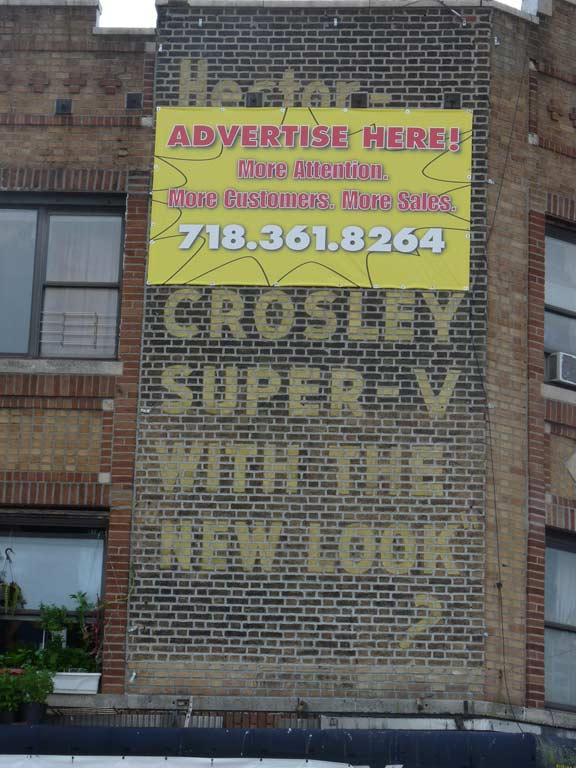 During a recent stroll from Flushing to Jamaica down Parsons Boulevard, I was surprised to see this painted-on-bricks ad on the southwest corner of Parsons and Hillside Avenue had reappeared. It had been completely covered by a vinyl ad for several years, and I recall that the entire ad reads, "Hector — have you seen the Crosley Super-V with the new look?" The ad, in yellow paint, is rendered on the brick with no background. It does appear that the grout has been repointed in recent years, but the ad has remained unharmed.
You will only recall the Crosley brand name if you've got a few rings in your stump. The company was founded by Cincinnatian Powel Crosley Jr. (1886-1961) as an automobile manufacturer in 1907, but later branched out into radios and became, for a time, one of the largest consumer electronics companies in the world; he then founded the Crosley Broadcasting Corporation whose radio calls were WLW. At 50,000 watts, its signal could be heard clearly throughout the midwest and occasionally nationwide. During World War II, Crosley became a leading manufacturer of weaponry such as proximity fuzes.
Among Crosley's innovations were the second car radio following Motorola; pushbutton radios; radio soap operas; the first refrigerators with door shelving; automobile disc brakes; and lighting for Major League Baseball fields and the first MLB night games. Crosley purchased the Cincinnati Reds in 1934, and renamed Redland Field, where the Reds had played since 1912, for himself. The next year, the first night games were played there and attendance increased dramatically. The Reds won the World Series in 1940, defeating the Detroit Tigers. They would not become a league power until Big Red Machine teams starring Pete Rose, Johnny Bench, and Tony Perez captured two titles in 1975 and 1976, but by then, the Reds had moved to Riverfront Stadium. One of Crosley Field's quirks was a 15-degree upslope in left field called "The Terrace." When Houston's Minute Maid Park was opened in the 1990s, it had a similar hill that has since been leveled.
The Super V was a brief Crosley foray into television between 1950 and 1955. Here's a two-page LIFE Magazine Super V ad spread from September 27, 1954. Crosley stopped selling consumer products under that name in 1956; the Crosley electronics brand name is unrelated to the company started by Powel Crosby.
Check out the ForgottenBook, take a look at the gift shop, and as always, "comment…as you see fit."
8/15/17