New York City's newest transit station opened January 17th, 2017, just sixteen days after much more ballyhooed three new stations and another overhauled station fully opened as part of the Second Avenue Line, a northerly extension of the Broadway Line serving Q trains (as well as others, given frequent reroutes because of trackwork). A flurry of new subway and transit stations have opened in recent years, beginning with the new Hudson Yards – 34th Street station (seen on this FNY page), a one-stop western extension of the #7 Flushing Line, which, among other elevateds, celebrated its 100th anniversary in 2017.
A common thread runs through this new construction: years and years of construction delays. The Second Avenue Subway's problems are well-known — first proposed in the 1920s, several tunnels were constructed in the 1970s, but construction did not begin in earnest until after 2011 and just three stations were completed in six years. The complete project is slated to run between Hanover Square in the Financial District north to 125th (Martin Luther King, Jr. Blvd) and Lexington Avenue. Since I am 60 at this writing, these stations will open, if they ever do, after my death. Meanwhile, another project under construction to bring Long Island Rail Road trains into Grand Central Terminal, known as East Side Access, was originally supposed to open in 2009; current estimates have 2025 for the first LIRR train at GCT. And, another grand project, a large subway shed known as Fulton Center, opened after about a decade of construction at Broadway and Fulton Street.The MTA is also rebuilding stations on the R, F and N lines; 53rd Street opened in the summer of 2017.
The Port Authority's new downtown transit hub, designed by Spanish architect Santiago Calatrava, was called by the New York Times "a soaring symbol of a boondoggle" after its 2016 opening.
The new Arthur Kill station on Staten Island Rapid Transit opened January 17, 2017 and true to form, the project was racked by delays from the beginning. Though ground was broken in October 2013, a full year after Hurricane Sandy, the project was rewritten in the blueprint stage to make the station more storm-resilient, likely a good idea. But why wait till a year after the superstorm to overhaul the plans?
Arthur Kill station replaces two small stations, Nassau and Atlantic, that the MTA neglected for decades because Arthur Kill was on the planning books for many years. The stations descended into pure decrepitude; the businesses they served either left the area or evaporated decades ago. To illustrate this, I'll quote from my series Stations of the SIRT (Staten Island Rapid Transit, a name I prefer)…
Nassau
This station is a little hard to find. From Bethel Methodist Episcopal Church, Amboy Road and Bethel Avenue, walk to the end of Bethel Avenue, head left at St. Andrews Place, and then find some twisted metal with some broken sodium lamps attached. This is the entrance to the Nassau station.
The overhead crossover has lost its roof, the original 1930s railings are still in place, the staircases are unlit (read: the lights are smashed), and the station platforms are illuminated by mercury bulbs that likely date to the early 1960s. Even the station's name reflects a defunct business:
Nassau Smelting & Refining Co.'s plant was built in 1900 on the Richmond Valley line of Tottenville. The smelting works (Tottenville Copper Company) was bought by Western Electric in 1931, another result of Depression times. In 1971 it became a metal recycling plant and renamed Nassau Recycling Corporation. It then was a part of Lucent Technologies [now a parking lot]. Angie Mangino
Mickey Mantle, Willie Mays and Hammerin' Hank were swatting 'em over the wall when these mercury lamps were first installed at Nassau. In the 60s, these would have made George Jetson envious. But, the MTA hasn't touched them since, except to perhaps replace the bulbs. Do they work?
We might imagine that the MTA has simply forgotten that Nassau exists. There is a reason for this decrepitude, a very thin one, but a reason, which we'll mention after we see our next SIRT station. Last time I was here, the platform signs were wood planks with the word "Nassau" stenciled on (an arrangement most SIRT stations used to have), so the MTA has installed black and white signage.
Atlantic
Atlantic, accessible from Ellis Street or just off Arthur Kill Road, is in better shape than Nassau, but just. It's illuminated by sodium lamps on its crossover and in the battered shacks that serve as shelters, and a couple of lights on nearby telephone poles. The platform is only lengthy enough to accommodate one SIRT car, which is keyed open by the trainperson.
Atlantic is named after another defunct business, the Atlantic Terra Cotta Company, once one of Staten Island's largest employers, who made the decorative materials used on skyscrapers (including the Woolworth Building,Coney Island's Child's Restaurant, and Philadelphia Museum of Art) and for fire-resistant cladding. The company's smokestack was a familiar Tottenville landmark for 80 years until 1988 with the demolition of the 135 foot structure.
Both Nassau and Atlantic have had deferred maintenance, or rather, no maintenance, for several decades.
Both these stations have now been demolished, with only their crossovers remaining; presumably, they too will be torn down soon.
However, we have a brand-new station..
Arthur Kill
For newbies the name "Arthur Kill" requires explanation. It has nothing to do with the murder of any fellows named Arthur; it's an English bowdlerization for Dutch words for "the other strait," as opposed to the Kill Van Kull, which means "the strait sailed by Van Kull." The Dutch word kil in this context is also used for Newtown Creek tributaries English Kills and Dutch Kills.
I recently took a SIR train out to Arthur Kill station and checked it out. The MTA calls this the first new station on the SIR since 1971, but I know that a spur to the Richmond County Bank Ballpark (Staten Island Yankees) was run for a few years but has now closed. What new station opened in 1971?
New species of Light Emitting Diode (LED) lamps are used on the platforms. These will probably come into use frequently on subway stations in the other boroughs. By the way, the SIR is not considered part of the subway system. Though it uses R-44 cars, the only place in NYC you can still find them, it is run as a passenger railroad (like the LIRR or Metro-North) and uses railroad signals, among other differences. The fare is the same as the NYC subway, $2.75. Fare is collected only at the Tompkinsville and St. George stations, as most passengers who ride the line are using the ferry and transferring to subway lines. There are thousands of residents, though, who use it as a free shuttle between SIR stops. Before 1997 when MetroCards took over, fare was paid at every station — you handed cash over to a conductor, who gave you a receipt.
Station signage matches other stations on the line. Black background, white stripe and Helvetica. The new fence is unique, design-wise, to the SIR, but not significantly different.
In the 1980s, most SIR stations received glass-block walls like this. The estethic was maintained for this new station.
Staten Island Railway stations have all been given "countdown clocks" but there's no real need for them because the route runs on set schedules, which are posted in most of the stations I've visited. However, if you install a couple of countdown clocks on the platform, passengers are spared the need to walk over to the posted schedules.
The Arthur Kill station is much larger than it would have been prior to 1990, when the Americans With Disabilities Act was passed. Large sets of ramps on each side of the station have been built to accommodate wheelchair passengers. No, I'm not knocking the ADA, but how about hydraulic lifts on the platforms allowing wheelchair access and elevators to the crossover? We know the answer to that one. They'd break and require weekly service.
The crossover itself is relatively blah…
…except for window art designed by Staten Island-raised Jenna Lucente, called Tottenville Sun, Tottenville Sky. The panels depict scenes from New York State's southernmost "town," such as this Stick-style Tottenville residence; such Victorian-era homes can be found scattered around here.
The Outerbridge Crossing, which connects Tottenville with Perth Amboy, NJ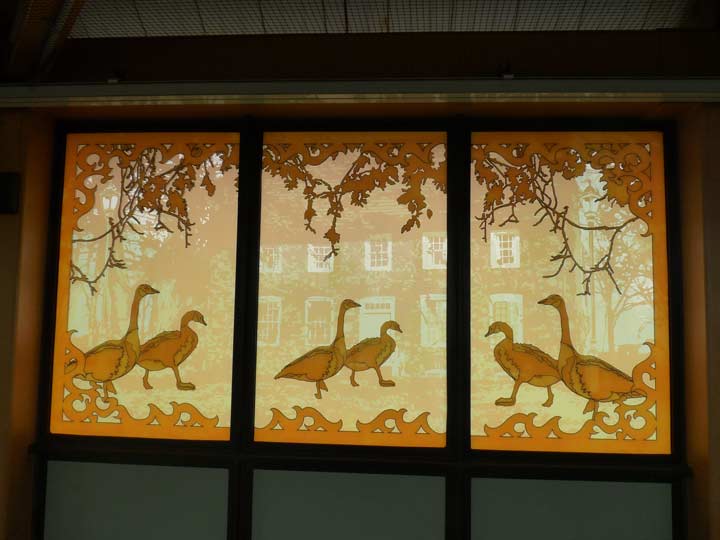 The Conference House at the foot of Hylan Boulevard, built by Captain Christopher Billlopp about 1680. Here, British Admiral Richard Lord Howe met on September 11, 1776 with representatives of the Continental Congress, Benjamin Franklin, John Adams, and Edward Rutledge, in an ultimately unsuccessful peace conference aimed at halting the American Revolution.
A ship in Raritan Bay off the southern coast of Tottenville.
More panels by Jenna Lucente appear at the top of the south side headhouse, featuring woodcocks, blue jays and the street clock at Amboy Road and Main Street in blue glass paneling. There are hard to see in the daylight, situated so high, but at night, the panels are illuminated form within and are clearly visible. See these photos from NYC Subway.
Station staircases, infrastructure and signage.
In addition to the new station, a 150-car Park and Ride was built across Arthur Kill Road on the south side of the station. The parking lot lamps are large versions of the platform LED lamps.
The S-78 bus, which runs for the most part down Hylan Boulevard, has been rerouted to Arthur Kill Road at the station before proceeding on to the Bricktown Mall. The S 74 bus on Richmond and Arthur Kill Roads no longer goes all the way to Tottenville but terminates at the mall.
More on Tottenville on the way.
Check out the ForgottenBook, take a look at the gift shop, and as always, "comment…as you see fit."
10/11/17