Today's topic in Forgotten New York may be a bit confusing at first, but bear with me. Have you ever been walking through a neighborhood in which all or the vast majority of the streets have numbered or lettered names, which is much of southern Brooklyn, large swaths of Queens, and all of Manhattan between Houston (on the east side) 14th (on the west side) and 59th/Central Park South, and stumbled on a short street that has a name, instead of a letter or number? I'm not talking about lengthy roads that plow through numerous neighborhoods, like Northern Boulevard in Queens or Broadway in Manhattan, but shorter streets of between one and five blocks with actual names that just seem oddly placed, in between numbered or lettered streets. Today I'll spotlight a few of these in what I'm sure will be a multipart series.
To save time with this piece, I'll use images captured from Google Street View.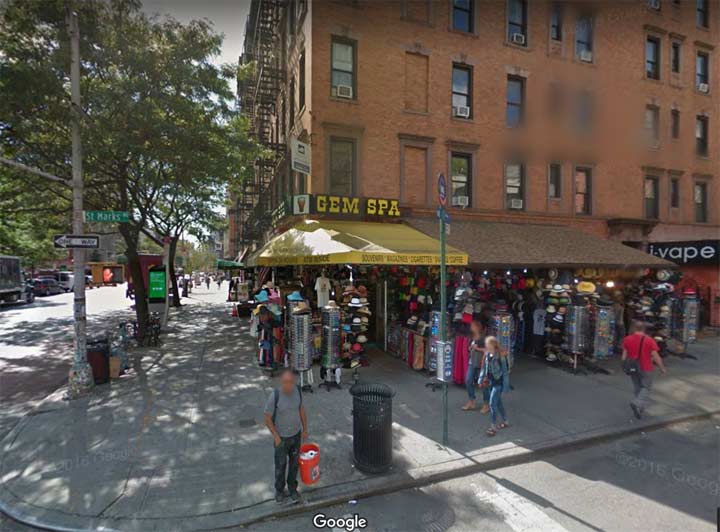 St. Marks Place, East Village
St Marks Place (there isn't an apostrophe on the street signs) needs no introduction; it stands in for East 8th Street between Cooper Square and Tompkins Square Park. It's been the countercultural epicenter of the East Village for decades, though it's backslid into something of a tourist trap over the last couple of decades. A few years ago, I walked the street and reported what I found, with an emphasis on the mosaics of street artist Jim Power.
What I didn't get into, though, was why exactly is it St. Marks Place and not plain East 8th Street here? The answer lies in issues of class and cachet. After all the street never fronts on the church it is named for, the ancient St. Mark's Church-in-the-Bowery, one of Manhattan's few remaining buildings constructed in the 18th Century, at 2nd Avenue and East 10th.
East 8th Street was laid out along with its parallel partners in the 1811 Commissioner's plan, and in the subsequent decade its future route was surveyed, along with every other street in the grid plan, by John Randel, Jr.; in the 1820s the street was cut through and graded. Development in the form of the odd house or two began at that point, but the first real concentration of homes did not occur until the mid-1830s, when developer Thomas E. Davis began to implement plans to build groups of Federal-style brick houses along the present stretch. To attract potential buyers he renamed East 8th "St. Mark's Place" for the already venerable church.
As Ada Calhoun puts it in her excellent St. Marks Is Dead: The Many Lives of America's Hippest Street [W.W. Norton, 2015]:
Pearson Street, Milll Basin
Pearson Street runs for just one block between Avenues T and U, inserted serendipitously (it seems) between East 56th and 57th Street. Why does it appear here?
In Mill Basin there is a change in the orientation of the street grid pattern. While the Flatbush plan is for East and West numbered streets (radiating east and west from West Street and McDonald Avenue) and lettered avenues to run generally west to east and from north to south, the Marine Park streets run from NW to SE. That pattern continues between Avenues T and U and then further east as you get past Ralph Avenue.
However, the East streets are spaced a little closer together as they change orientation at Avenue T. That means that by the time the numbered streets reach East 56th they can't run together as they cross Avenue T anymore, unless an extra street is inserted.
That street, as it turns out, is Pearson Street. This is the oldest map on which I can find it named; I have maps from the 1910s that show the planned grid but leave the streets unnamed. Note that East 56th on either side of Avenue T doesn't run together. To make both sides of East 57th line up, Pearson was inserted. Who was Pearson? The answer probably lies in a dusty folder in Brooklyn Borough Hall somewhere, but it could have been an area property owner or an engineer or surveyor who worked on building the streets.
In 1929, while some houses had been built along East 57th, the streets were still unpaved and, south of Avenue T, likely unbuilt in 1929.
Senator Street, Bay Ridge
Senator Street runs from Colonial Road (where it's stopped by Owls Head Park) east to 6th Avenue in Bay Ridge, inserted between 67th and 68th Streets. However, it's not continuous; it runs east to 5th Avenue and the ancient former route of the colonial-era Kouwenhoven Lane. To stay on Senator Street, you need to turn right on 5th, then turn left on Senator Street.
The answer for this insertion is because, once again, the orientation of the streets changes subtly at about 66th Street from 4th Avenue west to the Narrows. This causes an extra space to open up north of 67th Street, and an extra street, Senator, was inserted by town planners to make up the difference. Without it, streets running east and west could keep the same number only with difficulty. In fact, two other streets, Wakeman Place (which could have been named 66th Street, as it occupies the same roadbed) and Mackay Place (which was inserted to fill an uneven plot between 70th and 71st) can also be found in western Bay Ridge.
The names have been on the planning boards even in the 19th Century; on this map, the existing streets were shown in purple. In the early 20th Century, 1st Avenue and 2nd Avenue were renamed Colonial Road and Ridge Boulevard, respectively, likely at the behest of real estate developers. Senator Street was named for 6-term NY State senator Henry Cruse Murphy (1810-1882) a former owner of the Brooklyn Eagle and former City of Brooklyn mayor. He became a US Representative from NY State and an 1852 Presidential candidate. He was a co-founder of the Brooklyn Historical Society (formerly Long Island Historical Society) and owned the estate that became Owls Head Park. Some say the owl heads on the estate's gateposts gave the park its name.
Mackay Place was named for a prominent resident, John W. MacKay (?-1902), who founded the Commercial Cable Company and participated in local Democratic politics. His granddaughter Ellin married Irving Berlin and was the inspiration behind the classic song and Frank Sinatra favorite "Always." Wakeman Place runs alongside the Long Island RR Bay Ridge branch and that's quite fitting because attorney Abram Wakeman (1825-1889) helped finance the Bay Ridge and Manhattan Beach Railroad lines before selling them to Austin Corbin; they later wound up with the LIRR.
Oliver Street, Bay Ridge
Remaining in Bay Ridge we find another Puzzlement, Oliver Street, which runs for a block between Marine Avenue and Shore Road, inserted between 92nd and 93rd Streets. The reason for its existence parallels that of Pearson Street: the street grid changes orientation, with differing spaces between streets. An extra street was inserted to maintain the overall integrity of the street pattern.
The street was laid out to run through property owned by Paul Oliver and thus, received his name.
Cook Avenue, Middle Village
Cook Avenue kept its name, apparently, because the Queens Topographical Bureau ran out of available 69 numbered streets. The avenue runs for one block between 69th Avenue and 69th Road between 73rd Place and 75th Street. Here, Queens east-west streets feature multiple uses of the same number; there's 69th Avenue, Road and Drive, in that sequence, but in this case, there's enough space here for four 69s. (I believe the next designation after "Drive" in Queens is "Terrace", but here, the Topographical Bureau chose to retain an old name)….
… and Cook Street was used for one block, with a change to Avenue. Further south, Edsall Avenue also survives along the LIRR Montauk branch for a few blocks, between 71st and 73rd Places. None of the other names on this 1915 map still exist.
Pleasantview Street, Middle Village
There are a few streets that run athwart the overall grid pattern in Middle Village, south of Juniper Valley Park, and a couple of them have names instead of numbers. Pleasantview Street is one of them, running from Juniper Boulevard South at 74th Street south to Metropolitan Avenue. Street orientation is weird in these parts, with streets changing direction repeatedly. Were it to have a number, Pleasantview Street would be 73rd Street, but the Queens Topographical Bureau didn't go in that direction.
The beginnings of the present street pattern were in place in 1915. The Topographical Bureau wanted to impose a strictly oriented grid here; however, there were already a few established lanes here, and the grid wound up absorbing them, as all the existing properties couldn't be bought and condemned. In a few years Pleasantview Street would be built along the edge of the pre-existing plot. It may take its name from an existing hill to its east, shown on the map, which may have been leveled off during construction.
Penelope Avenue, another named street that has been retained, originally ran along part of the twisting Juniper Swamp Road, which was eventually straightened out and renamed Juniper Valley Road.
Gray Street, Middle Village
Gray Street is another Middle Village street that had seemingly escaped the Topographical Bureau radar. Presently, it runs for two blocks from Juniper Valley Road south to 66th Drive just east of 75th Street, so it could have been named 76th Street, but wasn't, for reasons only the QTB presumably knew.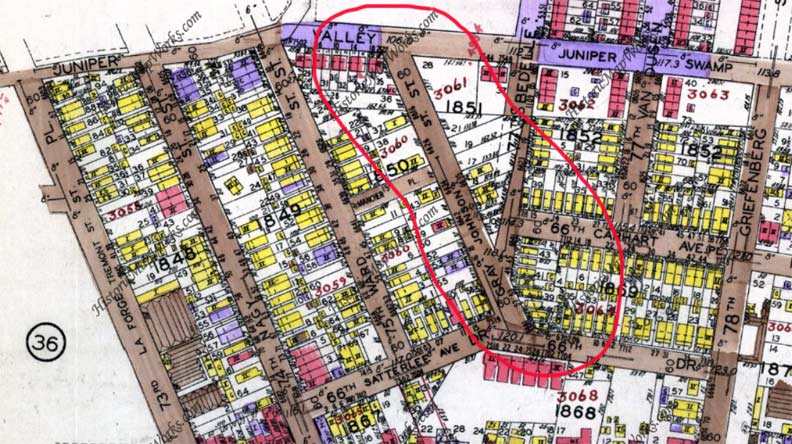 Gray Street is shown here on a 1929 Belcher Hyde atlas, midway through the street numbering project that would rename most streets in Queens from 1915-1930. At this time, street signs carried the new name in large letters, with the old name in smaller numbers underneath it. Gray Street was apparently Johnson Street at one time, and was parallelled by LaForge (73 Place), Nagy (74th St) and Ward (75th).
McClellan Street, Morrisania, Bronx
While other named street "puzzlements" arose out of numbered streets that are close together, The Morrisania section in the Bronx is a horse of a different color — numbered streets here are spaced widely apart, and various named streets have been inserted in between them to avoid extra-lengthy blocks. One of these is McClellan Street, which runs east from Cromwell Avenue to Morris Avenue between East 166th and 167th Streets.
Since McClellan Street turns up on Bronx maps before 1900, it likely doesn't honor NYC Mayor George B. McClellan Jr., who served from 1904 to 1909 but rather his father, Civil War general George B. McClellan Senior, who clashed with President Abraham Lincoln and ran against him for president in 1864.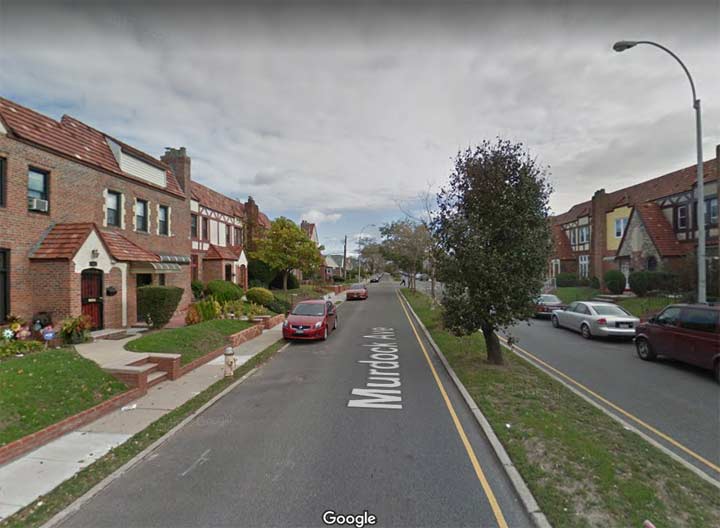 Murdock Avenue, St. Albans, Queens
While some of these "puzzlements" have readily available solutions, I've always wondered about the lengthy Murdock Avenue, which stands in for 114th Avenue between Linden and Merrick Boulevards all the way east to the Cross Island Parkway, which runs along the Nassau County border. My source maps going back to the 1920s show it as Murdock Avenue, but I have no idea why the street carries the name, and the internet is quiet. A lengthy session at the Queens library main branch might come up with an answer, but perhaps one of you know, and can mention it in Comments.
Check out the ForgottenBook, take a look at the gift shop, and as always, "comment…as you see fit."
10/18/17