I've known about this chiseled pair of signs, saying Boulevard and Meserole Street, at the corner of Bushwick Avenue and Meserole Street (near the Montrose avenue L train station); there is actually a second pair of them directly across the street. Nowhere else, on any of the older maps I have, refer to Bushwick Avenue as "Boulevard."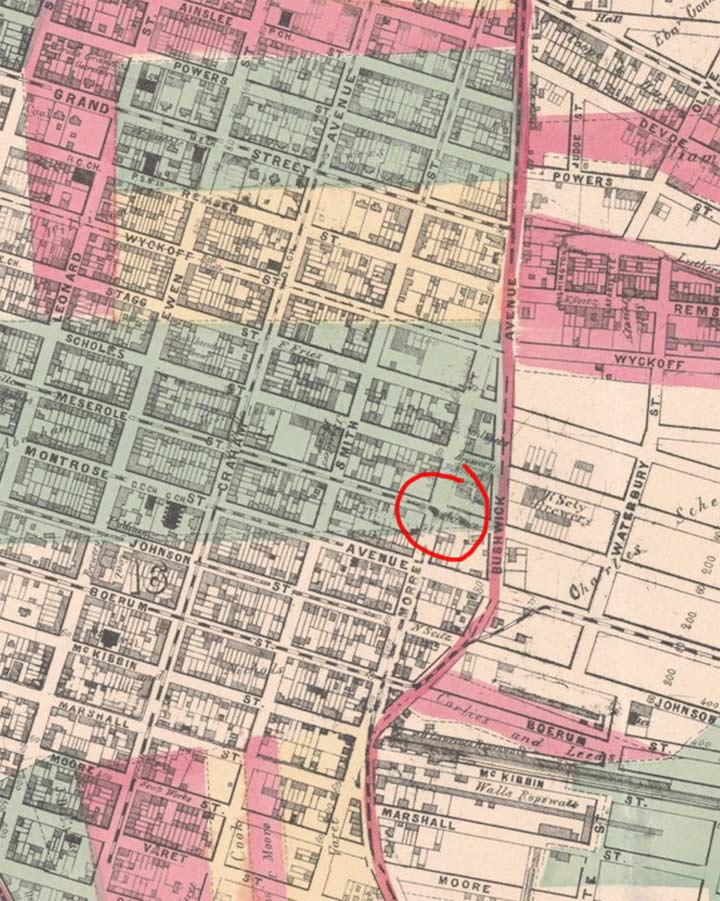 For much of its route, Bushwick Avenue follows the route of a very old colonial-era road, the Old Bushwick Road, between Metropolitan Avenue and about Menahan Street; its route then transferred to Evergreen Avenue to about Putnam, and then ran along a now-vanished route through today's evergreens cemetery until ending at the Brooklyn and Jamaica Turnpike, today's Jamaica Avenue. It's referred to in Kings County documents as early as 1640 and existed for a couple of centuries. As a street grid took shape, most of it was closed, or incorporated into the grid, between 1868 and 1890.
However, a bit of the unclosed section of the Old Bushwick Road still exists between Meserole and Boerum Streets, known as Bushwick Place. On the 1868 map above, I've circled the present intersection of Bushwick Avenue and Meserole Street, and you can see the original bend in Old Bushwick Road, which by then was still called Bushwick Avenue. Today's Bushwick Avenue had been laid out, but was still, at this time, called Morrell Street. In later years, Morrell Street became Bushwick Avenue, while the old section of Old Bushwick Road became Bushwick Place.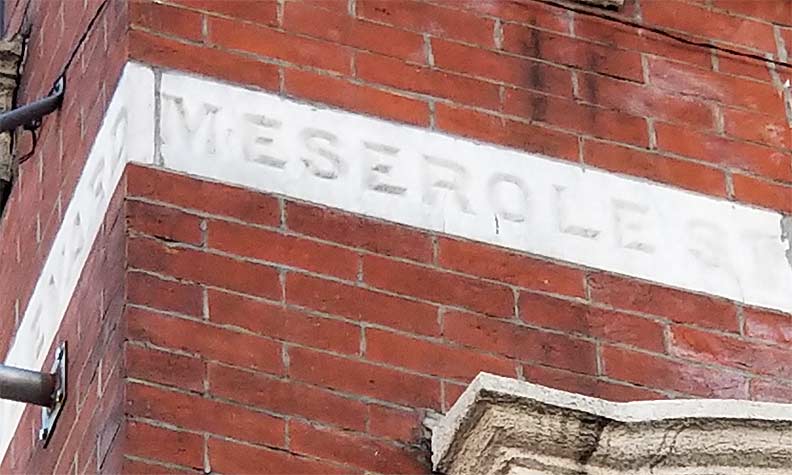 So, where does that leave us with the chiseled signs saying "Boulevard" and not "Morrell Street"? It's possible that Morrell Street was called Boulevard when first laid out, but I suspect these buildings were built after 1868, and Morrell Street was already laid out — but at this time, the road was colloquially called "Boulevard." A similar situation existed on Broadway in the 1800s — it was known as The Boulevard north of Columbus Circle until about 1890, when it was officially renamed Broadway.
An unsatisfying conclusion, but that's all I got for now.
Photos: Gary Fonville
Check out the ForgottenBook, take a look at the gift shop, and as always, "comment…as you see fit."
11/28/17