By SERGEY KADINSKY
Forgotten NY correspondent
With the memories of the Vietnam War reignited on its half-century mark , it is fitting on Veterans Day to remember one small park in Howard Beach that honors a local son. When it comes to city park names relating to wars, the Vietnam War is second to World War One, owing to the activism of local veterans who made sure that this conflict is not forgotten.
One such space is Walter J. Wetzel Triangle in Howard Beach, Queens. It is the result of a quirk in the street grid at the meeting of Cohancy Street, 156th Avenue and 157th Avenue. This section of Howard Beach was mapped in the early 20th century. As the 1913 Belcher-Hyde atlas shows, it was filled with planned subdivisions on farms and marshland with their own paper grids that collided with each other. At the time, Cohancy was mapped as Portland Avenue. Most of the homes around here did not arrive until after the Second World War.
Cohancy Street has been a mystery to me for a long time. Its name appears on a Belt Parkway exit sign , but unlike other exits, this street runs for less than a half mile between the Centreville and Old Howard Beach sections of this neighborhood, crossing over Belt Parkway. Looking at the phone book, this name did not exist. I initially presumed it was Irish based on the nearby Killarney Street and the surname Cohan, but then there's the name Cohansey, which yielded more results. This led me to a town and river in southern New Jersey that had its own anti-British tea party in 1774 . The name is of Native American origin.
On the above 1909 map, we see that Cohancy Street evolved out of the twisting Road to Bergen Landing, a road that led down to the area now called West Hamilton Beach or Ramblersville, then situated along Hawtree Creek, which had not yet been tamed into a channel.
The street layout has evolved and changed considerably since 1909. One constant is Albert Road, which is actually the ancient Old South Road. The Long Island Rail Road, which runs north and south, was sold to the NYC Transit Authority and became part of the A train in 1956. There's still an Aqueduct station where the 1909 map indicates. Finally, an aqueduct carried water between the Ridgewood reservoir and the Brooklyn Water Works near Freeport. Its route is now followed by Shore Parkway and its service roads, North and South Conduit Avenue.
Going forward to 1966, this street triangle was an undeveloped patch of concrete close to the home of Walter 'Joe' Wetzel. An avid athlete, he attended the school at Our Lady of Grace where he starred in both baseball and basketball, followed by St. John's Preparatory School and Far Rockaway High School where he played varsity basketball.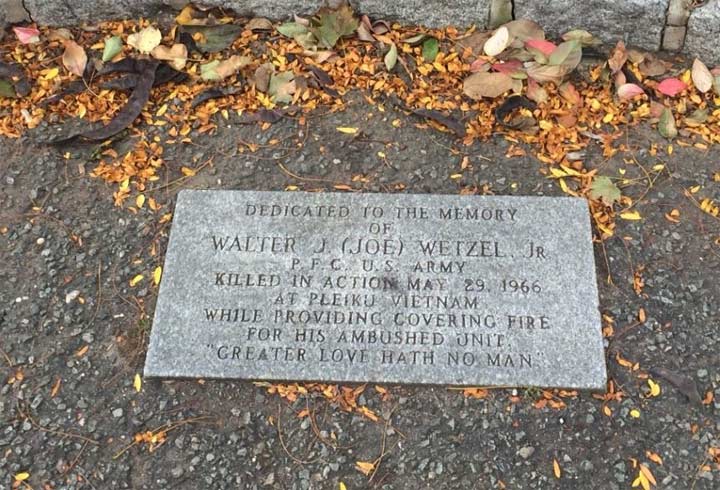 After graduating, he worked briefly with the city's Parks Department . Wetzel was drafted into the army in October 1965. He was the oldest of seven children, two of whom he never met. PFC Wetzel started his tour of Vietnam on May 8, 1966 and was killed in action 21 days later at Pleiku, providing cover to his comrades. His remains were buried in Cypress Hills National Cemetery in Brooklyn. This .223-acre traffic triangle was named for Wetzel by Local Law 17 of 1977 . Along with a plaque honoring Wetzel, American Legion Post 1404 installed a flagpole and monument honoring five other local dead: Sgt.Phillip Colonna, Cpl. Peter Pulaski, Sgt. John Sibilly, Pfc. Julius Pignataro, and Pvt. Rudolph Rossi.
In the 1990s, many DOT-administered street triangles were transferred to Parks under the Greenstreets program. Hedges and trees were planted but unfortunately no benches to sit on. I am not sure if the namesake was related to Medal of Honor recipient Walter C. Wetzel of West Virginia who was killed fighting the Nazis, but it's a fitting coincidence of history that this triangle is on a street named after a river where an event from American Revolution took place. One group of patriots meeting another on the map of Howard Beach.
Sergey Kadinsky is the author of Hidden Waters of New York City: A History and Guide to 101 Forgotten Lakes, Ponds, Creeks, and Streams in the Five Boroughs (2016, Countryman Press)
Check out the ForgottenBook, take a look at the gift shop, and as always, "comment…as you see fit."
11/10/17