The general concept of the parkway system, devised by master urban architect Frederick Law Olmsted in the 1860s, was to extend large parks by making the roads that connected them into parks themselves. Olmsted's vision can be seen in Brooklyn's Ocean and Eastern Parkways, and in the Bronx' Mosholu Parkway and Pelham Parkway (whose official name is the Bronx and Pelham Parkway because it connects Bronx and Pelham Bay Parks). Mosholu Parkway's original stretch between the Bronx and Van Cortlandt Parks is still wonderfully intact.
Unfortunately, the "parkway" concept of Brooklyn's Ocean and Eastern Parkways is largely lost as these roads now serve mainly as conduits for pedal-to-the-metal traffic from Prospect Park south to Coney Island (and its adjoining Belt Parkway) and from Prospect Park east to Bushwick Avenue (where a traffic transfer to the Jackie Robinson (Interborough) Parkway is close by.
Eastern Parkway was constructed between 1870 and 1874 between Grand Army Plaza and Ralph Avenue as a true parkway, with greenways on both its "service roads." This was still the horse and buggy era and Dobbins were the swiftest method of transportation.
The original design called for a 55-foot wide carriage drive centered between two pedestrian malls with four rows of trees extending 2.2 miles. There were also side roads for delivery wagons. Adorned almost exclusively with American Elms, this landscape of over 1100 trees is now mixed with twenty-four other species. Varieties of maple, linden, oak, and ash trees were introduced to discourage the spread of infestations such as Dutch Elm Disease. Eastern Parkway Extension, which proceeds northeast to Bushwick Avenue, continues the landscape for another two miles. [NYC Parks]
Information on what's officially called the Eastern Parkway Extension, from Ralph Avenue northeast to Bushwick, is more sketchy. It still has some parkway elements, but not as much as the original section. Old maps show it as a proposed road in 1896 and in place by 1900, but I am unsure about when exactly it was constructed without a lot more research.
In September 2017 I took a walk from Grand Army Plaza to Park Slope, but headed east on Eastern Parkway into Crown Heights and then west through Lefferts Gardens and Prospect Park. The fruits of that walk will eventually turn up on FNY in 2018. Today I wanted to quickly note the Eastern Parkway lampposts, which are unique and appear nowhere else in the city, but do hark back to earlier designs.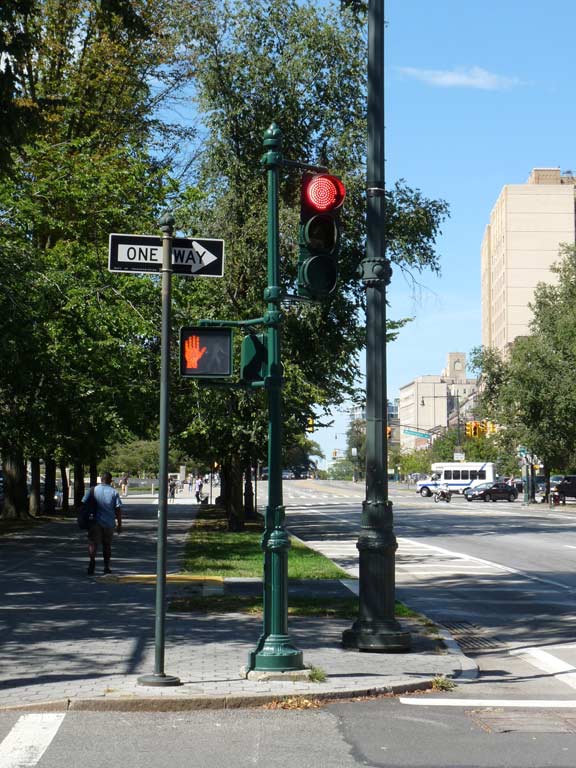 In the 1990s, Eastern Parkway received a new set of lampposts, utility poles and stoplights between Washington and Ralph Avenues. They are based on the 1912 Henry Bacon Type B park lampposts, but blown up and expanded: they look like the Type B's on steroids.
There were separate designs done for streetlamps (resembling Corvingtons, or what Type B's would evolve into if they got larger and started illuminating boulevards instead of parks) and stoplights, but a combination form was never designed, meaning that large streetlamps and stoplights have to stand next to each other.
The new design was carried through thoroughly almost to the point of obsession. Even the lowly street sign stanchions got design elements in the form of finials at their apices. Shorter stoplights were mounted on poles resembling Type B park posts.
I wish the design had been carried through into Prospect Park as well as Ocean Parkway, but that never happened, perhaps from budgetary concerns.
Check out the ForgottenBook, take a look at the gift shop, and as always, "comment…as you see fit."
12/29/17