While stumbling around Woodside and avoiding the ice patches on the sidewalks that Queens property owners refused to clean, I arrived at a cluster of familiar-looking apartment houses on either side of 37th Avenue between 64th and 65th Streets, bearing a "Cosmopolitan" logo just inside every doorway.
They're not as famed as Sunnyside Gardens or even the Mathews flats, but the Cosmopolitan Houses have been a big part of the Sunnyside scene since they were built in 1922, comprising large parts of blocks between Queens Boulevard and 48th Avenue between 48th and 49th Street (this os one of those Queens areas where all the numbers are similar). Another large block can be found 48th and 50th avenues between 46th and 47th Streets. And, I discovered an outlier here. Perhaps there are other clusters.
The houses were originally built by Metropolitan Life Insurance for low-income families. It was renamed when MetLife sold the property. Part of the complexes continue to serve as federally subsidized housing, though most apartments have been converted to pricey condos.
One of the interesting aspects of the Cosmopolitan Houses to me is the presence of a Type B post, usually employed in parks, lighting every entranceway. The luminaires are of a relatively rare type not seen in the parks.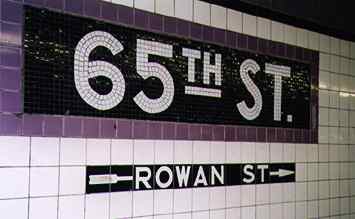 The presence of the 65th Street station on the Queens Broadway IND may owe its existence to the nearby Comsopolitan Houses. This station still retains a few "Rowan Street" directional signs; Rowan is 65th Street's old name before Queens got its street numbers and addresses in the 1920s. In some cases, old names were retained to not confuse area oldtimers.
Check out the ForgottenBook, take a look at the gift shop, and as always, "comment…as you see fit."
2/20/18