Strangely enough, though I have touched on Greenwich Street often (it runs from Battery Park up the West Side all the way through Tribeca and Greenwich Village into the Meatpacking District) I have never dedicated a FNY page to the street taken as a whole. (I have done a Greenwich Avenue page; the street is not to be confused with the avenue.) I had thought Greenwich Street would be fairly straightforward — but I shot about 250 photos along its entire length, which should be good for multiple posts and to move things along, I may have to do a midweek post.
Albany Street, named for the New York State capital city, can now be considered the southern end of the new World Trade Center Plaza, taking over from Liberty Street a block north, which had been the boundary for the former complex. At the northwest corner of Greenwich and Albany, you will find a quite well-lit exhibit (look at all those lampposts) called "One World, Our Children" showing nine distinct portraits of children from worldwide cultures by artist Chinon Maria, produced to raise awareness for the UN Refugee Agency.
This 1915 map shows the street layout in what would become the World Trade Center complex until the late 1960s, when the grid between West and Church Streets and between Liberty and Vesey Streets was eliminated and became a vast plaza, a Corbusian "towers in the park" with the Twin Towers situated on a vast plaza, surrounded by satellite towers. Before that though, the intact street grid was home to small brownstone and woodframe walkup buildings, with occasional stone towers, home to manufacturing, residents and small businesses, as you can see if you zoom in tight (which you can't do here, but is possible on the Historic Map Works page). In the 1960s, I was too young to explore this area on my own and I really have no recollection of it.
While the street grid held sway there are some quirks I was obviously unaware of. Cortlandt Street moved a bit north at Greenwich, where there was a 9th Avenue Elevated station. You can also see a widening of Greenwich between Dey and Vesey. This was the original southern end of West Broadway which today begins at Vesey.
photograph by Berenice Abbott
Cortlandt Street looking west to the 9th Avenue Elevated station at Greenwich in the 1930s. Cortlandt Street beginning in the 1920s, when commercial radio programs first gained a mass audience, was home to New York City's "radio row" until its razing in the late 1960s. Dozens of wholesale and retail stores sold radios and electronic equipment. In that era radio was as important as television and later, the internet. Brand names like Heins & Bolet and Devega, forgotten today, were prominent on sidewalk signage.
O'Hara's Pub, 120 Cedar street at Greenwich, became a destination for firefighters and workers at "Ground Zero" in the years after 9/11/01. Framed photos of the 343 firefighters who perished at the scene, and scrapbooks containing photos detailing events of the date, are available to patrons.
A memorial wall honoring the "343" is found on Greenwich outside Ladder and Engine Company 10 on Liberty Street, known as "Tenhouse." The sculpted memorial was a joint project between the FDNY and the law firm Holland & Knight. It was fashioned by Jersey City's Rambusch Company in 2004 and dedicated here on 6/10/2006.
Emblazoned across the face of the memorial are the words: "Dedicated to those who fell and to those who carry on. May we never forget." The flaming towers of the buildings illuminated by the second jet plane hitting the South Tower stand out starkly in the central panel. On either side are scenes of firefighters laying down hose lines, firefighters washing their faces at a hydrant, a fireboat in the background, a weary firefighter reaching skyward. Beneath the scene are listed the names of the 343 firefighters, a number larger than the total number of firefighters who had lost their lives since the founding of the New York City Fire Department. Beside the large mural is a plaque dedicated to Holland and Knight's partner Glenn Winuk. [FDNY Ten House]
In Denis Leary's Rescue Me TV series, a look at New York City firefighters in the years after 9/11, his character Tommy Gavin berates souvenir vendors at the memorial. I couldn't blame him. Leary has since founded the Leary Firefighters' Foundation.
I had hoped that the new WTC would be built including some brick and masonry towers, but instead, we've got some massive glass-walled buildings, reinforced to withstand aerial attacks. Seen here at #1 WTC, #7 WTC in the distance, and #4 WTC at the NE corner of Greenwich and Liberty.
Greenwich Street has been extended as a mostly pedestrian path through the new WTC site, though authorized vehicles gain passage; similarly, Liberty, Cortlandt and Fulton have also been rebuilt as passageways.
Though most of Greenwich Street has odd-numbered buildings on its west side, oddly, new buildings on its east side either carry WTC addresses or even and odd numbered addresses in multiples of 5 such as 150, 175 and 200.
I have to confess, I did not have much experience with the old WTC; I didn't find cause to enter the area much. I never went to the observation deck. I remember that in 1985 I met a woman I was interested in who worked there on the plaza and had lunch at a nearby fish place (if you're curious, she met her husband on a Club Med trip later that year, moved to New Hampshire and had a family there). My father once filmed himself walking on the WTC plaza in the late 1990s; I still have the VHS tape, but till I figure out how to make my VCR work on a flat screen TV, I can't play it. I visited the underground shopping mall rather more often. I was at a Borders store on 9/9/01, about 30 hours before the attack, coming back from Jersey City, where I got the last photo of it I ever took, shown here.
Though I never really frequented the WTC, it pops up in several of my pictures between 1998 and 2001 — you couldn't avoid it.
The new St. Nicholas Greek Orthodox Church, finally replacing the former church on Cedar Street that was destroyed on 9/11/01, has been under construction at Greenwich and Liberty for several years, but work was stopped in December 2017 as the Greek Orthodox Archdiocese of America has been unable to meet construction costs for the builder, Skanska USA. In a familiar story, construction costs originally estimated at $20M have climbed to nearly $80M. Hopefully, construction will resume soon.
I did not dwell for long at the National September 11 Memorial & Museum, constructed between 2006 and 2014, designed by previously unknown architect Michael Arad, on the foundations of the original Twin Towers. I respect its purpose as a fitting memorial of the 2,983 persons killed at this site in 1993 and again in 2001. Their names are inscribed on plaques surrounding waterfalls. A museum honoring the fallen is below ground.
However, I have always found the concept of a museum — charging admission, no less — as vaguely ghoulish. We erect museums to honor great accomplishments in the arts, in politics, literature. I think another route should have been taken. Instead — what we have is a tourist attraction.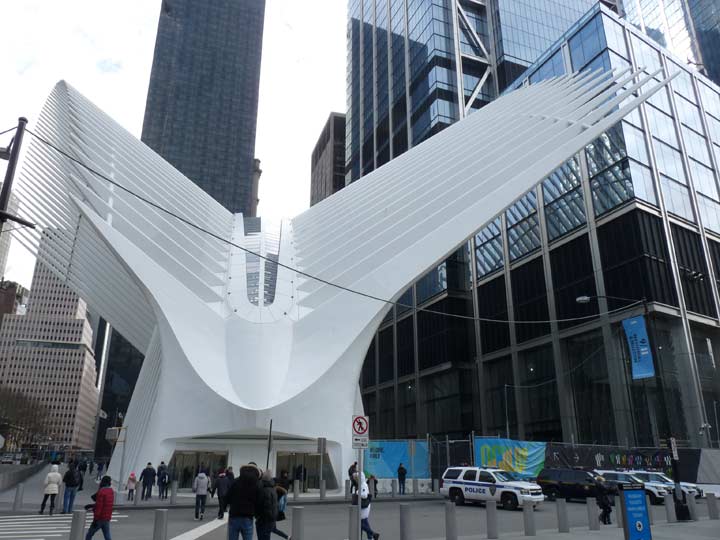 Spanish architect Sergio Calatrava's "Oculus" opened officially in May 2016, is the replacement for the underground Port Authority of NY & NJ commuter railroad terminal, and accompanying mall, that was destroyed on 9/11/01. It cost $4 billion dollars and took approximately 12 years to build, likely making it the world's most expensive commuter railroad station in history. Calatrava's design was supposed to resemble a hand releasing a dove, but its spikes and ribs make it more closely resemble the skeletal remains of a prehistoric creature. It is the terminal of the PATH trains to New Jersey, and also connects commuters to the A, C, E, 2 and 3 subways, and a passageway to the R train was also opened in 2017.
I am of two opinions on this grand new space. Architecture in New York City is relatively unadventurous, with glass boxes being thrown up to the sky all over town. Say what you like but the Oculus is certainly innovative. However, couldn't $4B be used better elsewhere, and a more modest station been built? Also, upscale retailers have found a home here, unlike the more meat and potatoes fare of the old WTC mall, where I did my Christmas shopping for several years.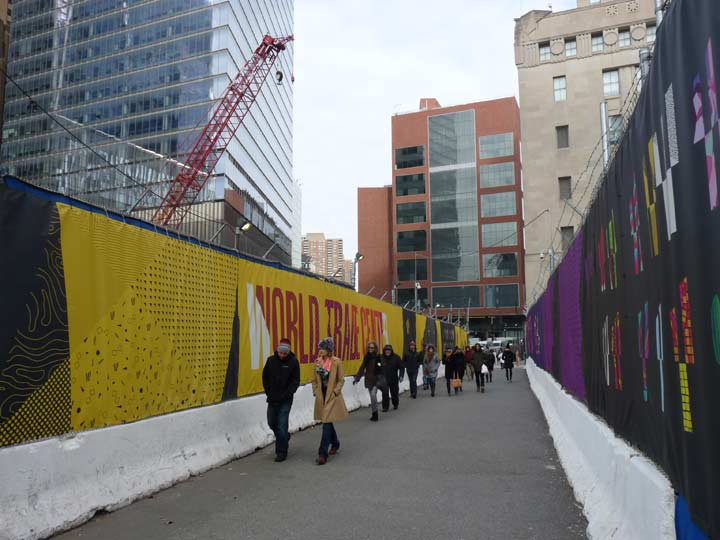 Media reports had it that Greenwich Street had been completely opened between Liberty and Vesey Streets, but that's not completely true. There will apparently be a busy construction zone at #2 WTC at Vesey for some time to come, and only a narrow pedestrian passage is in place as of early 2018. Plans still call for the street to open completely.
The completion date for #2 WTC is still up in the air. Here's a handy roundup from Curbed on the status of the WTC structures that have been completed or are still under construction– with the exception of #5 WTC, which hasn't gotten started yet.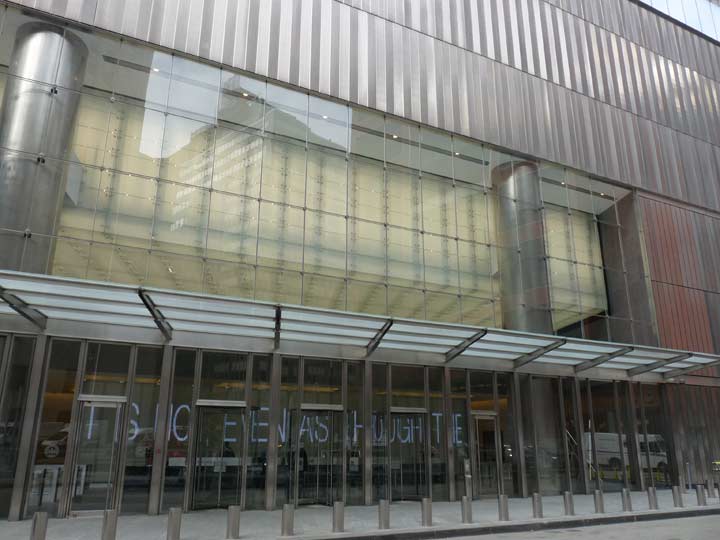 #7 WTC, a glass box designed by #1 WTC architect David Childs, was the first structure in the new World Trade Center complex to be completed, opening at the NW corner of Greenwich and Vesey in May 2006. It occupies roughly the same footprint as the old #7 WTC, which was stressed by the fall of the Twin Towers on 9/11/01 and collapsed in the late afternoon.
The Silverstein Family Park, in the triangle formed by Greenwich Street, west Broadway and Barclay Street, is named for the lessee and a principal developer of the World Trade Center complex, Larry Silverstein, whose name is inscribed on the sitting areas. The park features one of Jeff Koons' "balloon" sculptures, "Balloon Flower."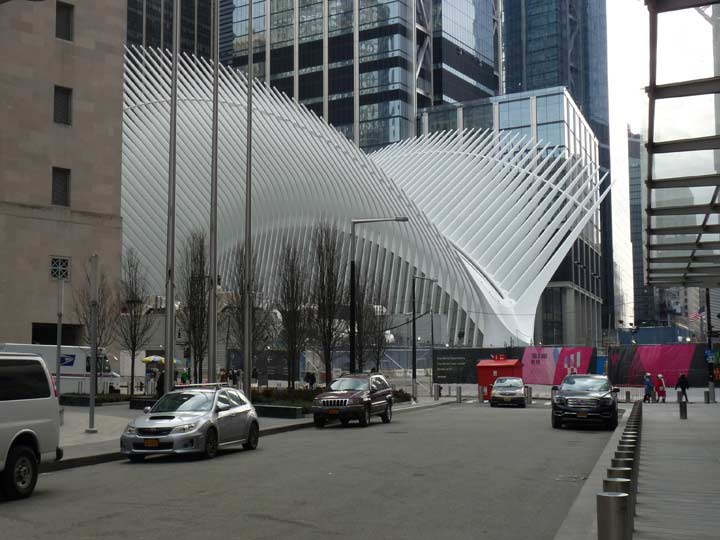 A look south on Greenwich Street toward the Calatrava Oculus. At some point, this view will be obscured by #2 WTC.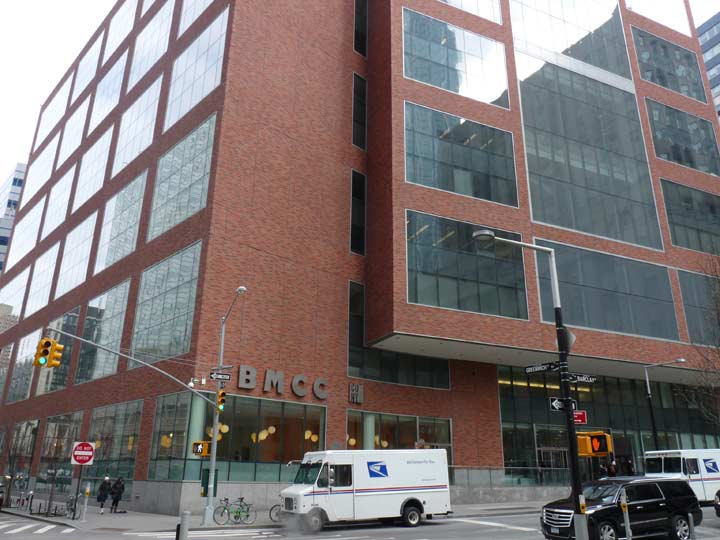 The Borough of Manhattan Community College's new Fiterman Hall was completed at the NE corner of Barclay and Greenwich in 2012. The original Fiterman Hall on the same plot was severely damaged on 9/11/01 and subsequently torn down.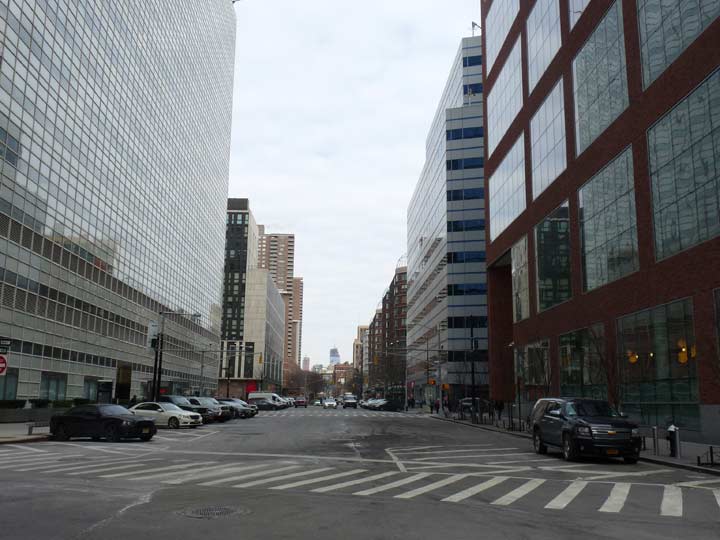 Glass boxes abound in this stretch. Looking north on Greenwich from Barclay.
The round-edged, multiple-windowed 101 Barclay at Greenwich was completed in 1983. Its south side, shown here, was severely damaged in the attacks. The building reopened after several months of reconstruction. It is the home base of investment management company BNY Mellon.
This newsstand, on Greenwich between Barclay and Murray, has sold model cars and buses for as long as I can remember. I'm not sure they're Matchbox brand, which I played with as a kid. If I had only kept mine in near-mint condition, I could have made a bundle. In the store I frequented, the proprietor had a large wood cabinet in back of the checkout counter. My memories of Matchbox are still so evocative that I still remember the cabinet.
Developers have renamed 75 Park Place at Greenwich as 255 Greenwich, as the latter name is believed to now carry more cachet. The 14-story glass box was completed in 1987. The corner facing Murray Street is home to a new Target retail department store.
The east side of Greenwich Street for the two blocks between Murray and Chambers is dominated by Greenwich Courts I and II, mixed residential-retail buildings built from 1987-1988. They make an effort to recreate the brick apartment house style so dominant in the early 20th Century.
270 Greenwich at Warren Street in 2008 replaced a parking lot and a dead-end stub of Washington Street that was one of the last vestiges of the old Washington Market area. A landmarked Bishop Crook lamppost on that stub was relocated onto Warren Street. More of these lamps, some of which survived until 1980, are featured on this FNY page.
As recounted in Danny Lyon's The Destruction of Lower Manhattan, after the Market moved out, the area became preternaturally quiet, with block after block of 19th Century loft buildings emptying out, including what was believed to be James Bogardus' first cast iron building in NYC at Washington and Murray Streets. Then, the Washington Street Urban Renewal Project set to work demolishing most of the buildings in the area — and empty lots remained until 1980 or so. The streets that ran through the area still carried wrought-iron lampposts from decades past. It was surreal.
PS234 was built at Greenwich Street between Chambers and Warren in 1988. (Just across the street was a decent Mexican place where your webmaster would frequent while freelancing in the area, Lizards, that tried to become upscale in the early 2000s, which was a mistake; it soon closed after that.)
The school is decorated by plaques depicting the area as it was; for example, this plaque depicts the former depot of the Central Railroad of New Jersey, built in 1909 and demolished in the 1960s. Railroad passengers traveled to NYC by ferry. The plaque is based on photos by Berenice Abbott.
Other PS234 plaques show the old Washington Market district, which occupied several blocks in the area from the late 1770s through the 1960s, when the market was condemned to make room for the World Trade Center. The old Washington Market building stood on Washington Street between Fulton and Vesey until 1956. The market sold food from the world over and gave rise to separate districts handling butter, eggs and other commodities.
The old Washington Market district stood barren and empty for much of the 1970s (the Independence Plaza housing project built on some of its old acreage beginning in 1973) and as late as 1980, there will still empty blocks.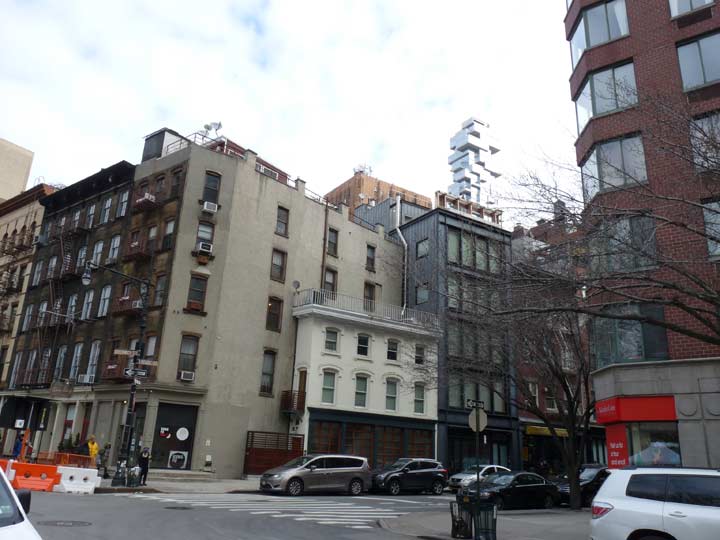 Reade and Greenwich Streets is at the southwest end of the Tribeca West Landmarked District, and here the glass boxes cease and a much older infrastructure takes over. Seen in the foreground is the very narrow 3-story #158 Reade, an Italianate structure constructed in 1861. The building adjoining it to its right is not in the Landmarked district. The 5-story 315 Greenwich, to 158 Reade's left, was built the same year.
The view south from the central mall at Washington Market Park, on the west side of Greenwich between Chambers and Duane Streets, adjoining Manhattan Community College, has certainly evolved over the years from the destroyed WTC to the new model. The Woolworth Building on Broadway and Murray Street has been a constant. Tribeca's largest interior green space was opened in 1983, taking the place of a plot consisting of a parking lot and a dump. It is named for the old Washington Produce Market, which stood on Vesey between Washington and West Streets from the 1800s until 1956.
When I was walking around on Manhattan Community College property a few years ago a security guard stopped me from taking a picture. I'm in Washington Market Park now. Come and get me!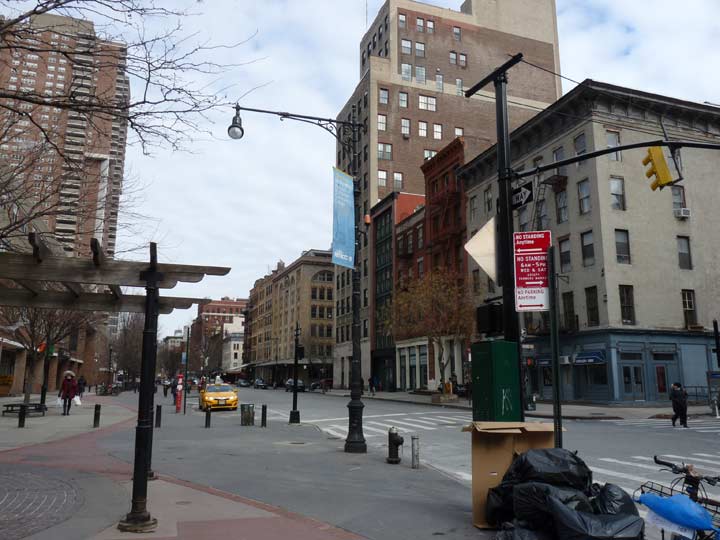 At Greenwich and Duane we see the phenomenon known as the Swiveling Corvington. New retro versions of the long-armed Corvington lamppost come in two sections, with the top section light enough for the wind to make it move, hence its "swiveling" away from the street it is supposed to illuminate. If I were musically inclined, my band would be called the Swiveling Corvingtons.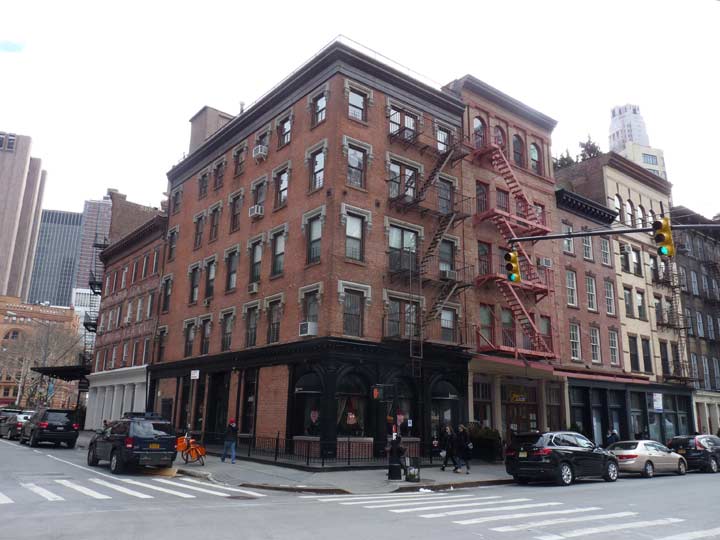 190 Duane Street, at the SE corner of Greenwich, was constructed in 1876. This part of Greenwich is in a modest restaurant row as a string of upscale eateries have set up facing Washington Market Park. In the 1940s, when Tribeca was far less glamorous, tenants of this building included Artex Die Cutting, H & S Dairy Products, and butter and egg merchants, Shelner & Company. Duane street was a t the heart of what used to be called Manhattan's Butter and Egg District adjoining Washington Market. I explore this long-lost fiefdom in this SpliceToday post.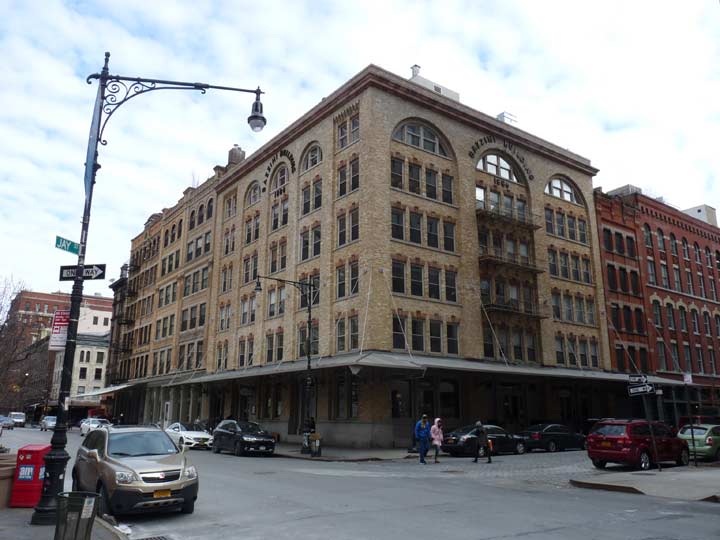 The Bazzini nut empire moved out of the massive 339-343 Greenwich at Jay Street in 2009 after 123 years in Tribeca; it was originally located on Park Place but moved here in 1968. Bazzini's sold nuts, confections and produce in a combination wholesale and retail market here. Bazzini continues to own the building, but leased its space to Sarabeth's Restaurant. The nut distributor joined many other comestibles dealers in relocating to Hunt's Point in the Bronx. Packaged Bazzini nuts are still a staple in groceries and drugstores. The large Romanesque Revival brick edifice opened as a warehouse in 1900, and it has housed electrics dealers and, of course, dairy suppliers in its long history.
355-359 Greenwich at the NE corner of Harrison handily displays its date of completion, 1891, in pediments on two sides. The dairy district was already well established here by then, and this building was constructed expressly for the distribution of those products for dairy merchant Edwin M. Harrison (no connection with the street, which was named for late 18th Century brewer George Harrison).
Check out the ornamentation on the pediment! Will architects ever do that kind of thing again? Or will it be glass boxes forever?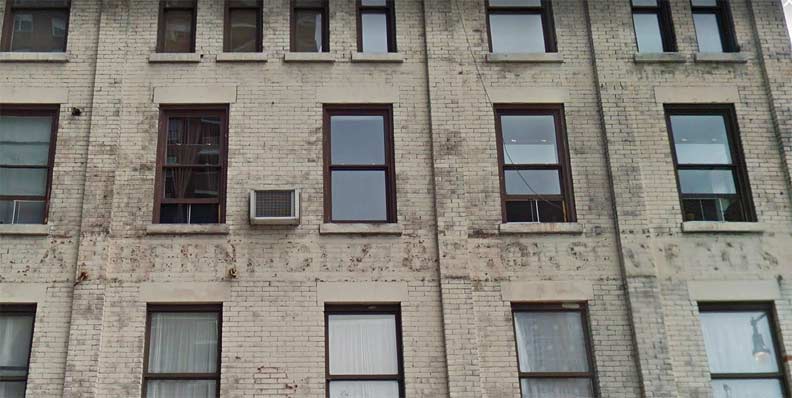 A close look at the Greenwich Street frontage will reveal the faded painted sign "A. Bernholz & Sons Eggs."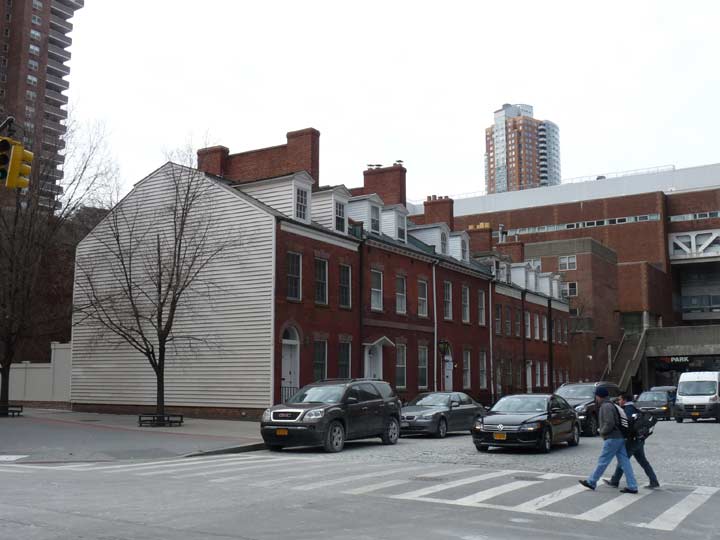 The handsome townhouses on Harrison Street west of Greenwich were not always in such tony condition, and were not originally here! Read all about them on this FNY page.
At the same time I have previously covered this Machine-Age frieze, on an Independence Plaza overpass over Harrison Street, on a previous FNY page.
This frieze was originally built for the West Side Highway, which was built in stages from 1930-1950 and demolished in stages from 1973-1989. It was the idea, along with the West Side Freight Elevated (now High Line Park) of Manhattan Borough President Julius Miller; the highway was officially known as the Miller Highway, and thus appeared on maps with that name. New Yorkers resolutely called it the West Side Highway. There's a wing motif shared with a turning gear motif — in the Depression years, the government set up the Works Progress Administration to provide employment by designing and building public works: highways, buildings, hospitals. Much of the West Side Highway was built in this period.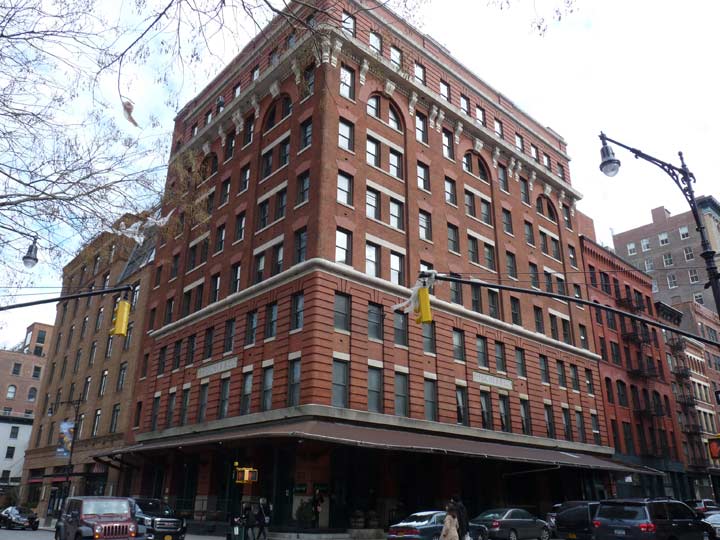 371-375 Greenwich, at the NE corner of Franklin, a massive brick structure constructed in 1905 for the Fischer realty company. Twin signs bearing the inscription B. FISCHER can be seen on the Greenwich and Franklin Street sides. This section of Greenwich Street and side streets were home to multiple coffee importers and distributors and 371-375 houses Martinson Coffee offices. Take a look at Old NYC's photos of Franklin Street at night in 1936 for all the freight trucks.
375 has also been the home of Miramax Films (the infamous Harvey Weinstein's company) and Robert De Niro's production companies especially the one that does the Tribeca Film Festival each spring.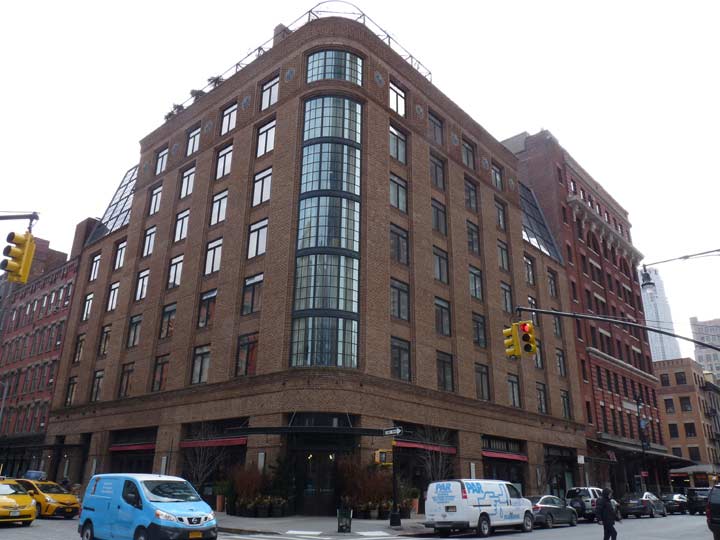 377 Greenwich, the Greenwich Hotel at the SE corner of North Moore, is relatively new, opening in 2008. Its brick construction makes an effort to blend in with the older structures on the east side of Greenwich. The hotel, as well as the Tribeca Grill next door, are owned by De Niro. A penthouse at the hotel cost $15,000 a night in 2014, and the price can only have risen since then. "Better to be a king for a day than a schmuck for a lifetime," as one of De Niro's characters, Rupert Pupkin, put it.
Amusingly, when the hotel opened in 2008, Curbed photographers were dissuaded from snapping pictures of the place from the street. Come and get me!
As far north as Hubert Street, modern structures including the glass box 388 Greenwich, constructed in 1986, home to Citigroup offices abound.
Of all the older buildings on Greenwich Street the one on the southeast corner of Hubert, #413 Greenwich, I find the most interesting because on the front, there is still tangible evidence of its past in the coffee importing and distribution business. The 5-story brick building went up in 1889 and was originally used by the W. & J. Sloane Furniture Company to store carpets. (The clock-towered Sloane Furniture store on College Point Boulevard still stands, known better for its flashing neon Serval Zipper sign seen from Shea Stadium in the 1960s and 1970s.) In the 1900s and 1910s the coffee business moved in. The faded ad says: "Morrison & Boinest Coffee Roasting & Spice Grinding For the Trade." As usual, The Indispensable Walter Grutchfield has the best information.
Around the corner on Hubert, at #17 is a brick building constructed in 1890 for carpet merchant Jeremiah Dimick. As with 413 Greenwich, a coffee importer, Dayton Corsa, moved in later and left signage that is still readable today.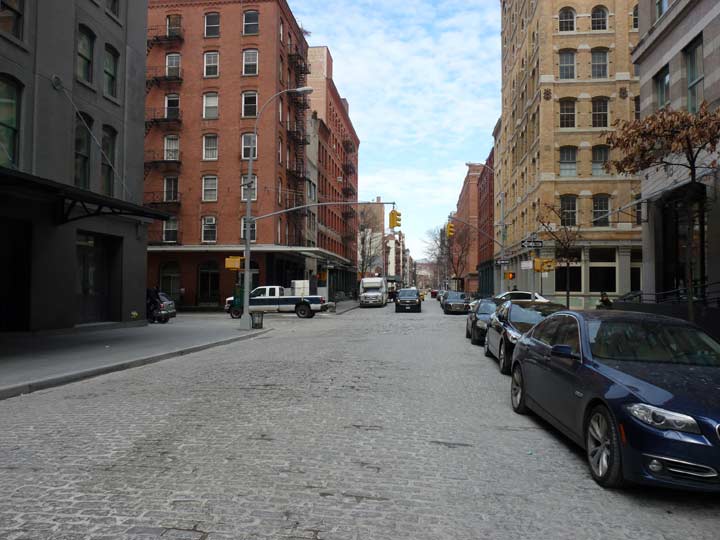 North of Hubert Street, Greenwich Street finally assumes the appearance it has mostly had since at least 1900 with century-old or better buildings on both sides of the street. Belgian block pavement is also maintained here and on cross streets.
The Tribeca West Landmarked District's northern boundary is at Hubert Stret. However, north of that, buildings are still protected, as we are now in the Tribeca North Landmarked District, which runs approximately from West Street east to Varick and includes parts of Laight, Vestry, Desbrosses and a small piece of Watts.
Here we see #429 Greenwich in the NW corner of Laight, a.k.a. the Dietz Building, a Romanesque revival built originally to 7 stories in 1887 for the Robert Edwin Dietz lantern company. After a fire, it was reconstructed with two extra stories in 1897. Dietz lanterns are still sold today.
#428-436 Greenwich were built in 1884 and were originally owned by soap manufacturer James Pyle. Around 1920, the buildings were owned by Port Warehouses, whose painted sign remains in place.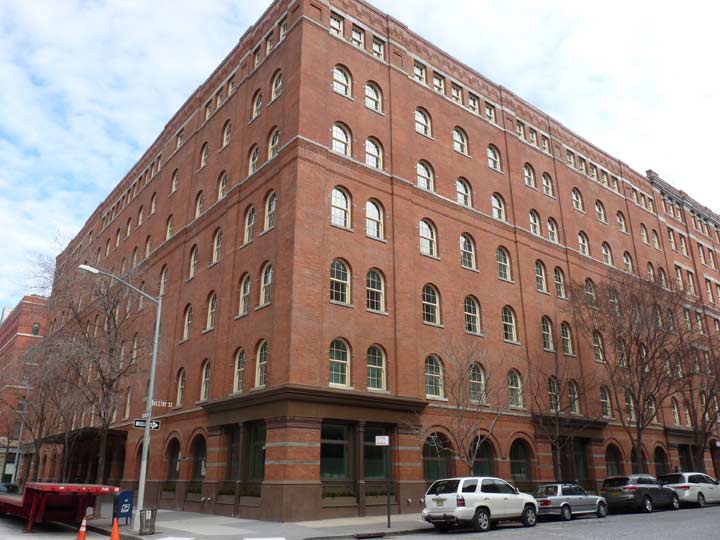 The huge, arch-windowed #443-453 Greenwich takes up about half the bock formed by Greenwich, Hudson, Vestry and Desbrosses Streets. It was built in 1883 as a warehouse associated with Trinity Church (and most street names in this neighborhood are people associated with the Church). Steel wool, glass, and drug manufacturers, bookbinders and electronics firms have all been tenants; the building is now residential.
Puzzler of the day: how do area residents pronounce this street? It was named for Revolutionary War era candy maker Elia Desbrosses, of Huguenot French ancestry. I'd bet that originally he said it as day-BROSS or even day-BRO, but perhaps it's dez BROSS ez today, since in America we pronounce all the letters.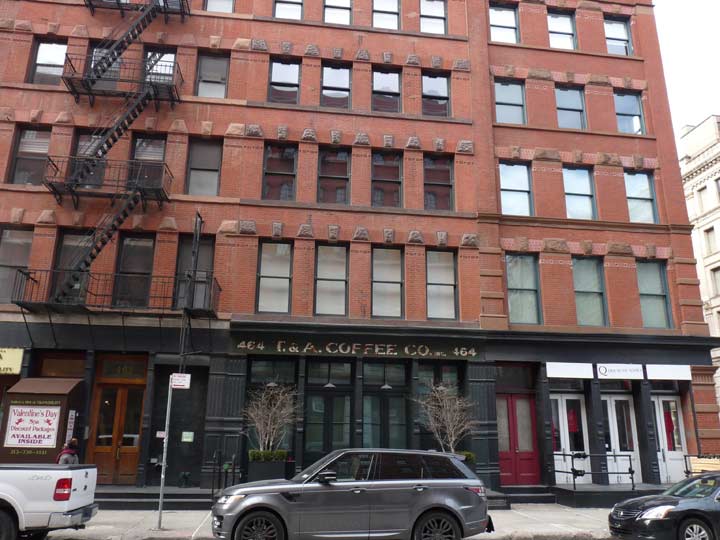 A little T&A: #464 Greenwich, between Desbrosses and Watts, went up in 1892 and was originally owned by coffee merchant Samuel Crooks. "The T & A Coffee" signage remains from the 1930s by which time the Turkish & Arabian Coffee Company had taken over the building.
A look east on Watts Street from Greenwich. The twin towers in the distance are both 565 Broome Street (at Varick). The twin 30-story building will have 115 apartments, the most expensive of which will run you about $15M. The buildings were designed by Renzo Piano, who also designed the New York Times tower on 8th Avenue and West 42nd Street.
I've been noting that the thick 8-sided posts usually employed to hold guy-wired stoplights are getting additional work to hold bus lane signage and, in this case, traffic violations recorders, as well as a straight-mast streetlamp.
On the southwest corner, we find a quartet of three-story brick buildings, one with an attic. These days, they're overshadowed by the hulking 471 Washington Street, where penthouse space sells for $22 million. The oldest of these buildings was built in 1818, making it 200 years old. These buildings may have been saved by the deterioration and decrepitude they had sunk into when I first encountered them in 1992; one was tenanted by a liquor store, whose sign, minus its neon, still hung there decades after it was closed.
The building on the corner, 480 Greenwich/502 Canal, is the one that was at least under construction in 1818 by John Y. Smith, a manufacturer of starch and hair powder, the Coty of postcolonial NYC, perhaps. Unusual for Manhattan, it had a rounded corner. Smith was deeded the land by descendants of Anthony Lispenard, who came over from France in the colonial period and eventually owned a large tract south of today's Canal Street.
Its Federal-style brickwork was restored during the 2000s as new money came into Tribeca; all of the adjoining buildings have been refurbished.
Next door is #504 Canal, the newest of the quartet, constructed in 1841 in a Greek Revival style by Robert Stewart, a descendant of the Lispenards; its neighbor, #506 Canal, was built in 1826 by tailor John Rohr, this time in Federal style.
Though all four buildings have had commercial space on their ground floors throughout their long histories, only one does today, #508 Canal, which is a bed and breakfast called the Canal Park Inn. Along with its partner, #506, it was constructed by Rohr in 1826. Cleverly, the inn named its five rooms for families residing in 508 in 1850: Kennedy, Sinnot, Denot, Batby, and Flaherty. Rates range from $200-375 a night.
This tiny pair of brick buildings, #486-488 Greenwich just north of Canal, were also constructed by Rohr in 1820, when Greenwich Street was close to the shoreline of the Hudson River. The tie rods, shown here by star-shaped metal studs, were added several decades after the house was originally constructed. The rods help hold up the walls, making the building structurally sound. In the 1960s the buildings' original fronts were removed as they were in danger of collapse. Miraculously bricks that looked exactly like the old ones were installed and today you would never know they weren't original. Tom Miller, the Daytonian in Manhattan, has more details.
Across the street you can see what happens when a neighborhood doesn't have Landmarks protection. A glass box is in the process of swallowing its neighbor.
Next door is another glass box, of which little is noted here, but the ground floor contains set of photos that reminded me of the work of British photographer Eadweard Muybridge (1830-1904), whose step-and-repeat photos of animals and people in motion presaged their use in motion pictures.
Around the corner on Spring, I couldn't resist a photo of the Ear Inn, one of NYC's oldest taverns, which I haven't been in lately — the last time was in February 2008! I need a return visit.
Between West Street and 6th Avenue, Spring Street has been given a set of new "City Lights" posts. The mast has a thin strip of LED lamps, produced by industrial design firm Thomas Phifer and Partners, the winner of the City Lights contest administered by the Museum of the City of New York to replace the familiar octagonal pole with cobra head or straight mast lamppost. They have turned up around the city in several spots including Times Square and 2nd Avenue in the Upper East Side.
Next time: Greenwich Street in Greenwich Village
Check out the ForgottenBook, take a look at the gift shop, and as always, "comment…as you see fit."
2/18/18