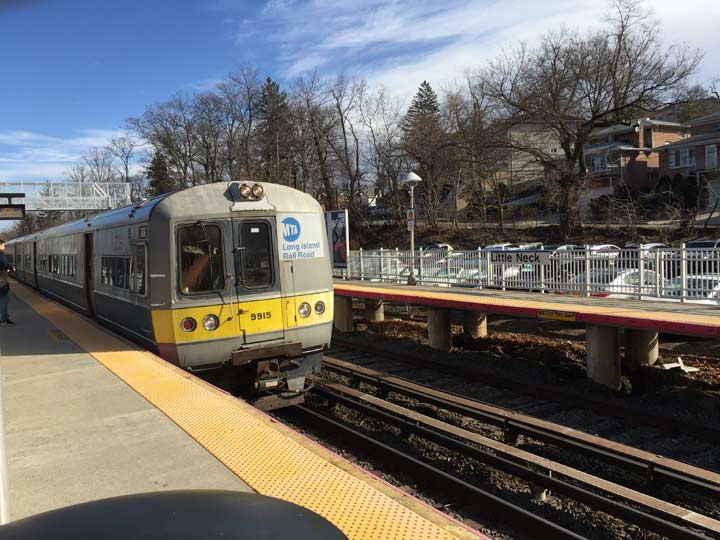 When I began riding the Long Island Rail Road on a daily basis in 1992 for a job in Port Washington, the M3 car you see here, first built in 1985, and its older counterpart, the M1 (which went "online" from 1968-1971, with the M standing for Metropolitan) were still the only cars used on the line. Beginning in 2002, newer M7 cars began to replace them on both the LIRR and the Metro-North, serving NYC's northern suburbs. There are still a good number of M3 cars in service, even though the M1 was discontinued in 2007. The M1s and M3s where built by the Budd Company which has since gone out of business.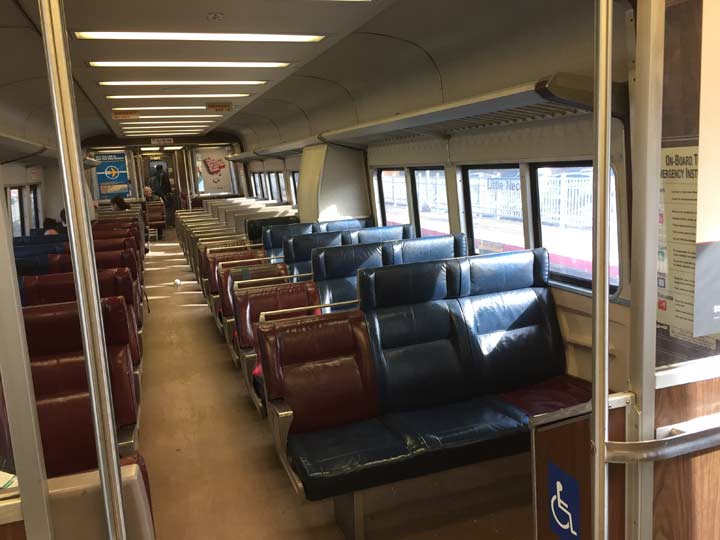 The M1 and M3 series looked virtually alike, and on the outside at least, remind me of the R-42, R-44, R-46 and R-68 subway cars. The interiors have wallpaper with the NYS insignia and faux wood paneling as does the R-46. The similarity mostly ends there, as commuter trains feature padded red and blue seating and window-facing seats (forward or backward) with a 3-2 seating scheme bisected by an aisle.
Every other car in an M3 trainset has a working restroom, but they are mostly a nasty business and many of my friends refuse to sit in a car with a restroom if they can help it because of the strong disinfectant the maintenance crew uses. Running water was discontinued years ago and the sinks removed.
Despite that, I still enjoy riding an M3 set when I happen upon one. The cars are somewhat roomier and there is more seating; room had to be made in M7 cars for handicapped riders and so M7 cars have fewer seats per car. I do not sit in the center seat of 3-seat unit, and if an 8-car trainset is used during rush hours, as is increasingly the case, I prefer to stand in the aisle instead of clustering in the doorwell. The M3s can still get up a good head of steam on straightaway sections of track between stations.
The M3's days are numbered. The MTA as ordered hundreds of new M9 cars that will be phased in beginning in 2018. Not only is replacing the 30+ year old M3 a priority, but the MTA expects more capacity in the 2020s as the neverending East Side Access project, bringing the LIRR into Grand Central Terminal, becomes a reality. Metro-North trains can also be brought into Penn Station if capacity ever permits.
Check out the ForgottenBook, take a look at the gift shop, and as always, "comment…as you see fit."
2/2/18