Pickings have been slim this winter for Forgotten New Yorking. I haven't been able to get out much. Despite what I'm told was a monster flu season, with half the population laid up at some time over the past three months, I have felt perfectly well (I did get a flu shot in September). No, various obligations combined with iffy weather have kept me in. As stated on a previous page, I hate doing this in the rain, but I also don't enjoy it with heavy winds, and I have had trouble getting free on days when conditions were optimum.
Now and then a sliver of opportunity presents itself, though, and on a February weekday I spent a couple of hours plunging into the East Village. This is not meant to be a comprehensive look at Alphabet City. I decided to concentrate on East 7th Street, which begins at Cooper Square and runs east to the Jacob Riis Houses at Avenue D. (Previously, I explored St. Mark's Place, a block to the north, when Sounds and the Yaffa Cafe were still open.)
The East Village, much of it originally a part of the Stuyvesant family farm, has been a redoubt of German, Polish and Ukrainian immigration over the decades, and Loisaida (the region between Avenues A and D) has been New York City's chief downtown Hispanic enclave. Gentrification has robbed it of much of its old flavor, but also a great deal of its old crime. That's a tradeoff that urban strategists will have to debate. Me, I just shuffle around and take photos, trying to be unnoticed.
GOOGLE MAP: EAST VILLAGE – EAST 7th
Beginning at the West 4th Street station, which serves the 6th and 8th Avenue subway lines (A,B, C, D, F, M) I walked east for a block on Waverly Place, which I've already covered (adequately? you be the judge). The Waverly Restaurant, a diner on the SW corner of 6th and Waverly, has a good diner-type restaurant with wraparound green and red neon signs, as well as a shingle overhanging the street. I've told the story before but in the early 2010s my friend Vicki and I were in the area, entered the Pizzeria Uno two doors down, got a booth, and sat there 15 minutes without being spoken to despite having showered and were wearing clean clothes. So we took our business to the Waverly, where we had a perfectly decent lunch and were attended to as soon as we entered. That Pizzeria Uno is now the Onegin restaurant.
I know it sounds stupid but for many years I never wore a watch. Finally in the 1990s I found a cheap plastic Mickey Mouse watch on Sanford Avenue in fab Flushing. Worked on a battery and didn't need winding. When it gave out, I went through a number of cheap watches, until I finally got an IPhone in 2015, rendering carrying timepieces academic.
I bring his up because this building, a former Emigrant savings bank on 6th just south of West 8th that has kept its 1965-era look all these years despite it being divided up into other businesses, I depended on to give me the time for years when I was stumbling around in this area, with the time and temperature displayed in two electronic message boards. When Emigrant moved out they were disconnected, but they're still in place.
Looking east on West 8th Street from 6th Avenue. From here, Greenwich Avenue heads northwest and divides the Greenwich Village street grid from the gridiron used in the rest of Manhattan working north from Houston Street. Centuries ago, what became Greenwich Avenue, 8th Street and Astor Place were all part of the same colonial-era foot and wagon path that may even date beck to the Native American days.
Just as East 8th between Cooper and Tompkins Squares is St. Mark's Place, this stretch of West 8th was formerly called Clinton Place. Here are some Percy Loomis Sperr photos of the stretch.
A storefront on West 8th just west of Macdougal depicts this corner in the 1920s, with a drugstore (not the famed C.O. Bigelow) on one side and a Nedick's on the other. For many years the Nedick's space was home to a B. Dalton and later, Barnes and Noble outlet that played host to me when the Forgotten NY the Book came out in 2006. After my spiel, I led a merry little tour in the Village for the 15-20 people who had come to hear me talk. On the left, the juice joint Liquiteria was once a Gray's Papaya. At least there's still juice.
Back in the 1970s and into the 1980s, this stretch of West 8th was home to record (I was in Venus Records dozens of times) and clothing shops as well as head shops (which sold legal stuff in the front, marijuana in the back) as well as the 8th Street Playhouse, which showed the Rocky Horror Picture Show for years. The basement of the same building was home to Electric Lady Studios, where Jimi Hendrix, the Stones and the Clash all recorded. Hendrix lived on the block. These days, West 8th Street is somnambulent.
I was familiar with the McNally Jackson book store on Prince and Mulberry in Little Italy but wasn't aware of "Goods for the Study" which sells office equipment and stationery.
The north end of Macdougal Street at West 8th. About a decade ago, this stretch got a set of retro version Type F posts. The new versions are stouter versions of the style, which was used for rather slight lampposts that were used mostly on NYC side streets from the 1910s through 1950s. The storefront is formerly the 8th Street Bookshop, but I remember it as an ice cream place in the 1980s-1990s.
At 8-12 West 8th we have the New York Studio School of Drawing, Painting and Sculpture, which has been the Gertrude Whitney residence and later, the first Whitney Museum. It goes all the way back to 1838, though all trace of its great age has been sanded off it.
The New School residence hall Marlton House, across the street from The New York Studio School, is marked with a plaque indicating it was the birthplace of Ecuador's president rom 1948-1952, Galo Plaza Lasso (1906-1987), who later became secretary general of the Organization of American States–for many years signified by large metal medallions on 6th Avenue lampposts.
The Art Deco One Fifth Avenue (which is actually north of Two Fifth) opened in 1926 and is one of the tallest towers in Greenwich Village. Its former eponymous restaurant was actually frequented by us scruffy college boys in our postcollegiate era in the 1980s, and its interior turned up in Woody Allen's Crimes and Misdemeanors. I remember a wild cab ride south on Park after we got out of the first Keaton Batman flick in 1989, and we wound up here.
5th Avenue was the only street in NYC that featured twin midblock Deskeys of this type between Washington Square and 32nd Street. Most of these have since been replaced, but one or two are still in place. Of course, between 32nd and 60th Street more stylized copper colored twin Deskeys were installed in 1965, and have been slowly replaced ever since. 5th Avenue deserves its own distinctive set of streetlamps instead of the hodgepodge that has taken over the last few years.
Looking south toward the Washington Square Arch, Stanford White's memorial to the 1st President that was constructed from 1889 (the centennial of his inaugural) to 1892. It is decorated with sculptures of Washington in both his civilian and military guises by Alexander Stirling Calder and Herman MacNeil.
If roads czar Robert Moses had gotten his wish, the circle around the fountain, which was once used to turn 5th Avenue buses and was open to motor traffic when the Queen of Avenues was one-way, and the fountain would be moved to make way for a connector road between 5th Avenue and LaGuardia Place. Locals fought Moses tooth and nail (as they did against his proposed Lower Manhattan Expressway on Broome Street) and after a lot of vitriol, the Master Builder backed down. However, the fountain was moved anyway between 2007-2011.
Washington Mews is one of nine separate routes named for George Washington in Manhattan. It's a through alley between 5th Avenue and University Place and is lined with charming two-story cottages that were, at least on the south side, formerly stables used by the well-to-do residents of Washington Square North, the doings of which were described in 19th Century novels by Henry James. It is the only street in NYC called a "mews" though there are many mewses in London. It is marked by an old-style serifed street sign. The dwellings on the south side were constructed from 1850-1880 while the ones on the north side, in the 20th Century. Much more info can be found in the Greenwich Village Landmarked District Report, beginning on page 50.
The term "mews" is unusual: it derives from a French word meaning "to moult" and mewses were originally used in the 1300s to place cages confining falcons and hawks used by royalty for sport while they shed their feathers. Only later were the alleys used to house carriages.
Just around the corner, at #3 Washington Square North and University Place, was the studio where the great painter Edward Hopper lived and worked from 1913 until his death in 1967.
Back on East 8th, here's the BMT subway entrance. It was a good idea to put the new countdown clock outside the station, as it gives the potential passengers an idea of how interminable the wait for the next train will be. I like the clocks, but the MTA has been parsimonious in their application — some platforms only have one, and if you are like me and like to get into the last car on either end to avoid people, you can't see the countdown since it is placed in the center of the platform.
The classic Cooper Union building still anchors Cooper Square as it has done since 1859. The school was founded by inventor Peter Cooper, who laid the first transatlantic cable, ran the first successful railroad, and was the first producer of edible gelatin (the father of Jell-O). The school's great hall was where Abraham Lincoln launched his presidential campaign in 1860; other speakers have included Mark Twain, Frederick Douglass, Susan B. Anthony and presidents Grant, Cleveland, Taft, Theodore Roosevelt, Wilson, Clinton and Obama.
The college is divided into three schools: the Irwin S. Chanin School of Architecture, the School of Art, and the Albert Nerken School of Engineering. It offers undergraduate and Master's degree programs exclusively in the fields of architecture, fine arts, and engineering.
The school is now flanked on each side by glass towers: 51 Astor Place, completed in 2013 [Fumihiko Maki, arch.] It is home to IBM and a branch of St. John's University, with a CVS drugstore on the ground floor. On the right is the undulating exterior of the Astor Place Tower, the "sculpture for living" residential tower designed by Charles Gwathmey in the early 2000s.
In the foreground is Tony Rosenthal's nearly 1-ton cube-ist sculpture called Alamo, installed in 1967; it can rotate if you push it hard enough. After a lengthy hiatus for repairs, it once again dominates the triangle formed by Cooper Square, East 8th and Astor Place.
Fronting the narrow plot on Lafayette between Astor Place and East 8th is the Astor Place Hotel, formerly known as the District 65 union hall, and before that, Clinton Hall and before that, the Mercantile Library, completed in 1892.
This Romanesque Revival building was designed by George E. Harney and constructed by the McCabe Brothers in 1890-92 for the Clinton Hall Association, which installed its Mercantile Library on the sixth and seventh floors. The building was featured in the real estate publications of its day. The mercantile library was founded in 1820 by the· clerks of downtown merchants as a private reference and circulating library. Originally located on Fulton Street, the organization erected the first Clinton Hall in 1830 at Nassau and Beekman Streets, moving in 1854 to the former Astor Place Opera House on the site of the present building. NYC Landmarks Designation Report
Clinton Hall was once considered important enough to have its own entrance from the downtown IRT subway platform at Astor Place, constructed in 1904. The stations were built in the days when you were sold a ticket and gave it to a second person who would take it from you and put it in a ticket chopper.
The building stands on the site of the Astor Place Opera House, where, in 1849, Nativist theatregoers rioted against the appearance of British actor William Macready. 22 "patrons" were killed.
This spot marks the north end of Lafayette Street. Back in 2013, I postulated that this end of the street had NYC's best architecture.
The former John Wanamaker Department Store Annex is one of the few NYC buildings that takes up an entire square block (Macy's doesn't). The main store was a block to the north and was demolished decades ago. It was Wanamaker who demolished five units of Colonnade Row to make way for a truck warehouse, which still has his name on it.
What is little remembered is that a statue of Samuel S. Cox, Ohio congressman, Coast Guard sponsor, and mailman's friend, originally stood here before being shuffled off to Tompkins Square Park (as we will see later).
The Astor Place subway station still contains an entrance to the store — now a K-Mart (formerly Kresge's) on the ground floor.
Recently the Department of Transportation has installed some new davit-style lampposts at Cooper Square, including some "mini-me" versions that illuminate the sidewalk.
The mosaics of Jim Power have been in place on light poles along St. Mark's Place, and on other East Village locales, for nearly 25 years. Power, a Vietnam veteran who has patrolled the East Village after his return from the war, has lived in various areas in Lower Manhattan for the last few decades and has found a niche in fine art, decorating the area with ceramic pieces and bits of crockery that he glues onto exterior surfaces. At first, the applications were purely decorative, but over the last few years, Power has become something of an amateur historian, working the names of personalities and famed buildings of the past and present into his designs. As he becomes older and more infirm, he has taken on a protege named Al Bonsignore, their work has been getting ever more attractive. During the Giuliani era, many of his lamppost works were removed, but today the Department of Transportation practices a brand of benign indifference. He is now able to pursue his passion, which has, as yet, unfortunately not accrued him much income, other than some local businesses hiring him for murals and such.
Music publisher Carl Fischer, and the gigantic note on its former headquarters have been an indelible part of Cooper Square for many years. Patriarch Fischer (1849-1923) immigrated from Germany in 1872 and was succeeded by his son Walter Fischer and later, son-in-law Frank Hayden Connor. Fischer Music was located in Cooper Square from the late 19th Century, but in 1923 the firm constructed its 12-story office building, later with the Big Note, which continued to house company offices until 1999.
A very faded ad for Carl Fischer Musical Instruments can be seen on East 16th Street just east of Union Square.
Who is that guy? Inventor and industrialist Peter Cooper himself, who here turns his back on the school he founded in 1857.
Cooper Square (Astor Place at 3rd and 4th Avenues), was named for industrialist and inventor Peter Cooper (1791-1883), the developer of the first practical steam engine. He helped build America's iron and cable industries (partnering with Samuel Morse in laying the first trans-Atlantic cable), and was one of the first developers of gelatin made from rendering mammal remains. In 1857 he founded ?Cooper Union for the Advancement of Science and Art in a new brownstone building at one of Manhattan's true crossroads, the Bowery (originally the Post Road) and Astor Place, once known as Art Street. The building is supported by steel rails invented by Cooper himself.
The statue was produced in 1894 by NYC-raised sculptor Augustus Saint-Gaudens (1848-1907), with the pediment designed by Stanford White. Saint-Gaudens' other major works include portraits of Admiral David Farragut in Union Square; a standing Lincoln in Lincoln Park, Chicago, and a seated Lincoln in Grant Park, Chicago; the Robert Gould Shaw Memorial in Boston Common; the gilded General William Tecumseh Sherman in Grand Army Plaza, Central Park; and the Charles Stewart Parnell monument in Dublin, Ireland (Saint-Gaudens was born in Dublin and spent the first 6 months of his life there, before his family emigrated to the USA).
Oddly, the Bowery officially ends at East 4th Street, where Cooper Square begins. It splits in two at East 5th, becoming 3rd and 4th Avenues, but things are a bit squirrelly since addresses as far north as St. Mark's Place have both 3rd Avenue and Cooper Square addresses. 4th Avenue is a bit more forthright, beginning only at East 9th and running for only a few blocks to Union Square.
I'm quite prideful of the fact that NYC names its major intersections for statesmen and in this case, inventors, instead of the monarchs you will find overseas.
41 Cooper Square, designed by architect Thom Mayne, is a new addition to The Cooper Union for the Advancement of Science and Art campus. The building, originally known as the New Academic Building, stands on the site where the School of Art Hewitt Building was located. The nine-story 175,000 square feet academic center houses the Albert Nerken School of Engineering with additional spaces for the humanities, art and architecture departments. There is also an exhibition gallery and auditorium for public programs and retail space on the ground level. Construction of the building began in 2006 and was completed in September 2009.
The 1867 Metropolitan Savings Bank building at East 7th and Cooper Square, seen here at left, survives as a church. Quite a contrast between the esthetics of 1867 and 2010.
Entering East 7th Street, one of the first sights is the redoubtable McSorley's Old Ale House. The date shown on the sign is generally accepted by one and all these days, but late historian Thomas McDermott raised serious doubts about the date while poring through property records; he made the opening date 1862, which meant that the story about Abe Lincoln downing a cold one after his famed speech at Cooper Union to kick off the 1860 presidential campaign in doubt.
I have been in McSorley's just once, on a 'bar crawl' through some of NYC's oldest with the former King of NYC Lampposts Jeff Saltzman and musician/author Nigey Lennon (who passed away in 2016) and her husband Eric Weaver. Jeff and his family moved to North Carolina and handed off the title of Lamppost King to Bob Mulero. You can read my McSorley's review on this page, but I'd just say that pretty much everything you've read about it is true.

Though St. George's Ukrainian Catholic Church is practically new — having been built in 1977 — it faithfully evokes the Byzantine styles that originated six centuries prior. St. George's was first established at 1st Avenue and East 20th Street in 1905, and moved to East 7th between 2nd and 3rd Avenues (at Hall Place) in 1911. This new church finally opened in 1978 and at the same time, Hall Place was renamed for Taras Shevchenko (1814-1861) a Ukrainian poet, artist and social reformer known as the Bard of the Ukraine. The city restored a Hall Place sign in addition to the Shevchenko sign a few years ago at East 6th.
Porsena is an Italian restaurant at 21 East 7th. Sometimes it seems like the city is losing all its small restaurants and diners, so I was surprised to find a small storefront restaurant on a side street like East 7th. It has received favorable reviews.
Hard to see here, but the chiseled words "Hebrew Actors Union" can be found above the arched windows here at #31 East 7th. There was once a thriving Yiddish theater scene concentrated on 2nd Avenue above and below St. Mark's Place.
The townhouse next door, #33, is interesting in a number of ways. The building is home to medical offices, but has a classic WWI plaque memorializing area dead. There is a Ukrainian restaurant, pronounced "streecha" in the basement.
A poster of early 20th Century activist Emma Goldman is part of a public art project called Good Fences Make Good Neighbors by Chinese artist Ai Weiwei:
Ai Weiwei conceived this multi-site, multi-media exhibition for public spaces, monuments, buildings, transportation sites, and advertising platforms throughout New York City. Collectively, these elements comprise a passionate response to the global migration crisis and a reflection on the profound social and political impulse to divide people from each other. For Ai, these themes have deep roots. He experienced exile with his family as a child, life as an immigrant and art student in New York, and more recently, brutal repression as an artist and activist in China. [Public Art Fund]
The project was scheduled to be in place through mid-February.
Longtime East 7th Street fixture Jimmy's No. 43, named for its address, closed in mid-2017, perhaps permanently.
The NW corner of 2nd Avenue and East 7th Street remained an empty lot in 2018 after three former buildings on the site were wiped out by an explosion, killing two, caused by an illegal tap into a gas main in March 2015. The landmarked buildings were constructed between 1835 and 1901. The corner building was the longtime home of popular thrift shop Love Saves The Day. The lots sold in the millions in 2017.
The Tiffany windowed, double-spired Middle Collegiate Church has stood on 2nd Avenue between 6th and 7th Streets since 1892. The lamps by the entrance are something to see. Just next door is 110 2nd, the Isaac T. Hopper House, built in 1839, which early on in its history was a "home for wayward girls" instituted by Hopper, an abolitionist Quaker. It is the lone survivor of a set of four such Greek Revival townhouses. 110 2nd is the headquarters of the Women's Prison Association, which assists women who have served time in the criminal justice system.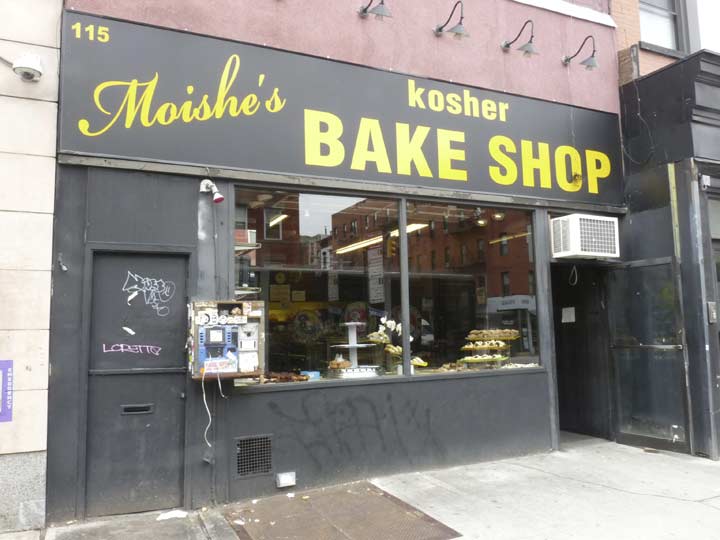 A longtime 2nd Avenue mainstay, Moishe's Kosher Bake Shop has been around since the 1960s. It recently gained a new sign, in the same color and design as the old one.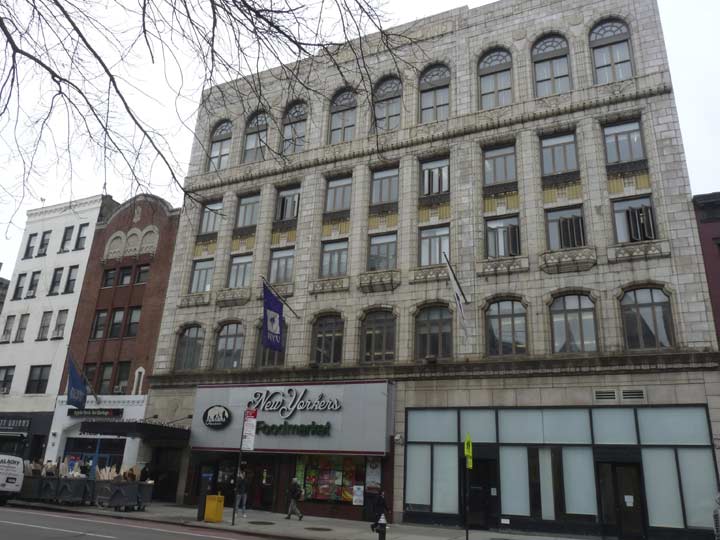 On the left, the narrow building home to Emigrant Bank was once one of NYC's capitals of rock and roll, the Fillmore East. Promoter Bill Graham took over the old cinema/Yiddish theatre in early 1968 and for two full years and part of two others presented a roster of superstars that to this day reads like a classic rock radio playlist. Just about every big name in rock and roll except the Beatles and Stones played the Fillmore East (Graham's west coast counterpart was the Fillmore West in San Francisco).
On the right the Saul Birns Building is home to NYU's art school, and the ground floor, home now to a supermarket and vacant space, was formerly Ratner's, one of NYC's most famed kosher dairies.
Going to kick it in the head for this week. Walked 10 miles today. Next week: East 7th east to Tompkins Square and beyond
Check out the ForgottenBook, take a look at the gift shop, and as always, "comment…as you see fit."
3/11/18