I remember it pretty clearly. It was in October, 1975 and it was the first time I had ever ridden my bicycle across Jamaica Bay on the Marine Parkway, since subnamed the Gil Hodges Bridge. Arriving at Fort Tilden, I headed east through Riis Park (marveling at its huge parking lot, which is so large that small planes can land there) through Rockaway Park, Hammels (where things got a bit dicey, in 1970s New York) into Far Rockaway and back. I traveled mostly on Rockaway Beach Boulevard and Beach Channel Drive, but I also did a short stretch under an extremely lengthy concrete-clad elevated train, where there was a roadway called Rockaway Freeway. A freeway in New York City? I thought "freeways" were only found in pedal-to-the-metal car crazy Southern California. But, in NYC, we have one, too, though it's somewhat of an anomaly.
The story of Rockaway Freeway begins with the New York, Woodhaven and Rockaway RR, which extended to Far Rockaway in 1872, Rockaway Park in 1882, and went out of business with its operations taken over for the Long Island Rail Road, with original stops shown here. Jamaica Bay was first bridged in 1879 when a state assemblyman, William Wainwright, persuaded investors such as hoteliers Michael Holland and Louis Hammel to donate land for stations, which would be named for them.
Wainwright began his association with Rockaway in 1875 by leasing the Sea Side House hotel from James Remsen, who took him as a partner in 1876. He continued to manage and expand the hotel after Remsen's death in 1887. After Wainwright took another partner, the name "Wainwright & Smith" became ubiquitous on different amusement pavilions in Rockaway Beach. wikipedia
For its first decades, the railroad ran at grade; the Hammel's station (the name stuck as a neighborhood name, with the s but without the apostrophe) located at today's Beach Channel Drive and Beach 83rd Street is shown here.
As the Peninsula became more greatly populated the railroad wanted to eliminate grade crossings (as had been done decades earlier on many LIRR lines elsewhere in Broolyn and Queens) and so, between 1939 and 1942, the entire stretch from Rockaway Park through Far Rockaway was placed on a concrete-clad iron trestle.
The city's Independent Subway never produced many elevated stations — only two exist, at Smith-9th Street and 4th Avenue. Before that, the IRT (Interborough Rapid Transit) and BMT (Brooklyn-Manhattan Transit) had produced some concrete-clad stations at the ones that were deemed to be important such as Ocean Parkway, Bay Parkway, Bronx Park, and Hugh Grant Circle/Parkchester, to name a few, and the entire Queens Boulevard Viaduct in Sunnyside, supporting the #7 train, is concrete-clad.
It's interesting to speculate it but had the IND Second System ever been produced, some of it would have been elevated — and it's quite possible the el would have been concrete-clad, as the Rockaway LIRR elevated was. The LIRR got tired of replacing a Jamaica Bay trestle that burned on numerous occasions, so the railroad sold it to the Transit Authority in the early 1950s for a bargain rate and the LIRR tracks, with slight modifications, became the province of the A train in 1956.
When the concrete and steel trestle was constructed, a new roadway running for miles, mostly under the tracks, was created. It was "free" of many cross streets, meaning that cars could go for lengthy stretches without seeing a stoplight, and so, the road was known as Rockaway Freeway; it was not named in contrast to toll roads (which are nonexistent in NYC except for crossings like bridges and tunnels).
Today, I thought I'd examine this NYC oddity using my own shots as well as some "borrowed" from Google Street View.
Rockaway Freeway begins and ends at Beach Channel Drive, albeit with several miles in between. On older maps, the curved stretch between BC Drive and Beach 108th Street is labeled Wainwright Court, named for the 18th Century developer, and Google Street View adheres to this view, although the NYC Department of Transportation calls it the west end of Rockaway Freeway. This is mostly a no-man's land peppered with gas stations and an electric generator.
Beach 108th Street, bridged by the concrete-clad iron elevated train structure. Seen from Rockaway Beach Boulevard, the seemingly unending, rhythmically positioned el stanchions make an impressive sight. North of us is a sewage treatment plant, while south of us on Beach 108th is the Surfside Park apartment complex.
Rockaway Freeway ducks under the overhead trestle of the A train just east of Beach 108th Street, and will be overshadowed by the elevated for the majority of its several-mile length until it reaches Far Rockaway. Above us is the Beach 105th/Seaside station. You might think the appellation "Seaside" is an arbitrary designation, but the Seaside House was one of Rockaway's earliest resorts, opened in 1856, when it was attainable only by boat or from carriage from Far Rockaway, and finally closing in 1941. It was so popular that the general area became known as Seaside, and there's still a Seaside Avenue in place of Beach 103rd Street.
As we've seen, Rockaway Freeway is "free" from cross streets, and only a relatively few stoplight-controlled crossings exist. Some stretches are lit by short lampposts that are mostly used in parks.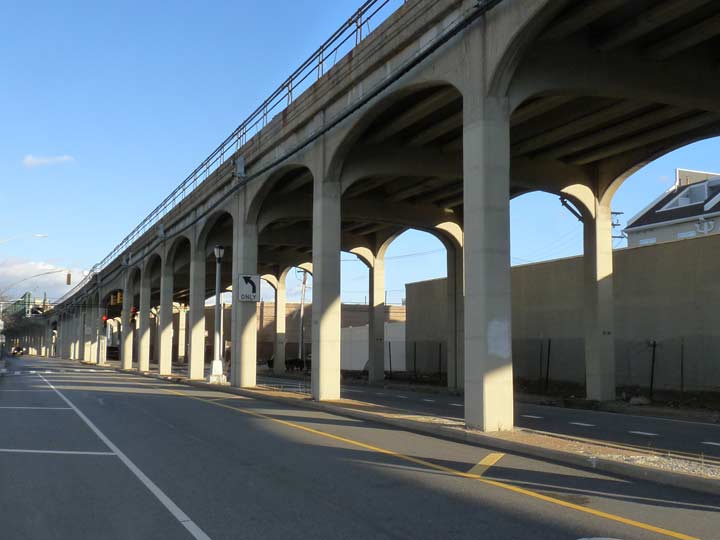 I always found the step-and-repeat concrete structure mesmerizing, from a photographic standpoint. A similar but shorter stretch exists for an elevated LIRR section in Richmond Hill.
Rockaway Playland, the peninsula's answer to Coney Island, was in business between 1928 (as an amusement park in the classic sense; various amusement parks had operated at Rockaway Beach Boulevard, the boardwalk and Beach 98th Street since 1902) and the early 1980s. The roller coaster, named the Atom Smasher after World War II, was featured in the movie This Is Cinerama in 1952. The photos, from Old Queens, NY in Early Photographs by Vincent Seyfried and William Asedorian (Dover) show Playland at its peak in the 1940s and 1950s.
Today only the station signs indicate there ever was an amusement park right here; tract housing now occupies the space.
Above photo: in November 1970 an R-38 E train leaves the station. photo: NYCSubway
Of course, there are some lamppost irregularities found along Rockaway Freeway. This parking lot on Cross Bay Parkway, the southern extension of Cross Bay Boulevard bridge across Jamaica Bay, has a pair of extra-wide Donald Deskey posts that usually found their way to medians or expressways where they could stretch over wide roadways.
One of the last incandescent "gumball" lamps illuminated Rockaway Freeway beneath Cross Bay Parkway, though the bulb has long stopped functioning. "Gumballs" of various makes were used extensively all over the United States beginning in the 1930s and are still popular in places — Toronto, Canada still employs thousands of them.
As a rule, though, lamps are not pendant from the overhead concrete trestle. Rockaway Freeway has been lit by Dwarf and other lamppost species over the years.
There is a one-block widening of Rockaway Freeway between Beach 93rd and 94th Streets. This was a preexisting road, laid out before the tracks were elevated, called DeSota Road.
Holland – Beach 90th
When the Holland LIRR station opened in 1880, it ran at grade (see above postcard), with a small ticket and baggage office; it was named for an adjacent hotel owned and operated by Michael P. Holland.
In 1942 the grade cross was eliminated, as I have said. An R-9 consist arrives at Beach 90th along the Hammels Wye, the Y-shaped connection between the Rockaway Park and Far Rockaway branches of the line.
On that day in October 1975 when I biked out to the Peninsula, I made note of the dwarf Woodies that were illuminating Rockaway Freeway. You can see two of them in this photo from the 1980s at Beach 85th Street by collector Larry Rogak. By the 1990s, the Woodies had been replaced by regulation octagonal poles for the most part. Also take note of the very old trainset still in use –not sure of the model; place your answers in Comments.
Rockaway Freeway was a rare use of Westinghouse OV 25 Silverliners and GE M 400 lamps with Woodies. In Brooklyn, where Wooodies held out on the Belt Parkway until the 1980s, they kept their Bells and Westinghouse AK-10 "cups" and in their final era, converted to Holophane "buckets."
However a short stretch of the Belt east of Starrett City had a flock of Woodies that did indeed employ some GE M-400s. Also note in the background the odd combination of Donald Deskey SLECO posts with AK-10 "cups." The Belt featured some weird combos before Woodies and Deskeys were eliminated in the late 1980s-early 1990s.
Rockaway Freeway at Beach 84th Street. The Hammels Wye is a very interesting railroad configuation that has been a part of the Rockaway peninsula since the earliest days of steam railroading. It allows the tracks bridged across Jamaica Bay to travel west to Rockaway Park or east to Far Rockaway. In addition there is separate trackage that connects the two forks of the "Y."
When the RR was elevated in 1939-1942 it was built on multiple arched concrete trestles that make interesting viewing when traveling on Beach Channel Drive.
Because the LIRR bends northeast at this point it is bridged over Beach Channel Drive, and there used to be an open-air section of Rockaway Freeway between Beach 83rd and Beach 80th. I think the city prefers to call this part Beach Channel Drive these days, though there is a lone Rockaway Freeway sign on the northeast corner of Beach 83rd.
Beach Channel Drive, meanwhile, dipped south of Beach Channel for a few blocks, recrossing it again at about Beach 77th. This configuration, though, was blown up by the construction of the massive Arverne-By-The Sea housing project in the early 2000s. Today the "southern" Beach Channel Drive ends at Beach 77th without crossing Rockaway Freeway and rejoining its northern section. Rockaway Freeway, meanwhile, was rendered nonexistent between Beach 83rd and Beach 82nd Streets, with a lengthy stretch under the tracks closed to traffic. Since both Edgemere Avenue and Rockaway Beach Boulevard closely parallel that section, they take up the slack. I'm unclear if the DOT ever intends to reopen that closed section of the Freeway.
A number of stations on the Rockaway Branch line have old names appended to theBeach numbers (Rockaway has a Beach numbering system,, beginning at Beach 2nd and running west to Beach 200-something). The streets had had names for only a couple of decades before the "Beach" system was imposed. Many of Rockaway Beach's side streets, like Frank Avenue (now Beach 44th) were originally built as planks across the sand dunes, leading to the now-vanished seaside mansions and later, bungalows, shown on the map by small yellow boxes.
Gaston
In May 1982 an A train consisting of R-38 cars arrives at Beach 67th (Gaston Avenue). photos: NYCSubway, Subway Nut
In 2000 I found an abandoned synagogue at Larkin Avenue and Beach 67th; it burned down in 2003, and when the Google Photo Truck passed by in 2009, the corner looked like this.
Straiton
In January 1970 a consist of R-10 cars painted blue and white passes into the Straiton Avenue (Beach 60th Street) station. A scrawled sign in the front window says "Raise in Fare Unfair." South of the tracks, Beach 60th is in fact inhabited as we see some tidy one and two family houses. photos by NYC Subway and Subway Nut
Though Rockaway side streets north of the elevated have been recently been revitalized with new housing and the streets newly paved, south of the el tracks and along the waterfront, acre after acre remains unused and you have the spectacle of the elevated tracks and boardwalk stretching off into the distance and in between…nothing, occasionally broken up by a partially paved side street. I call this the Edgemere of Reality, after the neighborhood of Edgemere and its main drag, Edgemere Avenue.
Frank
The Frank Avenue station at Beach 44th Street.
Seemingly stretching into infinity, the concrete trestle and Rockaway Freeway pass the empty blocks between the boardwalk and the railroad in Edgemere at Beach 42nd Street.
Rockaway Freeway finally ends at Beach Channel Drive and Regina Avenue, a short block away from the A train Far Rockaway terminus at Mott Avenue.
Check out the ForgottenBook, take a look at the gift shop, and as always, "comment…as you see fit."
5/20/18