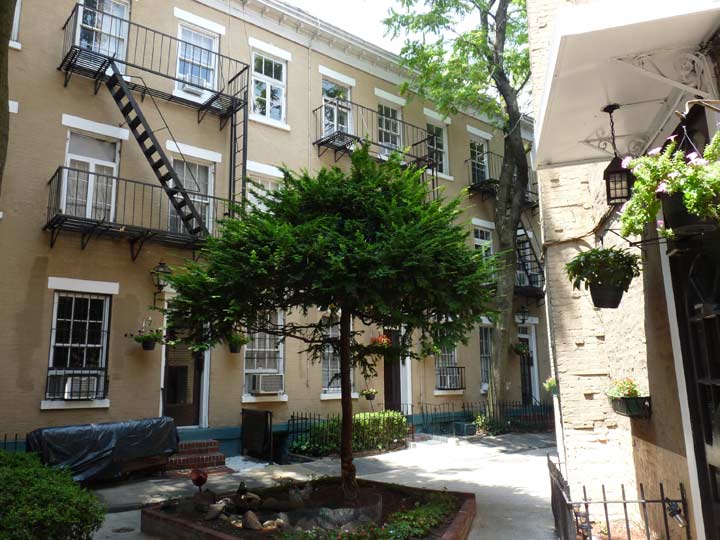 One of the hallmarks of Greenwich Village is that it is filled with odd streets angles and intersections as well as a number of named alleys, Patchin Place, Grove Court, Milligan Place and other obscurer ones. Patchin Place is different from the other two because, while it is gated, the gate is usually open and the public can come in or, in my case, shamble in with a camera and snap away. Though it's a dead end, Patchin Place does have a roadbed and delivery and emergency vehicles can enter provided someone opens that gate. The others are purely walkways.
Not so with Grove Court and Milligan Place, shown here. The gates are locked and to get in, you have to live there, or "know a guy what knows a guy" to open the gate for you. Neither is true in my case, so this has ever been the best photo of the place I can get.
Seemingly straight out of a 1930s Berenice Abbott photo, oddly angled Milligan Place fronts on Sixth Avenue between West 10th and 11th. Named for original property owner Samuel Milligan's land surveyor his daughter married, Patchin Place, around the corner on West 10th Street just west of Sixth Avenue, is more conventionally laid out that its partner, in that it's a straight cul de sac without Milligan's odd angles. Famous residents of Patchin Place have included poet e.e. cummings and authors John Reed and Theodore Dreiser.
Among the former distinguished residents of Milligan Place was the famed playwright Eugene O'Neill.
Check out the ForgottenBook, take a look at the gift shop, and as always, "comment…as you see fit."
7/18/18