The Lower East Side of Manhattan, roughly defined by East Houston Street on the north, the East River on the east and south, and by the Manhattan Bridge and the Bowery on the west, is known in story and song as a teeming, bustling magnet for immigrants in the 19th and 20th Centuries. In the 17th and early 18th centuries, it was primarily countryside and farmland; it attracted ship captains and wealthy landowners such as Rutgers and Delancey, whose names still are prominent on local street signs. George Washington had a mansion at #3 Cherry Street, in a site now serving as an anchorage for the Brooklyn Bridge. In subsequent decades came immigrants: first the Irish, escaping the potato famine of the 1840s and British repression in the 1860s, then the Germans in such numbers that the area became known as Kleindeutschland ("little Germany"), and later Eastern Europeans, many of them Jewish, escaping persecution in their homelands. New populations of Latinos and Chinese have arrived in subsequent decades.
The tenement, as in other parts of New York City, was the dominant form of housing with hundreds of people occupying rooms in the same building. Crowding, freezing cold in winter, and stifling heat in summer were the norm. Reform came only slowly, with the construction of major housing projects in the mid-20th Century.
Today, the Lower East Side is still attracting immigrants from the world over, and theatres, rock clubs and restaurants have added to the Orchard Street crowds in search of bargains. Luxury condos have begun to spring up, despite community protest. Though much of the LES looks as it did over a century ago, developments like Essex Crossing will massively change its "look and feel."
In June 2018, I walked the north-south streets of the Lower East Side from Orchard east to Pitt between Houston and East Broadway/Grand/Delancey and noticing what I saw. I obtained over 300 photos, many of which will be used in this multipart series, which may necessitate a rare midweek feature page. There is more work to be done. I should walk Rivington, Stanton and Broome again, and I have yet to walk Hester, Allen, Eldridge and Forsyth; perhaps that will come during the summer.
GOOGLE MAP: STREETS OF THE LOWER EAST SIDE
Emerging from the F train at East Broadway you are at the confluence of East Broadway, Rutgers, Canal and Essex Streets, at Straus Square, which I deal with on this FNY page. Directly ahead, at Rutgers and Henry, is the Roman Catholic St. Theresa Church, and looming up behind it is the supertall One Manhattan Square that replaced the Pathmark supermarket at South and Pike Streets. It has ruined the view of the Manhattan Bridge from DUMBO in Brooklyn.
Division Street ends its northeast run here on Canal Street, but it formerly was much longer, running northeast to Grand and Pitt Streets, interrupted only by Seward Park. It was so called because it separated grid orientation: roughly north-south streets north of Division, and NW-SE streets south of Division. Despite its narrowness, the 2nd Avenue El ran above Division Street from the Bowery to Allen Street from the 1880s to 1942. [FNY's Division Street page]
Loew's Canal Street Theatre, built by prolific theater designer Thomas Lamb and completed in 1927, had a seating capacity of 2,270. The façade is faced in glazed white terra cotta, richly decorated with masks, wreaths, griffins and other classical ornamentation. Triple-arched faux windows, glazed in black and framed with urns and foliage, are surmounted by an elaborate cornice. — (Lower East Side Remembered & Revisited, Joyce Mendelsohn, Columbia University Press, 2009)
On April 17, 1940 large crowds turned up for the opening of "Forty Little Mothers" starring Eddie Cantor, who was born a few blocks away on Eldridge Street.
The theater closed in the 1960s and the interior was gutted. For several years an electronics store occupied the space and the old sign is still on the exterior — so this spot really has two separate relics in one.
Orchard Street begins its northward run on Division Street. In the 1700s, it was laid out through orchards on the then-vast estate belonging to James DeLancey, who also has a street named for him.
Street art, Orchard between Division and Canal
Jarmulovsy's Bank, Canal and Orchard. Shrouded now by construction netting for the better part of 4 years [ as of 2018], is a monument to one man's failed ambition.
In 1873, Sender Jarmulovsky, a traveling street merchant by trade, started a bank with his savings, catering to his fellow Lower East Siders of modest means. For its first few years, Jarmulovsky's bank was a genuine success in a neighborhood of savers, and he hired the architectural firm of Rouse and Goldstone to build a magnificent bank building. Sender Jarmulovsky passed away shortly after the building opened, believing he had started an institution that would pass the test of time.
It would all be over by 1914. When the Great War broke out in Europe, most of his depositors withdrew their funds and sent them to relatives in the old country; most of them demanded silver and gold coin, not paper money. The state superintendent closed the bank, depositors lost their life savings and rioted, and Jarmulovsky's sons fled for their lives.
It's a grand old building which will hopefully be visible again soon. Bas-reliefs above the doorway flank a now-stopped clock. Cast-iron creatures resembling cherubs from the waist up and vines from the waist down gambol on the ground level above the Canal Street storefronts.
It's unusual to find a pizzeria that doesn't have an Italian-sounding name. Scarr's Pizza opened on #22 Orchard between Canal and Hester in 2016 and judging from reviews, is part dive bar and part pizzeria. It boasts an old school plastic sidewalk sign.
As a cross between a dive bar and a slice joint, however, it works just fine. We can't suggest it for a full meal (unless you come early or on quieter weeknight), but if you want to eat some pizza, drink a beer, and maybe run into someone you made out with once in college, it's a decent choice. Just know that the music is loud, the service is spotty, and if you're over the age of 25, you will suddenly become very conscious of the fact that you are over the age of 25. [The Infatuation]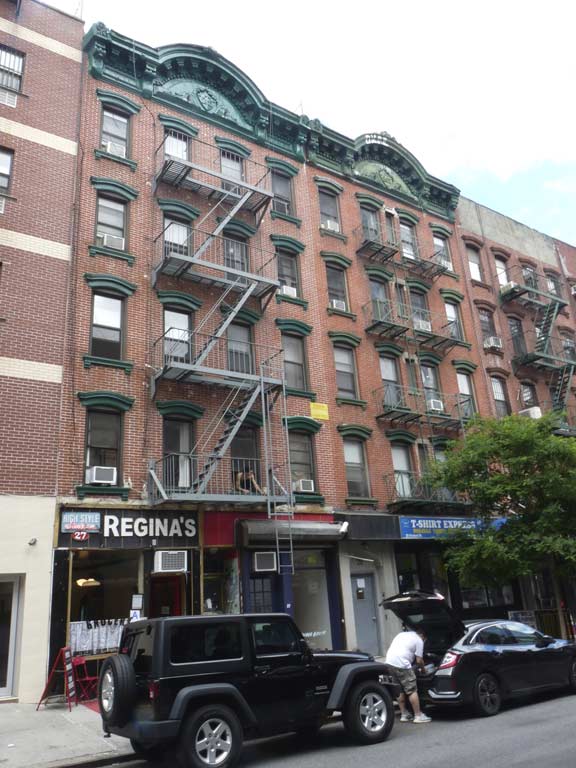 27 and 29 Orchard, walkup apartment buildings from near the turn of the 20th Century. At #27 is Regina's Grocery; the neon sign is hard to make out but it says, "High Style Italian." This is a sort of upscale Blimpie or Subway, with hoagie sandwiches; I might try it sometime.
At #30, Les Demoiselles D'Orchard
Art gallery Alden Projects at 34 Orchard, with a sidewalk sign superimposed over the one for a former tenant.
Bas-relief building decorations, #68 Hester, corner of Orchard. Architects put in these Beaux Arts touches in the 1880-1910 era, just for general beauty. The raised horizontal banding is called a stringcourse.
PS 42, Hester and Orchard Streets, a masterwork by schools architect C.B.J. Snyder in 1898. Originally held 42 classrooms able to accommodate 1890 seats, or 45 children per room. The toilets were still outside the building until the 1940s, and a coal burner was used until the 1990s.
In 1916 this school was named for Benjamin Altman, who opened the B. Altman dry goods store on 6th Avenue and West 19th Street in 1877. The store later moved (1902) to 5th Avenue and East 34th Street. Though B. Altman closed in 1989, both of its buildings are still standing.
Hester Street is named for the daughter of Jacob Leisler (1640-1691) who led an early rebellion against British rule and was hanged for his trouble.
47 Orchard Street north of Hester. Several buildings in the Lower East Side bear Stars of David. The Lower East Side was originally known as Kleindeutschland, or "Little Germany." After the General Slocum steamboat disaster in June 1904 in which over 1000 people died — many from the neighborhood — the Lower East Side Germanic community was devastated. Germans later regrouped further uptown in areas such as Yorkville in the East 80s. The stars can be seen on buildings uptown but by far their greatest concentration is in the Lower East Side.
As anti-Semitic oppression gripped Europe and a series of pogroms raged, Jews emigrated to the United States in the thousands, at first obtaining jobs as peddlers and salesmen, in slaughterhouses and the "needle trade", and occupied tenements in the Lower East Side, originally flimsily constructed wood frame buildings that were sloppily divided into many apartments, later by brick buildings without boilers, hence the term "coldwater flats." Porous, cold, and firetraps as well, the typical 19th-century tenements were dirty, unsanitary and dangerous places to live. Nonetheless, they were homes to countless thousands.
In some cases, Stars of David were placed there by the buildings' developers specifically to attract Jewish immigrants.
When the Tenement Museum was still in a storefront at Orchard and Broome, I stopped into #62 and the salesman was so engaging, I would up buying a shirt.
On the northwest corner of Orchard and Grand stands a utilitarian, brick and stone building designed by Henry J. Hardenbergh, one of New York's most celebrated architects. Hardenbergh is famed for the Plaza Hotel and the Dakota Apartments, as well as the Western Union Building on 5th Avenue and 23rd Street.
It was built as a 3-story warehouse in 1890 but was also employed for stores on the ground floor and a music hall and "moving picture" hall on the upper floors. Harry Zarin Fabrics has been here since 1936; descendant Bobby Zarin recently passed away, while his wife Jill Zarin was featured on the Real Housewives of New York TV series.
Meanwhile, on the southwest corner of Grand and Orchard stands this former dry-goods emporium, E.S. Ridley, constructed about 1870, whose owners cover it in light pink paint.
A pair of messages on Grand and Orchard, "It is the mind that creates your wealth" and the other one.
This building at #324 Grand went up in 2014, but acquired this strange exterior in 2017. The head-to-toe mural is the handiwork of street artist Cryptik, who has been sky high imparting his freestyle calligraphy to the masonry. In his own words, the Southern California-based artist focuses on "Eastern philosophical thought and mantras [that] hypnotically merge with the black letter bombing of cholo writing." [Bowery Boogie]
Max Feinberg's name (not to be confused with Max Weinberg, Bruce Springsteen's drummer) is still prominently displayed at #86, formerly Majestic Lingerie, now Casa Mezcal.
The NE corner of Orchard and Broome is the former storefront home of the Tenement Museum, whose flagship actual tenement is across the street at #97 Orchard. In the first Men In Black movie, it stood in as the venue of an alien fencer of stolen property.
While a piece by Celia Jacobs now decorates the exterior of the corner building, in 2005 I found several 1950s-era ads pasted to the wall that had been hidden under a billboard. Since then, they had deteriorated to illegibility, and have now been covered over again.
The Old New York Cigar Co. at #92 Orchard closed long ago; nonetheless, its sign has persisted.
Lower East side residents of the late 1800s and early 1900s would be a little surprised, and more than a few would be somewhat bemused, to discover that their apartments had been converted into museum space. That's exactly what happened at 97 Orchard Street just north of Broome, in apartments at one time rented by seamstress Nathalie Gumpertz, garment presser Abram Rogarshevsky, and the Confino and Baldizzi families, all representing different eras in the building's long history. Originally constructed in 1867 without gas, hot water or flush toilets, it was like most of the other tenements in the area. Owners only installed these amenities after housing laws were passed around the turn of the 20th Century.
Disappointingly, photography isn't permitted within.
Blue Moon Hotel was established in a tenement at 100 Orchard Street in 2006.
Catercorner at Delancey and Orchard, it's dueling opticians as Sol Moscot (recognizable by bright yellow signage and spectacle art) and Cohen's Fashion Optical square off across the pedal-to-the-metal boulevard. Actually, until a few years ago, Moscot and Cohen's faced off directly across Orchard on the NE and NW corners of Delancey. Moscot was founded on Rivington Street in 1915 after founder Hyman started selling eyeglasses from a pushcart in 1899.
Delancey, named for James DeLancey, owner of much of southeast Manhattan in the postcolonial era, was a quiet east-west thoroughfare until 1903, when the Williamsburg Bridge opened and it later gained four more lanes carved from its south side. It also gained a western extension to Lafayette, named Kenmare Street; local politician and labor leader "Big Tim" Sullivan had it named for the county in Ireland where his mother was born.
Offices, the visitor center and the retail store associated with the Tenement Museum are found on the southwest corner of Orchard and Delancey.
Longtime (1989-2013) Ludlow Street bar/music venue Max Fish reopened a block west at #120 Orchard Street in 2014.
Numerous painted signs still cover the exterior of longtime Orchard Street wholesale Beckenstein's Fabrics at 130 Orchard just north of Delancey. Samuel Beckenstein went into the 'rag trade' in 1917 from a pushcart and had a number of storefronts in lower Manhattan until moving into a former 1902 NY Telephone building at 130 Orchard in 1945, diversifying into men's tailoring, women's clothing, draperies and upholstery. Samuel Beckenstein was supposedly the inspiration for the 1940 hit "Sam, You Made the Pants Too Long," written by Milton Berle as a parodical riposte to the 1932 Bing Crosby hit "Lord, You Made the Night Too Long." Barbra Streisand re-popularized it in the 1960s.
Russ & Daughters, 129 Orchard, is an outpost of the main Russ & Daughters store on Houston Street. Polish immigrant Joel Russ opened a pickled herring shop on Orchard Street in 1914. According to Historic Restaurants and Shops of New York, Russ had an irascible, argumentative personality, not an asset in the retail biz, so he put his three personable daughters to work behind the counter. The business evolved into a gourmet seafood delicacies emporium, still with a vintage 1940s neon sign on Houston Street. One of the daughters' sons, Mark Federman, runs the business now.
On Sundays Orchard Street is closed to traffic north of Delancey and becomes a pedestrian walkway where its many retail shops such as World Hats rake in business.
Handsome entrance to a fairly large apartment building at 140 Orchard at Rivington.
The thick, guy-wired mast poles introduced in the 1950s to hold traffic lights at busy intersections have acquired a new purpose holding signage, as on this one at Orchard and Rivington.
Orchard Street-scape at #155.
The streets of the Lower East Side are not landmarked and new construction in different styles can spring up at any time, sacrificing uniformity for dynamism. One example of this is the relatively new Orchard Street Hotel at #163.
Pizza Beach, as the name would make you suspect, is a beach-themed pizzeria/restaurant at the SW corner of Stanton and Orchard. The building is also host to the Slipper Room nightclub.

Ludlow Street runs south from East Houston where it meets East 1st south to Division and Canal Streets. It takes its name from Lieutenant Augustus C. Ludlow, a naval hero during the War of 1812 against Britain. He took command of the frigate Chesapeake when Captain James Lawrence ("Don't give up the ship!") was mortally wounded in a battle against the British Shannon.
I walked south along Ludlow from East Houston…
The legendary Katz's Deli needs no introduction–it's a top tourist destination for out of towners, and New Yorkers love it too, especially since traditional Jewish delis such as the Carnegie and Ben's Best in Queens have been disappearing. You get a ticket when you come in, and be sure you have it when paying your bill on the way out. I have been in just once, believe it or not, but I'm fascinated with both its neon signage and the painted metal whose typos and crude repair have become iconic in their own right. The "wurst fabric" on the sign is garbled Yiddish for "sausage maker."
The deli was founded by the Iceland family; the Katz brothers bought into it in the early 1900s. All the food is prepared on premises. The shop has served four Presidents, who presumably didn't have to bother with the tickets, as well as Billy Crystal and Meg Ryan; Meg's character faked an orgasm during a conversation with Billy Crystal in a scene in When Harry Met Sally. A woman sitting nearby cracked, "I'll have what she's having."
If Katz's is old school, Black Tap, 2 doors down, is new school. The beer and burgers are only part of the story because the place is abuzz about its signature milk shakes. Since my blood sugar was a bit higher than advisable during my last doctor visit (I was tested for diabetes — negative) it may be just as well that I don't hang out here.
I like the new trend toward sidewalk shingle signs. This Taverna di Bacco (Bacchus' Tavern) sign uses the weathered "Frankie" font (a knockoff of the Franklin font I use on FNY's title cards) as well as the serifed Bookman. In ancient Rome Bacchus was the god of wine and revelry.
167 Ludlow is a large apartment building that has three entrances like this, but only one has retained a doorway lamp, now with green verdigris.
The NE corner of Ludlow and Stanton Streets is held down by the beloved Mexican restaurant standby, El Sombrero, but it has lost its classic handprinted sign.
The standard Mexican fare is okay. The service is mediocre. The jukebox has decent Latin hits. But the whole is greater than the sum of its parts at this notorious Lower East Side eatery. Locals have been enjoying this corner institution since 1984, where the tacos and burritos are, if not sublime, at least served in generous portions. El Sombrero stays open late and has gentle lighting, making it a perfect late-night spot after an evening of barhopping. New York Magazine
No Fun, at 161 Ludlow, recently successfully fended off a neighborhood group (who literally wanted no fun) trying to shutter it. I originally thought the name was "No Fur" which might also make sense in the LES.
At #95 Stanton between Orchard and Ludlow, before 1995, Arlene's Grocery was an actual grocery, with a butcher next door; the old sign was retained after it became a nightclub/concert space. Big name acts such as REM, the late Jeff Buckley and the Violent Femmes have played here.
I have never been in Arlene's, but I was on my way one night when I had a raging toothache. I got all the way there when I decided the tooth was hurting too much and went home. It was a Saturday, of course, and I couldn't get to a dentist till Monday.
This is the facade of one of the Lower East Side's premier music venues, Pianos, which like Arlene's grocery retained the awning sign from its previous incarnation as a piano retailer.
An inexplicably empty lot across the street from Pianos has what I thought was random street art, but is actually an ad for a ritzy joint around the corner on 99 Stanton, The Stanton Social.
The gothic 139 Ludlow, with its ogee-arched windows, is a former gold leaf factory, now the members-only Ludlow House restaurant.
Economy Candy at 108 Rivington between Ludlow and Essex, has been there since 1937 and has been owned and operated by the Cohen family since the beginning. The smallish, cramped store is a wonderworld for candy aficionadoes, with all the well known brands and others from around the globe you have never heard of. Your webmaster has been here to stock up on candy fruit slices and chocolate covered pretzels, but I am on a lower carb and no dessert kick lately (except for nut and fig bars, so I'm off that stuff for now, but I miss it. The sweet-sour mix on the former and the sweet-salt mix on the latter is at the optimum level for my preference in each case.) It's only my superhuman resistance level that kept me entering. I did note its brand new sidewalk sign.
The Beastie Boys, once of NYC's most long-lived hip hop and rap acts, were formed in 1981 by "Mike D" Diamond, the late Adam "MCA" Yauch and Adam "Ad-Rock" Horowitz. Their early gigs were at CBGB, Trude Heller's and Max's Kansas City, where they played its closing night. They have sold 40 million albums worldwide. The LP cover for Paul's Boutique was shot in front of this building on the SW corner of Ludlow and Rivington.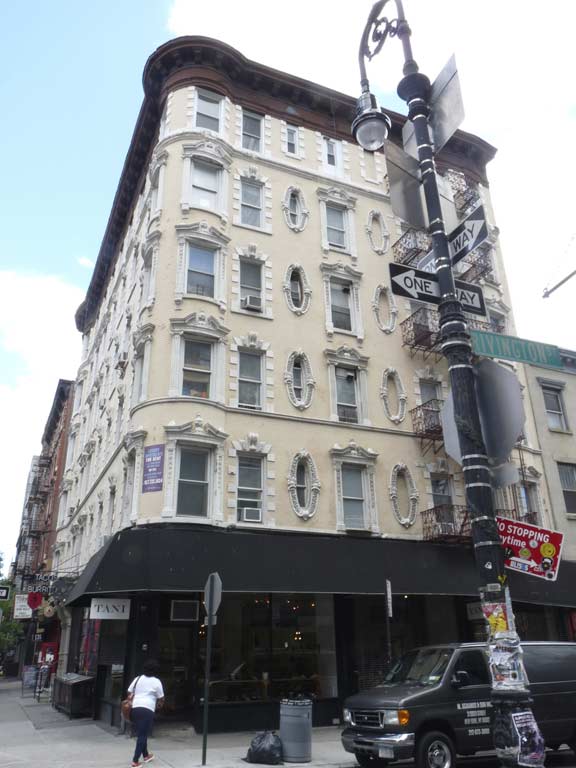 Beaux-Arts classic on NE corner of Orchard and 100 Rivington. I like those oval windows.
Esther Apartments, 126-128 Ludlow, has English characters resembling Hebrew ones on the ID. The date of construction is also included.
121 Ludlow is the former Sochotshov Countrymen Synagogue, now repurposed as a Japanese restaurant.
Congregation Chevra Kadisha Anshe Sochaczew, or Sochotshov Countrymen Synagogue, was organized in the 1880s by recent immigrants from the town of Sochaczew. That town is now in Poland, but back then it was in the Russian Empire and subject to periodic pogroms. As new immigrants, they were poor, and met in homes and stores on the Lower East Side. In 1904 they more formally organized and rented space in a tenement at 121 Ludlow Street. In 1920 they built a three-story brick building on the site, with large windows and the second and third floors. [Bob Cromwell]
Here's a handy dandy guide to the myriad former and current LES synagogues.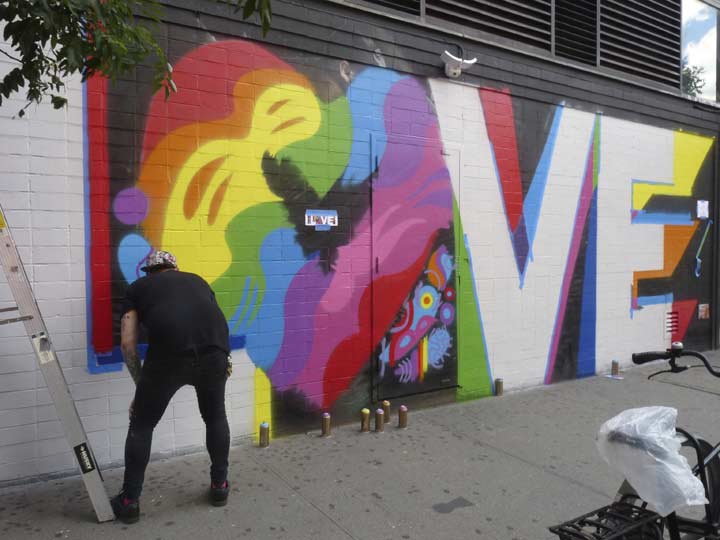 I rarely find a muralist mid-creation but I found just that on this Ludlow Street building front just off Delancey.
I don't know the cause for these claws on the SE corner of Ludlow and Delancey, but I imagine it's another independent street art project.
The former Seward Park High School, one of the largest high school buildings in NYC, takes up the entire block between Broome, Grand, Ludlow and Essex Streets. It was established in 1923 and was broken up into several smaller schools, all located in the same building, in 2006. Alumni of SPHS include actors Tony Curtis, Zero Mostel, Jerry Stiller and Keenan Ivory Wayans.
The bottom floor of 243 Broome, corner of Ludlow, was built in 1920. The floors above that look more like 2018.
Ideal Hosiery, at 339 Grand Street and Ludlow not only has its 1940s painted sidewalk sign still intact, albeit peeling just a bit by now, but the building in which it is situated was first built in 1832 as a private residence.
Over the years 339 Grand has functioned as the home of the Hebrew Benevolent Orphan Asylum Society of NYC, a kitchenware and stove store, the J. Freund mattress store, and since the 1930s, socks, stockings and underwear. It was once part of a concentration of such outlets in the LES, especially on Orchard Street, that have disappeared one by one.
Ideal has lost its sign on the Ludlow Street side of the building but its weathered, battered Grand Street sign seems ready to go the distance, however long the distance may be.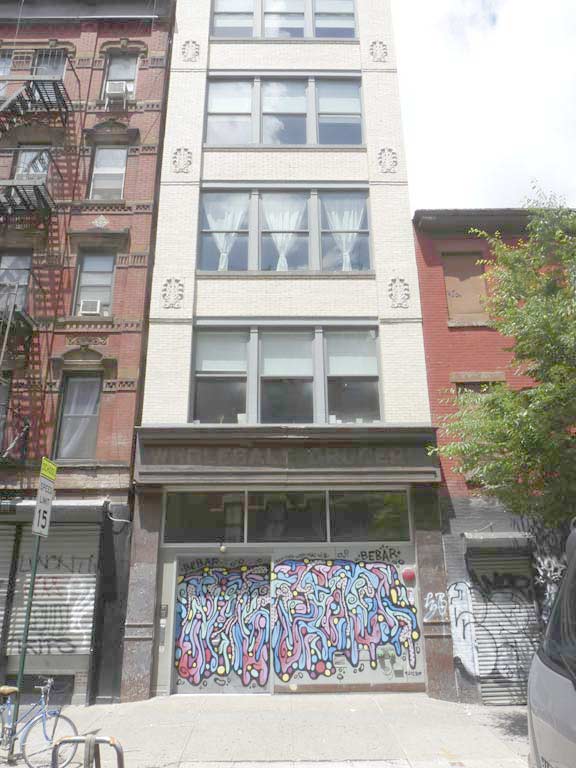 I lightened this building at 55 Ludlow Street a bit so you can see its former purpose above the door: "Wholesale Grocery."
We're a bit east of Chinatown. Nonetheless, here's a food importer at 38 Ludlow, the only sign using Chinese characters on the street.
I found a surprise outside #22 Ludlow, between Hester and Canal: a Westinghouse AK-10 "cuplight" albeit one with a plastic reflector bowl. I am unsure if the building owner or the city installed it. but I bet the former.
The exterior fire escape is a dead giveaway that this is a former theater. It's on top of this page–the old Loew's Canal Street fronting on Canal. I wonder if any of its classic interior has been preserved; if so, can there be a revival, a la the St. George Theater in Staten Island or the Loew's Kings in Flatbush, in the cards?
#5 Ludlow, just north of Canal id the former home of the Kletzker Brotherly Aid Society, formed by immigrants from Kletz, Poland, in 1892. The organization provided funds for funerals, children's aid and medical care for members. It has long been occupied by funeral homes, Jewish, Italian and Chinese, but its original purpose is still rendered on the roofline.
That wraps up Part 1. More from the Lower East Side next time…
Check out the ForgottenBook, take a look at the gift shop, and as always, "comment…as you see fit."
7/1/18