In June 2018, I walked the north-south streets of the Lower East Side from Orchard east to Pitt between Houston and East Broadway/Grand/Delancey and noticing what I saw. I obtained over 300 photos, many of which will be used in this multipart series, which may necessitate a rare midweek feature page. There is more work to be done. I should walk Rivington, Stanton and Broome again, and I have yet to walk Hester, Allen, Eldridge and Forsyth; perhaps that will come during the summer.
GOOGLE MAP: STREETS OF THE LOWER EAST SIDE
There are three north-south streets in a row in the Lower East Side with British-sounding names, Essex, Norfolk, and Suffolk. They are indeed a remnant of British rule in NYC. They were laid out on the property of James DeLancey, who owned much of the southern end of Manhattan in the colonial era. He was a Loyalist and was forced to flee to England after the successful Revolutionary War; like Prince Street, these streets remain as a reminder of British dominance in NYC between approximately 1664 and 1783.
The British names Essex, Sussex, Middlesex and Wessex literally mean "the east, south, middle and west parts of the land in which the Saxons lived." The Saxons came from Germany to the British Isles in the 6th Century. "Norfolk" and "Suffolk" are also British place names meaning "northern people" and "southern people."
Essex Street begins its northward run at Strauss Square, where Canal, Essex, Rutgers Streets and East Broadway all meet, punctuated by William H. Seward Park, named for the US Senator from New York who served as Secretary of State in the Abraham Lincoln and Andrew Johnson administrations. He engineered the purchase of Alaska from Russia and was wounded during Booth's assassination of Lincoln at Washington's Ford's Theater when an associate of Booth tried to kill him as well. His statue in Madison Square is the oldest portrait statue remaining in NYC. The large park by southern Manhattan standards features unusual "king posts" so-called because the spikes on the post-top somewhat resemble a crown.
While other fountains around town have been refurbished and repaired (in the case of the Jacob Wrey Mould Fountain in City Hall Park, spectacularly so) the Jacob Schiff Fountain in Seward Park remains stubbornly ruined.
Schiff, a turn of the 20th Century Jewish financier and philanthropist, donated the fountain to what was then called Rutgers Square in 1894, employing architect Arnold W. Brunner. Schiff "donated the fountain to the City, asking not for recognition of the deed, but only that it 'be kept in proper condition so that the people of the Seventh Ward may have an opportunity to enjoy it.' Unfortunately the city has never been able to maintain it: reports on its deterioration surfaced as early as the 1930s. An inscription from the Bible's Book of Exodus has nearly faded away:
"… and there shall come water out of it, that the people may drink." — referencing the miracle in which Moses struck a rock with his staff, producing a fall of water.
Friends of Seward Park is attempting to "crowd fund" a restoration, which could take as much as $1 million.
In 1903 the Edison Company made a film of neighborhood kids horsing around in the fountain.
M. Schames and Son Paints are still in business — but not here at #3 Essex Street, though the colorful plastic-lettered sign, as well as a classic Dutch Boy Paints ad, remain. The company, founded in 1927, moved to #90 Delancey Street around 2010, while the adjoining building, #5 Essex, was torn down, the site remaining empty.
Tenement buildings on Essex opposite Seward Park between Canal and Hester Streets. Essex Street has also received a et of "City Lights" lampposts; the design was a winner in a city-sanctioned lamppost design contest in 2004. I call them the "Harpoons" with their resemblance to a fishing implement.
Contrasting centuries at Essex and Broome, as the brick, arched-window #75 (former Good Samaritan/Eastern District Dispensary Building) contrasts with a pair of new buildings that are part of the new Essex Crossing residential-retail complex. In 2014 the building was rejected by the Landmarks Preservation Commission.
… in 1967, the city leveled blocks of rundown apartment buildings. More than 1,800 low-income families, largely Puerto Rican, were sent packing and promised a chance to return to new apartments someday. Now, nearly 50 years later, the land is still a fallow stretch of weed- and rat-ridden parking lots, though in the waning days of the Bloomberg administration, the city announced that the land would finally be developed into a complex called Essex Crossing, to include retail markets, restaurants, office and cultural space. And new apartments. NY Times
The Essex Crossing buildings are rushing for completion by the end of 2018.
Aware that the shops in the old Essex Street Retail Market at Delancey Street will be moving across the street to the new Essex Crossing complex, I decided to pay my first and only visit. This was one of a number of retail markets constructed beginning in the 1930s under Mayor Fiorello LaGuardia, who wanted to eliminate the pushcart vendors that he believed were clogging the streets.
The Essex Street Market is operated and managed by the New York City Economic Development Corporation (NYCEDC). The 15,000-square-foot market is made up of approximately 35 individual stalls that range in size from 90 to 600 square feet.
In 2013 it was confirmed that most of the businesses would be moving. Curbed's Nathan Kensinger did a comprehensive report on some of the Essex Market businesses. The only barber in the complex yelled at me not to take pictures of his shop. I could have given him some publicity, but as Joanie Cunningham on Happy Days used to say, he can sit on it.
At Essex and Rivington is a now-rare colorful painted wall ad for Schapiro's Kosher Winery. The vintner was founded in 1899 and originally specialized in thick, fruit juice-like product but has broadened its approach over the decades. The wines can be purchased at the Essex Street Market, between Rivington and Delancey, though this warehouse no longer houses the vintner, now based in Monticello, NY.
A selection of great grates and sidewalk signs. Just one of the businesses seemed to be open, though. Beauty & Essex, a bar/lounge, is the former Katz Furniture store.
Where Essex Street ends at East Houston, Avenue A begins. Avenue A formerly ran off and on all the way to Harlem, interrupted by the ins and outs of the Manhattan shoreline. However, parts of it north of East 14th Street have been renamed Asser Levy Place, Sutton Place and Sutton Place South, York Avenue and Pleasant Avenue.
The former Provident Loan Society of New York building is presently unoccupied, but the organization, now HQ'ed at Park Avenue South and East 25th, still exists. It was set up during a financial panic in 1893 and provided loans at lower rates than other more unscrupulous lenders (a.k.a. loan sharks).

Norfolk Street runs from East Houston Street at "Red Square" (see below) south to Grand Street.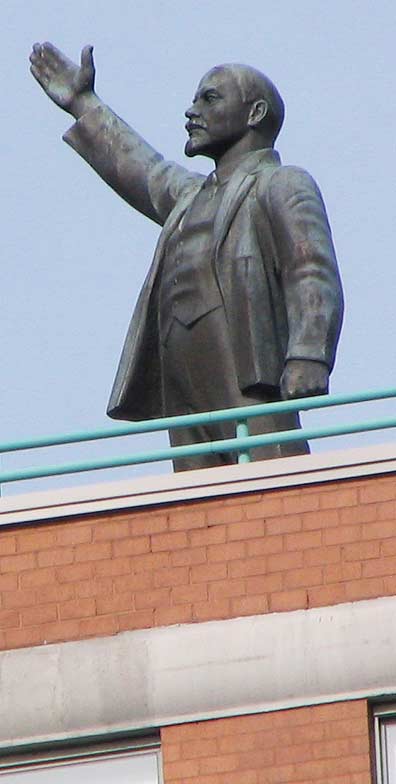 The meeting of Norfolk Street and East Houston is, or was, unofficially known as Red Square, as there used to be a statue of statue of Vladimir Ilyich Ulyanov, who under the pseudonym Lenin, was founder of the Russian Communist Party, leader of the Bolshevik Revolution and architect and first head of the Soviet state.
The statue of Lenin, and the "crazy clock" that appears to have come from Mr. Mxyzptlk's dimension, are part of a luxury apartment building known as Red Square since 1989, when it was developed by owner Michael Rosen, a former professor of radical sociology at NYU who, after finishing work on Red Square, concentrated on developing housing for battered women and AIDS sufferers.
The 18-foot tall statue was a Soviet-commissioned heroic sculpture by Yuri Gerasimov, but when the USSR collapsed, the statue was never officially unveiled. The clock, by designer Tibor Kalman, was based on an "Askew" watch featured in a Museum of Modern Art collection. As Michael Risen explained:
The statue of Lenin was found by a partnership of 3 guys named Walker, Ursitti and McGinnis (WUM). They had an art business in NYC and the USSR [and t]hey asked me to invest with them in a painting they said was worth quite a bit, and as a part of the deal they located a monumental Lenin statue because I wanted one for the roof of Red Square, and also a much smaller bronze statue of a grandfatherly Lenin sitting on a park bench.
Though the Lenin's likeness was removed from the Red Square building, it found a home in early 2017 at nearby 178 Norfolk (you can see his arm on Street View). Another Lenin statue is in the lobby of one of the "Rockefeller Townhouses" of West 54th Street.
The Angel Orensanz Foundation Center for the Arts, 172 Norfolk, is located in a building formerly home to several Jewish congregations: it is the oldest remaining synagogue building in the Lower East Side and was when first completed in a Gothic style by German architect Alexander Saeltzer in 1850 it was the largest, with a capacity of 1200 people.
The various congregations had left by 1974 and the building deteriorated until purchased by Spanish painter/sculptor Orensanz. At first used as a studio, the building has evolved into a theater/performance space/art gallery and even weddings venue; it hosted Sarah Jessica Parker and Matthew Broderick's. A small Jewish congregation has held services in the building's basement since 1999.
The Lower East Side Preparatory High School and Marta Valle High Schools share this 1970s-era building on Stanton between Norfolk and Suffolk Streets.
Children's Magical Garden is one of a number of community gardens scattered around the Lower East Side and East Village. What's unusual here is its location on the SW corner of Stanton and Norfolk. Such locales would seem to be prime real estate development territory.
#153-157 Norfolk are a pair of apartment buildings on Norfolk north of Stanton. #157 has kept its original glass-block entrance. The buildings show Art Deco touches, probably indicating a construction date between 1925 and 1935.
Nurse Bettie, at #106 Norfolk, is a theme bar featuring burlesque shows. What's unusual, though, is in the basement.
Though the gate says "Lower East Side Toy Company" it actually leads to a speakeasy-type bar, the Back Room, a dimly-lit lounge in which drinks are taken in tea cups and the beer cans are obscured in paper bags. This was actually a speakeasy during the Prohibition years of 1920-1933.
Across the street is the Lower East Side's blue glass residential tower, 103-105 Norfolk. Erected on the site of the former Ratner's Restaurant parking lot, this cobalt blue tower, built in 2007 by architect Bernard Tschumi, comprises 16 floors with 34 apartments. Prices range as high as 3.5 million for a duplex penthouse.
Construction at Delancey and Norfolk. Essex Crossing, in June 2018, is far from finished although some of the new buildings can be seen toward the rear of the picture.
Built in 1850, this Gothic Revival structure, the Norfolk Street Baptist Church, later Beth Hamedrash Hagadol Synagogue, once housed the nation's oldest Orthodox Russian Jewish congregation, founded in 1852. The Norfolk Street Baptist Church's congregation evolved into Riverside Church on the Upper West Side.
A Methodist church occupied the building from 1860 to 1885, when it was purchased by Congregation Beth Hamedrash Hagedol and refitted as a synagogue. The synagogue was a designated NYC Landmark. Its Gothic Revival façade featured a tall pointed arch window above the main entrance surmounted by a pedimented roof with a Star of David at the top. Flanking the central section were two square towers with narrow windows. The interior was painted with a sky-blue ceiling and colorful Biblical scenes.
The abandoned synagogue was "largely destroyed" by a "suspicious" three-alarm fire on May 14, 2017.
I'll wrap up the Streets of the Lower East Side — for now at least — next time.
Check out the ForgottenBook, take a look at the gift shop, and as always, "comment…as you see fit."
7/8/18