The Brooklyn Army Terminal, once a huge part of Brooklyn's maritime manufacturing scene, was completed by famed architect Cass Gilbert in 1918 and is situated between 2nd Avenue, the waterfront, 58th Street and Shore parkway. The waterfront is less active now, but BAT is still a bustling, imposing complex occupied now by private businesses and manufacturers.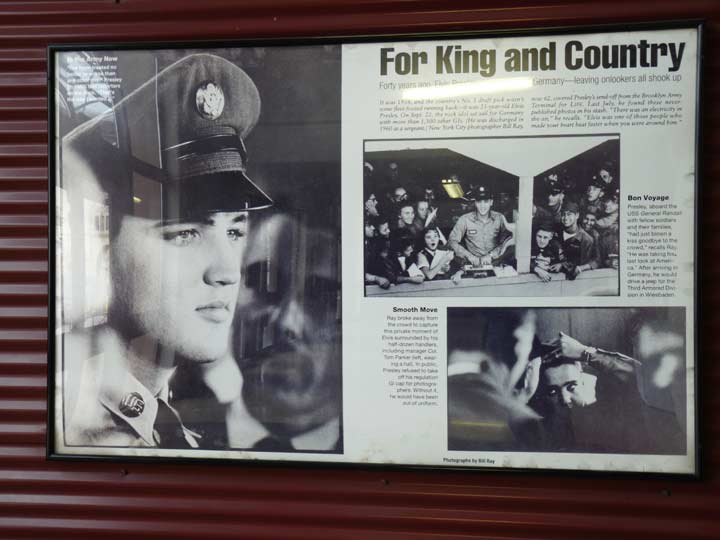 Elvis Presley isn't a name you'd normally associate with the Long Island Railroad, or even Sunset Park or Brooklyn, for that matter. Elvis almost always traveled by plane, and if not a plane, by pink Cadillac. Actually, what may be the only occasion Elvis spent in Brooklyn was one of the more celebrated incidents in his life: the day he shipped out to Germany in September 1958, after he had been drafted, breaking the hearts of women from Portland, Maine to Portland, Oregon.
Elvis took a troop train from Fort Hood, Texas to the Brooklyn Army Terminal, where his transport vessel was docked, with 350 other soldiers. His likely route to Brooklyn involved traveling under the Hudson to the Sunnyside Yards, where the train moved backwards, switching to the Montauk Branch in Long Island City, then through Maspeth before switching to the Bay Ridge Branch at its junction in Glendale, then down through East New York, Flatbush and Bensonhurst to the end of the line in Bay Ridge at the Army Terminal.
The tracks in the terminal are still there, and a replica Long Island Rail Road car that must look much like the one that Elvis rode that day is on display.
If the long-talked about crosstown subway connecting the Brooklyn waterfront with the Bronx via the Hell Gate Bridge is ever developed (hint: it won't) there is a ready-made terminal here at the BAT.
Marc Kirkeby writes in Brooklyn: A State of Mind that Elvis arrived at the army terminal to a crowd of reporters, cameramen, RCA Records executives, Army officials, and the 382nd Army Band, which played renditions of some of the King's hits like "Hound Dog" and "All Shook Up." Elvis spent an hour answering reporters' questions and posing for pictures on the gangplank of the USS General Randall which was docked at the terminal. Colonel Tom Parker, Elvis' manager, never missed an opportunity to get milk from a stone and so, RCA Records would release the q & a session on an extended-play (EP) disc: "Elvis Sails"; a 2:54 excerpt was included on Elvis, 50 Worldwide Gold Hits, Vols. 1 & 2.
The Brooklyn Army Terminal maintains an exhibit in the front lobby commemorating Elvis' arrival in Brooklyn, featuring a few photos of the day's events, titled "For King and Country."
Please help contribute to a new Forgotten NY website
Check out the ForgottenBook, take a look at the gift shop, and as always, "comment…as you see fit."
8/8/18