Flushing's architecture becomes rather drab once you depart from the historic areas along Northern Boulevard or just south of it. Most of the idiosyncrasies and varied elements have been stamped out long ago to make way for boring, doctrinaire high-rise apartment buildings and attached two-family houses. But when you walk along Ash (pictured above), Beech and Cherry Avenues between Bowne Street and Parsons Boulevard, the veil lifts and you are in what seems to be another world.
Waldheim is a Flushing enclave that has so far mostly escaped the clutches of developers who are otherwise turning the rest of the neighborhood into blond-bricked, visible water-meter heaven. Shingle Style, Moorish, Colonial and Classical Revival homes mix with houses that look like early Frank Lloyd Wright. Enormous, 150-year-old trees overhang the blocks, making them cool walks in summer, and the homes are set back a good distance from the sidewalks with many homes displaying well-kept gardens. Widely curved corners on Ash and Beech Avenues where they meet Phlox and Syringa Places allow strollers more of a vista than on normal Queens streets.
In 1903 Franklin R. Wallace sold ten acres of mostly wooded Flushing property to real estate developers George Appleton and W.B. Richardson. The developers set to work building luxury housing and cutting through streets, named for plants in a likely hommage to Flushing's former plant nurseries. Many of the old woods' many huge trees were retained as street trees, and the developers named the tract Waldheim, German for "woods home." A small number of architects under the supervision of Appleton worked on the new neighborhood, which originally attracted Flushing's wealthier set: at one time, the founder of Buster Brown shoes, the Hellman family of mayonnaise fame, and members of the piano-manufacturing Steinway family lived in Waldheim, as well as Appleton and Richardson themselves. The appellation "Waldheim" fell from favor during World War I.
Waldheim is not landmarked, and there has been a very slow erosion with apartment buildings and other multi-use buildings springing up. Until now this has been a gradual process; but with continued immigration and the demands for housing entailed in that, it's likely that more of Waldheim will succumb. In recent years, the mansion belonging to Arthur Nash, a designer for Tiffany, was lost, along with several of Tiffany's stained glass windows, was lost. See Waldheim before more of it falls.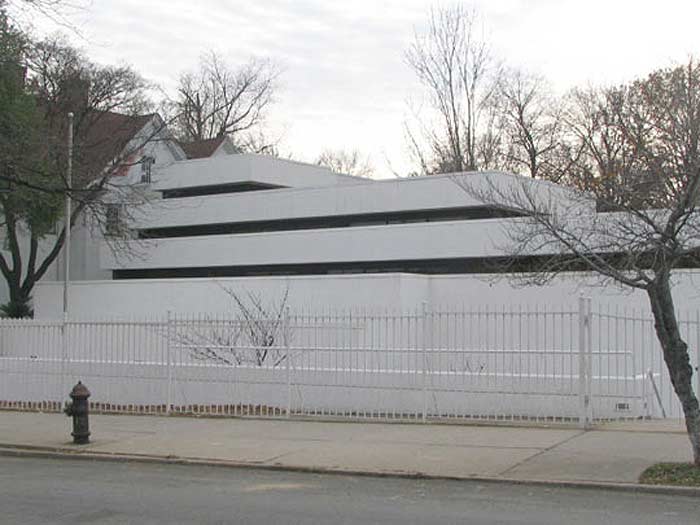 The Nichiren Shoshu Temple, Daihozan Myosetsu-Ji,a Japanese Buddhist temple that the American Institute of Architects (AIA) Guide to New York City describes as "Serenity without dullness: a testament to the expressive possibilities of thoughtful architecture, even when rendered in ribbed concrete block." It is a low, graceful building, and certainly an interesting replacement structure.
Sadly, the Buddhist temple is the exception: a modern building that, by its tranquility and beauty, compliments the surrounding older dwellings. Newer development has been accelerated in recent years, and it is strictly cost-effective, multi-family buildings I like to call "Fedders Specials" with uniform shades of blond brick and exposed water meters (do federal or state guidelines mandate that the meters have to be so easily accessible?)
Please help contribute to a new Forgotten NY website
Check out the ForgottenBook, take a look at the gift shop, and as always, "comment…as you see fit."
8/15/18