By SERGEY KADINSKY
Forgotten NY correspondent
At the spot where Flushing Creek widens into Flushing Bay, there is a Department of Transportation storage yard and asphalt plant with a unique address: 32-11 Harper Street. It is the only address on this dead-end employees-only road that leads into the property. While the transformation of nearby Willets Point from industrial to commercial gradually continues, this corner of Flushing will continue to manufacture as a city-operated facility.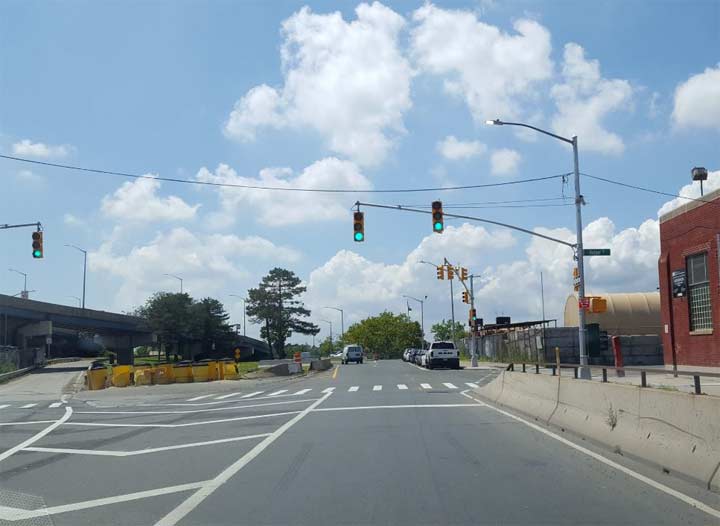 From an off-ramp on the Whitestone Expressway, one can see Harper Street as a driveway into the storage yard, with a security booth keeping the public away. The DOT facility dates back to 1938, built as an asphalt plant to serve the nearby 1939 New York World's Fair and new highways built to access the event at Flushing Meadows. In early 2018, a traffic light and street sign were installed here, making Harper Street a bit harder to miss.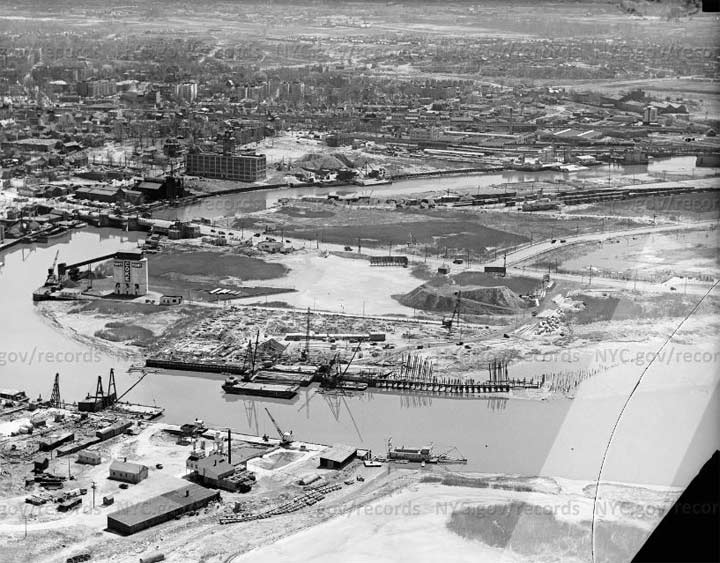 As the June 1938 aerial survey from the Municipal Archive shows, the curve at the mouth of Flushing Creek had a couple of familiar items in view: the Serval zipper factory, and the Flushing Bridge that carries Northern Boulevard. Within a year another drawbridge will be built above the asphalt plant, carrying Whitestone Parkway across the creek.
From the TBTA archive is a 1962 photo of the Harper Street Yard and the Whitestone Parkway drawbridge. In anticipation for the 1964 New York World's Fair, the parkway was upgraded to an expressway and a fixed span was built alongside the drawbridge which was never lifted again.
In 2005, the drawbridge was demolished in favor of an updated overpass with wider lanes. The one-mile ramp that is Exit 13A on the southbound Whitestone Expressway connects to Grand Central Parkway, Northern Boulevard, and Astoria Boulevard. Paralleling Flushing Bay for a mile, it is part of the unbuilt Astoria Expressway that was killed by neighborhood opposition in the late 1960s. At 111th Street, the highway ramp ends abruptly, continuing west as Astoria Boulevard.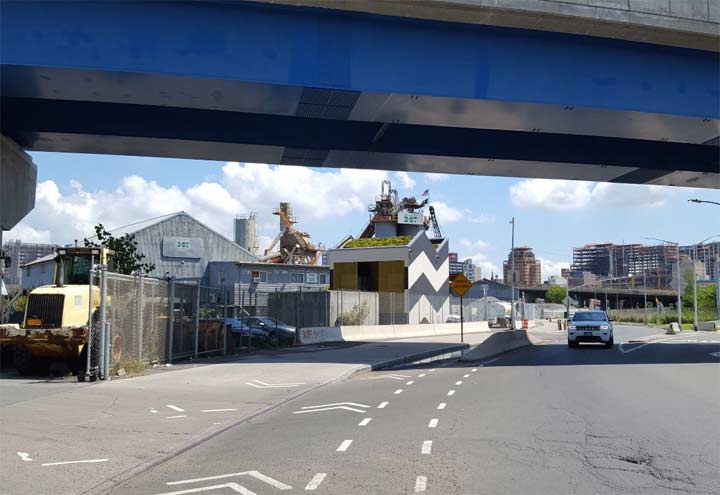 If you drive by to fast you will miss a recent post-modern addition to the Harper Street Yard. The electric transformer has a tilde shape reminiscent of the mustache above the soft N that appears in the Spanish alphabet. Its roof has a green cover demonstrating that no building it too small for an environmentally sustainable solution.
More than a fifth of the asphalt produced here comes from recycled asphalt that is brought here and again turned into the same product, keeping it out of landfills.
With much of the city's formerly industrial waterfront being transformed into new parks and upscale residences, the Harper Street Yard is one spot on the water's edge where things are still being manufactured, asphalt without which our city couldn't run.
No survey of an obscure street would be complete without a survey of historical maps. Who was Harper and is this street a small piece of a much larger grid that was never completed? On the 1903 Sanborn property survey, I highlighted Harper Street on the massive grid of paper streets that also includes a proposed canal linking Flushing Bay to Newtown Creek using Flushing Creek, Horse Brook, and Maspeth Creek as its route. In reality, the 1903 landscape here was barren, except for Northern Boulevard's bridge across the creek. The shoreline of Flushing Bay is described as a "proposed public park" which will become reality as the Flushing Bay Promenade in 1939.
On the 1911 Sanborn survey, the grid is modified. Some paper streets have numbers assigned while others have names. Harper's neighbors here are Yacht, Noell, and Delavall. None of them will be built. Except Harper. Also notable here is Berrian Boulevard, a small stub on Bowery Bay in Steinway that the planners extended along Flushing Bay to Flushing Bridge. In reality, this boulevard to this day is a mere five blocks near Bowery Bay. Roosevelt Avenue makes its appearance here, with its bridge across Flushing Creek. It would be completed in 1927. The railroad on the map is the LIRR Whitestone Branch, which would be abandoned in 1932, leaving a sizable chunk of northern Queens without direct rail service to Manhattan. Finally, I circled another Forgotten-NY find on this map, Corona's since-demapped Pell Avenue.
Looking at a close-up of the 1911 map, the landscape is still undeveloped, except for a few shacks next to Flushing Bridge. At the time Northern Boulevard was known as Jackson Avenue. Today, only the westernmost mile of NYS Route 25A retains the name Jackson Avenue.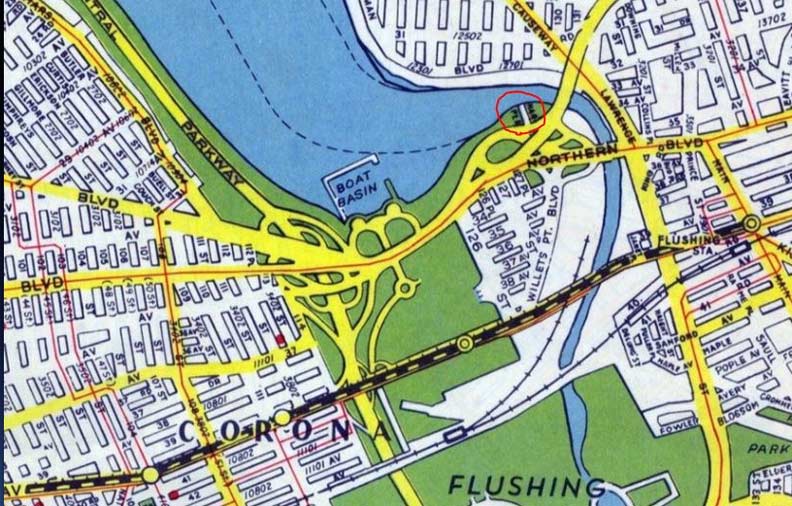 The paper streets of the Iron Triangle, also known as Willets Point were completed and numbered, resisting the city's attempts at redevelopment for much of the 20th century. On this 1946 Hagstrom map, I circled Harper Street, as it is barely visible amid the tangle of highway ramps, parkland and waterways. I could not find information on the street's namesake but like most named roads, I presume it was either a landowner, politician, surveyor, or randomly selected English word. Within a square mile of Harper Street there are a few other unusual streets that appear on Forgotten-NY: Birds Alley, Linnaeus Place, Janet Place, King Road, and so many others.
Sergey Kadinsky is the author of Hidden Waters of New York City: A History and Guide to 101 Forgotten Lakes, Ponds, Creeks, and Streams in the Five Boroughs (2016, Countryman Press) and the webmaster of Hidden Waters Blog.
Please help contribute to a new Forgotten NY website
Check out the ForgottenBook, take a look at the gift shop, and as always, "comment…as you see fit."
8/14/18