By GARY FONVILLE
Forgotten NY correspondent
Over the years, throughout the NYC subway system, there have been many instances of the perceived or actual need to close subway entrances/exits. In fact, I have an entry in FNY called Old and on a Train (September 29, 2012) that highlights a few instances where subway entrances/exits were closed over the years.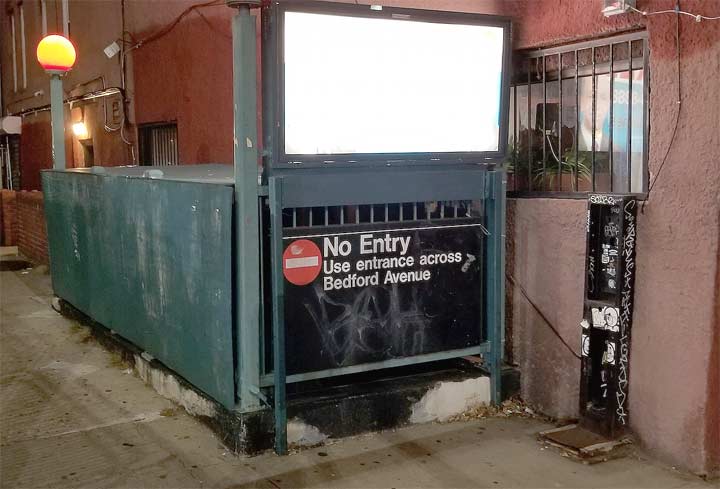 This subway station's entrance/exit's recent closing, at the Bedford-Nostrand (G) stop, was particularly surprising to me on several fronts. It was logical to place this east-west station here to service Lafayette Avenue, between two major thoroughfares. Lafayette, Bedford and Nostrand Avenues can truly be considered major streets in this part of Brooklyn. The IND (Independent) Subway's planners arguably planned more entrances than were needed to move passengers expeditiously through its stations. Bedford/Nostrand originally had FOUR entrances/exits on the eastern end of the station at Nostrand Avenue and FOUR entrances/exits on its western end at Bedford Avenue, for a total of eight. And this station is in a residential area! On the Nostrand Avenue end, the NE and SE entrances have been closed, while the NW and SW entrances at Bedford Avenue have been closed.
With the station being located on Lafayette Avenue, between Nostrand and Lafayette Avenues, hence the name Bedford-Nostrand, there was a small problem. The station platform's length does not physically cover the distance between Bedford and Nostrand Avenues. Consequently, there are walkway extensions that extend east to Nostrand Avenue and another walkway extension to reach Bedford Avenue.
I was also shocked at this station entrance/exit's closure, because Bedford-Stuyvesant is rapidly being gentrified. I can personally attest to Bed-Stuy's demographic changes . When I met my girlfriend, now my wife of almost 42 years, who lived nearby on Monroe Street, I remember what the demographics were. And don't even talk about the income level of the new residents, and the cost of housing. All you have to do is now observe all the shiny new upscale looking apartment buildings and the many correspondingly looking real estate offices that are popping up all over in Bed-Stuy.
Right here, right now (September, 2018), I'm making a prediction. You're reading it here on FNY. This station entrance/exit will reopen! Why? There is precedent in the history of the MTA when it comes to reopening an exit/entrance. The South Portland Avenue entrance/exit at the Fulton Street (G) station was shuttered while Fort Greene was not seen as desirable neighborhood. After Fort Greene rebounded, and Fort Greene became more desirable, community pressure forced the MTA to reopen the entrance/exit.
I can't count how many times I've been on the corner near the north side of Joralemon & Court Street, downtown Brooklyn, and never saw the kiosk's manufacturer's name. But hey, that's one of the reasons FNY exists. Stuff's that's in plain sight is still missed and overlooked. It gets exposure on this website.
As I exited the B45 bus, waiting to cross Joralemon Street, I noticed this identifying feature. This indelible mark for the Hecla Iron Works indicates the kiosk was manufactured in 1907. Even though work on the first IRT tunnel under the East River commenced on March 4, 1903, it wasn't until January 8, 1908 that the Borough Hall station opened.
Hecla Iron Works was formed through a partnership between Charles Eger and Neils Paulson in 1879. The firm started as Paulson & Eger, but its name was later changed to Hecla in honor of a volcano in Iceland named Hecla. Hecla became a very successful business as they were awarded numerous contracts around NYC and elsewhere. A very short list of where its work can be seen are: The Dakota (NE corner of Central Park West & 72nd Street, the Macombs Dam Bridge (155th Street & 7th Avenue to the Bronx), the 155th Street Viaduct (155th Street & 7th Avenue to 155th Street & Edgecombe Avenue). The company's largest footprint was the 100+ kiosks they designed and built for the Interborough Rapid Transit Company (IRT).
Because the kiosks were generally placed on corners, they were thought to be a safety hazard in that they allegedly blocked driver's sight lines. By the early to mid 1960s, they were all removed. Currently, there are three stations, as far as I know, that have kiosks from the subways' original construction. One is here at the Borough Hall IRT (4,5) station, the downtown side at Wall Street (IRT (4,5) on Broadway and the one that greets passengers on the BMT (R) at 77th Street, west side of 4th Avenue. The one on the uptown side of the Astor Place IRT (6) doesn't count. It's a replica.