I had an interregnum of work this past spring (2018), the better part of two months for a financial printer in Midtown. The hours were overnights from 12 to 8, though, and it played havoc with my sleep schedule — I could not really sleep that much during the day and would make up for it on weekends and overnights. During that time, though, I was able to get out for a monster walk, 8-10 miles, from Manhattanville east to Hunts Point in the Bronx, where I had not been for nearly a decade. The two coordinates are fairly easily attained on foot by using East 145th and Westchester Avenues, and I stuck to those routes, veering off when there was something nearby of interest. And, the cool clear weather was prime for photography; the summer that followed has been a humid, murky mess.
This particular series may have multiple parts, since I'm trying to find a way to do shorter posts despite getting 257 shots on this particular walk.
GOOGLE MAP: MANHATTANVILLE TO HUNTS POINT
Heading north on Hamilton Place we find one of my favorite lampposts in the entire city, the only monumental Twinlamp remaining.
I have a catalog of NYC lampposts produced in 1934, which includes the usual bishop crooks, Corvingtons and twinlamps seen elsewhere, but a great many other forms that have vanished without trace. The catalog identifies this post as a New York Electric Type 6 Twin. They had a much "busier" base, and a taller shaft, the better to spread light on major intersections. Only one of these exists today, here at Hamilton Place, West 143rd and Amsterdam Avenue, albeit in a compromised fashion.
As is the case with other old posts around town, some mixing and matching has been done, and in the case of this post, a Type 24 Variation 3 was attached decades ago to the existing Type 6 Twin base. So, we have two extinct posts in one, since the variation, easily recognized by a sharp spike at the apex, is now totally absent in the city, except for here. I call the Variation 3 the "German helmet" since it featured an upright spike finial in the center. This variation exists nowhere else but here, too.
Unfortunately the post still has its 1980s Holophane "buckets" and really should get some teardrop Bell fixtures.
I've written about other extinct NYC lamppost forms here.
The Johnny Hartman on the street sign was a locally-based jazz singer (1923-1983) who collaborated with John Coltrane (the only vocalist Coltrane used on his recordings), Dizzy Gillespie and Errol Garner.
A look at some of the residential buildings surrounding the Hartman Plaza area. Most of these buildings reflect Beaux Arts sensibilities, in which there was a lot of ornamentation, and likely went up between 1895 and 1910.
The Corvington lamppost style first appeared in NYC streets around 1915, and was first retired in 1950 when modern octagonal poles were first produced. The Department of Transportation started bringing them back in the 1980s along with other older forms such as bishop crooks, twinlamps and Type Fs; the Type B park posts were never retired. When the city brought them back, they were brought up to date by attaching guy-wired stoplight masts on busy corners, as seen here.
New monolithic LinkNYC installations allow New Yorkers to make cell phone calls and function as the new version of the phone booth, though Clark Kent would have a tough time changing to his supersuit at one of these. They also function as message boards, with mostly NYC trivia showing up thus far.
Mishkin's Pharmacy, southwest corner of W. 145th Street and Amsterdam Avenue, has been an old-school staple for many years. It has recently streamlined its interior, but kept the tower neon sign and hand-lettered signs on the corner doorway pillar.
According to the store's website, Mishkin's was started in 1890 by a Russian Jewish immigrant. Later, it appears that Mishkin's became a New York chain, with a location at 116 W 14th Street by 1964 and another on Columbus. A third Mishkin's still exists in Brooklyn at Broadway & Kosciusko Street. The Mishkin's at 145th was purchased by its current owners, Mr. & Mrs. Yoo, around 30 years ago. Scouting New York, 2013
Mishkin's modernized its sidewalk signage some years ago, but the vertical neon sign is still in place. The Bedford-Stuyvesant Mishkin's, and its own set of classic signs, remains in place.
Turning east on East 145th, you run into a variety of neighborhoods with interesting and eclectic architecture that have been designated, in several separate Landmarked districts, as Hamilton Heights, Hamilton Heights Extension, and Hamilton Heights-Sugar Hill, between 1974 and 2005. However piecemeal the designation, the dwellings, churches and commercial buildings are saved from whatever developer wants to swing a wrecking ball.
From the Hamilton Heights Extension report:
These six row houses were designed [in 1986] by the architect G. A Shellenger for Paul B. Pugh & Co., a general contractor who was based in Washington Heights at No. 968 St. Nicholas Avenue. His firm specialized in carpentry and the construction of flats and private dwellings. Pugh purchased the lots from James B. Gillie in April 1896.
Hamilton Heights is a small, tight area just north of the City University of New York (whose Shepard Hall, built on a high hill, is one of New York City's great edifices) consisting of beautiful row houses clustered along Convent Avenue and Hamilton Terrace between West 141st and West 145th Streets. City College of New York has anchored the neighborhood since the first decade of the 20th Century; I showed many of its handsome buildings on FNY's Convent Avenue page.
While the neo-Gothic Convent Avenue Baptist Church on the southeast corner of West 145th and Convent (1899) might get more notice in the area guidebooks, I find the even older Mount Zion Lutheran Church and its parish house (1909), built in two distinct eras, more camera-worthy.
Mount Zion Lutheran Church has been at its present location since 1944, but the building was designed by Joseph Wolf in 1888 for the Hamilton Grange Reformed Church. In 1906, St. Matthew Evangelical Lutheran Church purchased the building and moved from their downtown location at 354 Broome Street, bringing along their German-language memorial tablets that remain at the church entrance. NYC American Guild of Organists
The beige paint, applied long ago, is flaking off and the stepped roof is reminiscent of Flemish or Dutch architecture. The parish house, next door, is a Gothic masterpiece with ogee-arched stained glass windows. It is now home to the Global Community Charter School.
Sugar Hill proper begins a few blocks north of West 145th Street but it's close enough for the owners of the Sugar Hill Cafe on West 145th. The area was named because it represented the "sweet" life to aspiring African-Americans who lived uptown, aspired to Sugar Hill's then-luxury buildings and spacious apartments, and were then inspired by the Harlem Renaissance, a literary, philosophical and musical movement of the early 20th Century. Musicians Duke Ellington (who took the A train to get there), Cab Calloway, Paul Robeson, Billy Strayhorn and Count Basie called the neighborhood home, as well as civil rights activists W. E. B. Du Bois, Walter White, Roy Wilkins and the Rev. Adam Clayton Powell Sr; literary giants such as Langston Hughes and Ralph Ellison; and jurist Thurgood Marshall.
Jackie Robinson Park is a sliver of green between West 145th and West 155th Streets between Edgecombe and Bradhurst Avenues. It is named, of course, for the great Brooklyn Dodger between 1947 and 1957, the first African-American hired to play major league baseball by the Dodgers' Branch Rickey. It was originally named Colonial Park when it first opened in 1911, and the name was changed to honor Robinson in 1978.
The park's original name is reflected in the name of the Colonial Park Pool, once of eleven massive public pools constructed in the 1930s Depression years by the Works Progress Administration, which provided much needed jobs with a direct infusion of money from the federal government, creating public works. Sergey Kadinsky has some photos of the interior on his own 145th Street page, which has stolen some of my thunder as both of us walked the route at different times earlier in 2018.
Odeon Theatre, 256 West 145th Street, is now the St. Paul Community Church, but its painted signs–there's one on each side — are still plainly readable on both sides of the building, and the date of construction, 1910, can be seen on the cartouche over the door. The theater opened in 1911 and was used for vaudeville stage shows and motion pictures until 1925, when it began running films only, and remained in that capacity until 1961. Those who have been inside say many original furnishings remain, including the 1924 theater organ which is still used by the church.
The Indispensable Walter Grutchfield has much, much more.
Before entering the 145th Street Bridge at Malcolm X Boulevard (Lenox Avenue), two of Esplanade Gardens high rise buildings loom. They were constructed in 1968; rents have remained (relatively) affordable as the buildings are covered under the Mitchell-Lama subsidy program.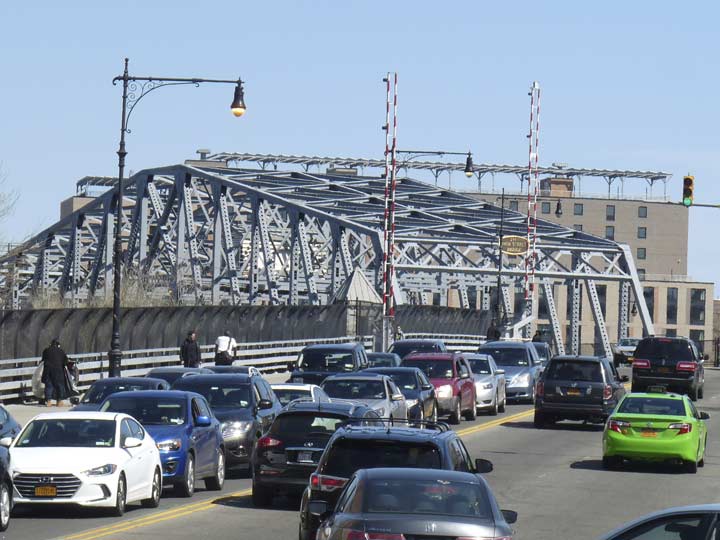 The first 145th Street Bridge over the Harlem River was constructed in 1905 as a drawbridge and designed by architect Alfred Pancoast Boller, who also designed other Harlem River spans. By the mid-2000s it had become unstable and was thus replaced by a new span built to largely resemble its predecessor, but not quite exact.
Back in 1999, while crossing this bridge I was fascinated by its old-school signage and metal scrollwork. It even had some remaining radial-wave lamps illuminating the walkways. All that was wiped out when the bridge was scrapped.
The bridge crosses the undefended border of Manhattan and the Bronx in the center of the Harlem River. Because Manhattan and Bronx streets are not quite aligned across the river, the roadway becomes East 149th Street once entering the Bronx.
Once on the Bronx side, we're in a neighborhood without a real name west of The Hub area, dominated by Hostos Community College, the giant Lincoln Medical Center, and Cardinal Hayes High School.
I have an attraction to the Art Deco and Moderne architectural designs that first appeared in the 1920s and then dominated the scene in the 1930s, not only for their clean, streamlined appearance, then a novelty, but for the lettering and graphic style so frequently employed on their façades.
The Bronx Terminal Market at East 149th and River Avenue was built in the John Hylan administration in the Twenties. Since then it's been a receiving point for the city's fruits and vegetables (though much of that has moved to Hunts Point in recent decades). It stretches along the Deegan between East 149th Street and the Macombs Dam Bridge near Yankee Stadium. During Mayor LaGuardia's tenure it was expanded and improved and attracted more tenants, and the distinctive beige building with the "Bronx Terminal Market 1935 City of New York" dates to the Little Flower's era.
Meanwhile, Bronx Point, a new development promising "affordable" housing, performance spaces, restaurants, and the new Universal Hip Hop Museum, is set to begin construction just north of here along the Harlem River waterfront, and expects to open in 2022.
The Bronx Post Office, NE corner of East 149th, is another city landmark built from 1935-1937. Its highlights consists of seven tall arched windows, and two relief sculptures on the Concourse side; shown is The Letter by Henry Kreis. Inside, there are also 13 murals by Lithuanian-American artist Ben Shahn and wife Bernarda Bryson.
Hostos Community College, and this section of East 149th, are named for Eugenio Maria de Hostos (1839-1903), a writer, educator and philosopher from Mayagüez, Puerto Rico who agitated for Puerto Rican independence, as well as that of other Caribbean nations. Puerto Rico remains a commonwealth of the United States.
Hostos Community College was founded in 1968; its first classes wee held in a former tire factory. Today it occupies several buildings constructed in the 1970s in the then-popular Brutalist style.
East 149th passes over the Metro-North commuter railroad, formerly the NY Central. Just north of here, the Metro North separates into the Hudson and Harlem RR branches; the Hudson terminates at Poughkeepsie, NY, while the Harlem reaches Wassaic in Dutchess County.
Lincoln Hospital, Morris Avenue and East 149th Street. I actually favor the burnt-orange brick exterior, though some might think architects Max O. Urbahn Associates may have laid it on a bit thick when it was constructed in 1976. The hospital itself was founded in 1839 as the "Home for the Relief of Aged Indigent Colored Persons" at the far east end of East 51st Street by a group of prominent philanthropists. The institution moved to the Bronx in 1898 and became the Lincoln Hospital in 1902.
Approaching the Hub, several tall office buildings whose stories and origins escape me can be found along East 149th, including #349, the Busher Building, and the 12-story #369 East 149th.
Making a jog north to Courtlandt Avenue and East 151st Street to take a look at this beauty. Rumor has it beer baron Jacob Ruppert, an early owner of the New York Yankees, owned a tavern on the ground floor. It wasconstructed in 1882 in a slant-roofed French Second Empire style. It is the current home of the Bronx Documentary Center, established by Michael Kamber in 2011.
The Bronx Documentary Center (BDC) is a non-profit gallery and educational space. Through exhibitions, screenings, and public programming, we show the work of internationally-renowned and emerging photographers and filmmakers who are dealing with the themes that guide the BDC: justice, education, community-building, and positive social change. We also provide free education programs for middle and high school students as well as a professional education program for historically underrepresented adult Bronx-based photographers. This program provides opportunities for professional development and skills training in photojournalism, filmmaking and documentary photography. [BDC]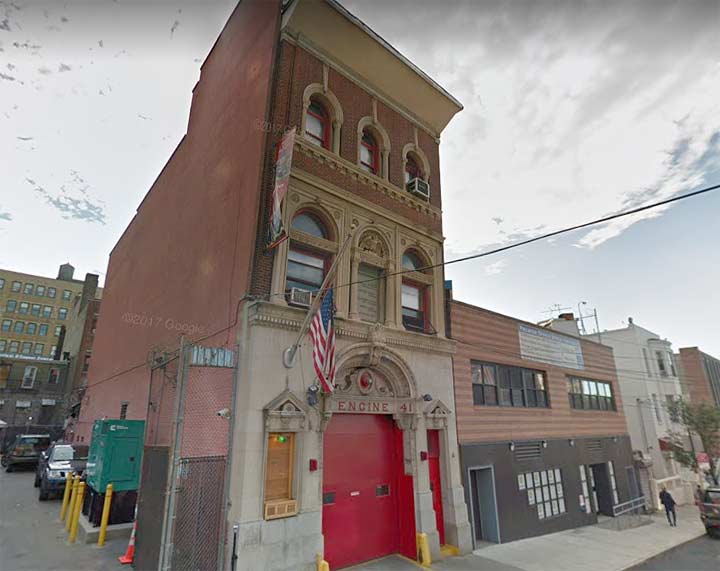 Engine 41, an Italian Renaissance-style firehouse constructed in 1903, on East 150th Street west of Courtlandt Avenue.
The 1880s was a good decade for architecture — the Romanesque Revival Immaculate Conception Church, East 150th and Melrose Avenue [Henry Bruns, architect], was built in 1887, 5 years after the Bronx Documentary Center. It was constructed for German Catholics many of whom worked in the many breweries then operating in the South Bronx. The parish was established in 1853. Its former steeple became unstable and was removed several years ago.
Boston may be known as the "Hub of the Universe" but the south Bronx has its very own Hub where four roads converge: East 149th Street and Willis, Melrose and Third Avenues, while Westchester Avenue begins its journey to Pelham Bay Park just a block to the north. Arrayed along Third is one of the Bronx' biggest shopping areas (eclipsed only by Fordham Road), some mini-skyscrapers near some deserted lots and a number of ghost buildings. The framework for the dome of the United States Capitol was cast here, and Arthur "Dutch Schultz" Flegenheimer ran his speakeasy ring from a command post on East 149th.
A small sliver of property along East 149th east of Bergen Avenue where the #2 and #5 trains emerge from the subway tunnel features lamps and benches and has been declared a "drug-free' zone, as long as the junkies cooperate.
A grand building on the south side of East 149th, facing the plaza, is the former Italian Renaissance-style Bronx Opera House, now a hotel. It was constructed in 1913 [George Keister, architect] on the site of a former stable. The "C & H" on the cartouches stands for the opera house's founders, George M. Cohan, the "Yankee Doodle Dandy" of Broadway fame, and partner Sam H. Harris. The Harry Frazee production "Fine Feathers" was the first play presented. Frazee later owned the Boston Red Sox and sold Babe Ruth, who was holding out for more money, to the New York Yankees after the 1919 season. Over the years, well-known names such as the Marx Brothers, John Bunny, George Burns and Harry Houdini appeared at the BOH.
After some years as a movie theater, a Latin music dance club and a church, by which time it had become considerably rundown, the BOH was converted into a boutique hotel in 2013. Oddly, the Bronx Opera House wikipedia entry is quite comprehensive.
Next time: Into Hunts Point
Please help contribute to a new Forgotten NY website
Check out the ForgottenBook, take a look at the gift shop, and as always, "comment…as you see fit."
9/9/18