On one of the few sunny days in September 2018 I did a short walk up Charles Street in the West Village (the fruits of which will be on a separate FNY page) and then on 11th Street east to Avenue A. I was aware there were quite a few interesting items along this east-west route in the Villages.

I did not cover the western portion of West 11th, which turns southwest from Greenwich Avenue in alignment with the West Village street grid. Something has always perplexed me about the area: the extension of the numbered West 10th through 12th Streets into it, which was done in the mid-1800s. Before that, the streets were called Amos Street; Hammond Street; and Troy Street. Hammond Street was named for Elijah Hammond, who owned a 55-acre estate there formerly belonging to Sir Peter Warren. One of Hammond's townhouses still stands at 282 West 11th.
The intersection of West 11th, 7th Avenue and Greenwich Avenue is one of NYC's true "five points." This used to be the southern end of 7th Avenue, but in the early 1910s, 7th Avenue was extended south, as 7th Avenue South, to the intersection of Clarkson, Varick and Carmine, with Varick accepting 7th Avenue South's traffic.
The intersection makes for some interestingly-shaped apartment houses, like this one on the NW corner. There is a Two Boots pizzeria at ground level. The franchise takes its name from the boot-shaped Italy and Louisiana. Two Boots pizzas are made with cajun spices.
155 West 11th Street, a.k.a. Greenwich Lane, is an anonymous condo complex built at the site of St. Vincent's Hospital, a West Village institution between 1849 and 2010. A great number of people from all over the metropolitan area found themselves in the St. Vincent emergency room at some time between their 18th and 30th years. The hospital inspired the middle name of poet Edna St. Vincent Millay, a Villager, and was the place where Dylan Thomas expired after a bender at the White Horse Tavern. The few 9/11/01 and Titanic survivors were treated there in different centuries.
Not all trace of St. Vincent's Hospital has vanished. One of the administrative buildings, #145, still has a marked entablature. The owners of Greenwich Lane also redeveloped it for residences.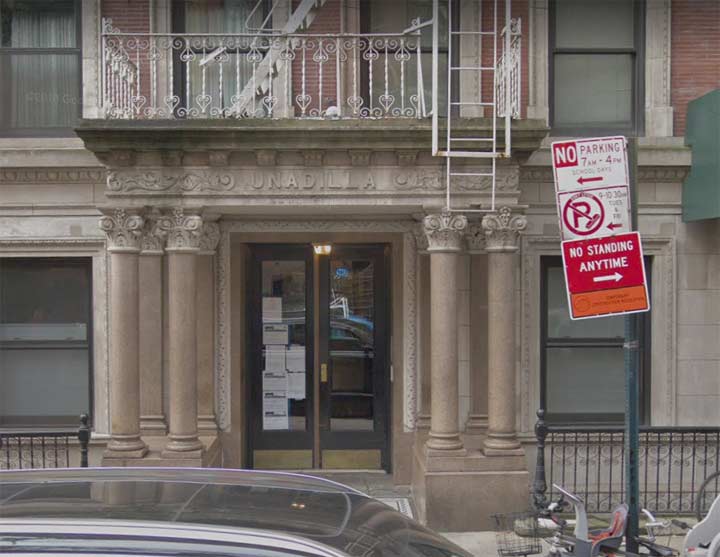 The Unadilla Apartments, 128 West 11th, must have been named for an upstate NY town in Otsego County, population approximately 4400. Perhaps the developer came from there. The town hosts an annual motocross race.
6th Avenue at East 11th Street, looking east. The apartment building on the right, built in 1915 on the southeast corner of Sixth and West 11th, stands in place of an old roadhouse built in 1830 called The Old Grapevine. Village locals would congregate here to exchange gossip and catch up on what was happening. During the Civil War, a certain phrase was adopted that inferred that certain information was being distributed through back channels that only insiders would know.
The phrase was, of course, "I Heard It Through the Grapevine" and, in the early 1960s, Norman Whitfield and Barrett Strong were sufficiently inspired by the phrase to write a song that went on to be recorded by several artists in Motown's stellar stable, including Smokey Robinson and The Miracles, Gladys Knight and the Pips and by Marvin Gaye, who had unquestionably the most successful version, hitting #1 with it for seven weeks in December 1968 and January 1969. The song has also been covered by King Curtis, Creedence Clearwater Revival, the Temptations, the Undisputed Truth, Ike & Tina Turner, Paul Mauriat, Elton John and of course, the California Raisins.
Not a bad showing for a saloon that was torn down ninety years ago!
The five boroughs are chock full of odd little cemeteries, left over from long-gone family homesteads, or from churches or congregations that have since moved away. The greatest concentration of these is in Queens and Staten Island, but Manhattan has a few as well — the New York and New York City Marble Cemeteries off East 2nd Street in the East Village, for example, and the three Shearith Israel Cemeteries in St. James Place in Chinatown, here on West 11th off 6th Avenue, and 10 blocks north on West 21st off 6th.
Shearith Israel was the only Jewish congregation in New York City from 1654 until 1825. During this entire span of history, all of the Jews of New York belonged to the congregation. Shearith Israel was founded by 23 Jews, mostly of Spanish and Portuguese origin. The earliest Jewish cemetery in the U.S. was recorded in 1656 in New Amsterdam where authorities granted the Shearith Israel Congregation "a little hook of land situated outside of this city for a burial place."
… This cemetery is much smaller than it originally was. Burials began here in 1805, in what was a much larger, square plot extending into what is now the street. The Commissioners' Plan had established the city's grid in 1811, but not until 1830 was West 11th Street cut through, at that time reducing the cemetery to its present tiny triangle. The disturbed plots were moved further uptown to the Third Cemetery [below] on West 21st Street. In 1852 city law forbade burial within Manhattan, and subsequent interments have been made in Queens. Sephardic Studies
In 2018, if a cemetery stood in the way of a new street grid the street would, most likely, be interrupted, or be made to angle around the cemetery somehow. In 1830, this part of Manhattan was mostly farms and fields punctuated by the Minetta Brook, and the city was not to be deterred by an apparently insignificant Jewish cemetery. Today, the cemetery is a leftover curio from a former age, overlooked by most passersby; I remembered it from Village jaunts in the 1980s, and it became one of the touchstones when I first began to photograph and compose FNY in 1998.
Two other Shearith Israel cemeteries are still in place in NYC: one on St. James Place south of Chatham Square, and another on West 21st Street west of 6th Avenue. All are well cared for and protected behind gates.
18 West 11th Street, near 5th Avenue, has an unusual V-shaped front, jutting out toward the street quite unlike its row of fellow brick townhouses. It is about 135 years younger than the overall row, in fact, because it replaced a building that was accidentally blown up by a lair of domestic terrorists.
Henry Brevoort, of the apple orchard that helped redirect Broadway, built the row of handsome brick dwellings along West 11th Street in 1844, about 14 years after the street itself came into existence. The buildings blithely carried on for the next 126 years — actor Dustin Hoffman, then near the peak of his early fame after The Graduate and Midnight Cowboy — had recently become a tenant at 16 West 11th.
Five members of the Weathermen, a domestic terrorist group in the 1960s, had set up a bomb factory in the basement of No. 18, purportedly meaning to destroy Low Library at Columbia University. But on March 6, 1970, some of their dynamite cache accidentally exploded. Three Weathermen were killed; two, Cathlyn Wilkerson and Katherine Boudin, escaped and avoided capture for more than a decade.
In 1978 architect Hugh Hardy completed a new building at #18 the largely resembled its mates, except for the jutting front, meant, perhaps, as a reminder of the violent end of its predecessor. For many years the owners kept a Paddington Bear in the window, with ever-changing outfits. The house sold for over $9M in 2012.
Coal chute covers are a relic of the era before central heat. Coal would be delivered via horse and cart and emptied into a chute under the cover that went to a coal burner in the basements of the townhouses. Remaining coal chute covers often have the names of their long-defunct manufacturers, including this one, the M.J. Dempsey Iron Foundry at 548 West 55th Street in Hell's Kitchen.
The former Hotel Albert, at the SE corner of University Place and East 11th Street, was constructed in 1883 by architect Henry Hardenburgh, whose most famous work is likely the Plaza Hotel at 5th Avenue and Central Park South. It was completed by additions in 1904 and 1924. Originally called the St. Stephen, it was thought it acquired the name Hotel Albert because of its association with painter Albert Pinkham Ryder, who was a frequent visitor, but the name came from the hotel's owner, Albert Rosenbaum.
Over the years the Hotel Albert gained a reputation for bohemian and cultural figures that stayed there. In that way, it could be called the Hotel Chelsea of its era. Mark Twain, an East Village fixture, gave lectures at the hotel while Hart Crane wrote his paean to the Brooklyn Bridge ("The Bridge") while staying there. Anaïs Nin, Jackson Pollock, Rocky Graziano, and the Mamas & The Papas were all patrons. In the 1970s, it slipped into decrepitude and became an SRO, but it was revived into condo-hood a decade later.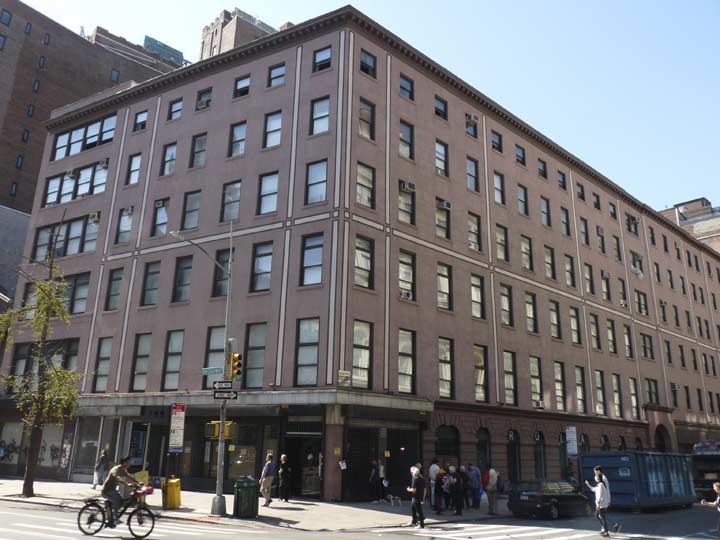 The Hotel St. Denis bookends the block of East 11th between University Place and Broadway. Before a horrible modernization in 1920, it looked like this. It was once one of NYC's most fashionable hotels after it was built in 1853 [James Renwick, architect–he also designed Grace Church across the street]. Presidents Ulysses S. Grant and Chester Arthur were guests in its early days, as were actress Sarah Bernhardt, P.T. Barnum, "Buffalo" Bill Cody. Alexander Graham Bell demonstrated his telephone here.
The St. Denis was named for an early hotelkeeper, Denis Julian. The land had previously been part of the Henry Brevoort (see above) estate.
Unfortunately the building has now been cleared out as a developer has purchased it, intending to raze it for a much taller residential building.
Here's some "uptown" cast iron on Broadway and 11th, across from Grace Church. (Most of NYC's cast-iron front buildings are concentrated in Tribeca and SoHo, though you do find some along 14th and 23rd Streets.) This is a former department store, McCreery's, opened in 1868 by Irish immigrant James McCreery. He arrived in 1845 as a 20-year-old and originally sold Irish goods, but soon expanded into general dry goods. McCreery became a philanthropist and patron of the arts, and his funds helped found the Metropolitan Museum of Art.
Though historic Grace Church fronts on Broadway where it bends at East 10th Street, it maintains a presence on 4th: an opening between buildings vouchsafes a glimpse.
East 11th Street is interrupted between Broadway and 4th Avenue by James Renwick Jr.'s 1883 Grace Memorial House, which was reputedly the first day care center in NYC. 11th Street is interrupted, according to legend, because landowner Henry Brevoort refused to budge when the streets were being cut through in the early 19th Century. By contrast, 11th was bruited through the Second Shearith Israel Cemetery on West 11th Street near 6th Avenue (see above), forcing the disinterment of remains and reinterment in a cemetery on West 21st just off 6th.
My favorite post office in Manhattan, other than the massive Farley PO now being remodeled as the "Moynihan Train Hall" near Penn Station, is this one on the corner of 4th Avenue and East 11th, with a wraparound facade with Doric columns. It was constructed in the mid-1930s by the Works Progress Administration. This is the PO where Newman, the scheming postman from Seinfeld played by Wayne Knight worked — at least the exterior shots indicated as such.
Midafternoon shadows make it tough to get a good picture of the old St. Ann's Parochial School on East 11th between 3rd and 4th Avenues.
One of two reminders of the now-defunct At. Ann's Roman Catholic parish, founded in 1853, can be seen here on East 11th between 4th and 3rd. St. Ann's School was a no nonsense brick structure built in 1870 to the rear of the main church on East 12th, an 1847 building that had been acquired that same year.
When Webster Hall, from the first a concert and entertainment venue possessing a liquor license, was built next door in 1886, pastor Thomas Scott Preston and parishioners set up a hue and cry hoping to close it, and some newspaper editorials agreed:
"A place such as this dance hall draws to it and about it characters with whom children should not become familiar, and creates noise and confusion intolerable in the immediate vicinity of a school and church. The proprietor of this establishment deserves no consideration at the hands of the Excise Commissioners, who have full authority, and are under positive obligation to refuse him a license." NY Sun
However, Webster Hall's owners got to keep their liquor license. After St. Ann's parish church closed, the school became the Delehanty Institute; it has now been converted into apartments.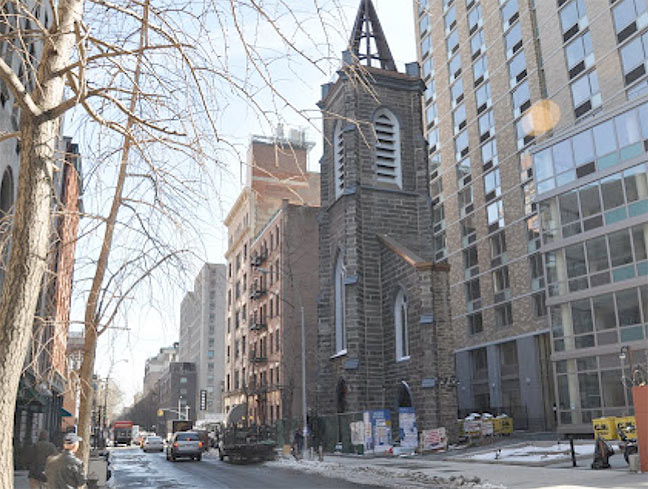 St. Ann's Church itself, a block north on East 12th, is an even stranger relic. The bell tower is all that remains of the former church at 120 East 12th between 3rd and 2nd Avenues. The church was constructed in 1847, and had been an Anglican church and later a synagogue before it was purchased by St. Ann's parish in 1870. Retaining the bell tower, architect Napoleon Le Brun demolished most of the existing building and built a new structure.
After a demographic change, the church was re-established as St. Ann's Armenian Rite Catholic Cathedral, where masses were celebrated in Latin and according to pre-Vatican II rubrics. However, after the Landmarks Preservation Commission failed to landmark the building, it was ultimately sold to NYU, which ripped down the church and built a dormitory, retaining only the original bell tower. "The effect is of a majestic elk, shot and stuffed", sniffs the AIA Guide to NYC.
Webster Hall, shrouded under construction netting in mid-2018 at 125 East 11th Street, has operated continuously as an entertainment venue since its 1886 opening. It is a mix of Queen Anne and Renaissance Revival styles and attained its present size after an 1893 addition. It has endured several fires during its history, in 1902, 1911, 1930, 1938, and 1949. It has hosted labor union rallies, weddings, meetings, lectures, dances, masquerade balls and military functions as well as concerts, attaining a leftwing reputation early in its history, from Emma Goldman to Pete Seeger.
In the 1950s, RCA Records used it as a recording venue. Soundtracks for Hello, Dolly! and Fiddler on the Roof were recorded here and pop legends such as Tony Bennett, Harry Belafonte, Perry Como, Ray Charles and even Elvis Presley used the studio to make records.
Webster Hall became The Ritz concert hall from 1980-1989 before moving to the old Studio 54 space. The Ballinger Brothers opened the current Webster Hall concert space in 1992. In that new incarnation, top acts like Linkin Park, Sonic Youth, The Hives, John Mayer and Modest Mouse have all appeared. I saw Robyn Hitchcock play here 27 years apart, in 1986 and in 2013.
The NYC Webster Hall Landmarks Preservation Commission report provides architectural details that assured that it would take its place among NYC landmarks.
All Saints Ukrainian Orthodox Church, 206-208 East 11th, east of 3rd Avenue. It doesn't look like it but this is actually one of the oldest churches in the East Village — it was constructed in 1851 and has had Welsh (Welsh Congregationalists) and Hungarian (Free Magyar Reformed) parishes. In 1960, a showman named St. John Terrell turned it into an off-Broadway playhouse. Its first production, "Moon on a Rainbow Shawl" in 1962, featured a young James Earl Jones. All saints Ukrainian had moved in by 1971, and recently had added decorative mosaic work to the exterior.
Constructed in 1901 and designed by architect Ernest Flagg, the St. Mark's-in-the-Bowery Church rectory was severely damaged in a 1988 fire, but was subsequently reopened as the Neighborhood Preservation Center in 1999 and is also home to the St. Mark's Historic Landmark Fund, Greenwich Village Society for Historic Preservation, and the Historic Districts Council.
In 1975 drummer Roger Earl of Foghat sat in the middle of the street for the LP cover of their biggest seller, "Fool for the City." The manhole isn't around anymore, and neither is front man Lonesome Dave Peverett. The Flagg rectory can be seen in the background.
Handsome brick walkup buildings from the late 18th Century on the north side of East 11th.
A portion of St. Mark's Churchyard wraps around the back end of the church, seen from East 11th. This portion of the churchyard is usually closed to the public, but the other side, where the burial vaults (including that of Peter Stuyvesant) is open to the public. The church is built on the former holdings of the last Dutch Director-General before the British takeover in 1664.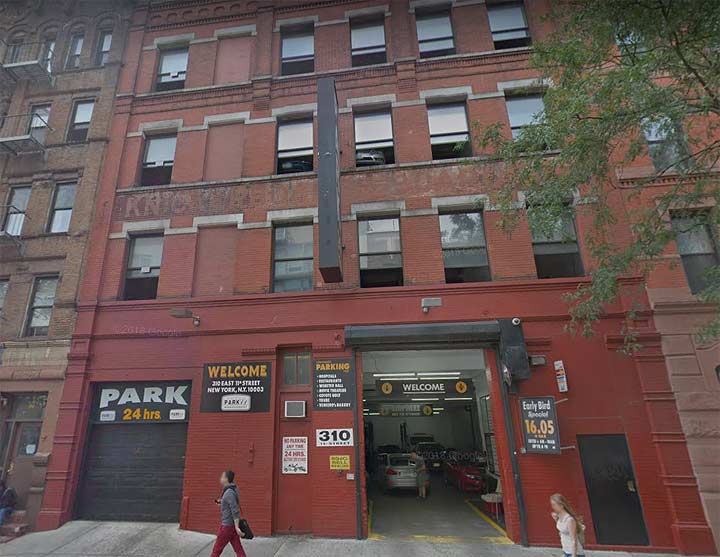 The parking garage at 310 East 11th, between 1st and 2nd Avenues, has a clue to its former use above the second floor windows. There you can find a faded sign "Knickerbocker Boarding." Boarding horses–the building is a former stable. According to the Indispensable Walter Grutchfield, the building was only called the New Knickerbocker in 1915 and 1916, but was in use as a longtime stable from at least 1907 to 1925, when automobiles took over the space.
New York City is big enough that you can find a store dedicated to virtually anything. At #322 East 11th we find John Casey Rubber Stamps, which makes custom stamps and ink pads. When I was a kid, I loved using rubber stamps. I was able to use them in an official capacity when I worked for the Brooklyn Business Library, which was demolished a couple of years ago.
There are many facets to this neck of the East Village woods. There's a Ukrainian population; this was the hotbed of Jewish theater; it used to be Kleindeutschland, or Little Germany; if you go back far enough you find remnants of Dutch rule–Stuyvesant Street used to be the driveway to Peg Leg Pete's plantation. And, along East 11th, you find a number of pasticcerias, or pasta bakeries, such as Veniero's, with its still functioning neon sign. It was founded by Antonio Veniero of Sorrento, Italy in 1894 as a pool hall that served Italian pastries to patrons.
Though Veniero's is a pasticceria, Russo's next door is an actual pasta shop. It is nearly as venerable, having been founded in 1904.
There are two huge, interesting building murals on the south side of East 11th Street on either side of 1st Avenue. This one is by Shepard Fairey, best known for his "Obama Hope" banner from 2008. This, rendered in 2016, depicts his daughter when she was age three. Fairey said he painted it for the kids coming and going from nearby PS 19.
Across 1st Avenue we find Brazilian artist Eduardo Kobra's work depicting pop star Michael Jackson in his "I Want You Back" and "Black and White" eras. It was done in his signature style of overlapping color patchworks layered over a realistic portrait. It went up on East 11th in mid-2018. Unfortunately, Kobra's "The Kiss," depicting the soldier and nurse kissing in Times Square on V-J Day in 1945, visible from the High Line at 10th Avenue and West 25th Street, was painted over.
Another well-known Kobra work is Ziggy Stardust-era David Bowie, on a housing project in north Jersey City. He depicted Bob Dylan in Minneapolis, MN and Salvador Dali in Murcia, Spain.
One more mural–by the basketball court on East 11th between 1st Avenue and Avenue A. "Build It and They Will Ball" is the slogan associated with Golden State Warriors/Brooklyn Nets star Kevin Durant's charity initiative.
An original FDNY fire alarm, first installed in 1912, at Avenue A and East 11th. The shaft once supported an electric light sheltered in red glass.
I am unsure when 511-515 East 11th Street were built but to their developers' and architects' credit, they are pretty much contextual, fitting in with overall building stock of the East Village. Previously on this site, according to the Municipal Archives in 1940, were 5-story walkup apartment houses, with retail storefronts facing 11th Street.
I couldn't ignore the contrast of the barred-up entrance and the flag hanging from the pediment at #533 East 11th. This building was featured in the 1991 film The Super in which Joe Pesci plays a landlord court-ordered to live in one of his rental properties. The building has apparently fared worse than it did in the movie.
At #543 East 11th, the Father's Heart Ministry Center is a striking building originally built in 1868 as the Methodist/Episcopal People's Home Church and Settlement.
At #538 East 11th is one of NYC's surviving public bathhouse buildings, constructed in the middle of Tenementville in the East Village in 1904-1905 when running water for sinks and bathtubs was still something of a luxury and was not included in many buildings housing "lower" and "lower middle class" tenants. It was designed with Indiana limestone by Edward Brunner in an Italo-Renaissance style. Note the Neptune's tridents and fish on the exterior cartouches. This report from the Landmarks Preservation Commission describes the public baths initiative of the early 20th Century.
Some more "contextual" brick multifamily buildings on East 11th, between Avenues B and C. Better than glass or vinyl-fronted apartment buildings, my humble opinion.
SE corner Avenue B and East 11th. #169-173 Avenue B are painted bright blue on the ground floors.
Check out the ForgottenBook, take a look at the gift shop, and as always, "comment…as you see fit."
10/7/18; completed 5/30/20