It had been awhile since I had taken a walk with the camera. For me, "awhile" means a week or more, so I was itching to get back into action in mid-November. I had nothing planned, so I just took the train to Penn Station, got out and headed south on 7th Avenue. This is well-worn territory in my history since I worked in a type shop on West 29th between 6th and 7th between 1988 and 1991; attended classes and later worked at the now-(F)orgotten Center For The Media Arts on West 26th between 7th and 8th; and then worked in the copy bullpen at Macy's, between 2000 and 2004. Nevertheless, I have my eyes peeled more keenly for infrastructural anomalies than I ever did, and hopefully, you'll discover something in this entry of which you were unaware. My route was pretty simple, down 7th, east on Houston, south on 6th then Church until the light started fading at Chambers, when I jumped on the subway back to Penn.
As far as the title card is concerned (if you're on a desktop you can see it), there's only three words that rhyme with "seven": leaven, heaven and my name, Kevin.
I knew I had to get into the Peter McManus Cafe at 7th Avenue and West 19th at least one more time because it is in danger of closing. I was by myself so I didn't enter on this walk, but a few days later I had a couple of friends with me and we spent an evening there. The previous time I was in there was in 1993 — I had a Saturday class at the School of Visual Arts, brushing up on Adobe Illustrator. At the time I was working in the art department at Publishers Clearing House and felt the need to improve somewhat, so I was taking classes at SVA, which had Chelsea offices. It was the much-better-known rival of the Center for the Media Arts, with which I earned a certificate in 1991; the school closed early in 1993 after an aborted purchase by Mercy College.
I had just gotten out of class on a Saturday afternoon, it was raining cats and dogs, and I had a splitting headache. Yet I had never been inside McManus. I was attracted by its exterior woodwork and etched glass signs. I fished around in my pocket for a quarter (you always carried quarters for pay phones) and rang up a friend from Park Slope and had him come down and meet me there. I waited for him at the bar, nursing a beer, and I had another with him when he showed up. Splitting headache and all, we then went out and caught The Fugitive which had just hit the theaters, and called it a day. I have this strange capacity to remember what happened down to the last detail on several days in the dim past.
What was originally a tower owned by New York Telephone on West 18th just off 7th Avenue has become one of the more exclusive residential towers in Manhattan, home to A-listers (or former ones) such as Charlie Sheen, Blake Lively and Ryan Seacrest. When I worked in the area, the building was still owned by Verizon and I saw some picket lines snaking around the block when telephone workers struck.
Back in the 1920s, the New York Telephone Company needed to reassure customers that its newfangled technology was here to stay, and it delivered that message through the permanence of architecture. When it came time to construct a new office and switching station in Chelsea, the company turned to Ralph Thomas Walker, the man who, years earlier, built the Barclay-Vesey Building at 140 West Street, considered the first Art Deco skyscraper in the city. [Gotham Magazine]
There is a beautiful, baffling brick building on the southwest corner of 7th Avenue and West 14th Street with a statue of Joan of Arc over the entrance, which is also guarded by a pair of griffins and another pair of caryatids.
Jim Naureckas of NY Songlines explains that this is the old Jeanne d'Arc Building, once a place where out of town French stayed when in town. Wally G on Flickr explains further:
200 West 14th Street, also known as the Jeanne d' Arc, was designed by architect James W. Cole and built for owner Henry Meinken between 1888 and 1889. The French flat originally housed eight families above ground-level commercial spaces. Sophisticated facades hint at Cole's desire to present the corner building as a middle-class dwelling. They are composed of American-bond brick; carved brownstone sills, lintels, stringcourses, and pilasters; and a projecting pressed-metal cornice. The north elevation projects a central entrance surrounded by carved figures, and above it, a stone statue of Joan of Arc. Aside from its architectural merit, 200 West 14th Street is significant as the earliest existing "French flat" along 14th Street, and as a remnant of the street's brief period as an upper- and middle-class residential enclave.
Kenneth Cole, reaching for low hanging fruit at the subway entrance, in the window of the "Deli Grill," formerly Papaya King, on the corner of the Jeanne d'Arc.
I've begun to notice standalone mailboxes more lately, in both varieties: the blue ones used by USPS "customers" and also the olive-colored ones used as "relays" by mail carriers to place mail before it is delivered. Most of them have the dates of installation embossed on them, as well as the manufacturer. I can't quite make it out — someone help me in Comments. This one goes back to 1951 and is accompanied by a Pangolin (I8U2-236a) street vent.
These buildings, on the north side of West 14th at 7th, are of considerable age, despite repeated residings. You can tell by the telltale crenellation and slanted roof on the Donut Pub building, which means that one goes back to 1875 or 1880.
The "bigloop" lamps on 14th Street were installed around 1990 and are unique in NYC, not appearing elsewhere.
The O'Toole Medical Services Building, an architecturally unique building compared in the AIA Guide to NYC Architecture to Frank Lloyd Wright's Guggenheim Museum building (it's an unusual design, for sure, in a city that has a history of being somewhat stodgy, architecturally speaking). It was completed in 1964 by Albert Ledner & Associates and revised in 1977. Ledner was a Wright student. For several years it was part of the St. Vincent's Hospital complex, and is the only tangible remnant of the hospital except for some chipping subway signs. The building has returned to medicine and now hosts the North Shore-Long Island Jewish Health System as well as emergency room services.
This was originally the National Maritime building…hence the wave-like designs.
The plot formed by 7th Avenue, West 12th Street and Greenwich Avenue is now called the NYC AIDS Memorial Park at St. Vincent's Triangle. The park opened in 2010 after St. Vincent's Hospital across the street was closed and by 2013, razed. The hospital was a beachhead in combatting the AIDS virus, which has spread quickly among the gay population of Greenwich Village in the early 1980s. It established the first hospital ward dedicated to fighting the disease.
The AIDS Memorial, which dominates the north end of the park, was dedicated on World AIDS Day, December 1, 2016. It was designed by studio ai architects and Jenny Holzer, who included passages from Walt Whitman's "Song of Myself" in the construction.
It was said that anyone who ever spent some time in the Village or Chelsea club scene (which didn't include your webmaster) in the 1970s and 1980s spent some time in the St. Vincent Hospital emergency room. These days, Bellevue is the closest full-service hospital, but there is an emergency facility in the O'Toole Building, shown above. The hospital was replaced by a somewhat anonymous condo tower, The Greenwich Lane (155 West Eleventh).
Greenwich Avenue, just west of 7th Avenue. The center building is likely much older than the two apartment buildings that flank it; it could go back to the 1840s as do many 3-story brick dwellings in the Village.
Two Boots pizza chain, at Greenwich and 7th Avenues. The pizza boasts Cajun-style seasoning and other elements unthought-of in Italy, making it unique, and whenever I know I'm not having anything substantial later, I stop in whenever I encounter it.
Greenwich Avenue, on the right, is the divider between the Randel grid system of Manhattan and the differently-oriented Greenwich Village grid. It's one of the oldest roads in Manhattan, going back to the colonial era as Monument Lane. Originally it was part of an Indian trail in the village of Sappokanican that ran southeast and east to about where Cooper Square is today. Another piece of that trail still existing today is Astor Place that runs between Broadway and 3rd Avenue.
Under Dutch rule the road was called Strand Road but by the colonial era the British had made it a military pathway as it ran through the estate of Admiral Peter Warren, the commander of British naval forces during the Revolution. He had acquired several hundred acres of property in the Village in the 1740s.
After 1762, the road was known as Monument Lane or Road to the Obelisk. In 1762, at the spot where Greenwich Avenue meets 8th Avenue today, the British erected a monument to British Major General James Wolfe (1727-1759) who had died in the Battle of Quebec in the Seven Years' War, but by 1773, before American independence was declared, the monument had disappeared from local maps.
When the MTA built a ventilator shaft building at the southwest corner of 7th Avenue South and Greenwich Avenue in 2015, the formerly empty lot's collection of 9/11 themed tiles on the lot's chain link fence was temporarily displaced. Thankfully the tiles have since reappeared on a new fence. Since shortly after the massacre of 9/11/01 Mulry Square, the southwest corner of 7th Avenue South and Greenwich Avenues, a lot bounded by a chain link fence has been the site for hundreds of colorful painted tiles offering remembrance and hope.
Mulry Square, one of the Village's busiest intersections, was created in the early 1910s when 7th Avenue was plunged south from its original source at Greenwich Avenue and West 11th south to connect with Varick Street. This was done when a cut and cover trench for a southern extension of the IRT Subway was being built. 7th Avenue South was gouged through the Village in Moses-ian fashion, creating several new spiderwebs of intersections. Prior to 1914, 7th Avenue ended its southern run at Greenwich Avenue and West 11th Street, as seen here.
7th Avenue South scythes through the SW-NE-oriented Greenwich Village grid, creating some oddly-shaped plots. This parallellogram-shaped building is 30-32 Charles Street. The very small green triangle was created by the construction of 7th Avenue South. Nevertheless, the avenue was created a a time when architectural styles were still somewhat Beaux-Arts and you see that style, with some Moderne and Art Deco thrown in on some buildings that were built later on.
When I led a Forgotten NY tour in the area in 2016, we came upon an old-fashioned standalone barber pole on 7AS between Waverly and Charles. That pole has disappeared — apparently it was a temporary display. However a new, electric-powered barber pole has appeared here on the corner of Charles.
Originally, 181 West 10th Street was a townhouse that was midblock between Waverly Place and West 4th, actually a bit closer to West 4th. Since 1914, it has been on the corner of 7th Avenue South. A new building that somewhat resembles it, 130 7AS, has been constructed to its right in this photo.
A fairly decent map of Greenwich Village has been drawn on the wall of 249 West 4th Street, a building that also faces West 10th Street and 7AS.
What is West 4th Street doing over here, intersecting with West 10th Street? I explain it on one of my Street Puzzlements pages:
For much of its route 4th Street in Greenwich Village behaves as though it were part of the overall street grid mapped out by John Randel in the early 19th Century, especially east of the Bowery, where it joins its parallel brothers East 3rd and East 5th Streets. However, the west Greenwich Village street pattern is a bit wonky, with streets eventually settling on more of a SW-NE orientation rather than a bit off from east-west, like the rest of Manhattan Island. And, south of Washington Square, there are just two numbered streets west of Broadway, West 3rd and West 4th. The grid begins in earnest with 8th Street, where 5th Avenue becomes the east-west divider.
After ceding its name temporarily to Washington Square South, West 4th pushes west to 6th Avenue/Avenue of the Americas. But then something strange happens. It turns northwest, and keeps going and going. Because West 10th, 11th, 12th and 13th turn southwest and keep going themselves amid a thicket of named Greenwich Village streets, West 4th actually intersects them and seems to disprove the notion that parallel lines don't meet.
This situation arose because West 4th, 10th, 11th, 12th and 13th all once carried names (as shown on this page) and at one time, their intersections posed no headscratching from out-of-towners.
In the very early 1800s, West 4th Street was originally named for the nearby Orphan Asylum Society which stood on Asylum Street between Bank Street and Troy Street (now West 12th St.)
The asylum was demolished in 1833, and soon after, the street was renamed as West 4th Street. Only later were the other streets, Amos, Hammond, and Troy, respectively, renamed West 10, 11 and 12 Sts., creating the confusion.
I have never been inside Fedora, on West 4th northwest of West 10th, but have been aware of it for many years because of its iconic neon sign, which lights up at night ("bar" in red, "Fedora" in green). I was unaware, all those years, that it wasn't named for the hat, but for its now-former owner, Fedora Dorato, who had run the small basement Italian restaurant/tavern for sixty years.
Fedora Dorato came with her family from Florence in 1931 when she was 10. She has lived upstairs from the restaurant named for her since she married Henry Dorato in a building that Henryís father bought in 1921, where he ran the restaurant speakeasy Charlie's Garden. Except for paint jobs and air conditioning, the place has remained the same, with its pressed-metal ceiling, intimate tables and dedicated waiters. The Villager
Restaurateur Gabriel Stulman took over the space and has "reimagined" it as "a casual supper club" according to Grub Street. Fedora spoke in favor of Stulman's plan to the community board, which approved. She passed away in 2011.
For me there's an aura of mystery about 228 West 4th between 7AS and West 10th, which looks like it was built around 1915 or so. There's those two sculptures in a classical style by the entrance, but who do they represent? The unusually named "gastropub" Wilfie & Nell occupies the ground floor: I can't find the derivation of that name on any reviews.
I don't know, or have forgotten, the original purpose of this 1931 Art Deco classic and its friezes on the NW corner of 7AS and Christopher Street. The friezes show a sword-wielding soldier on horseback, which may provide a clue. It's another parallellogram that faces on three separate streets.
The unmistakable red and white signs of Village Cigars, on the SW corner of 7th Avenue South and Christopher Street, are emblematic of the Village. The cigar shop has been here since the 1920s.
Occupying the same location adjacent to Sheridan Square since the early twentieth century, this corner convenience store is as close to a New York institution as a little tobacco store can get. On the sidewalk outside, an ancient mosaic marks the spot as the former site of a nineteenth-century hotel; inside, the triangular, utilitarian store does a brisk business. One wall holds lighters, papers, flasks, and cigar cutters; another stocks cigarettes from around the world; the third displays the store's cigars, which hail largely from Central and South America. Village Cigar also sells hookahs, pipes, and related paraphernalia, as well as corner-shop staples like lottery tickets and candy bars, but it's mainly a place to buy a quality cigar for less than the price of a pack of cigarettes. — New York Magazine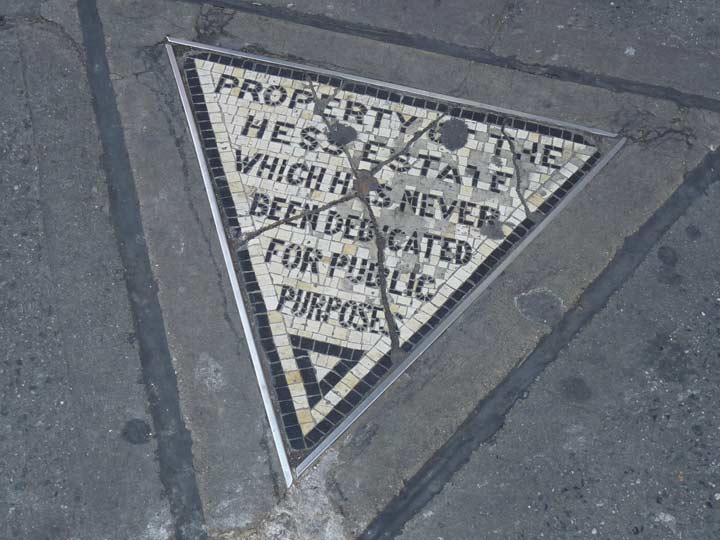 The property marker for the long-gone Hess Estate has long been a Forgotten NY favorite. There used to be a five-story residential building on Christopher Street called The Voorhis. It was condemned in the 1910s to make way for the IRT subway, which also extended 7th Avenue south from Greenwich Avenue. However, the Voorhis' owner, David Hess, refused to surrender this small plot to the city to become part of 7th Avenue South's new sidewalk. The Hesses created this mosaic to let everyone know of their small (very small) victory against the city.
Village Cigars moved to its present corner site in 1922, and bought the 500-square inch property from the Hesses for $1,000. The mosaic has stayed put, while Village Cigars has become an iconic symbol of the Village. The Hesses sold their triangle to Village Cigars in 1938, but there it remains, a monument to good old fashioned spite. (Mostly all of my own triumphs have come from spite.)
#61 Grove Street used to be midblock between Bleecker and West 4th, but it was in danger of demolition when 7th Avenue South was rammed down to Clarkson and Varick in the early 1910s. It's a handsome brick building constructed in 1890, admirably representative of its period. The building did not go quietly, however. Its southeast corner would have to be sacrificed; its twin at #63 was demolished. As the late Christopher Gray explained in the NY Times, in 1913, Jennie Messing, owner of #61, hired architects Wortmann & Braun to rebuild the corner facing the new 7AS, and they installed oriel windows that overlooked the new sweeping thoroughfare.
Across the street, #70 Grove was also forced to "chamfer" its corner.
Liquor store Casa Oliveira, at #98 7AS, has not one but two surviving classic neon signs, one on the building and another on a shingle. It's also got some gold leaf lettering on one of the windows that includes the store's license number. In addition, there's some of the translucent yellow vinyl shading to stop the sun from fading the window displays, which used to be a lot more common. The store has been in business since 1935 and the neon may have been there since the 1940s.
The Shadow of the Crook falls heavily on #34 and #36 Barrow, just west of 7AS. These are frame dwellings with brick fronts constructed in 1828, making them the oldest on the block.
The Village's older brick dwellings fascinate me. They were originally built for people with modest means but there's no room for modest means in NYC anymore, and most of these buildings sell for millions and their apartments rent for $3000 or better. These two, #39 and 41 Barrow, were also built in 1828, as much of the block was constructed for speculator Charles Oakley (presumably no relation to the 1990s Knicks' bruising forward). The third floor on #39 was added decades after construction.
A block south is Commerce Street, one of NYC's handful of L-shaped streets (Union Street, Brooklyn, discussed on the last installment of Street Puzzlements, is the longest). Contrary to myth it was never called Cherry Lane, though there is a theater of the same name on the block.
A plaque on #11 Commerce proclaims it as the former home of Washington Irving, Jr. The sign is perplexing, to me at least, because the famed author of Rip Van Winkle and The Legend of Sleepy Hollow remained umarried his whole life after the death of his fiancée when she was seventeen years old. Perhaps the plaque refers to someone claiming to be his son. (Washington Irving's father's name was William Irving, Sr.)
Again in Songlines, it is posited that #11 was the home of Irving's sister, and he wrote Sleepy Hollow here. However, it was first published in 1820.
Meanwhile a plaque next door at #13 Commerce makes this proclamation. After a little research I discovered that plaques of this type are available at what they used to call "novelty stores" and now, online.
I was passing Greenwich Locksmith at 82 7AS, just south of Commerce, when something caught my eye. The entire exterior is made of keys arranged in swirling designs with the exception of the theft gate, which has painted keys. It's amazing and must have taken months to execute. I hadn't noticed it all these years because the shop has apparently been here since 1980, and the key design was installed in October 2010 by owner Phil Mortillaro, according to Scouting NY, which has additional photos of the exterior and interior.
When 7AS was built, it crossed Bedford Street between Leroy and Morton, creating two traffic triangles too small to build anything on. The city maintains them as Greenspaces, but both are fenced with the one at Bedford and Morton has a sign saying "WFMV 2006." The 2006 is likely the date of construction while there are no radio stations with the letters WFMV anywhere in the NYC vicinity.
The Bedford-Leroy triangle has no cryptic mark. I should mention here that Leroy Street is rather unusual because west of 7AS it takes a southwestern bend, and the portion between the bend and Hudson Street is called St. Luke's Place, but only on the north side! All this is explored on an FNY page from 2012.
Another "chamfered" building that likely had to be built somewhat when 7AS was extended south was #38 Bedford, a.k.a. 27 7th Avenue South.
Mr. Dennehy's, with old-fashioned signage, occupies the back of a building that faces Carmine Street. The bar can be accessed from either street.
I featured the Tony Dapolito Recreation Center, the former Carmine Street Bathhouse, 7AS and Clarkson, on a FNY page from November 2017. This is the only 4-corner crossing in NYC, to my knowledge, that has 4 different streets coming together: Carmine, Clarkson, 7th Avenue South, and Varick. Until 1914 Varick Street ended its northern progress at Carmine and Clarkson, but today, Varick and 7AS are pretty much the same route.
A painted sign on West Houston east of Varick for the long-gone Martin's Bar. I walked Houston river to river in 2005, and I should do so again, so many changes have taken place. Martin's was still there. Oddly I found a sledgehammer and broken shells in the display window.
Houston Hall, a massive beer hall/restaurant on West Houston between Varick and 6th Avenue, strives mightily to recreate 19th Century signage on its exterior. Interior photographs on its website seems to emphasize that no one over 30 ever enters the place.
Film Forum was founded in 1970 and moved to its present location at 209 West Houston (between Varick and 6th Avenue) in 1989. It's the kind of theatre you can find only in a major metropolitan area like NYC since it plays American classics, cult films and foreign releases as well. In recent years your webmaster has caught Sweet Smell of Success; Eyes Without a Face, a French horror film about a mad plastic surgeon; In The Realms of the Unreal, Jessica Yu's documentary about artist Henry Darger's illustrated treatise, which he wrote for 60 years about androgynous children fighting forces of evil; and Donkey Skin, a fractured fairy tale starring Catherine Deneuve.
Gilda Radner (1946-1989) was a charter member in 1975 of the original Not-Ready-For-Prime-Time Players, the first and arguably best comedy team from Saturday Night Live; her characters, still fondly remembered today, included Emily Littella, who hilariously misunderstood news reports, and anchorlady Roseann Rosannadanna (based on real-life 1970s WABC news anchor Roseanne Scamardella).
Six years after Gilda Radner's death from ovarian cancer, an organization named in her memory, Gilda's Club, was set up as a support group for those living with cancer and their friends and loved ones. The NYC branch can be found at 195 West Houston Street.
The intersection of 6th Avenue, Bedford and West Houston is rather unusual because west of 6th Avenue, both Bedford and Houston are one way westbound, with Houston going west and Bedford northwest. Eastbound Houston traffic only enters it from the northbound-only 6th Avenue.
Before 1928, 6th Avenue did not extend south past Carmine Street and Minetta Lane. The construction of the IND Subway gave engineers an opening to extend 6th Avenue southeast into Tribeca, condemning a lot of properties in the process. Before 1928, this was a mishmosh of an intersection featuring Houston, Bedford, and the now-vanished Congress Street and Cottage Place, which were absorbed into the newer section of 6th Avenue.
One of the smallest parks in NYC, at 0.04 acres, is Charlton Plaza on the west side of 6th Avenue above Charlton Street. It's on an uneven plot left over by some razing of buildings on Charlton from the 1920s when 6th Avenue was extended south. It's supposed to have benches and tables, but I've never seen it when it wasn't fenced off and today, there was some construction going on there.
There are still some "medallions of the hemisphere" as I call them, located on 6th Avenue in SoHo and the Village, and also a couple of blocks uptown south of Central Park. They were installed beginning around 1960 to honor members of the Organization of American States in North, Central and South America. Many were removed around 1992 when large stretches of 6th Avenue had their lampposts replaced, and I don't know where the old medallions have gone, though rumors of their whereabouts persist.
I hadn't been on this stretch for a couple of years and as the Brits say, I was gob-smacked by the change that had come over the building at the NE corner of 6th and Spring Street, the God's Love We Deliver Building, named for the charity organization (subnamed the David Geffen Building because the showbiz mogul made a substantial donation). The 1951 former Transit Authority machine shop seems to have been reconstructed by the Society For Putting Things On Top Of Other Things. The new building, which opened in 2015, was named for another mogul, fashion's Michael Kors.
West of 6th Avenue between Broome and Spring (two blocks) there's an unsual public plaza with a narrow street on its west side — also named 6th Avenue. This is the former Clark Street. When 6th Avenue was extended south, it went just barely to the east of Clark, which was retained in a physical sense, but its identity was stripped and it became an extra western lane of 6th Avenue for two blocks. The space between 6th Avenue and 6th Avenue (formerly Clark) is now occupied by an open space called SoHo Square.
Speaking of Putting Things On Top Of Other Things, from here you can see the supertall 56 Leonard Street, which looks like a big stack of Jenga blocks.On Clark Street, er, 6th Avenue, you can see that city planners have no regard for the convenience of pedestrian traffic, as restaurant seats occupy the left, and swale planters occupy the right with just a narrow strip for you and me.
The former Kool Bloo diner on the west side of 6th Avenue north of Watts is now a "Souk & Sandwich" Lebanese fast food place,with falafel, wraps and kebobs.
When these apartment buildings on the east side of 6th Avenue and Watts Street were built they were on Sullivan Street, the southern portion of which was absorbed into 6th when it was extended south. For some years, Apple has maintained a gi-normous ad poster here designed to catch the eyes of uptown-bound motorists,
A short, demapped portion of Sullivan still exists between Canal and Grand Streets, but it is unmarked and pedestrian-only. Hopscotch boxes have been pained on it. The long-empty lot between Canal, Grand, 6th Avenue and Varick Street created by the demolition of an old bank building is now occupied by Smorgasburg food carts.
The plaza next to the lot on the west side of 6th is vast, windswept and red-bricked; at the center stands a statue of Juan Pablo Duarte, considered a founder of the Dominican Republic. His likeness here was sculpted by Nicola Arrighina and installed in 1978.
Political South American luminaries are recalled in statues all along 6th Avenue up to Central Park. In 1945 Mayor Fiorello LaGuardia renamed 6th Avenue "Avenue of the Americas" though New Yorkers went right on calling it 6th Avenue.
Oof, that's enough writing for one day, my fingers are tired. I did continue on to Church and Chambers, but the remainder of this walk will turn up in One Shots.
Check out the ForgottenBook, take a look at the gift shop, and as always, "comment…as you see fit."
12/10/17