Because of its proximity to John F. Kennedy International Airport, I'd always thought Ozone Park's name had something to do with air travel, since the ozone layer is high in earth's atmosphere. I was wrong. When developers Benjamin Hitchcock and Charles Denton built lots of small houses immediately south of Woodhaven in the 1870s, they took a name that would be evocative of fresh air and cool breezes far away from congested Manhattan, and that's the connotation the word "ozone" had back then.
Next door in Howard Beach. William Howard's resort complex was built on the shores of Jamaica Bay at the 19th Century's turn and became a ritzy bathing and boating center, quite a change from its earlier incarnation when the shoreline was bordered by fishing shacks. Howard, a glove manufacturer by trade, built the majestic Hotel Howard at the foot of today's 98th St. in 1899. A spectacular fire brought it down in 1907, after which the meadows and marshes were landfilled; Hawtree and Shellbank Basins were dug out and the residential community found there today arose. Recreational boating is a popular pastime for Howard Beachers today. Howard Beach was home to John Gotti and his family. Gotti, a mobster, extortionist and director of executions, was nonetheless largely supported by his community.

I walked around in Ozone Park in June 2018 on a cool, cloudy day before the onset of alternate blistering heat waves and overcast, soupy humidity that had the northeast in its grip most of the summer. The neighborhood is easily attainable from Manhattan or Brooklyn by taking the express A train to the North Conduit Ave. station, one of the least-trafficked in the system. It has been part of the NYC subways only since 1956, but before that, it was a station on the Long Island Rail Road Rockaway branch, as were all the stations on the peninsula. The station still bears some telltale signs of its old LIRR legacy such as diamond-shaped platform sections—most other Rockaway stations have been repaved, losing the diamonds.
Place names in these parts, such as Conduit Blvd., North and South Conduit Aves., Aqueduct Racetrack, and even Force Tube Ave. in Cypress Hills, are named for the right-of-way of a former aqueduct that led from Ridgewood Reservoir in Forest Park all the way to the old Brooklyn Water Works in Freeport, which were decommissioned and removed decades ago. Like many locales, though, place names point at history.
The Aqueduct-North Conduit station is likely the most camouflaged station in the system. The doors are directly beneath the subway overpass on North Conduit Avenue. The nearest street is Cohancy and it's a long walk away. The Q11 bus stop is here, but because of endless construction the sidewalk is perennially unpaved, and since this is the only crossing over the Belt Parkway in these parts, both North Conduit, the service road, and Cohancy are always traffic choked with honking drivers trying to get the driver in front of them to go faster.
Yogi told us to always take the fork in the road, but I was heading south at this point. The one on the left is North Conduit Avenue, which connects to westbound Belt Parkway traffic, and the right is Albert Road, which I will discuss in a bit–it's one of the oldest roads in Queens. Cohancy is no spring chicken, either–see below.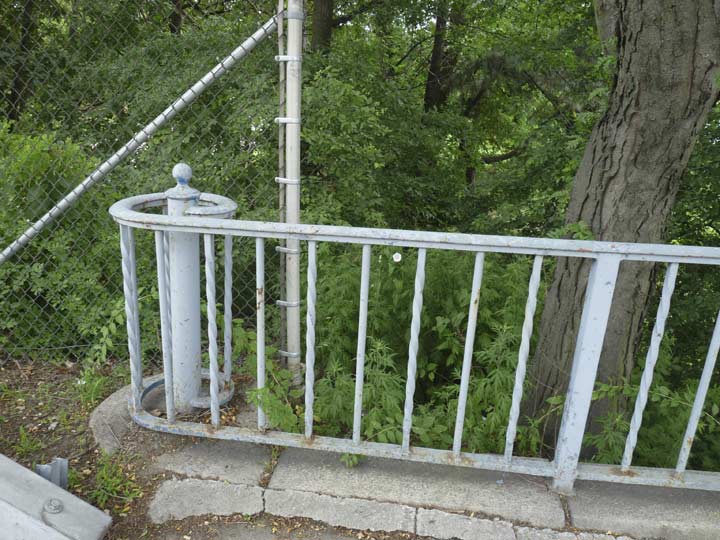 Railings like this can be found a few places in Queens. I found them here on Cohancy and there is also a set on the Roosevelt Avenue bridge that crosses the Grand Central Parkway near Citifield. I can infer from this that this is a style railing that was installed on Robert Moses' NYC-area parkways built in the 1930s and 1940s.
Cohancy is one of a set of "named" streets in this subsection of Howard Beach known as Lindenwood. The others are Killarney, Lahn, Huron, and Bridgeton. These streets could just as easily be named 94th through 98th, but they have been "allowed" to keep their names. The longer Cohancy was once part of the road to Bergen's Landing, which once extended to Jamaica Bay.
The triangle formed by Cohancy Street and 156th and 157th Avenue is called Walter J. Wetzel triangle, after a local military man who gave his life in Vietnam. Sergey Kadinsky has the scoop on PFC Wetzel, and the Lindenwood neighborhood's history, on this FNY page.
New Park Pizza, 157th Avenue and Cross Bay Boulevard, has one of the city's best slices (my preference runs to a charred crust, lots of tomato sauce and oil, and sloppy cheese. Fear not — this piece isn't burnt, the oregano came out a bit too fast.) The pizzeria, with its evocative neon sign, has been here since 1959.
Cross Bay Boulevard is a southern extension of Woodhaven Boulevard and was first bridged across Jamaica Bay in 1925. It has developed into the main shopping and restaurant route in Ozone Park and Howard Beach, and is home to marinas and caterers such as Russo's By the Bay.
Wood-fired ovens that produce pizzas such as Totonno's in Coney Island and Sac's in Long Island City have their charms, but I prefer a well-sauced slice with a generous tang. Brooklyn's Di Fara gets the press but it's matched by New Park, as well as Best Pizza in Williamsburg.
The New Park has been associated with one of Howard Beach's more notorious incidents. In late-1986, a group of African-American men were set upon after leaving the New Park by some neighborhood toughs. Michael Griffith was killed after being hit by a car while fleeing the mob. The assailants were later convicted of manslaughter and jailed, all serving at least 10 years.
You'll find signs around town pointing to local Kiwanis Club meeting places, like this one on Cross Bay Boulevard.
The Kiwanis Club was organized in Detroit in 1914 by Allen S. Browne and Joseph G. Prance, who began an organization for professionals and businessmen to pool their assets to form a fund for health benefits. Kiwanis soon became an organization for member sto promote businesses — the LinkedIn of its day — and also to organize and promote charitable giving. Kiwanis gained enough members for not-for-profit tax status and within a decade boasted 100,000 members. After decades as an auxiliary, women were allowed to join as full members in 1987.
The name "Kiwanis" was adapted from the expression "Nunc Kee-wanis" in the Otchipew (Native American) language, meaning "We have a good time," "We make a noise," or, under another construction, "We trade or advertise." Some persons prefer to pronounce the word "k-eye"; others, "kee." The organization adopted the name Kiwanis in its second year of existence.
A few maps claimed a Jaegers Lane running south from Albert Rd. just east of Cross Bay Blvd. I never believed it; as an alley maven, I'd cycled past repeatedly through the years without finding much evidence. A closer inspection on foot, though, in 1998 along Cross Bay finally revealed the old lane.
There was a clue on Albert Road, where the corner house faced away from Albert and strangely, toward the driveway. Walking on Cross Bay, though, I saw it: an impossibly old, broken-down Victorian-era house, with four Ionic columns supporting a caved-in porch. A dirt road curved in front of it off into the woods. I'd found Number 11 Jaegers Lane, as a Cole's Directory showed.
Soon after, developers found Jaegers Lane too. The woods, the lane and the old house were plowed under and new, bland housing was built there. Maps still dutifully proclaim its presence (though curiously, not Google Maps). Jaegers Lane is still present as a very short paved lane on Albert Road east of Cross Bay Boulevard. Two houses face it, with 149-xx addresses.
After seeing a woman exit the nearest house, I politely introduced myself and presented my card, with my website, forgotten-ny.com. My purpose was to determine, once and for all, if this was indeed called Jaegers Lane, since the Department of Transportation does not deign to mark it—which she did. She was, however, incredulous why I'd ask such a question, seemingly could not comprehend the concept that forgotten-ny.com was a website, and refused to take the card, despite my assurances that I was not a developer trying to purchase her property.
I've noticed a trait among some New Yorkers—many of them law enforcement officials—that they believe it's strange that a person's curious about the city in which they live.
Until after World War I, population was sparse in Woodhaven and Ozone Park, and few roads ventured through. One was Rockaway Road, on which a trolley line plied; that road, as it does today, ran all the way to the Five Towns area in Nassau County (which was a part of Queens until 1898, when Queens' three easternmost towns broke away and formed Nassau). There were roads like Van Wyck Ave., that became a boulevard, later an expressway, and now supports the new AirTrain monorail connecting the Jamaica Long Island Rail Road station and Kennedy Airport. There was Three Mile Mill Road, which ran from Jamaica to the lost community of Jameco, which is now a runway at the airport, and in other sections was long ago renamed 150th St. New York Ave. was a main artery from pre-Civil war days from Jamaica south to Rockaway Road; it became New York Boulevard and in 1982, Guy Brewer Boulevard, after a then-recently deceased state assemblyman. Hawtree Creek Road still survives under its original name, and The Road to Bergen Landing is now called Lincoln St.
A nearly 200-year old road thought by mapmakers to be completely wiped from the landscape just won't go away, though. Pre-Civil War maps show an Old South Road skirting the marshes along the water conduit that ran from Ridgewood Reservoir east to the Brooklyn Water Works near Freeport. Old South Rd. started near the Brooklyn line and ran southeast to about today's 150th St. Its line can still be followed in the paths of today's Pitkin Avenue, which takes a southeast turn at about 79th St., and Albert Road east of Cross Bay Blvd. East of there, most of it was destroyed in the 1930s when the Circumferential (Belt) Parkway was built by Robert Moses.
Two sections of Old South Road survive intact, under its original name: a one-block alley between 76th and 77th Streets north of Pitkin Avenue, and another a few miles to the southeast, from the Belt Parkway (called Shore Parkway in Brooklyn and southern Queens) and 130th St.
I have the full story of Old South Road on this FNY page.
This object, at Albert Road and 94th Street, has always perplexed me. Can anyone identify what it could be?
Not every NYC neighborhood gets its own pride sign, but a local community group paid for this one awhile back.
I have two batches of photos of the very obscure Southside Burial Ground, at 149th Avenue and Redding Street (there's another clutch of named streets west of Cross Bay Boulevard). The one above is from 2004, when several stones were still standing and still legible…
…and here's the plot as I found it in 2018. It's still protected by a locked cyclone fence, but ghouls have done their relentless work and toppled all the stones but one.
This was originally the family plot of the Van Wicklen farming family, who settled in Ozone Park in the 1660s and whose descendants lived here well into he 20th century. The plot contains 79 graves, of which only four tombstones remain: Charles H. Monroe (d. 1872) and his brother Leander (d. 1873) share a stone; George Earney (d. 1909); Jannet, wife of Garret Van Wicklen (d. 1891). The property is apparently run by the NYC Parks Department, whose leaf symbol is posted on the fence. In addition to the Van Wicklens, may members of the Ryder and Stoothoff families were also interred here.
Speaking of the Van Wicklen family, they're on a nearby street sign. I explored this in depth in a July 2018 post.
Centreville Street looking south from Pitkin Avenue.
The Centreville Racetrack stood at Rockaway and Woodhaven Boulevards from 1825-1899, one of a number of tracks in southern Queens County in the 19th Century; Union Course and Centreville are gone, but Aqueduct, named for the conduits bringing water from Ridgewood Reservoir and opened in 1894, is the sole survivor of those 19th Century tracks. Centreville, which began as Eclipse Racetrack, was named as a speculative effort to being in business, promoted as being in the center of the action. Today I doubt one person in 50 knows of the track. For awhile, the area around the racetrack bore its name, until it was absorbed into Ozone Park, and only the street name is a reminder.
Centreville Street runs in two sections, one between North Conduit and Pitkin Avenues, and another between Linden and Rockaway Boulevards. Pitkin, which begins at Eastern Parkway in Brownsville, runs for miles through East New York, where it's a main shopping drag, southeast through Ozone Park, and winds up here. Part of it assumes the old path of Old South Road (see above).
Whenever I'm on Hawtree Street I shoot these houses, which have their ownership split down the middle and each owner does what they want to their side. Purists gasp. I like them.
In Centreville and Ozone Park, Linden Boulevard, which roars through East Flatbush and East New York as an 8-lane behemoth, literally falls to pieces — a piece here, a piece there. It resumes in a straight line at Rockaway Boulevard east of Aqueduct Raceway and continues into Elmont in Nassau County.
Sorry, Banksy, this street art is more popular than your brand, especially in southern Queens. This display on both sides of Linden Boulevard under the A train overpass (originally home to LIRR trains) was sponsored by the adjoining OZ Auto Body:
"I'm here everyday and I was sick of looking at that wall," [OZ Auto Body owner John] Patti said. "I had a vision of doing something there that would appeal to everyone."

Patti came up with the idea of painting a mural that would serve as a tribute to the New York City Police Department, New York City Fire Department and all the victims and families who lost loved ones on Sept. 11. He requested the artistic services of ArtFx Murals, a company that has specialized in hand-painted murals since 1984 and whose fine art and advertising work is displayed across the city.

Patti and his neighbors are pleased with the result — an intensely hued, horizontal panorama that features the downtown Manhattan skyline, a firefighter, emergency vehicles and a stoic eagle taking flight before an American flag. Queens Chronicle
Linden Boulevard, Centreville Street and Peconic Street all come together opposite Aqueduct Racetrack and the Resorts World Casino. Peconic's name has always perplexed me; it's a Native American name, and Peconic Bay is nearly 100 miles away at Riverhead, Suffolk County–why would there be a street named for it here>
It began to drizzle, so I began to make my way towards Lefferts Blvd., where the Q10 would get me to the Queens Boulevard express trains. I went east on Linden Blvd., which in the 1920s was gradually extended from its Brooklyn run in Flatbush all the way east to Elmont in Nassau County—except for an interruption in Ozone Park and another one at Aqueduct Raceway and the accompanying Resorts World Casino.
Legal gaming in New York City had crept up on me—I'd thought legal casino betting was only located in Atlantic City. However, this only legal casino in New York City had opened in 2011. Governor Andrew Cuomo has floated the idea of rebuilding the LIRR Rockaway Branch—closed since 1962—to get bettors to the venue faster, but such an event has even longer odds than the casino provides.
I've always resisted casino gambling in Atlantic City. My thinking is: Trump and Wynn are already billionaires. Why should I go to their casinos and give them more money?
The Corporal George J. Wellbrock Triangle, at Rockaway Boulevard, 109th Avenue and 106th Street, is a handsome World War I memorial I hadn't encountered before, honoring those soldiers from Ozone Park killed in that conflict. It was sponsored by the Oxford Civic Association and dedicated in 1929 to: George J. Wellbrock, Thomas Hurley, James C. Gaffney, Lawrence Condon, Herman Selner and Valentine E. Gross.
NYC Parks Department misspells "Wellbrock" on both the plaque and the website listing (where there are two spellings).
The Oxford Civic Association takes its name from the former name of 104th Street, Oxford Avenue, which is a stop on the elevated A train over Liberty Avenue.
With such an unprepossessing facade, Seafood and Steak House Takeout, fronting on Rockaway Boulevard and 109th at 106th Street has got to be good, right? Reviews were mixed; the place has closed since.
How many NYC public schools' numbers and streets match? Here's one, Queens PS 108, the Capt. Vincent G. Fowler School, is on 108th Street. It appears to be a typical CBJ Snyder-designed school, constructed in the 1910s. NYC public schools' websites are mum on architectural details.
Throughout Queens, numbers of Avenues and Streets occasionally match; in some areas with a lot of Places, Drives and Roads as well as Avenues and Streets, there are entire flocks of intersecting streets with the same number, like 59 and 60 in Maspeth. Like-named numbered intersections in Queens can be drawn on a roughly diagonal line from Astoria, where 21 meets 21 to South Jamaica, where 135 meets 135.
Some locales name these mid-block, block-length alleys (Boston gives some of them numbers, and Pittsburgh calls them "Ways,") but in Queens, they're nameless.
Qadri's Way, 110th Street and 107th Avenue, was named for a local teenage activist who advocated for care and treatment of the two rare illnesses with which which he was afflicted.
A modest, yet handsome midblock church on 107th Avenue and 112th Street, United Methodist Church of Richmond Hill, began as the Bethany Evangelical Church when it was built in 1921, courtesy a helpful cornerstone. The church was founded in 1919.
The church bell seems to be supported by a pair of construction girders.
Engine 308, Lefferts Boulevard at 107th Avenue, is one of many built as part of a spate of firehouse construction in the 1920s. The bronze plate on the left says the firehouse dates to 1926 and bears the name of Mayor Jimmy Walker.

Thence it was the Q10 back to the Union Turnpike station, where an E or F train got me to Roosevelt Avenue and #7 got me to the Long Island RR back to Little Neck at Woodside. When the system works, it works.
Please help contribute to a new Forgotten NY website
Check out the ForgottenBook, take a look at the gift shop, and as always, "comment…as you see fit."
10/28/18